This is a Sponsored post written by me on behalf of Sam's Club. All opinions are 100% mine.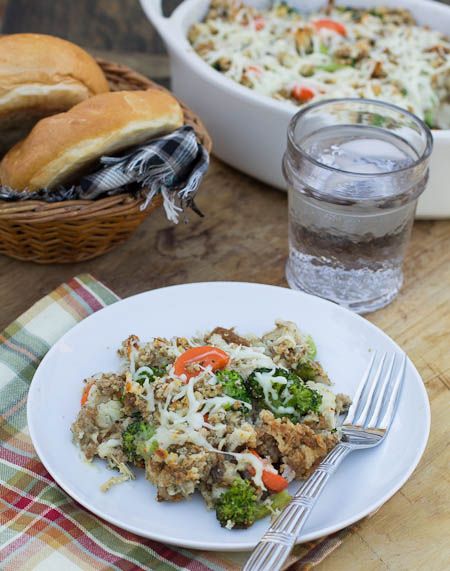 Thanksgiving has to be one of the easiest menus to plan and thank goodness because I'm the one who cooks it most years. It's the one meal that doesn't have many variations from year to year. There's the turkey, the mashed potatoes, the peas, the oyster casserole (a southern thing), and maybe the most looked forward to of all- the Green Bean Casserole. It's irresisitable. Green Bean Casserole is one vegetable dish no one complains about eating.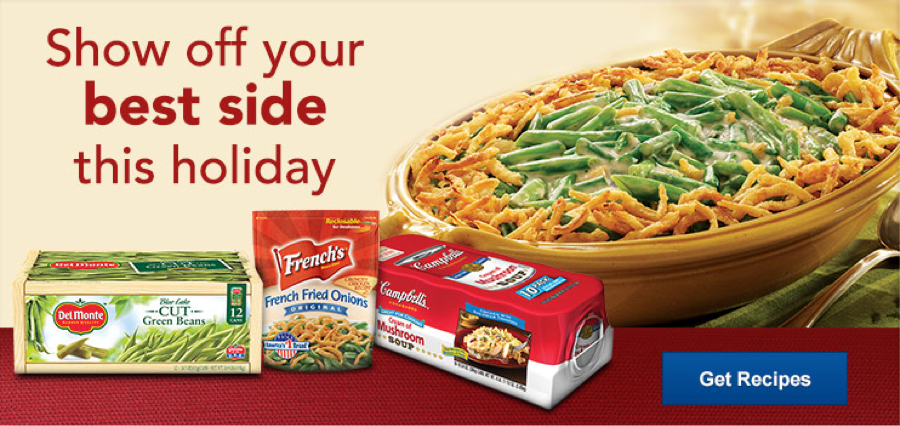 Best thing about Green Bean Casserole besides its super high score on the yummy scale? It's super easy to make, requiring only three ingredients: green beans, cream of mushroom soup, and French Fried Onions. That's all you need. Click the link to find the recipe for Green Bean Casserole
You'll want to go to Sam's Club and load up on these ingredients because not only is Uncle Bob going to want thirds on that green bean casserole come Thanksgiving, Sam's Club has a website full of recipes that can help you use up your extras. There's a recipe to suit every taste and occasion and most of them are very easy to prepare and use only a handful of inexpensive ingredients. Which is a good thing with Christams right around the corner. Who has extra time or money? Not me.
A few nights ago I made this wonderful Turkey and Stuffing Casserole from the Sam's Club website to use up some Cream Of Mushroom Soup. This meal is a delicious, comforting meal and is perfect to cook after Thanksgiving to help use up leftovers. It just takes a few simple ingredients: leftover turkey (or chicken), a can of Cream of Mushroom Soup, 1 cup milk, 4 cups stuffing mix (we always have that lying around after Thanksgiving), a bag of frozen vegetables (this is truly a full meal all in one dish), and a cup of shredded cheese. Everything except the cheese gets mixed together in a large bowl, dumped in a casserole dish, and popped in the oven. The last 5 minutes, top with the cheese.
This was truly one of the easiest and yummiest meals I've made recently. Leftovers reheat well. I just had some for lunch!
The only recommendation I have is to cut in half any large chunks of vegetables you have in your bag so that they are all approximately the same size. It never fails that there are 1 or 2 broccoli or cauliflower florets that are the size of small trees.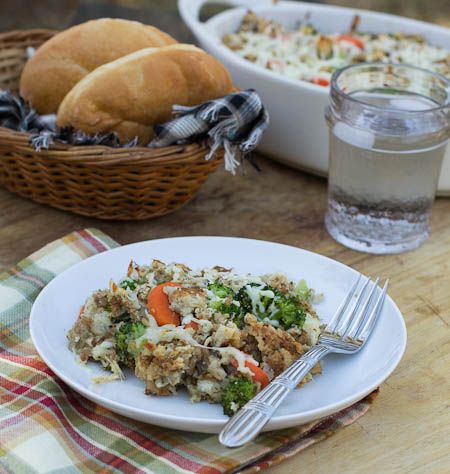 Turkey and Stuffing Casserole
Vegetable cooking spray
1 (10.75-oz.) can Campbell's® Condensed Cream of Mushroom Soup (Regular or 98% Fat Free)
1 cup milk or water
1 (16-oz.) bag frozen vegetable combination (broccoli, cauliflower, carrots), thawed
2 cups cubed cooked turkey or chicken
4 cups Pepperidge Farm® Herb Seasoned Stuffing
1 cup shredded Swiss or cheddar cheese (about 4 oz.)
·  Heat the oven to 400°F. Spray a 2-quart casserole with the cooking spray.
·  Stir the soup and milk in a large bowl. Add the vegetables, turkey and stuffing and mix lightly. Spoon the turkey mixture into the casserole.
·  Bake for 20 minutes or until the turkey mixture is hot and bubbling. Stir the turkey mixture. Top with the cheese.
Bake for 5 minutes or until cheese is melted.
Serves 6