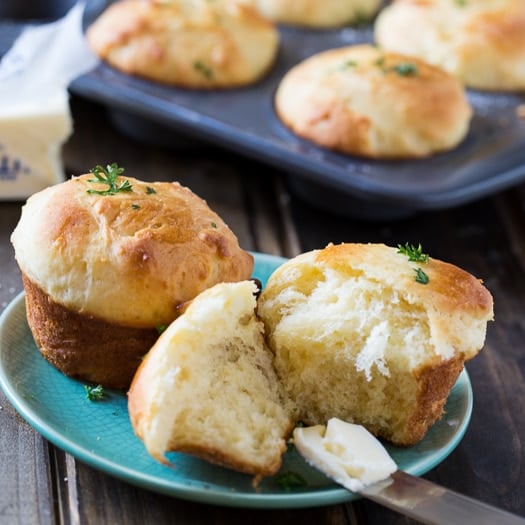 During the holiday season the thing I look forward to the most, besides spending time with family, is taking the time to do lots of baking from scratch. I find the process relaxing and the results are obviously rewarding. Homemade rolls and pecan pies are two foods I really look forward to baking this time of year. I recently spent the day in the kitchen baking with Fleischmann's yeast and Karo Syrup, two of my favorite ingredients. I baked up some buttery and light Sally Lunn Rolls and some delectable Chocolte Chip Pecan Pie Bars. Homemade rolls are a must for Holiday meals. There's nothing like the taste of homeade rolls fresh from the oven. Store bought rolls can't even compete. The few store bought rolls that come close to the taste of hoemade cost an arm and a leg. I don't want to shell out $5 or more for 6 rolls.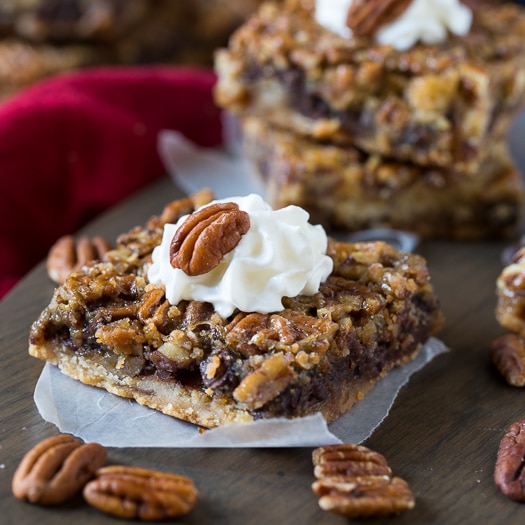 Working with yeast really isn't as intimidating as it seems. The one thing to really watch out for is that you don't kill the yeast by adding liquid that is too hot. I find it's easiest to use an instant read thermometer to measure the temperature of the liquid. Plenty of people are very accurate at judging the temperature by touching it, but I am not one of those people.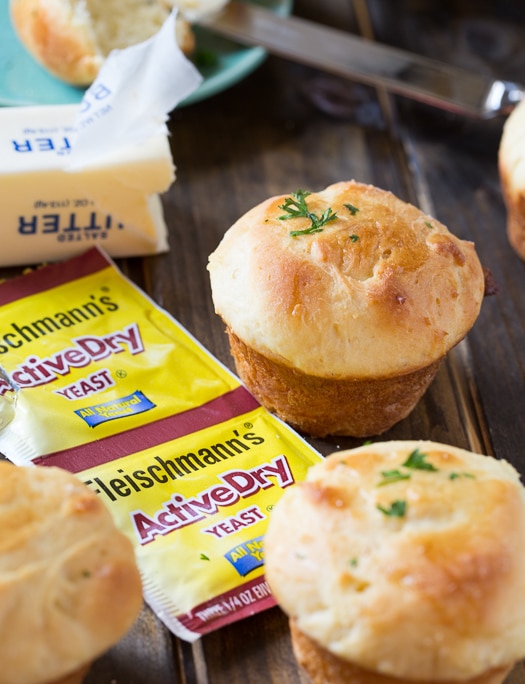 This recipe for Sally Lunn Rolls is very doable. There's no need to knead the dough (no pun intended) or to even shape and form the dough. You just plop it into muffin tins to bake.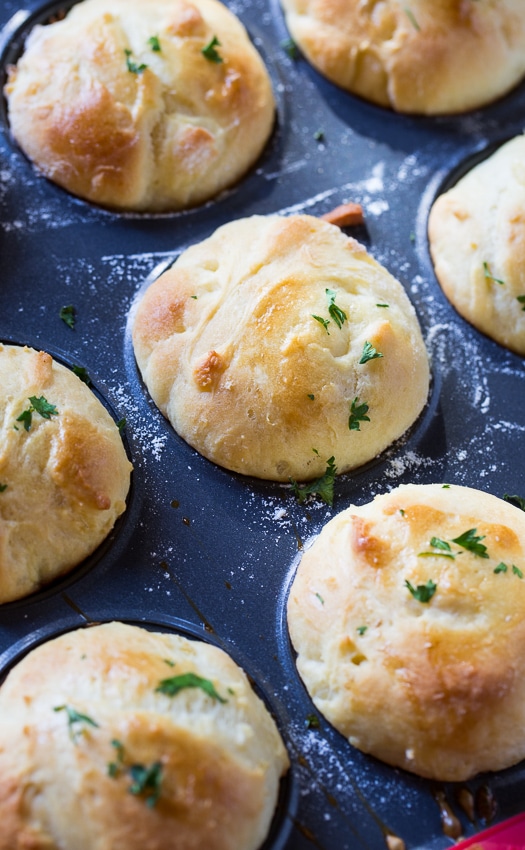 Sally Lunn Bread is a southern bread that you don't see often enough. It's a high-rising and buttery bread that's typically sweetened with a good deal of sugar. Some versions of Sally Lunn bread can taste more like cake than rolls. Slathered with a little butter, they complement any meal and are especially good for more formal occasions.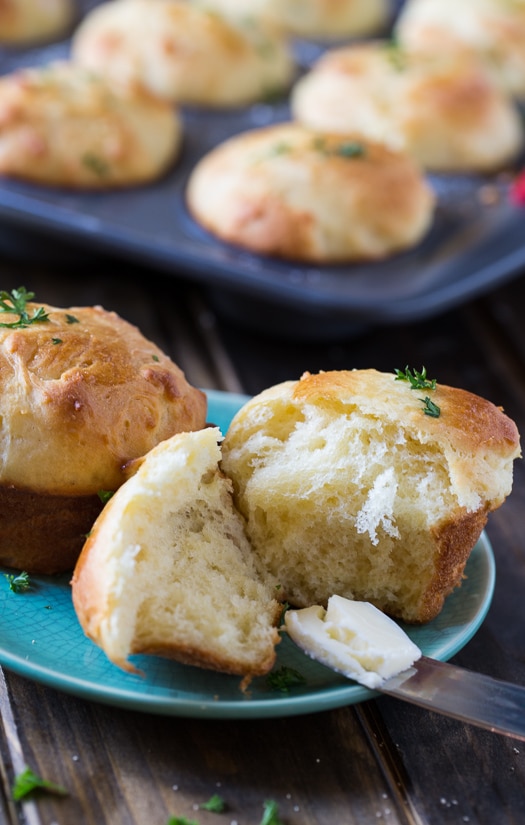 I think everyone thinks of pecan pie when they think of Karo syrup. It's what gives pecan pie that super sweet and irresistible flavor. Pecan Pie is an absolute must for our family every Thanksgiving. I didn't make one a few years back and you wouldn't believe the complaining I had to listen to. I think my family associates pecan pie with Thanksgiving as much as they do turkey.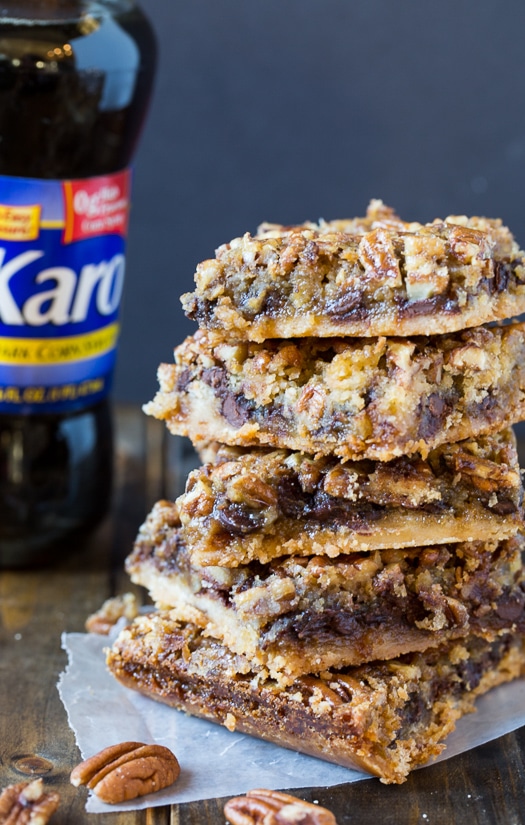 The flavor of these Chocolate Chip Pecan Pie Bars completely exceeds the flavor of any pecan pie I've had and I love the easier to eat bar form. They are extra sweet, gooey, and moist. One of the best things about pecan pie is it is so easy to make, even the most novice chef can make one. Especially if you ditch the pie crust and make them in bar form.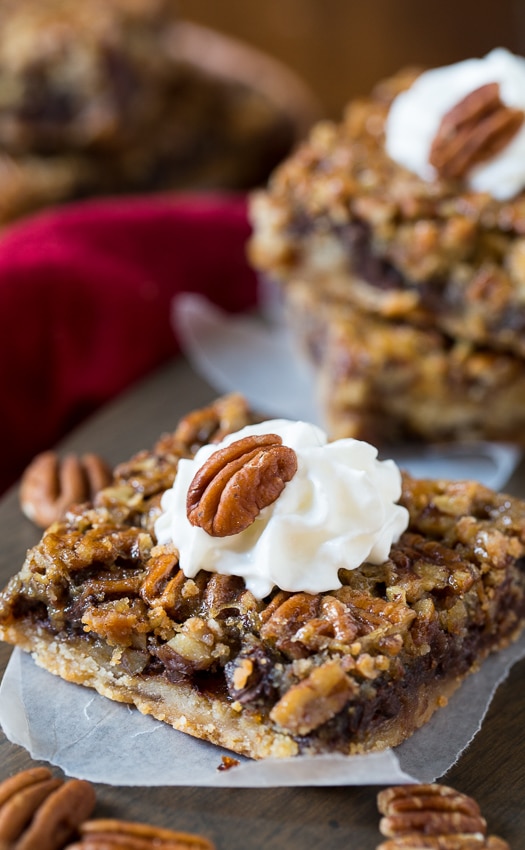 They begin with a super and I mean SUPER buttery shortbread crust. Next comes the pecan pie filling which can be assembled in just minutes. It includes eggs, Karo syrup, brown sugar, melted butter, vanilla extract, pecans, and I like to throw in some chocolate chips for another element of flavor.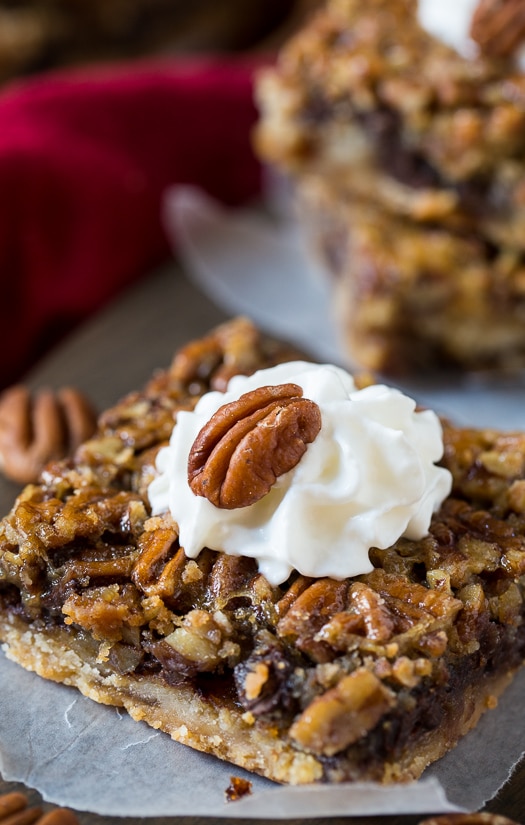 You'll want to make these Chocolate Chip Pecan Pie Bars ahead of time and refrigerate for at least a few hours so they will hold their shape when you slice them. Serve with whipped cream or ice cream for a truly delicious southern holiday treat. There are all kinds of uses for your leftover Karo Syrup. Try some drizzled on your grits or oatmeal. Add some maple flavoring to it and you have a wonderful pancake syrup. You can even use Karo Syrup with savory foods. Add it to a glaze for turkey or ham or use it in a sweet and spicy barbecue sauce. With Fleischmann's Yeast and Karo Syrup you are all ready to "bake" someone happy this holiday season!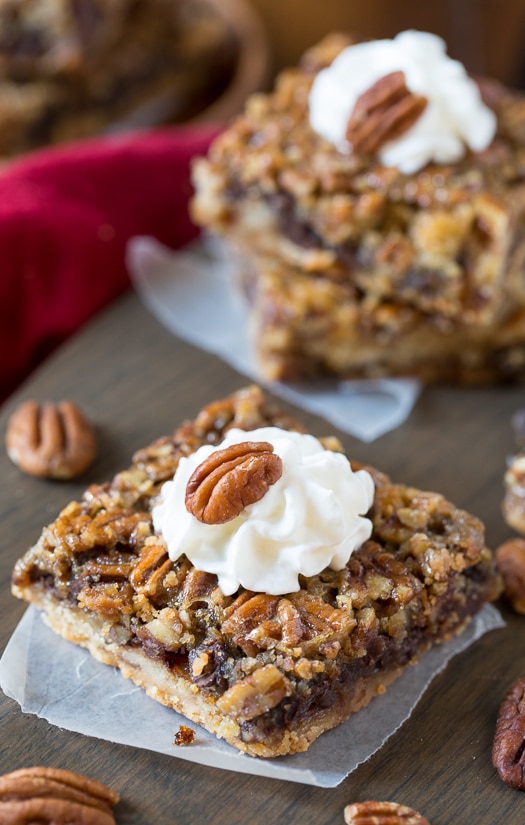 Sally Lunn Rolls and Pecan Pie Bars
Ingredients
2 packages (1/4 ounce) Fleischmann's active dry yeast
1/2 cup sugar
1 cup milk (105 to 115 degrees)
4 eggs
1 1/2 teaspoons salt
4 cups bread flour
3/4 cup butter, melted
1 egg
1 tablespoon milk
chopped fresh parsley
Instructions
In a small bowl, combine yeast, sugar, and warm milk. Let sit 5 minutes.
Using an electric mixer, beat eggs until light.
Add yeast mixture and salt.
Add the flour mixture, alternating with the melted butter, beginning and ending with flour. Beat the batter well. Cover with plastic wrap and place in a warm place to rise until doubled in size, about 1 hour.
Punch dough down. Dough will be sticky. Coat hands with plenty of flour.
Butter 18 muffin cups. Divide dough between muffin cups and set aside until doubled in size, about 30 minutes.
Preheat oven to 350 degrees.
In a small bowl, whisk together egg and milk. Brush tops of rolls with egg wash. Sprinkle with parsley.
Bake for 15 to 17 minutes, until lightly browned.

Pecan Pie Bars
Recipe Type
:
Chocolate Chip Pecan Pie Bars
Prep time:
Cook time:
Total time:
Ingredients
2 cups Bisquick baking mix
1 1/4 cups powdered sugar
10 tablespoons butter, softened
4 eggs
1 cup dark (or light) Karo corn syrup
3/4 cup packed light brown sugar
1/4 cup butter, melted and cooled
1 teaspoon vanilla extract
1 cup semi-sweet chocolate chips
1 1/2 cups chopped pecans
Instructions
Heat oven to 350 degrees.
In a medium bowl, mix together Bisquick and powdered sugar. Cut in the butter. I find it easiest to mix it in with my hands. Press the dough firmly into the bottom of a 13×9-inch pan. Bake 15 minutes and let cool.
In a medium bowl, whisk eggs. Whisk in remaining ingredients. Pour over cooled crust. Bake for 30 to 35 minutes. To see if it is done, shake the pan. It should jiggle just a little in the middle.
Let cool and then refrigerate for at least 2 hours before slicing.
Sharing this recipe with The Weekend Potluck.
Disclosure: I was compensated for this post. However these are products I regularly use in my own kitchen and highly recommend.