Cute little chewy cookies loaded with mini M&M's, shredded coconut, and macadamia nuts will have you reaching your hand in the cookie jar again and again. The addition of coconut and macadamia nuts in these cookies makes them a little different and a little tropical.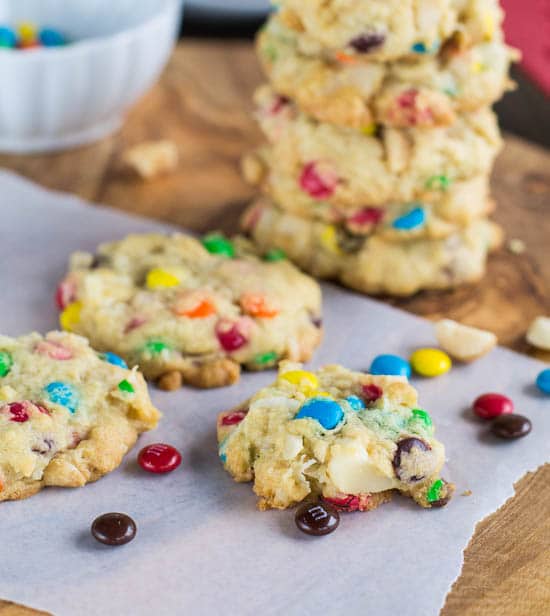 And with temperatures expected to reach 80 degrees in South Carolina, it's going to feel a little tropical tomorrow.
My daughter and I like to go to Goodwill together and hunt for treasures. I always make a bee line to the book section to look for cookbooks. Either I don't find any at all that I would want, (It's amazing how quickly dated many cookbooks get. Microwave cookbooks from the 80s? No thank you.) or I find a whole arm full. Never anything in between.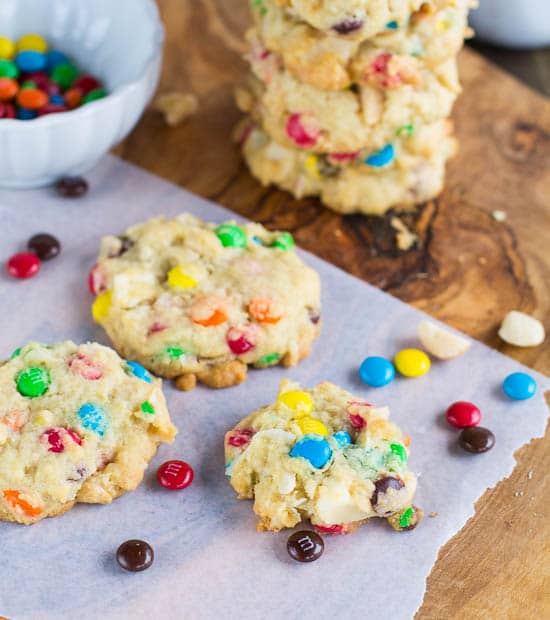 One of my purchases on an occasion I came home with a whole arm full was a cute little M&M cookbook from the 90s called Brighter Baking with M&M's Chocolate Mini Baking Bits. In this cookbook, they've inserted mini M&M's into about every type of cookie and bar known to man. This recipe was the one that looked most interesting to me and it turned out to be one of my favorite cookies in recent memories. Mainly because I have become obsessed with coconut.
This recipe makes a whole bunch of little cookies so be prepared to invite ALL the neighborhood kids over and be that scorned parent who gets everyone's kids hopped up on sugar and then sends them home.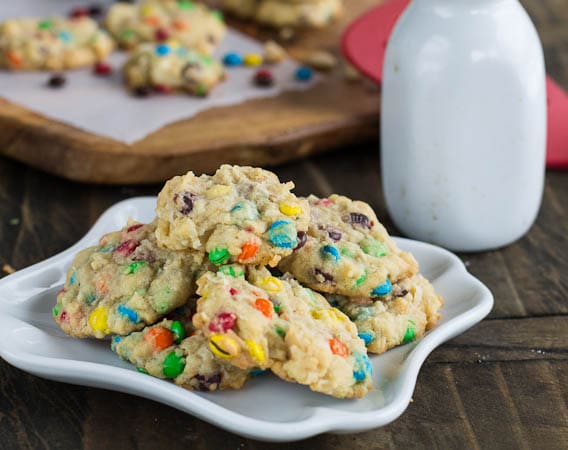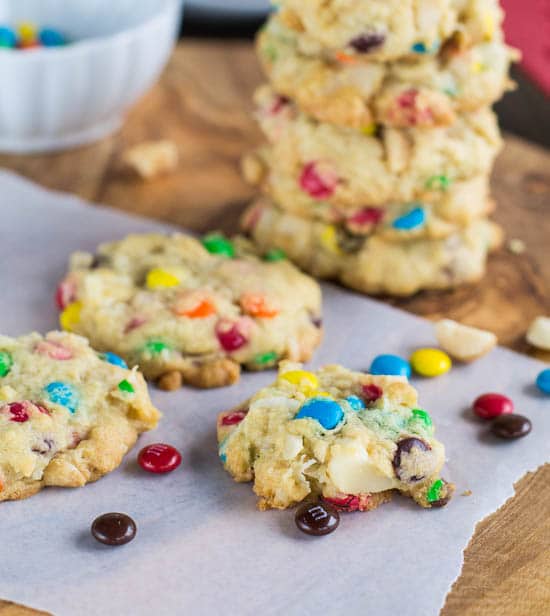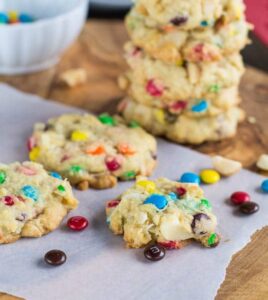 M&M, Coconut, and Macadamia Cookies
Chewy little cookies filled with mini M&M's, coconut, and macadamia nuts.
Ingredients
3/4

cup

butter softened

(1 1/2 sticks)

2/3

cup

lightly packed brown sugar

1

large egg

1

teaspoon

vanilla extract

1 3/4

cups

all-purpose flour

3/4

teaspoon

baking soda

1/4

teaspoon

salt

3/4

cup

coarsely chopped macadamia nuts

1/2

cup

shredded coconut

1 3/4

cups

chocolate mini baking bits
Instructions
Preheat oven to 350 degrees.

Using an electric mixer, cream together butter and sugar. Beat in egg and vanilla.

In a medium bowl, combine flour, baking soda, and salt. Add to butter mixture with mixer on low. Only beat until flour is mixed in.

Add nuts and coconut and turn mixer back on low just long enough to mix in.

Stir mini baking bits in by hand.

Drop dough by heaping teaspoonfuls onto ungreased baking sheets. Flatted each mound of dough slightly with the back of a spoon.

Bake 8 to 10 minutes, being careful not to overbake. They will still look underbaked when you remove them from the oven, but they will be perfect by the time they cool.

Cool on sheets for 1 minute and then remove to wire racks to cool completely. Store in a tightly covered container.
Notes
Yield: 3 to 4 dozen cookies
Want to Save This Recipe?