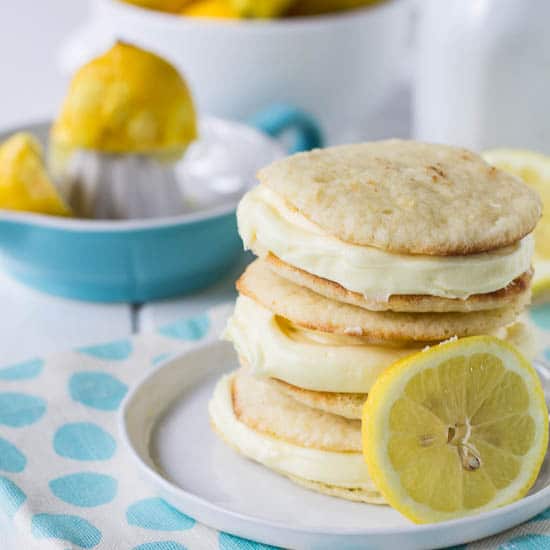 Hope all the Mother's out there had a wonderful Mother's Day weekend. I sure did. The weather was warm and sunny with hardly any humidity. My daughter and I ate lunch with my mother at an Italian Restaurant on their covered patio. I was so stuffed I could barely eat dinner. Italian food will do that to you. 🙂
We did learn a lesson though. It's a huge mistake to not make reservations for Mother's Day. Our first choice was a restaurant that has a brunch-style menu, but doesn't take reservations. We figured we'd get there around 11:30 and maybe we would wait 30-45 minutes for a table. Wrong. Try 2 hours. We came up with a Plan B fast. I hadn't eaten anything because I was "saving up".  (You do that too right?) And my blood sugar was dropping by the minute.
Luckily, not many people think about having a heavy Italian meal before noon and we had our choice of seats on their patio. And a very delicious meal, followed by the best dessert I've had in ages. It looked like chocolate cheesecake, but it was a mousse with a light but very rich taste. The stuff dreams are made of. Right when we were paying our bill we got a text message that our table was ready at the other restaurant.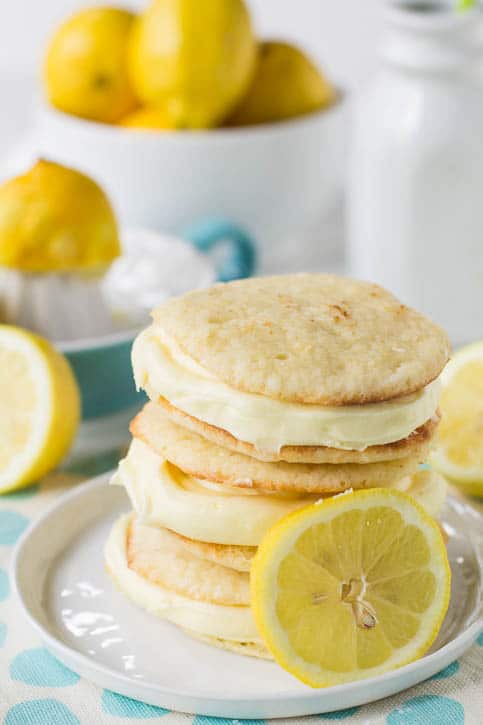 I wanted to share Lemon Whoopie Pies because moms are like a bright burst of sunshine bringing joy into so many lives. These sweet and tart treats will brighten any day with their cheerful color. Both the cookies and the filling are flavored with lemon, giving a double dose of lusciousness to every bite. Sometimes whoopie pies can be a little on the sweet side, but not these. The lemon provides plenty of tartness to balance the sugar.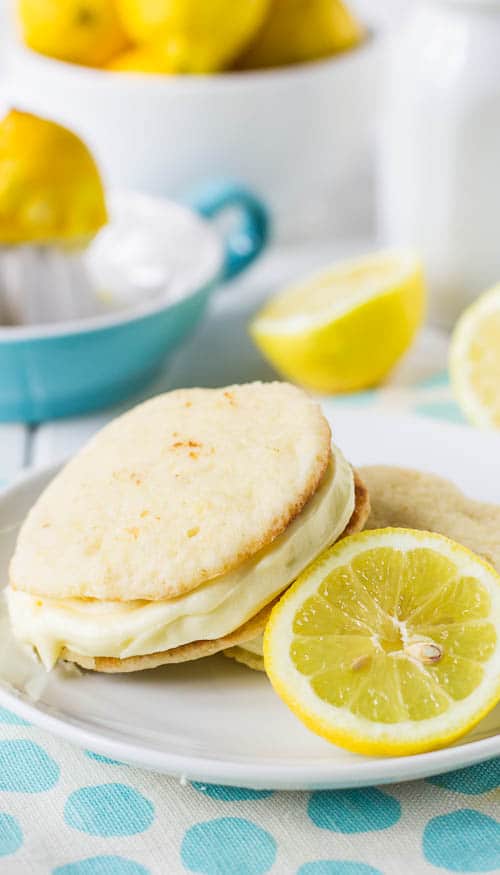 Whoopie Pies are so much fun to make and eat. They basically give you an excuse to spread frosting all over your cookies. And everything tastes better with frosting.
Baking a batch of these bright lemon flavored whoopie pies will brighten your day and the cream cheese frosting will leave you wanting more.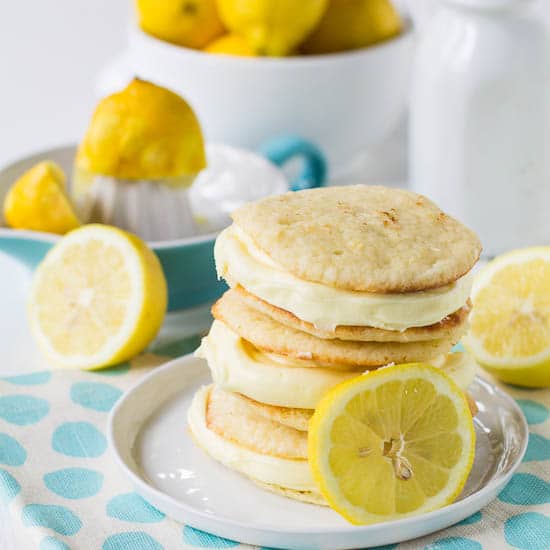 Lemon Whoopie Pies
Ingredients
1½ cups all-purpose flour
½ teaspoon baking powder
¼ teaspoon baking soda
¼ teaspoon salt
6 tablespoons unsalted butter, room temperature
1 cup sugar
1 teaspoon finely grated lemon zest
1 large egg
1 tablespoon fresh lemon juice
1 teaspoon vanilla extract
½ cup buttermilk
Lemon Cream Cheese Filling
6 tablespoons unsalted butter, room temperature
6 ounces cream cheese, room temperature
1 teaspoon vanilla extract
1 teaspoon finely grated lemon zest
2 tablespoons lemon juice
2¾ cup powdered sugar
Instructions
Preheat oven to 350 degrees and line 2 baking sheets with parchment paper.
Combine dry ingredients in a medium bowl: flour, baking powder, baking soda, and salt. Stir together with a whisk and set aside.
Using a mixer fitted with a paddle attachment beat butter, sugar, and lemon zest at medium speed until smooth, about 3 minutes.
Add eggs, lemon juice, and vanilla and mix until combined.
Reduce speed to low and add ½ of flour, then the buttermilk, and then remaining flour. Mix just until combined.
Drop heaping tablespoon full of dough onto baking sheets about 3 inches apart.
Bake until firm on top, 10 to 12 minutes.
Remove from oven and let cool on baking sheets for 10 minutes and then carefully remove to wire rack.
To make filling, use a mixer with a paddle attachment beat butter, cream cheese, vanilla, lemon juice, and lemon zest until combined and smooth.
Add powdered sugar and mix until smooth.
Place a large dollop of filling on underside of ½ of the cookies and top with remaining cookies. Refrigerate until ready to serve.
Recipe Source:
Joy the Baker
via
Sweet Pea's Kitchen
Sharing with The Country Cook's Weekend Potluck