This cake is a  combination of two of my favorite southern cakes- Red Velvet Cake and German Chocolate Cake. The cake batter is all Red Velvet with its bright red color and slight cocoa powder taste. The thick and rich frosting is straight up German Chocolate with coconut and pecans.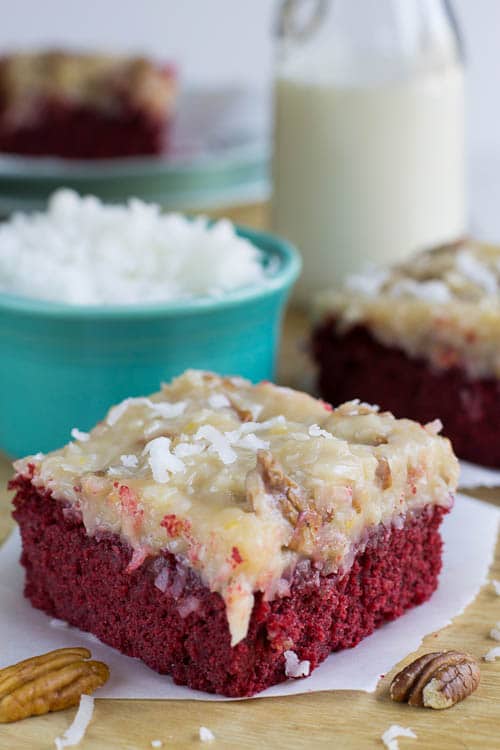 Together they make a totally unique and delicious dessert.
Normally writing about this cake and looking at the pictures would cause my stomach to growl and my mouth to salivate, but we have been eating so much good food during our weekend in Beaufort, SC, I can not even think about eating another bite of food for quite some time.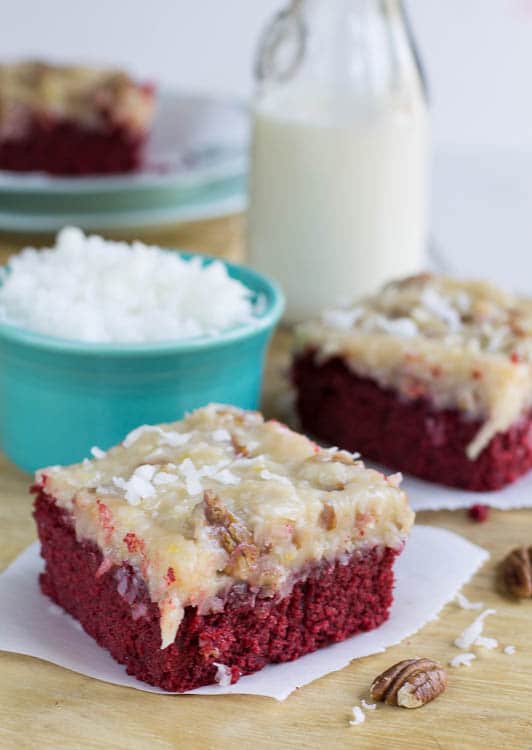 We just had an amazing meal at Maggie's Pub in Habersham. Check out the pictures on Instagram. Habersham is a new planned community with the cutest little town center. We been to visit it several times because I think I might really like to move to Habersham when my daughter goes to college in 3 years.
My son had a truly wonderful meal that I can't wait to recreate. Instead of Chicken and Waffles, it was Chicken and a cast iron skillet cooked pancake that must have been 1 inch thick, topped with pecan butter. It was amazing. And since I always prefer pancakes to waffles, it was totally my kind of meal. Lately I've found restaurants to be my favorite source of recipe inspiration.
In what has been a very food-focused weekend, I also added a book to my cookbook collection. We were in the cutest store in downtown Beaufort and they had a table topped with wonderful cookbooks. I couldn't resist First Prize Pies: Shoo-Fly, Candy Apple, and Other Deliciously Inventive Pies for Every Week of the Year (and More)
by Allison Kave. The chapters are arranged by months, each month having 6 to 7 pies. There's an Avocado Pie, Salty Dog Chess Pie, Root Beer Float Pie, and S'mores Pie. I can't decide which pie to make first from the cookbook, but I think it might have to be the Watermelon Cream Pie. I have never, ever thought of making pie with watermelon. Stay tuned for that.
And that's about all the thinking I can do about food right now. I am wishing I hadn't eaten so much today.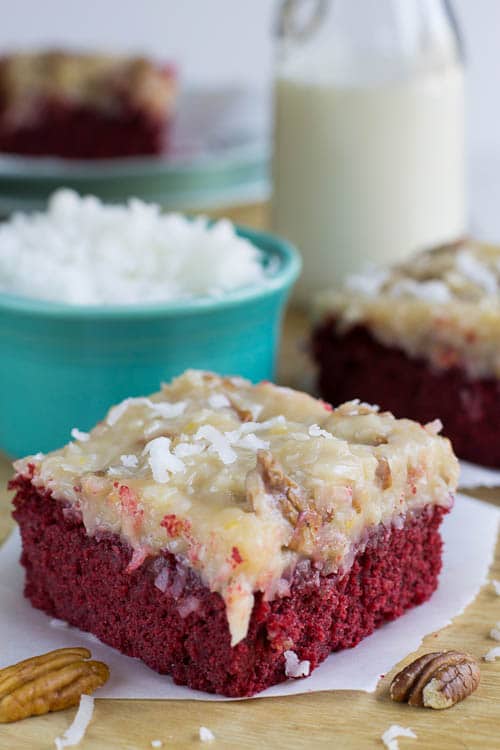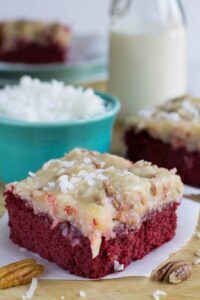 German Chocolate-Red Velvet Cake
Two delicious desserts get combined into one cake with this red velvet cake topped with a German chocolate frosting.
Ingredients
1

cup

butter,

softened

2

cups

sugar

4

large eggs,

room temperature

1

teaspoon

vanilla extract

2

cups

cake flour

1/4

cup

unsweetened cocoa powder

1/2

teaspoon

baking soda

1/2

teaspoon

salt

1 1/4

cups

buttermilk

1

(1-ounce)

bottle liquid red food coloring
German Chocolate Frosting
1 1/2

cups

heavy whipping cream

1 1/2

cups

sugar

5

egg yolks

6

tablespoons

butter

2

cups

sweetened angel hair coconut

1 1/2

cups

chopped toasted pecans
Instructions
Preheat oven to 350 degrees. Spray a 9X13-inch pan with cooking spray with flour.

Using an electric mixer, beat butter and sugar until fluffy. Add the 4 eggs one at a time, stopping to scrape down the sides of the bowl several times.

Beat in vanilla extract.

Sift together cake flour, unsweetened cocoa, baking soda, and salt onto a piece of parchment paper.

Add flour mixture to butter mixture alternating with buttermilk, beginning and ending with flour mixture. Beat just until combined.

Stir in food coloring and pour batter into prepared pan. Bake for 35-40 minutes, or until a wooden pick inserted in center comes out clean.

Let cool before frosting.

To make frosting, stir together cream, sugar, egg yolks, and butter in a medium saucepan. Cook over medium heat until mixture is thick enough to coat the back of a spoon. Stir frequently. Add coconut and pecans. Let cool 15-20 minutes before pouring frosting on cake.
Notes
Recipe adapted from Taste of the South Magazine
Want to Save This Recipe?
This post contains an affiliate link.