French Onion Meatballs- tender beef meatballs are covered with melted gruyere cheese and a caramelized onion gravy. In addition, there's toasted baguette slices to soak up all the flavor.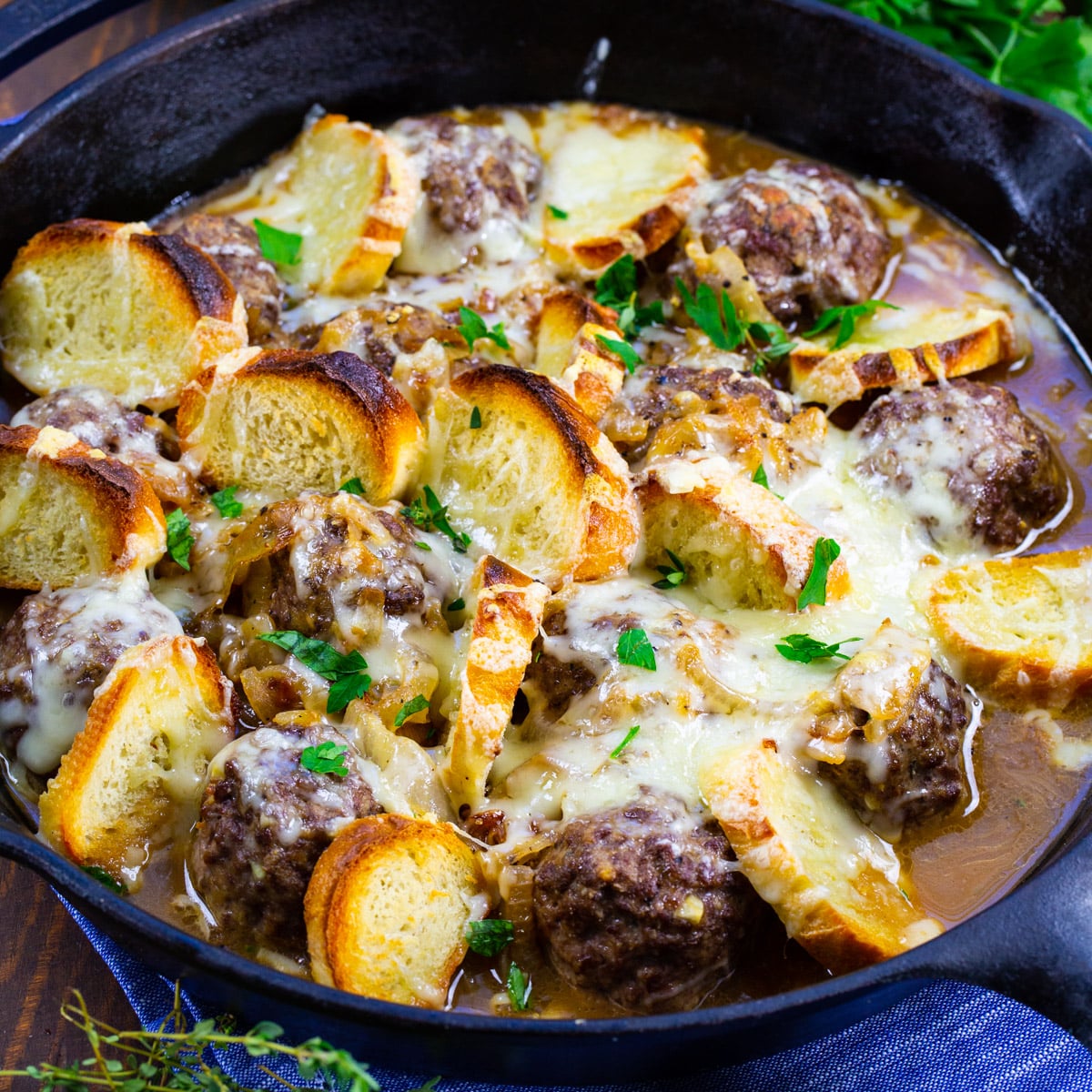 How To Serve French Onion Meatballs
Best served over mashed potatoes, white rice or egg noodles. This is a hearty, filling meal and I like to serve it with a garden salad with Creamy Italian Dressing.
Bake The Meatballs
I like to cook the meatballs in the oven and then add them to the sauce. I love that cooking meatballs in the oven frees up your hands to work on other things. If you bake them under high heat, they still get nicely browned on the exterior.
Note: The meatballs can be baked a day in advance.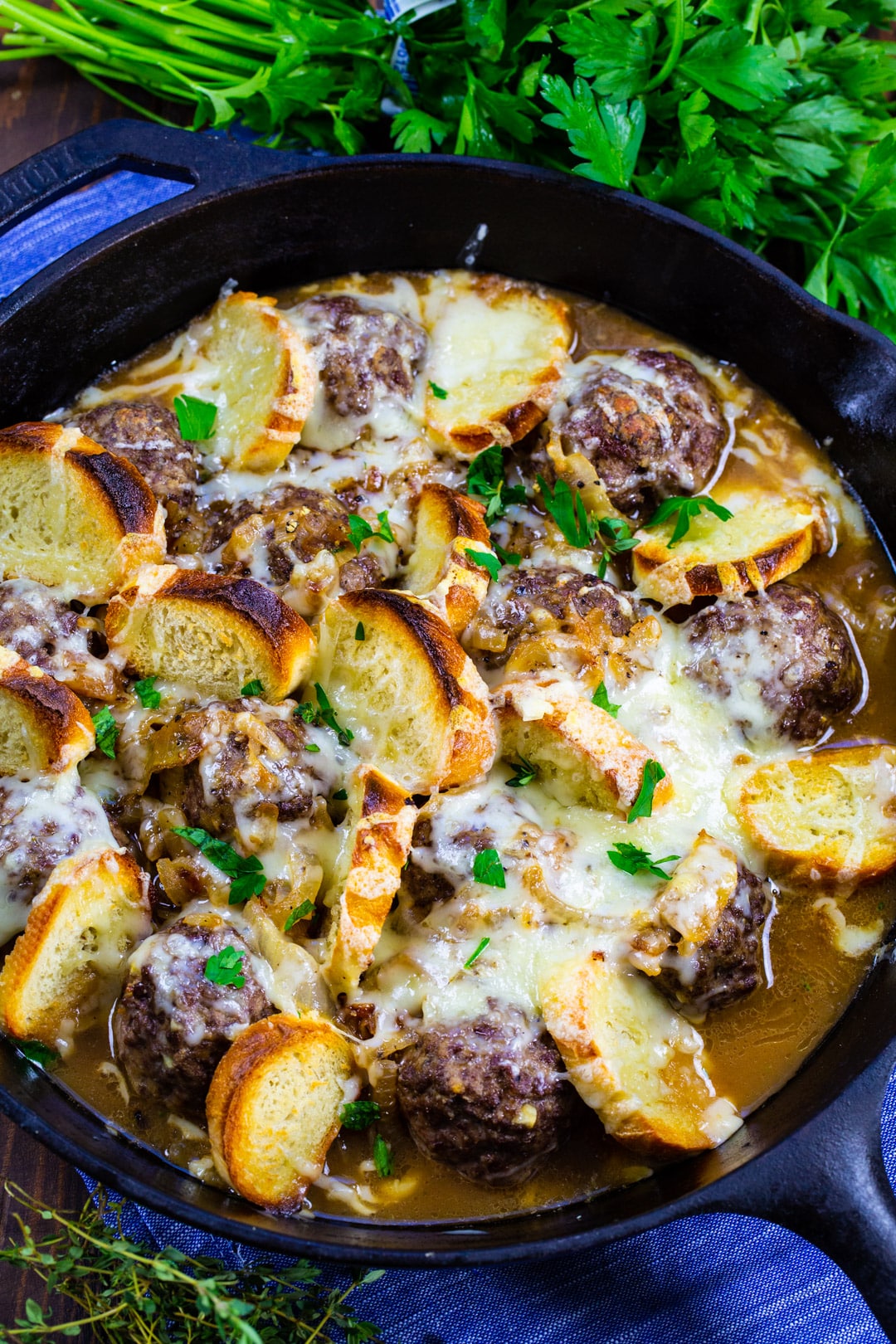 Add Extra Flavor
One of my favorite parts of French Onion Soup is sherry. I haven't added it to this recipe, but you could definitely add a splash or two to the sauce. Use a dry sherry, not a dessert sherry.
Substitute Ground Turkey or Chicken
Instead of using ground beef, you can use ground turkey or ground chicken. Don't use ground meat that is too lean. Some fat content will keep the meatballs tender and juicy.
Take Your Time Caramelizing The Onions
To get the onions nicely caramelized, the heat must be fairly low and it should take at least 20 to 30 minutes. This slow process will really bring out their sweet flavor. If they haven't sweetened to your liking, you can add a pinch of sugar.
More French Onion Recipes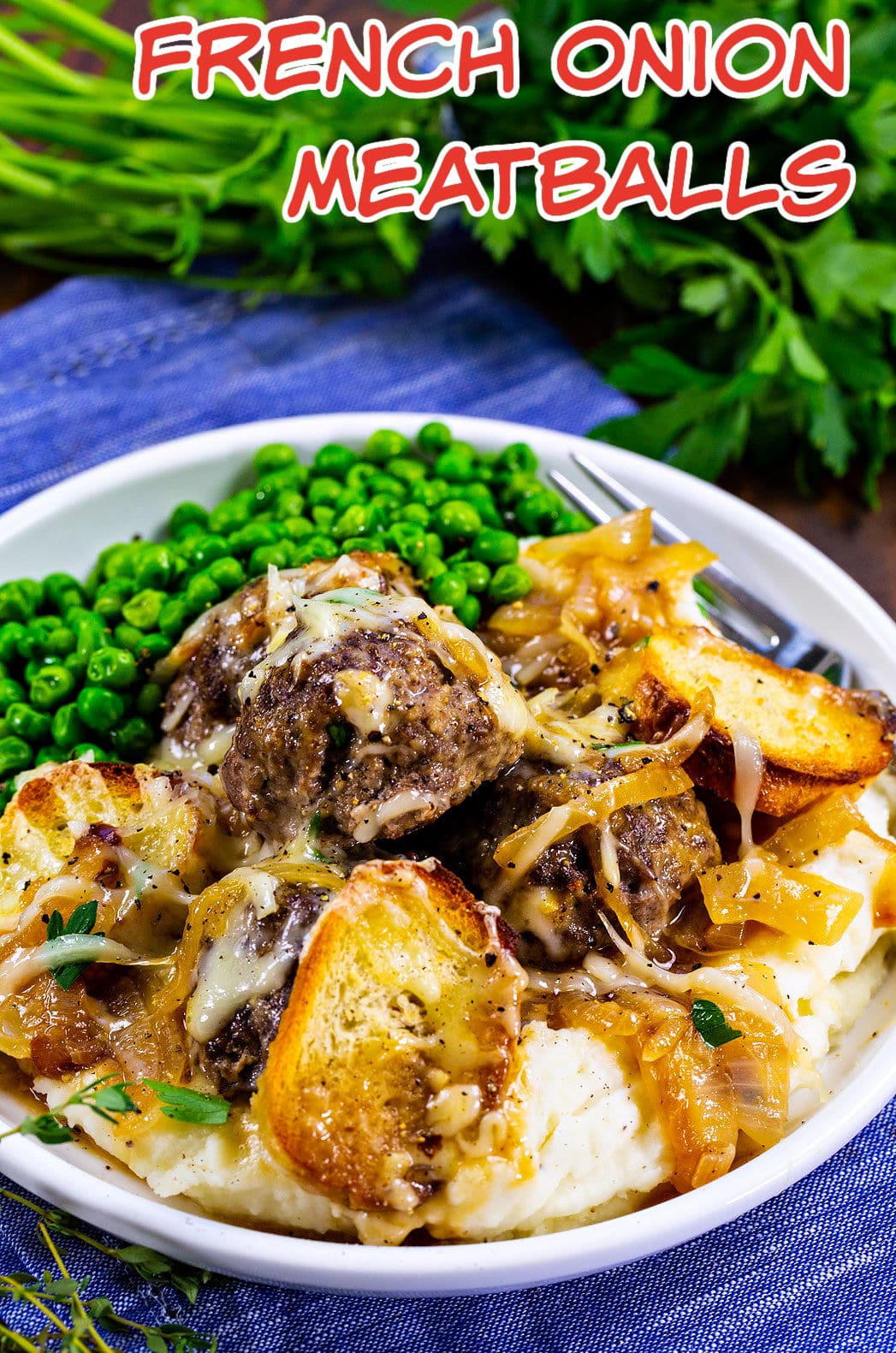 More Meatball Recipes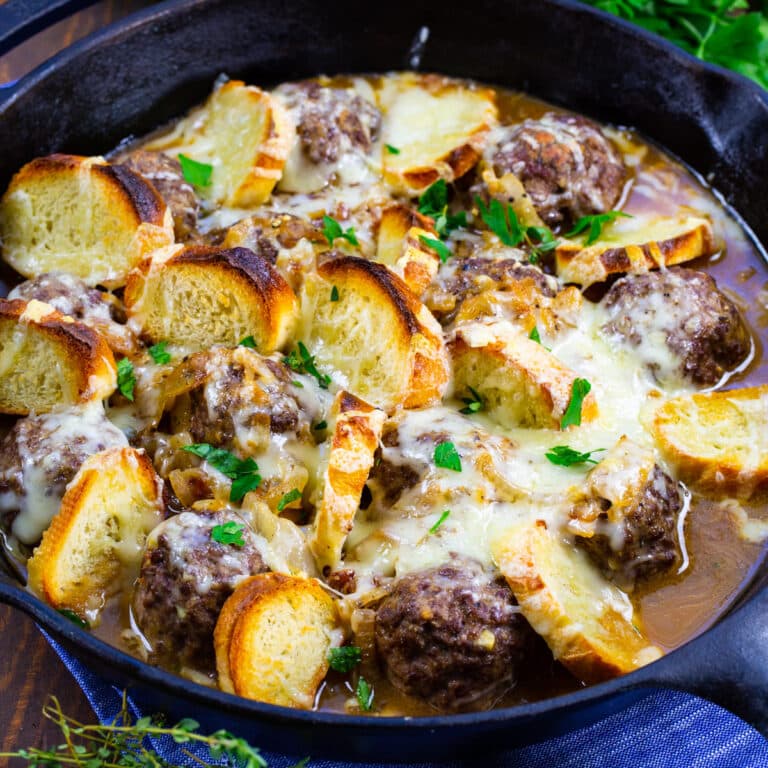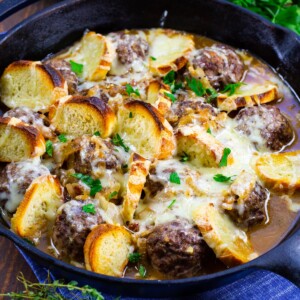 French Onion Meatballs
French Onion Meatballs- tender beef meatballs are covered with melted gruyere cheese and a caramelized onion gravy.
Ingredients
2

tablespoons

butter

2

tablespoons

olive oil

2

large

onions,

sliced 1/4-inch thick
Meatballs
1 1/2

pounds

lean ground beef

1

large

egg,

lightly beaten

1/3

cup

dry bread crumbs

1/3

cup

milk

1/2

teaspoon

salt

1/2

teaspoon

pepper

1/2

teaspoon

herbs de Provence
Remaining Ingredients
1

tablespoon

flour

2

cups

beef broth

2

teaspoons

chopped fresh thyme

14

thin slices

fresh baguette

1

cup

shredded Gruyere cheese

chopped fresh parsley

mashed potatoes for serving
Instructions
Preheat oven to 425 degrees and line a rimmed baking sheet with aluminum foil. Spray foil with cooking spray.

In a large cast iron skillet, heat butter and olive oil over medium-low heat.

When butter is melted, add the onions. Cook stirring occasionally until light brown, about 25 minutes.

Meanwhile combine all meatball ingredients, mixing together gently. Shape into 14 to 16 meatballs.

Place meatballs on prepared baking sheet and bake for 15 to 18 minutes.

Once onions are caramelized, sprinkle flour over them. Stir and cook for 2 minutes.

Gradually whisk in beef broth. Bring to a boil. Add thyme and salt and pepper to taste. Once thickened a little, reduce heat to low to keep warm.

When meatballs are done in the oven, add them to the cast iron skillet.

Place baguette slices on the baking sheet you cooked the meatballs on and stick under the broiler until they get a little crispy.

Stick baguette slices between the meatballs and sprinkle Gruyere cheese over everything.

Place skillet under broiler until cheese is melted.
Want to Save This Recipe?