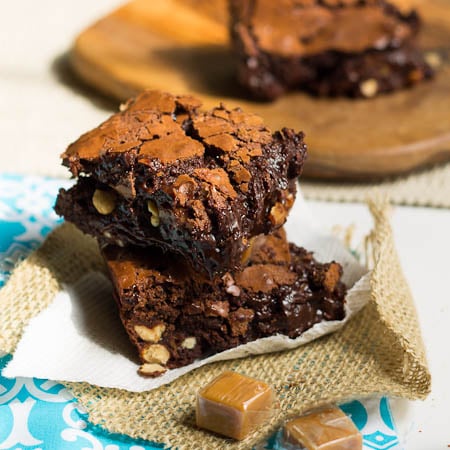 Given the choice between cookies and brownies, I'll choose brownies every time. Especially extra chocolaty and fudgy brownies. They make me loose all self-control. I can have multiple conversations with myself before I bake a batch about how I'm only going to eat just one. Sometimes I even write out on a piece of paper- YOU ARE ONLY GOING TO EAT ONE BROWNIE.
But it never happens.
These brownies are definitely fudgy and rich and extra gooey due to the caramels. Refrigerating them before slicing makes them much easier to cut into squares. But you may want to heat them in the microwave before eating to soften the caramel up. I think they're best eaten in a bowl with a big pile of vanilla ice cream on top and a spoon.
And if I tell you I'll save you one, don't count on it.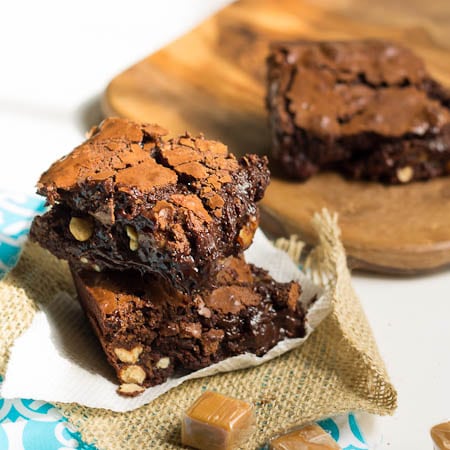 Dark Chocolate Brownies with Caramel and Salted Peanuts
1 stick unsalted butter, plus more for buttering pan
10 ounces (about 40) chewy caramels, cut in half
1/3 cup all-purpose flour
1/4 cup unsweetened cocoa
7 ounces bittersweet chocolate, chopped
3/4 cup granulated sugar
3/4 cup light brown sugar
4 large eggs
1 teaspoon vanilla extract
1/4 teaspoon salt
1 cup roasted, salted peanuts
Line the bottom of a 9-inch square baking pan with parchment paper and butter both the paper and sides of pan.
In a medium bowl, toss together caramels, flour, and cocoa. Set aside.
In a double boiler over simmering water, melt the butter. Add the chocolate and stir until melted. Remove from heat and let cool 10 minutes.
Preheat oven to 350 degrees.
In a large bowl, whisk together both sugars, eggs, vanilla, and salt for about 3 minutes. Stir in cooled chocolate mixture. Mix in reserved caramel/flour mixture and peanuts just until combined.
Spread batter into pan and bake for 30 minutes. Place on a wire rack to cool for 15 minutes. Refrigerate for 3 to 4 hours before cutting.
Yield: 12 brownies
Recipe Source: Country Living