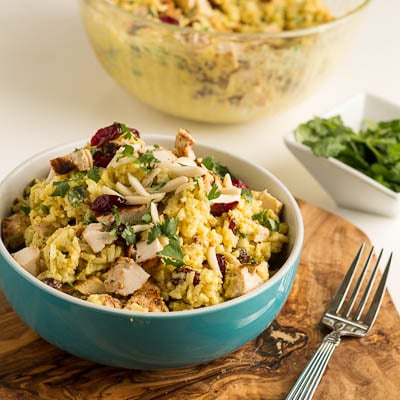 Those scorching days of summer are just around the corner and when they arrive, a chilled rice salad is a refreshing meal that can be made early in the day and left to hang out in the refrigerator until needed. I don't know about your family, but when the longer days of Spring and Summer arrive, it seems we are busier than ever.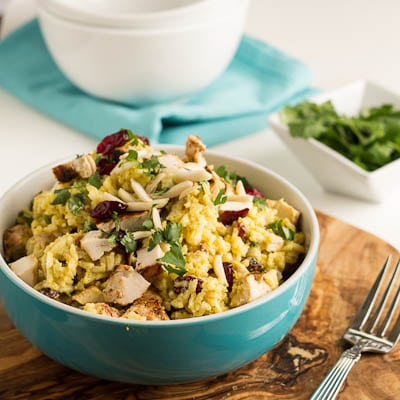 Afternoons and evenings are filled with sports, yard work, neighborhood, and community events. Even if there's time to cook dinner, I often find myself lacking the energy. And sometimes it's nice to spend the evening outside enjoying the gorgeous weather and not in the kitchen.
That's where this dish comes in handy. Whip it up the evening or morning before you plan to serve it. With chicken added in, it can serve as a main dish, but it also works wonderfully as a side dish. The flavors only get better with time.
Curried Rice Salad
2 cups water
1/4 teaspoon kosher salt
1 1/4 cups jasmine rice
1/2 cup mayonnaise
1/2 cup low fat plain yogurt
2 tablespoons Major Grey's chutney
3 tablespoons curry powder
1/2 tablespoon fresh lemon juice
1/4 teaspoon white pepper
1/2 cup sliced green onion, white and green parts
1/2 cup diced celery
1/2 cup dried cranberries
1 cup diced cooked chicken
1/3 cup slivered almonds
2 tablespoons chopped fresh cilantro
Bring water to boil in a medium saucepan and add rice. Reduce heat to medium-low, cover, and simmer for 20 minutes, or until water is absorbed. Place rice in a large bowl and fluff with a fork.
In a medium bowl, combine mayonnaise, yogurt, chutney, curry powder, lemon juice, and white pepper.
Stir mayonnaise mixture into rice mixture and then mix in onions, celery, cranberries, and chicken.
Refrigerate at least 4 hours to blend flavors.
Stir in almonds and cilantro just before serving.
Yield: 4 to 6 servings