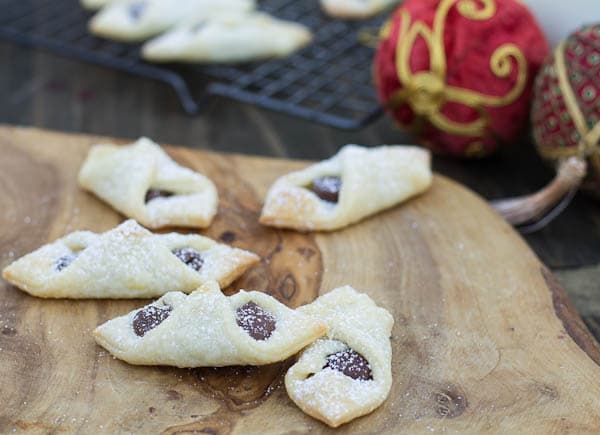 It's been forever since I posted, but with just a few days left until Christmas, I'm down to the wire with this one last cookie recipe I wanted to share Before Christmas. Otherwise it will sit as a half-finished post until next December.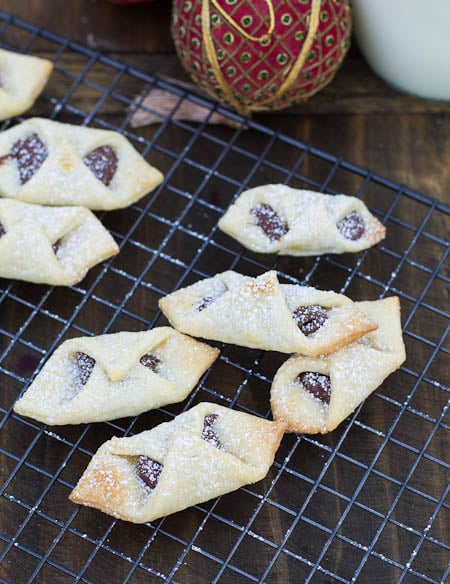 These little bite-sized cookies are really fun to make. They takes a few steps, but they are super easy. The recipe makes a ton of cookies and they're perfect to make to fill a bunch of cookie trays or serve for a party. With the powdered sugar making them look like they are dusted with snow, they would be great to serve at a New Year's Eve Party.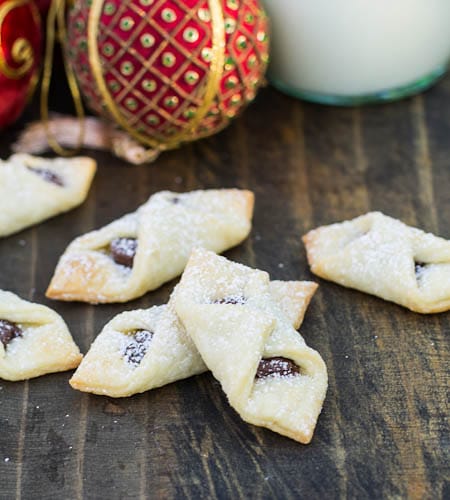 A simple dough of flour, cream cheese, and butter is a cinch to make and roll out. The large quantity of cream cheese and butter creates a super buttery, and flaky dough and the cookies come out tasting almost like little crescent roll cookies.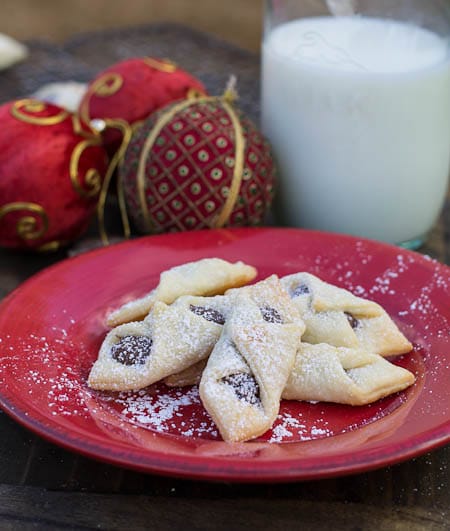 I put a dab of Nutella in each cookie, but you could use any kind of fruit preserve instead. They can be made ahead of time and kept in an air-tight container.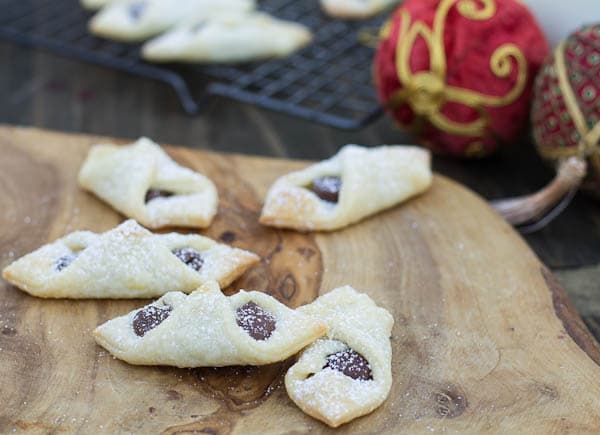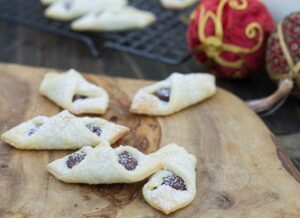 Bowtie Cookies with Nutella
Buttery bowtie cookies filled with Nutella are perfect for snacking or gift giving.
Ingredients
8

oz

cream cheese,

softened at room temperature

8

oz

unsalted butter

(1 cup), softened at room temperature

11 1/4

oz

unbleached all-purpose flour

(2 1/2 cups), sifted; more for rolling

1

cup

Nutella

1

large egg,

beaten

Confectioners' sugar for dusting
Instructions
Beat cream cheese and butter on medium-high speed using an electric mixer with a paddle attachment until light and fluffy, about 3 minutes. Scrape down sides of bowl and paddle.

With mixer on low, gradually mix in flour.

Place dough on a lightly floured work surface and knead gently to form a ball. Divide dough into thirds and place each third on a piece of plastic wrap. Flatten each piece of dough into a square and wrap in plastic. Refrigerate 4 hours or overnight.

Place rack in center of oven and heat oven to 400 degrees. Line 3 baking sheets with parchment paper.

Take 1 piece of dough out of refrigerator, unwrap and place on a lightly floured surface.

Roll into a 1/8-inch thick rectangle. Trim the edges so that they are straight using a pizza cutter. Cut into 1 1/2-inch squares and transfer squares to baking sheet.

Spoon about 1 teaspoon of Nutella onto each square. Fold one corner into the center, dab with egg, and bring opposite corner to center so that the 2 corners overlap. Press together to seal.

Place in oven and bake 10 to 12 minutes, until just starting to lightly brown.

Transfer to a rack to cool. Dust with confectioners' sugar.

Repeat with remaining dough.
Want to Save This Recipe?
Recipe Source: adapted from Fine Cooking