This Blueberry White Chocolate Bread Pudding has tons of blueberry flavor and a deliciously sweet Amaretto Cream Sauce. There's no better way to turn stale bread into a delicious dessert.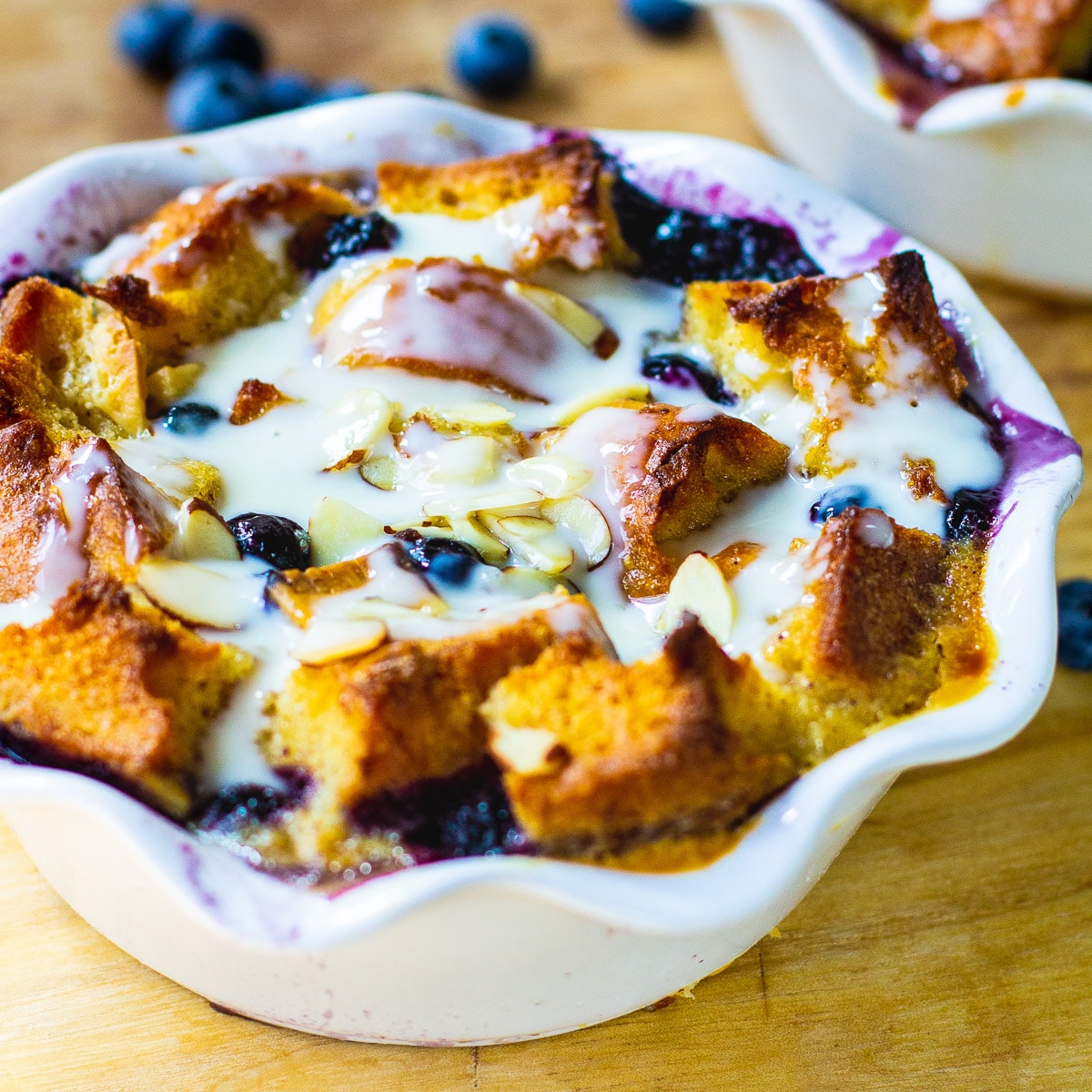 You have to love a food like bread pudding that gives an ingredient a second chance. It's kind of like the ultimate makeover story. Take some stale crusty old bread that no one wants, soak it in a mixture of cream, eggs, and sugar. Bake it until it's warm, and- Voila!
You've turned an ugly duckling into a beautiful swan.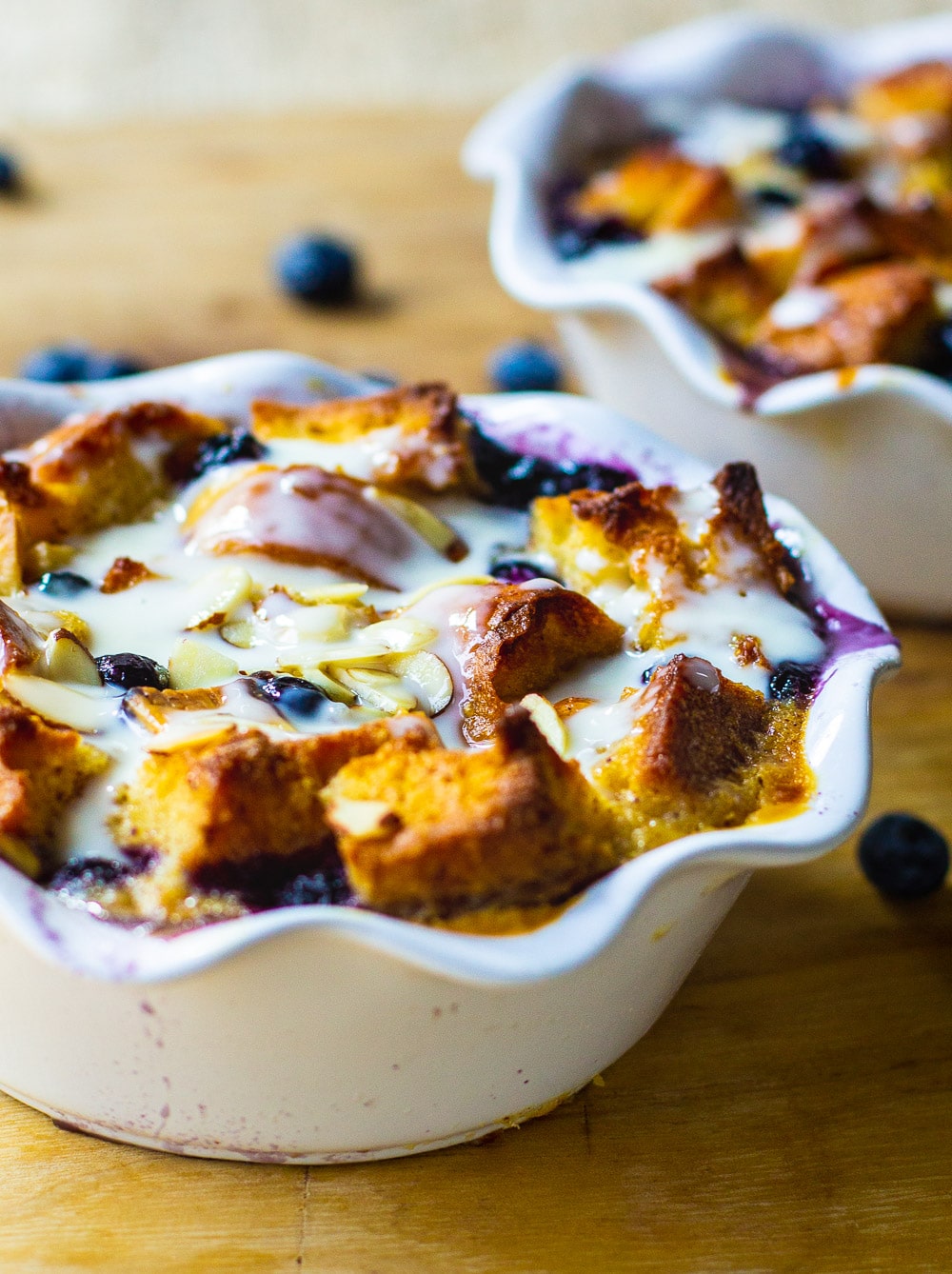 My father always disparaged bread pudding as soggy ole bread, so it wasn't until I was in my 30s that I realized what a rich and delicious dessert bread pudding is. It has become possibly my favorite dessert- when done right. Because admittingly, there are quite a few lackluster bread puddings out there. Restaurants, listen up.
Raisins, which are one of my least favorite foods, are way overplayed in bread pudding. Just my opinion of course. Feel free to disagree.
Bread pudding with blueberries? That's something I find much more interesting and delicious. Especially when we're talking about a combo of fresh blueberries and dried blueberries paired with white chocolate. Sounds good doesn't it?
But…. it get's even better. It's topped with crunchy almonds and literally drowning in amaretto cream. Is there anything better than amaretto cream? If you think not, check out this Almond Cake with Amaretto Filling recipe. It's maybe the best cake ever.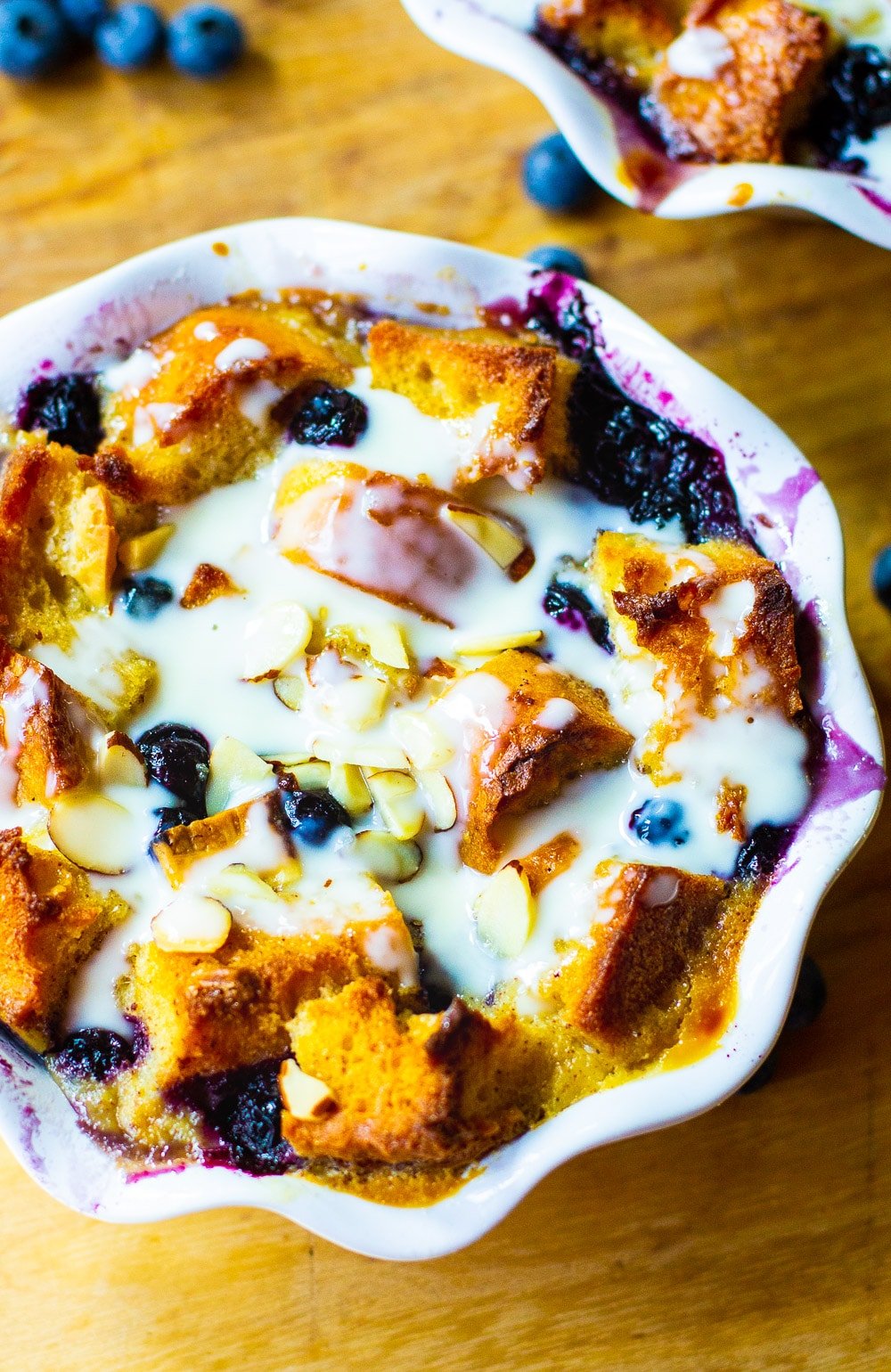 Sorry to digress. Amaretto Cream can do that to a girl.
If you're a bread pudding lover, you need to try this Blueberry White Chocolate Bread Pudding recipe. And even if you're not, you should still try this recipe. You will become a bread pudding lover. Or at least make the amaretto cream and just drink it in a glass. (Yeah, I can admit I thought about it.)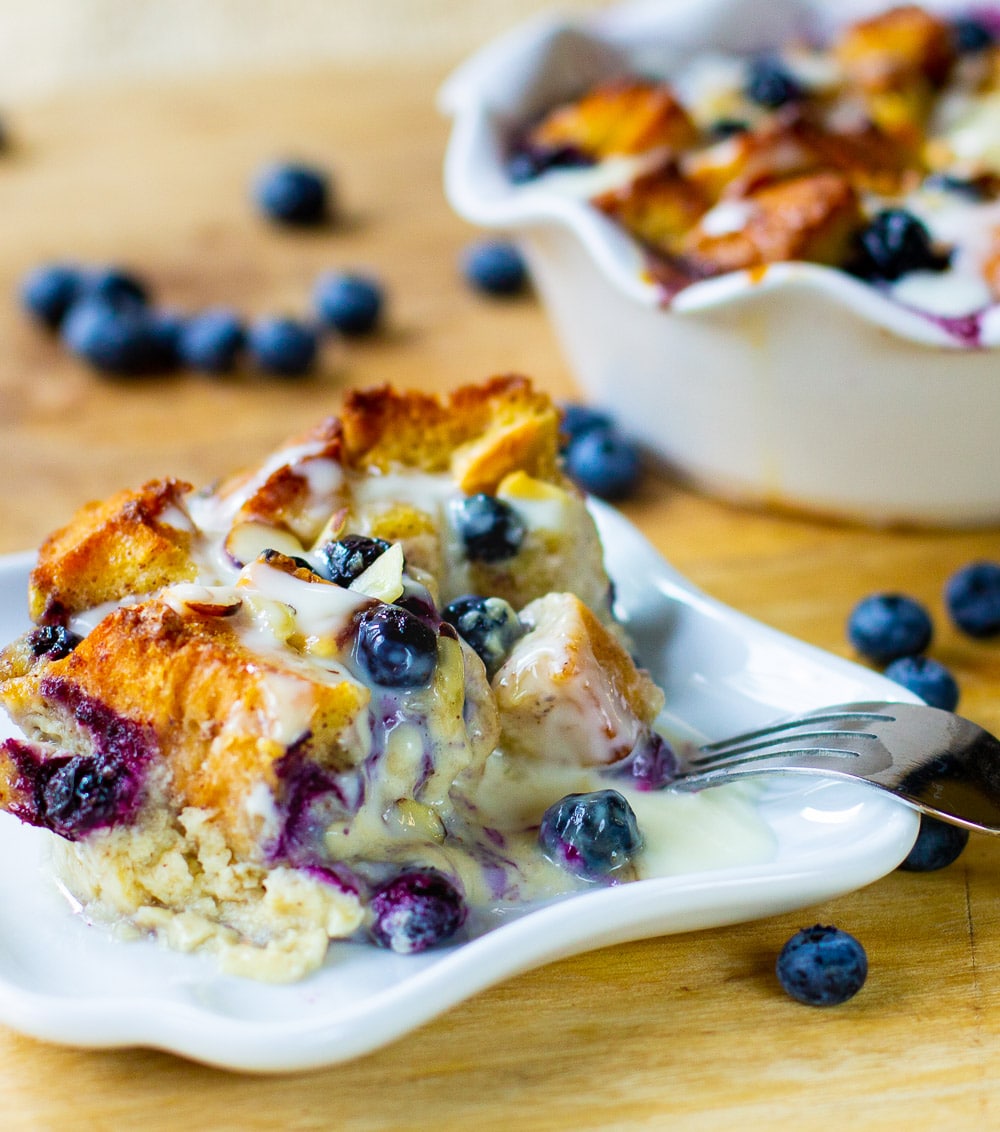 Try These Other Amazing Bread Pudding Recipes: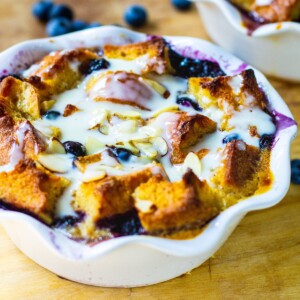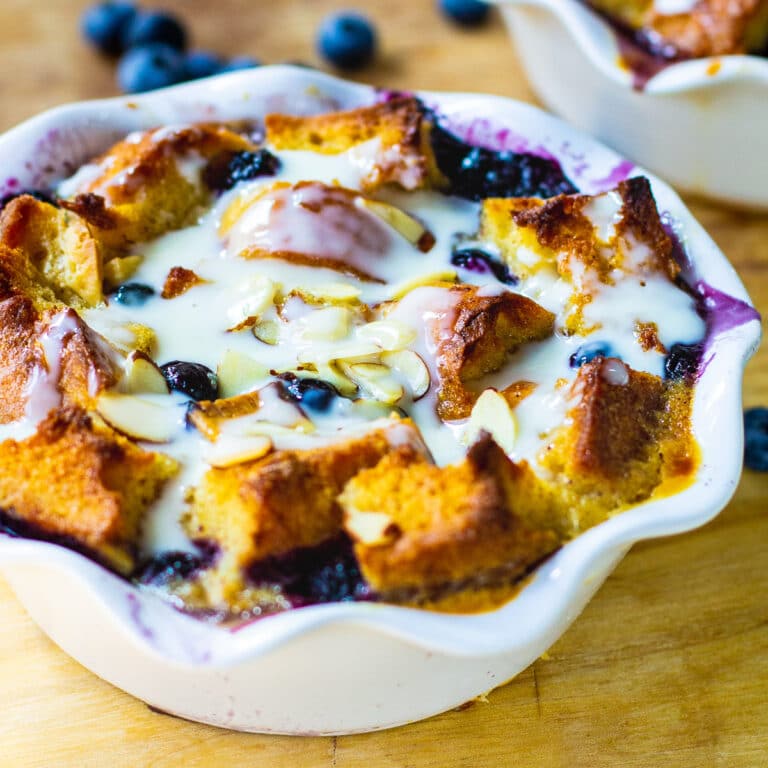 Blueberry White Chocolate Bread Pudding with Amaretto Cream Sauce
An ultra rich and decadent bread pudding with fresh and dried blueberries, white chocolate, almonds and a delicious Amaretto Cream Sauce.
Ingredients
butter,

for greasing

1/4

cup

amaretto liqueur

1

tablespoon

cornstarch

4 1/2

cups

heavy whipping cream,

divided

1/4

cup

sugar

4

large eggs

1

cup

whole milk

1

cup

firmly packed brown sugar

1/4

cup

melted butter

1

teaspoon

vanilla extract

1/2

teaspoon

ground cinnamon

pinch of nutmeg

1/4

teaspoon

kosher salt

6

cups

cubed day old French bread

8

ounces

white chocolate,

chopped

1

cup

fresh blueberries

1/3

cup

dried blueberries

1/4

cup

sliced almonds
Instructions
In a large bowl, whisk together eggs, 3 cups of cream, milk, brown sugar, butter, vanilla, cinnamon, nutmeg, and salt. Fold in bread and let stand 30 minutes at room temperature. Stir occasionally.

Meanwhile, whisk together amaretto and cornstarch in a small bowl. In a medium saucepan, heat 1 1/2 cups cream over medium-high heat. Cook until hot, about 5 minutes. Whisk in amaretto mixture and bring to a boil. Lower heat and simmer for about 2 minutes, until thickened. Remove from heat and whisk in sugar. Set aside.

Preheat oven to 350 degrees and grease a 9x13-inch baking dish with butter.

Mix white chocolate, and all blueberries into bread mixture.

Pour mixture into prepared dish and sprinkle almonds on top.

Bake for 1 hour, or until set. Let cool 20 minutes before serving with amaretto cream.
Notes
You can bake in several smaller baking dishes (I used mini pie pans) or individual sized ramekins. Adjust the baking time down since they will cook faster.
The amaretto cream can be made a day or 2 in advance and refrigerated.
Want to Save This Recipe?
Recipe Source: adapted from Emeril Lagasse
Originally published Sept 12, 2103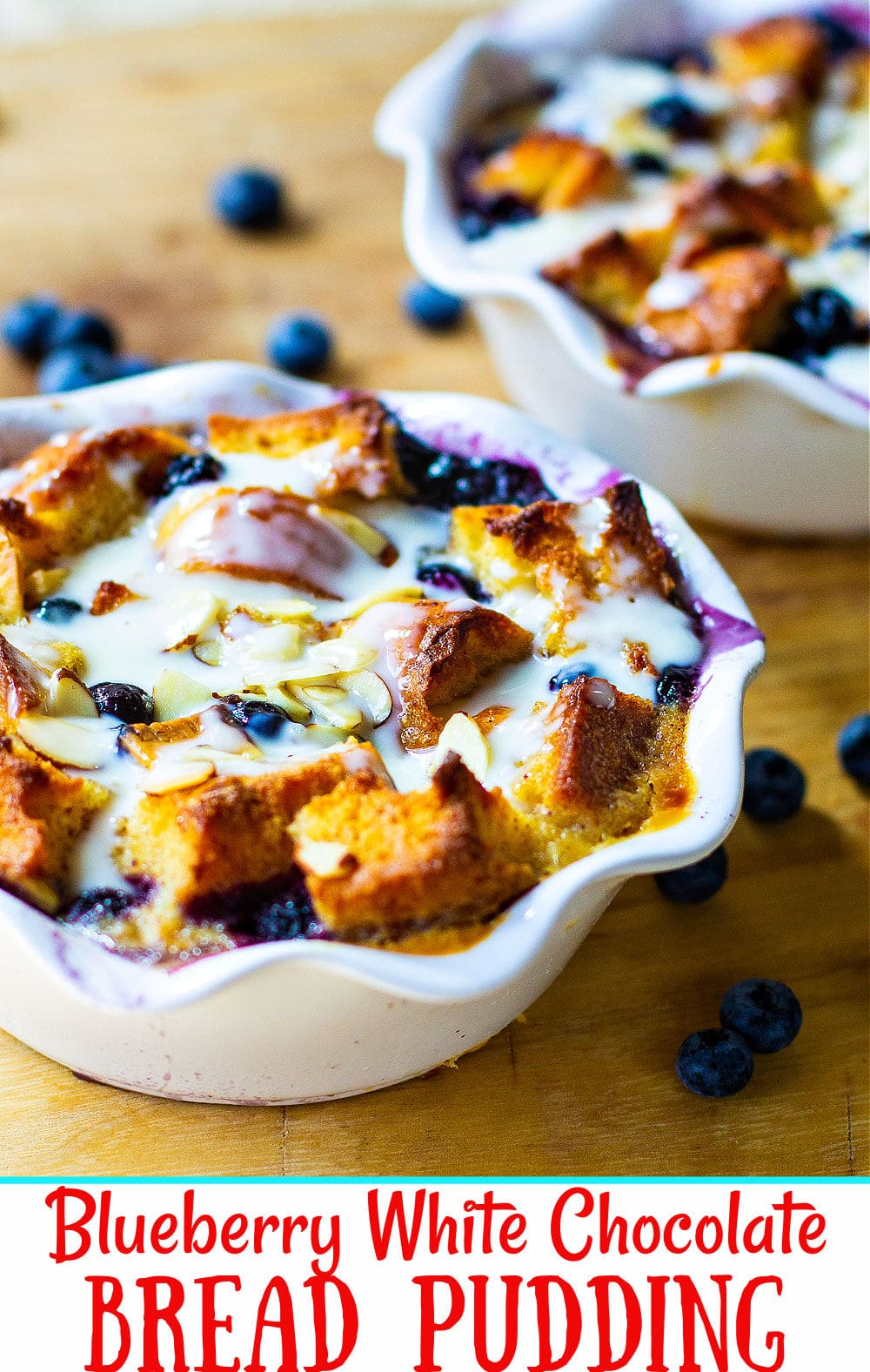 Disclosure: This post contains affiliate links.