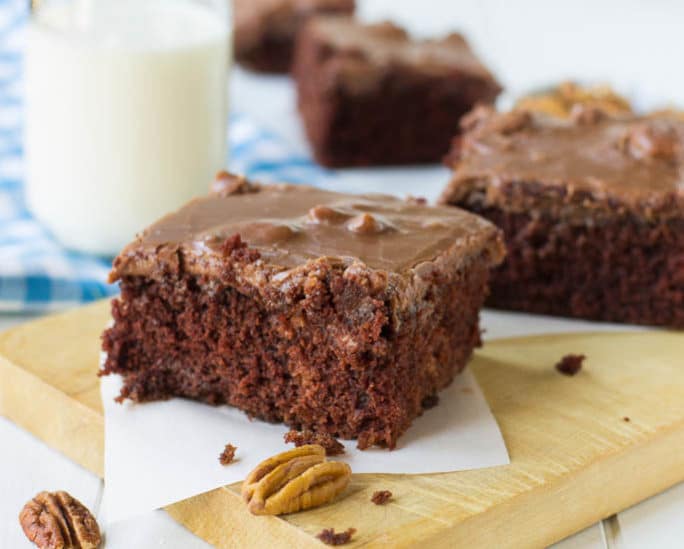 A moist and delicious chocolate cake made with buttermilk and cocoa powder and  topped with a homemade chocolate frosting that's plenty sweet. The frosting has a little crunch here and there from some toasted pecans. They taste so good with chocolate. With buttermilk in the batter and in the frosting, this cake makes good use of Buttermilk. Do you find that you frequently have a carton of Buttermilk at the back of the fridge that's about to go bad? I almost always seem to.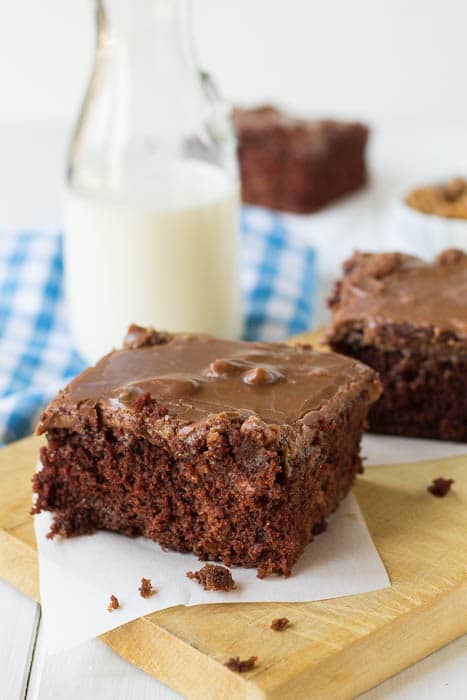 This is a simple, old-fashioned cake that is always a winner. It's basically a Texas Sheet Cake except instead of baking it in the typical jelly roll pan (half sheet pan), I've made it in a 9X13-inch pan so that it is a little thicker. Chocolate Buttermilk Cake is both light and insanely rich at the same time. It's very difficult not to go back for another bite. And another. And another. It will keep calling out your name until every last bit is gone.
One minute, you'll be swooning over it, professing your love. The next minute you'll be telling it how much hate it for making you eat too much.
That's why this cake should only be baked for a potluck or a party where there are boatloads of people and there is no chance there will be any left over.
The frosting is easily assembled in a saucepan and takes only a few minutes. Still warm when poured on top of the cake, it forms an absolutely irresistible fudgy layer. It's the frosting that really makes the cake. What's really nice about it is it just naturally spreads itself out over the cake. You only need a spatula to help even it out a little bit.
That's my kind of cake frosting. I know there are many people who enjoy the labor intensiveness of frosting a 3-layer cake. But I'm not one of them. By that point all I'm thinking is, I want a piece of this cake. Let's hurry this up.
That being said, you do need to wait a little while for the frosting to cool and set up before you slice it and take a piece out, or all the frosting will run into that empty spot. Unless you stuff the empty spot with a wad of aluminum foil and tilt the pan ever so slightly to make it harder for the frosting to move in that direction. I'm not saving I've done that before.