Wrapped Brie with Tomato Chutney is such a delicious savory appetizer. A tangy tomato chutney is a great complement to gooey, melted brie cheese.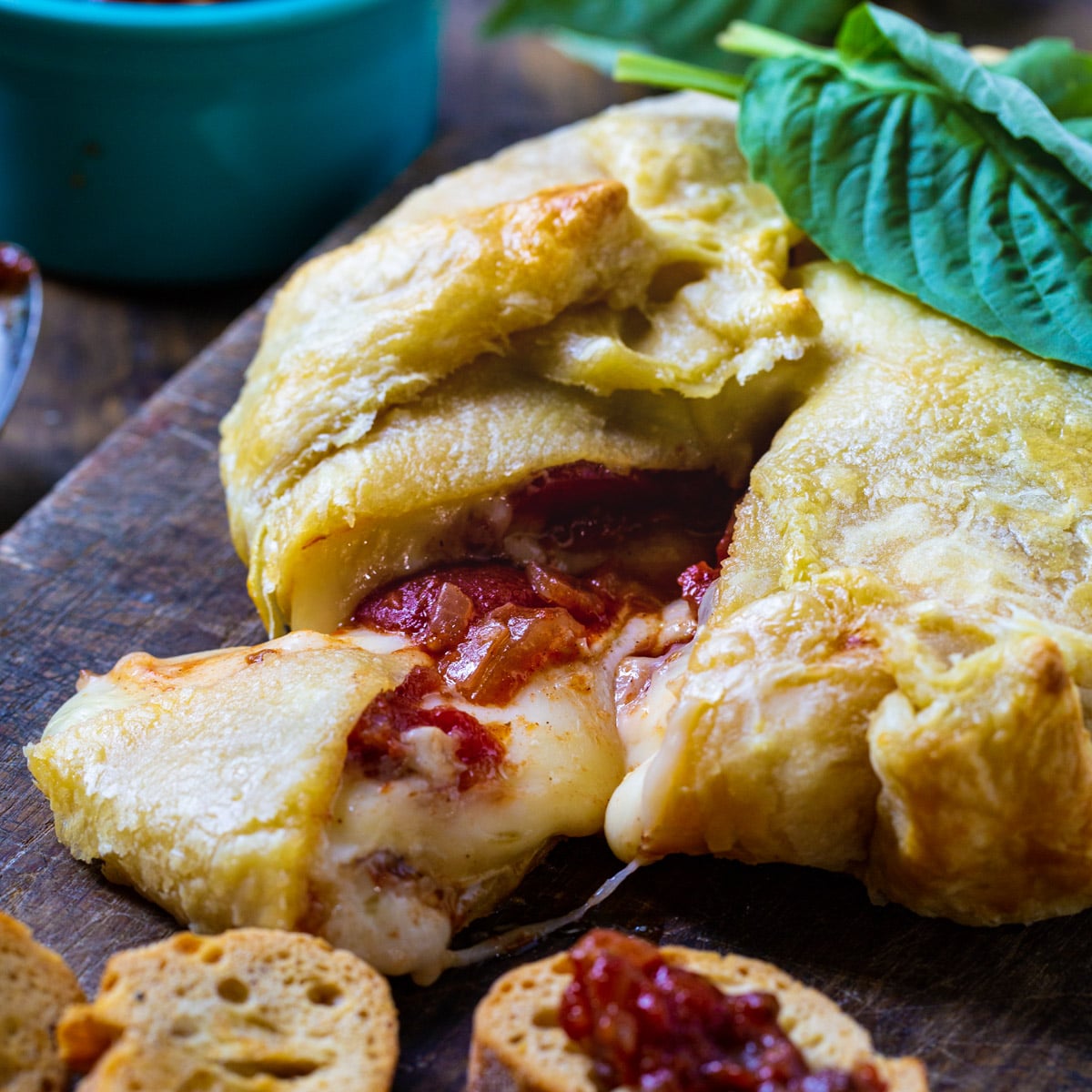 Baked Brie wrapped in puff pastry has to be one of the most impressive and elegant appetizers. And with the help of frozen puff pastry, it's really not that difficult to make.
Today I'm sharing a beautiful and delicious Baked Brie with Tomato Chutney from Tuttorosso Tomatoes. This appetizer would be wonderful to serve for a Mother's Day Brunch or any Spring party. It also makes a great holiday appetizer.
Warm melted Brie cheese wrapped in buttery and golden puff pastry is something most people have a hard time resisting. Add in the unique flavor of tomato chutney, full of warm spices and a wonderful tangy flavor, and you have a truly special appetizer that your guests will rave over.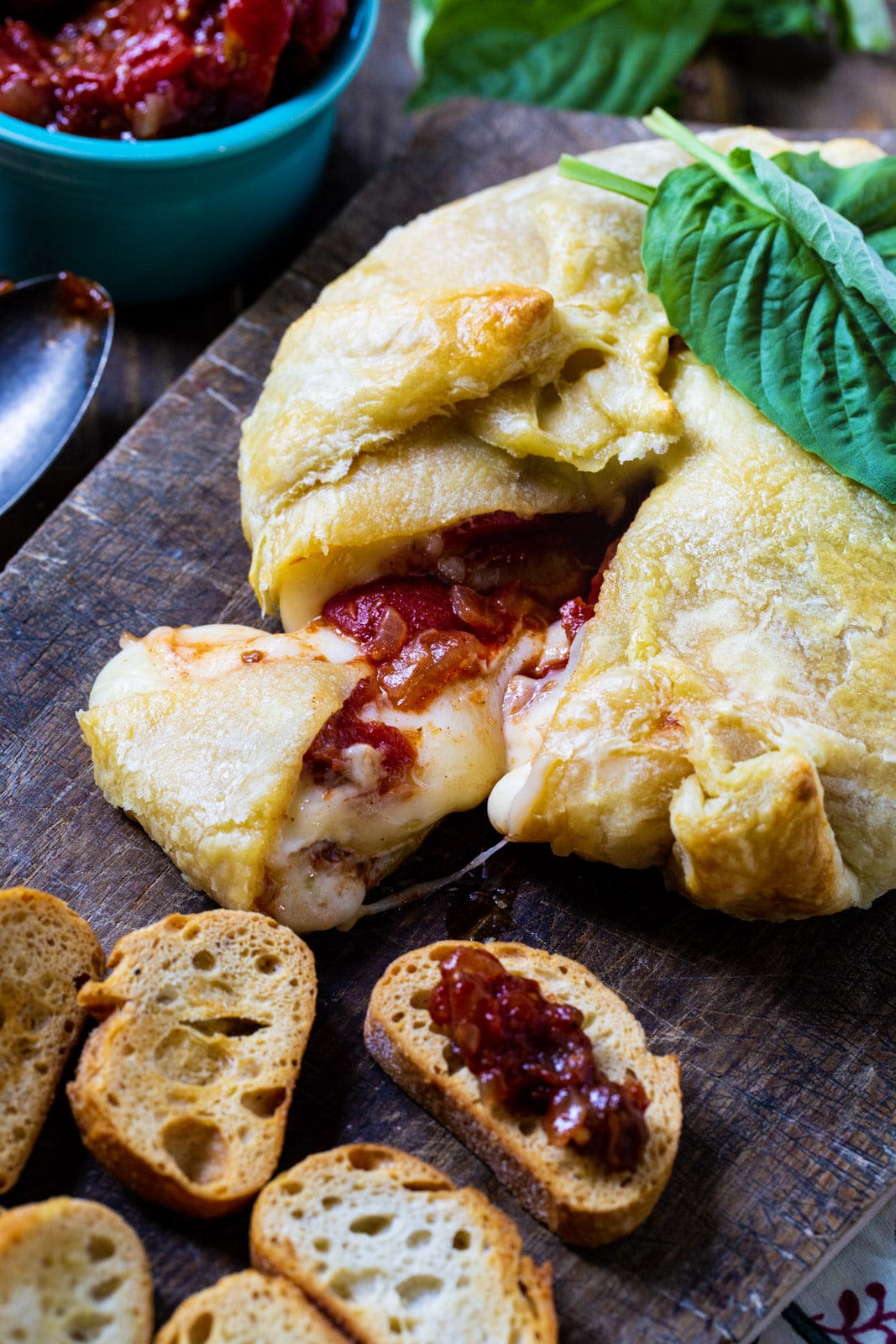 Tomato Chutney
The base of the chutney is a can of Tuttorosso Peeled Plum Tomatoes with Basil Flavor. Tuttorosso has been my go to brand of tomatoes since they became available in the Carolinas. I find the quality and taste to be superior to other brands. See my taste test between Tuttorosso Tomatoes and Hunts.
The tomatoes are simmered with sugar, onion, lemon zest, red wine vinegar, raisins or currants, mustard seeds, and a few spices until thick.
Tips For Prepping Ahead of Time:
The tomato chutney can be made a good 1-3 days in advance and refrigerated. I think the flavor actually improves over time.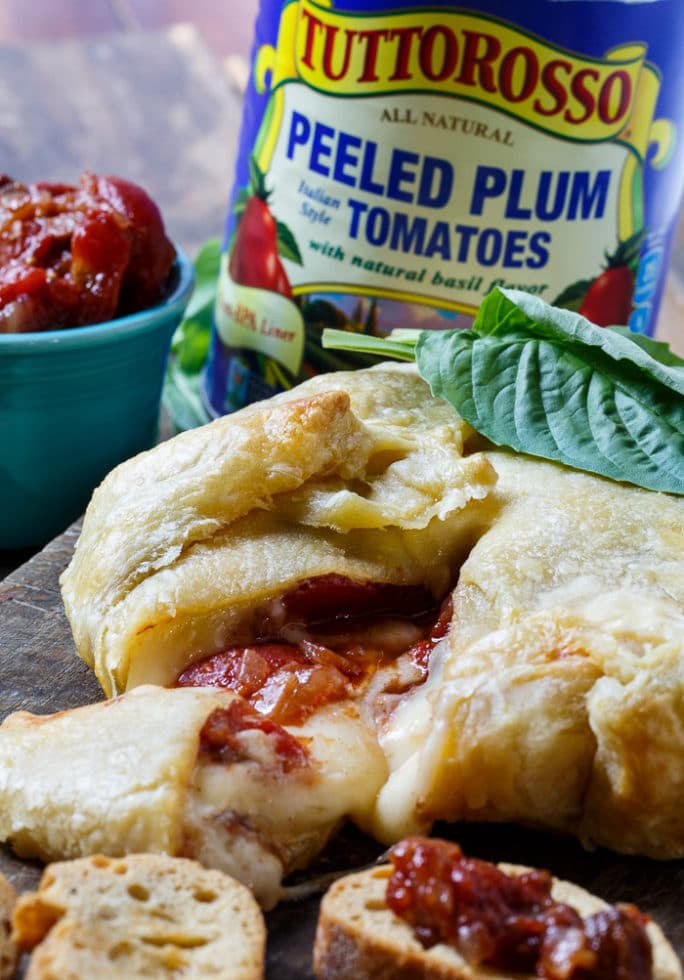 If you make the chutney in advance, the baked brie can be assembled in just a matter of minutes and then it only takes 25 minutes to bake.
How To Make Wrapped Brie with Tomato Chutney
Prepare the Tomato Chutney. Combine all ingredients in a saucepan and simmer for a total of 60 minutes.
Roll out the puff pastry.
Wrap the brie and tomato chutney in puff pastry.
Bake for 25 minutes.
Serve.
This recipe makes some extra tomato chutney. I like to place it in a bowl and set it alongside the Baked Brie. You may find you like the flavor of the chutney so much that you want to add a little extra to your plate.  🙂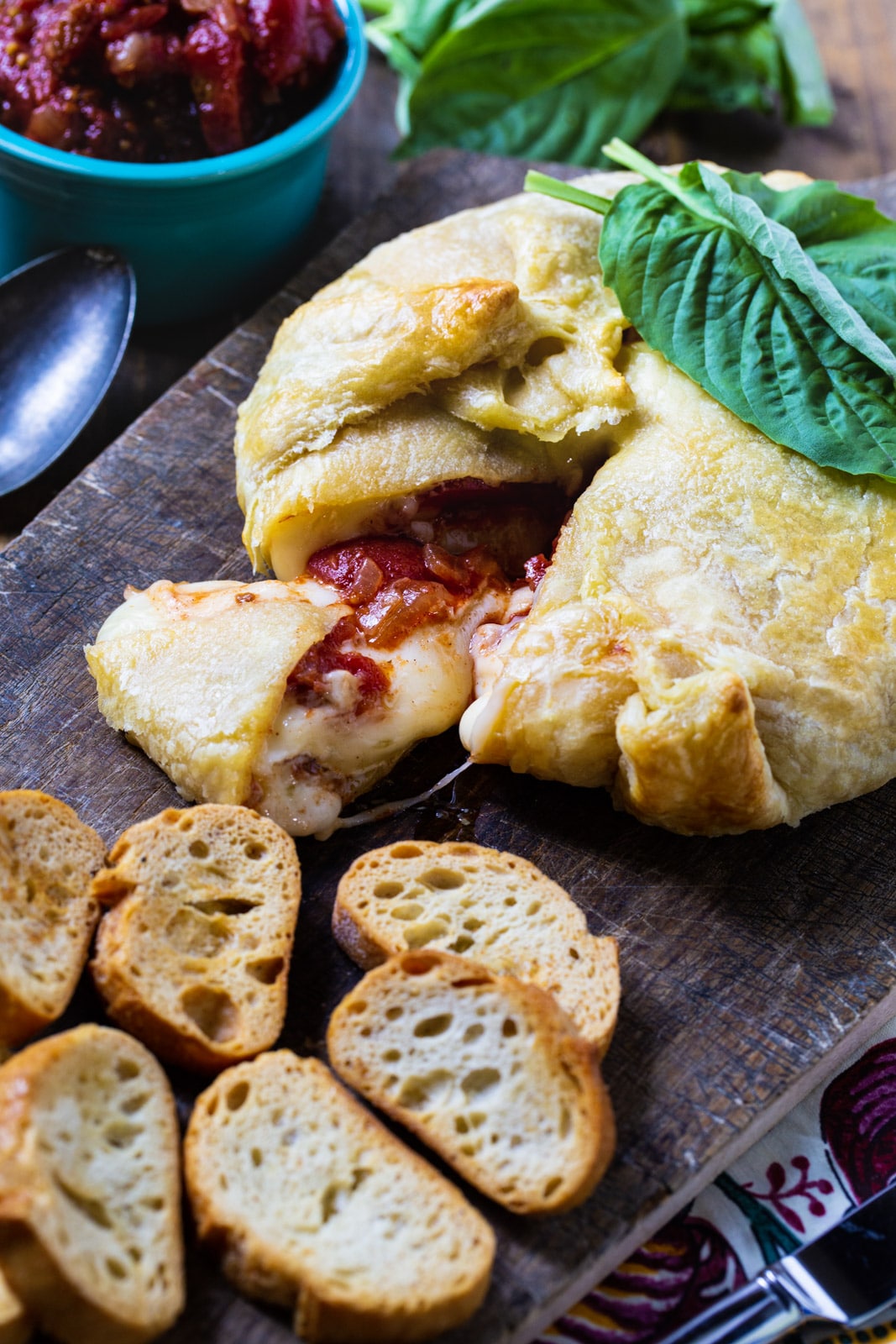 Try These Other Amazing Appetizer Recipes: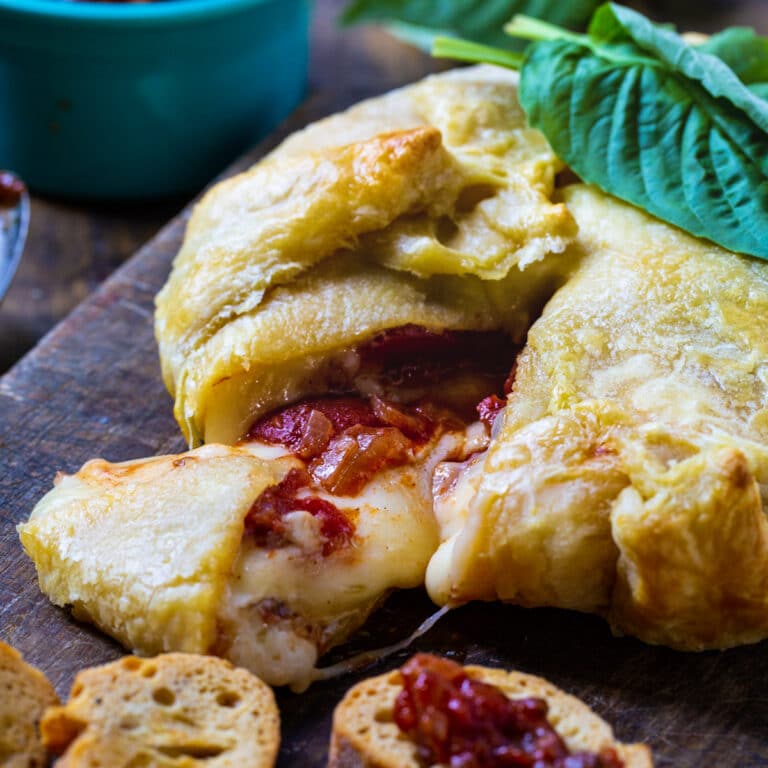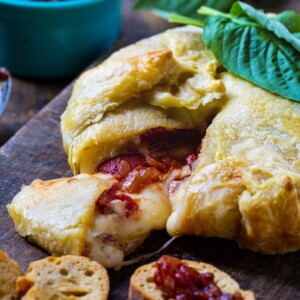 Wrapped Brie with Tomato Chutney
Warm melted Brie cheese wrapped in a buttery and golden puff pastry and topped with homemade tomato chutney.
Ingredients
Tomato Chutney
1

(35-ounce)

can Tuttorosso® Peeled Plum Italian Style Tomatoes with natural basil flavor,

chopped

1

large onion,

chopped

Zest of one lemon

1/2

cup

sugar

1/2

cup

red wine vinegar

1/2

cup

dried currants

or raisins

1 1/2

teaspoons

mustard seeds

1/2

teaspoon

salt

1/4

teaspoon

cayenne pepper

1/4

teaspoon

ground allspice

1/2

teaspoon

cinnamon
Wrapped Brie
1

egg whisked together with 1 tablespoon water

1

sheet puff pastry,

thawed

1

(13-16 ounce)

round Brie cheese

1 1/2

cups

Tomato Chutney
Instructions
In a heavy saucepan combine all ingredients for chutney. Cook mixture over medium heat, stirring occasionally, for 30 minutes. Reduce heat to low and simmer mixture, stirring occasionally, for 30 minutes more, or until thickened and reduced to about 2 ½ cups. Refrigerate until ready to use.

Preheat oven to 400 degrees.

Roll out pastry dough to 12 inches on a lightly floured surface. (I like to do it on a piece of parchment paper so that it is easy to just lift it and set it on a baking sheet.)

Cut off top rind of cheese and discard. Set brie in center of puff pastry. Place 1 to 1 1/2 cups tomato chutney on top of brie.

Fold the pastry dough up and over cheese and chutney, sealing edges with egg wash. If you have excess pastry dough, you can cut it off and shape it into decorative pieces to place on top.

Brush entire puff pastry with egg wash. Place on baking sheet and bake 25 minutes. Let cool 20 minutes before serving with crackers and toasted baguette.
Want to Save This Recipe?
Originally published April 15, 2016.
Recipe slightly adapted from Tuttorosso Tomatoes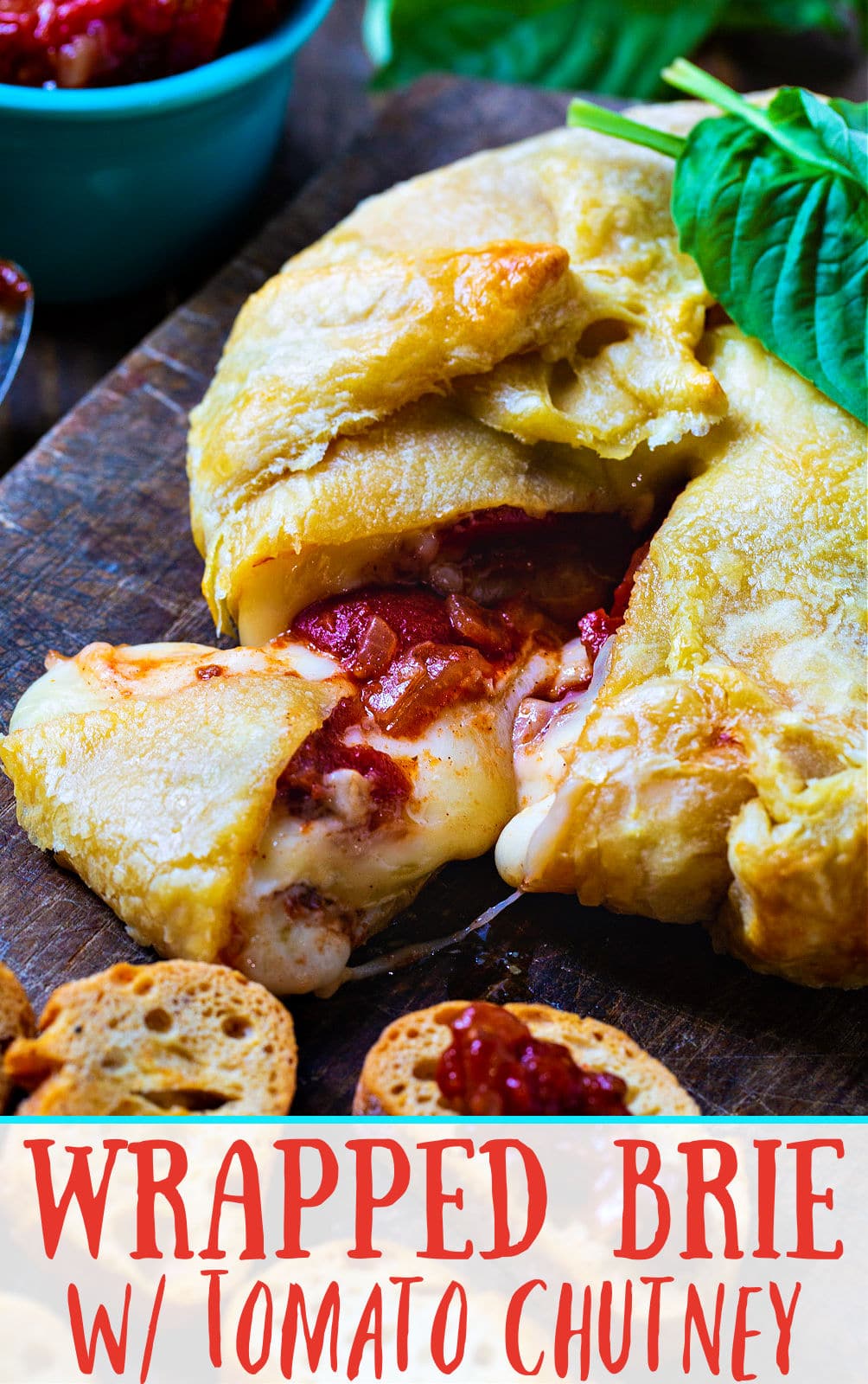 Disclosure: This is a sponsored post. All opinions are mine and I love the opportunity to share the products I use in my own kitchen.