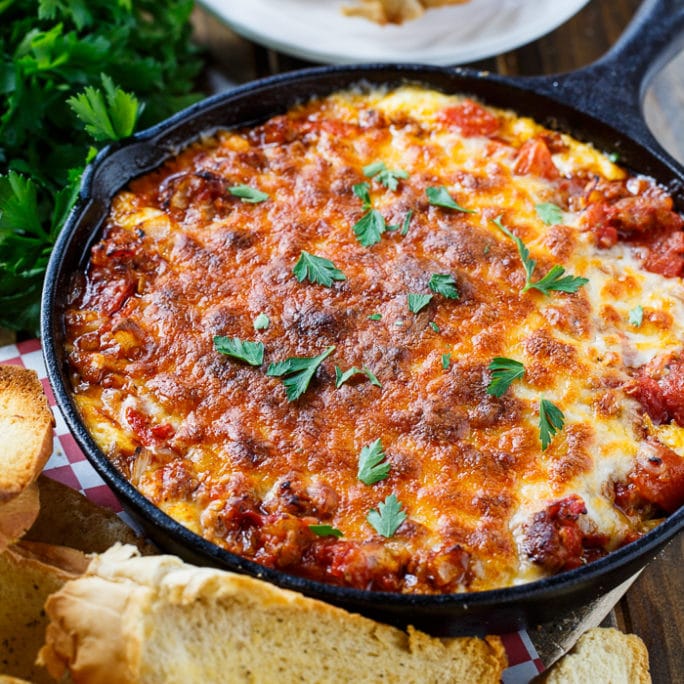 Lasagna Dip with a creamy layer of cheese on the bottom, a thick tomato-Italian sausage sauce, and lots of melted mozzarella cheese on top is one of the most delicious game day foods ever. Just look at that cheesiness! Pile it high on some garlic toast and you'll think you've died and gone to heaven.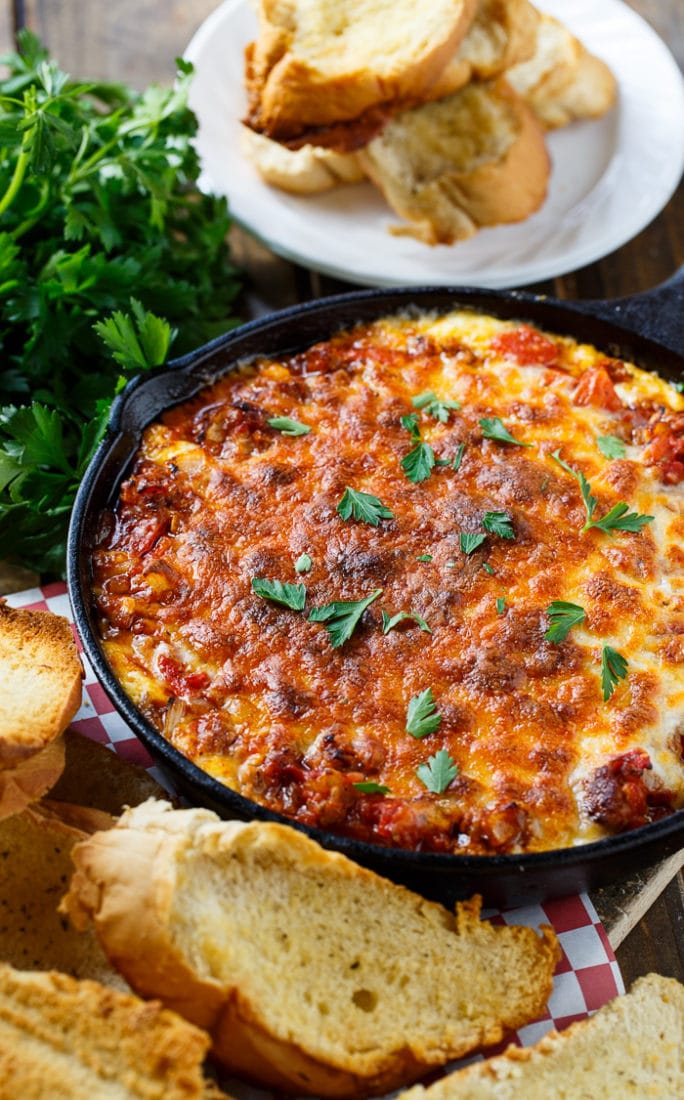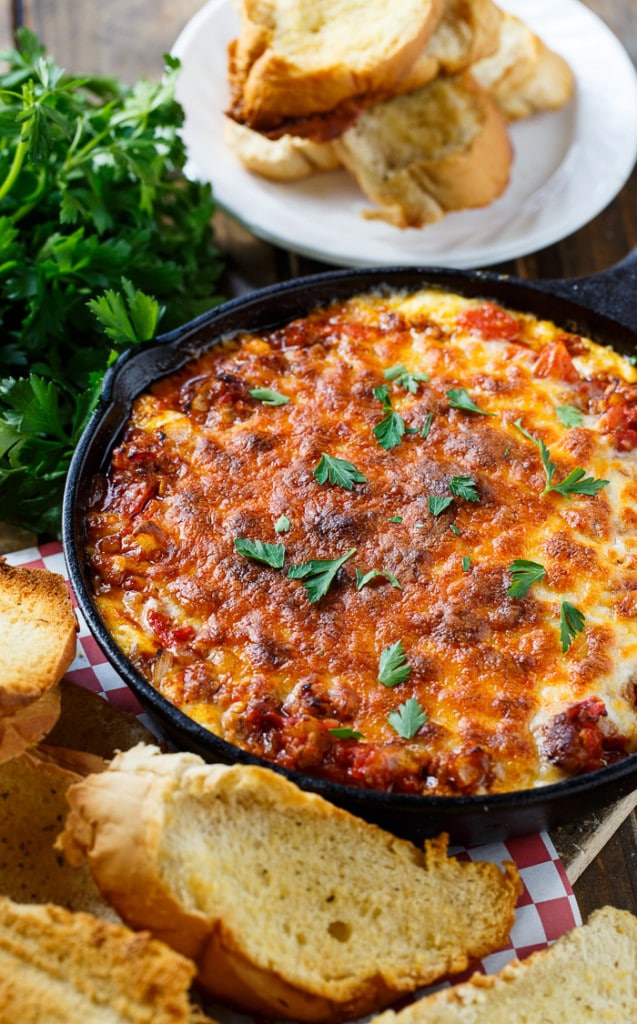 To make the sauce for Lasagna Dip, I used Tuttorosso Tomatoes which has become my go to brand of tomatoes since they recently expanded to my market. They are pretty much available all up and down the east coast now. Tuttorosso Tomatoes are made by Red Gold Tomatoes, an Indiana company, and they are grown and packed in the US.
Have you ever compared the taste of canned tomatoes before? Until recently I had never even thought to taste canned tomatoes straight out of the can.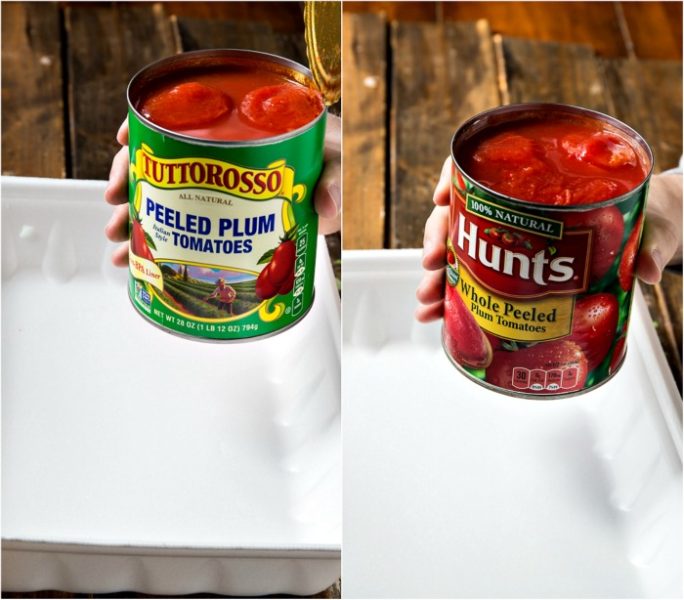 I discovered there's a big difference in taste and quality between different brands of canned tomatoes that is really evident when you do a side by side comparison.
Just look at the difference between these whole peeled tomatoes from Tutterosso and Hunt's.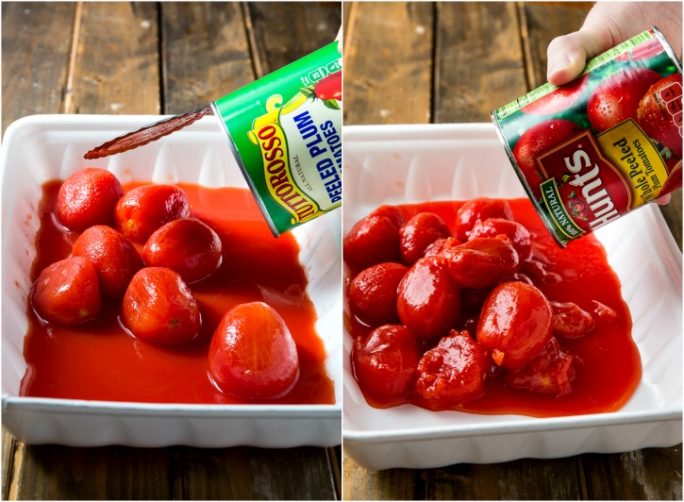 When comparing the appearance, you should observe the red color of the tomatoes, the uniformity in size, the integrity (how firm they are), the amount of peel and seeds present, and the media (the sauce- it should be thick and have a vibrant color.)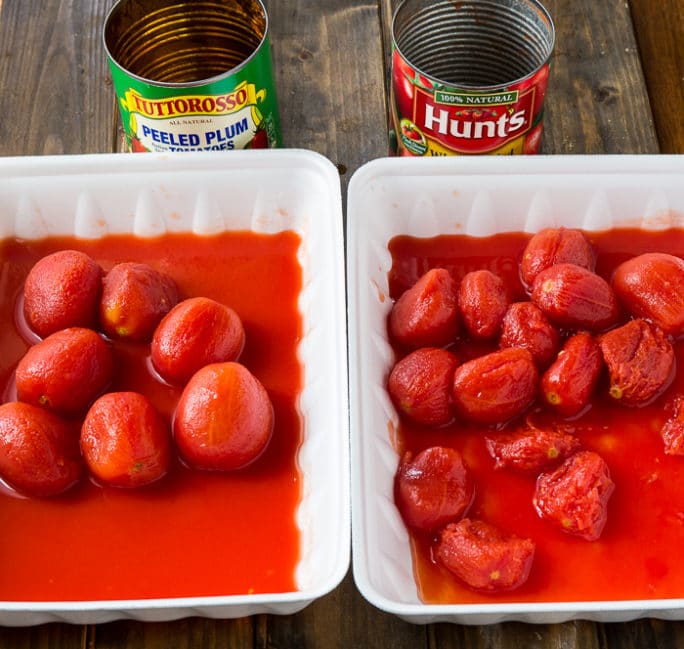 As you can see, both brands of tomatoes have a nice red color, but the difference in uniformity and integrity is huge. The Tuttorosso tomatoes look picture perfect while the Hunt's tomatoes are a little mangled. In fact, a few of the Hunt's tomatoes were barely recognizable as whole tomatoes. The Hunts tomatoes were smaller on average and had a great deal of variation in size.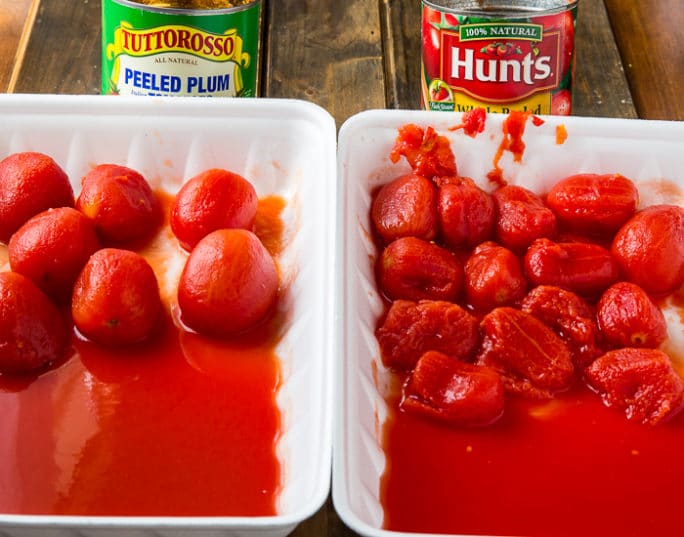 I couldn't find any pieces of peel on the Tuttorosso tomatoes, but there were a few on the Hunt's tomatoes.
The Tuttorosso Tomatoes had good structural integrity and even held their form when cut in half, whereas the Hunt's Tomatoes were very flimsy and not at all firm and plump.
After comparing the appearance, judge the flavor- both the intensity of the tomato flavor and the Attribute (are there any Metallic tastes of non-tomato flavors?).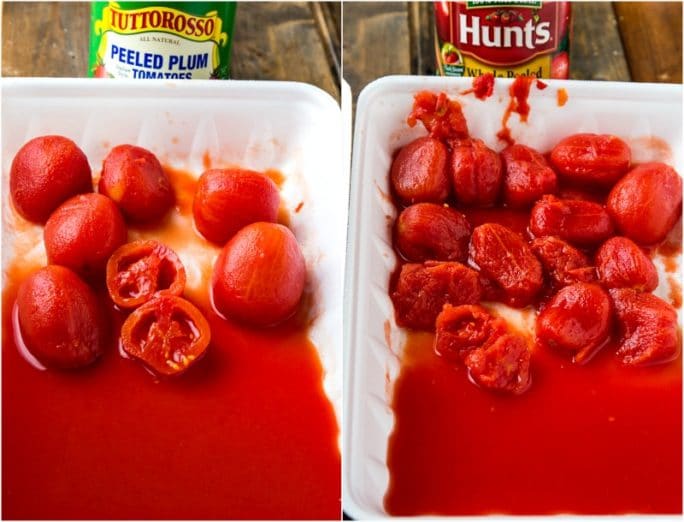 I found the Tuttorosso tomatoes to have a fresher taste with no off flavors at all.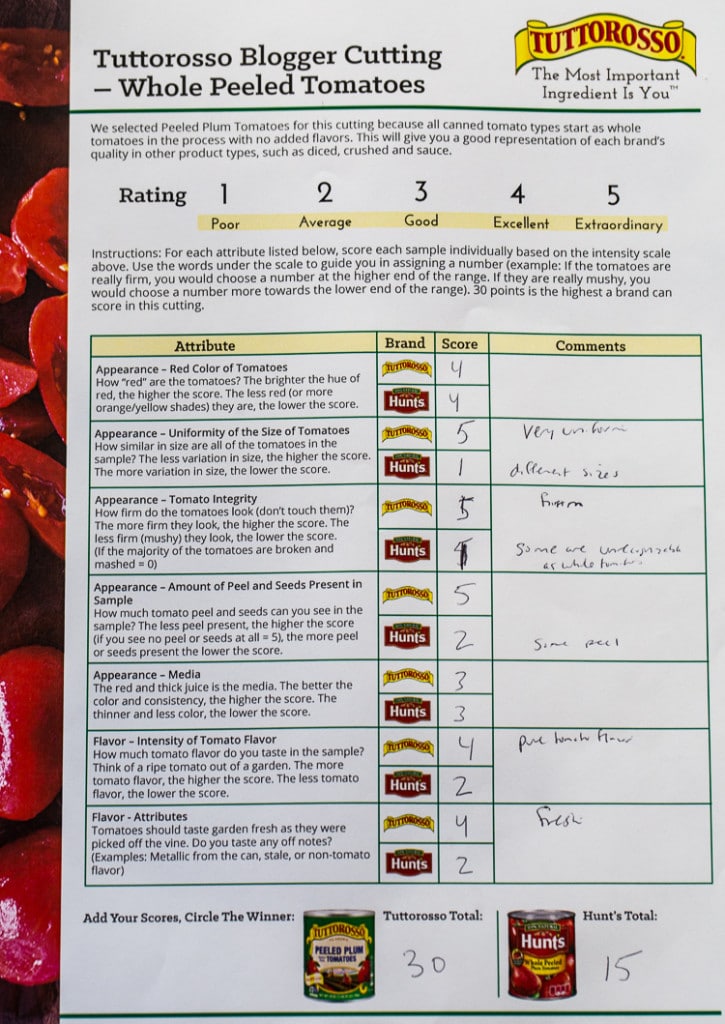 Overall, Tuttorosso was the clear winner of this match up.
Tuttorosso products were recently certified Non-GMO by the Non-GMO Project so you can feel good about serving them to your family.
Why not have a little taste test of your own? Get a bunch of different brands and do a taste comparison. You will find there is a huge variation in taste and quality. You want to be sure you are adding the best tomato flavor possible to your recipes.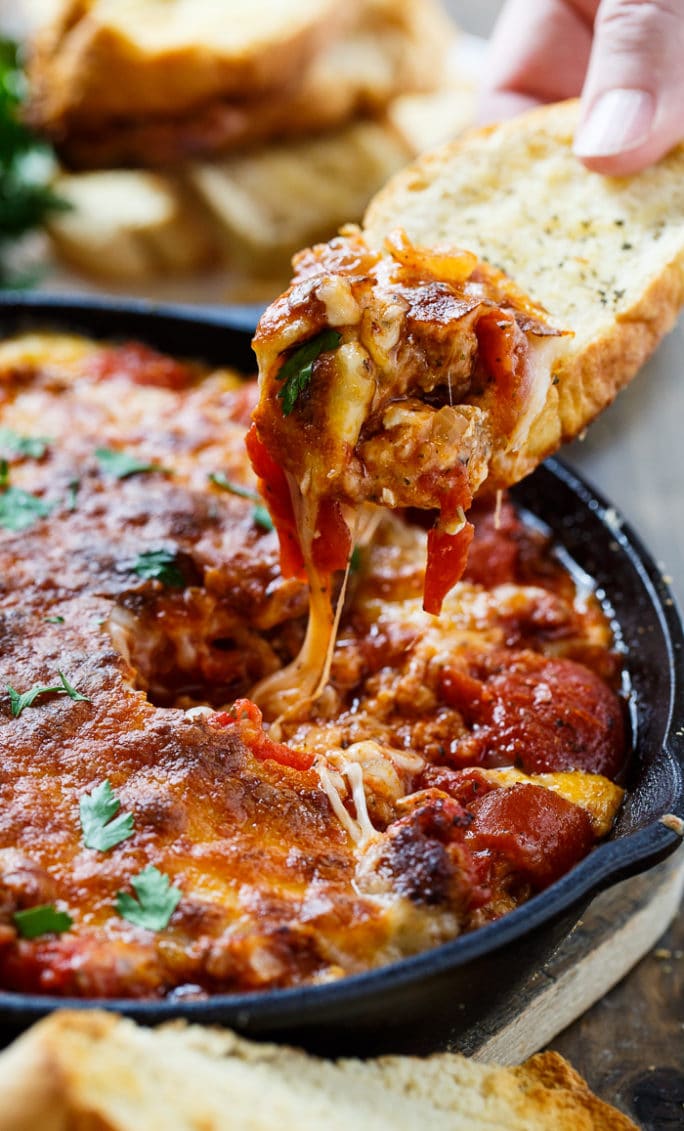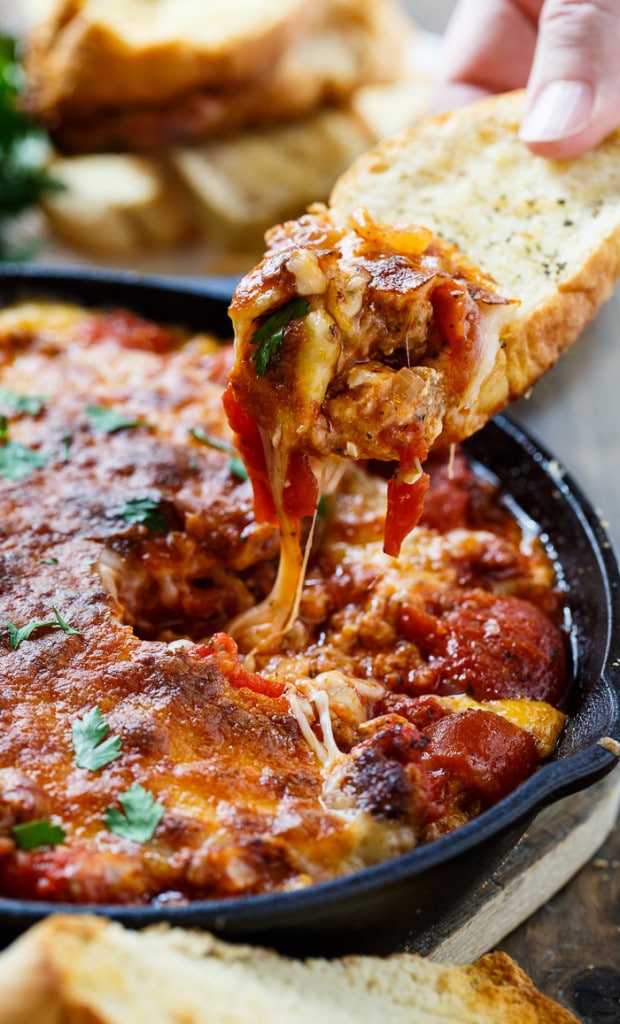 Find more recipes using canned tomatoes on Tutorosso's website.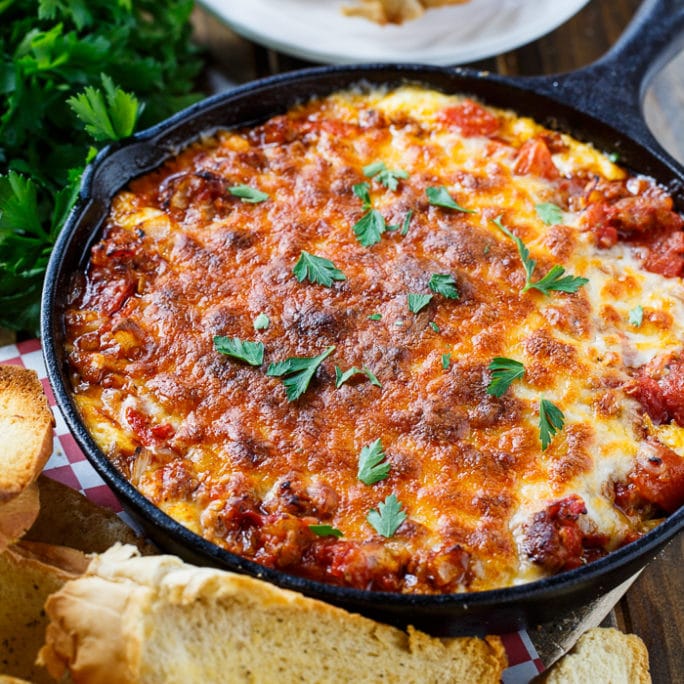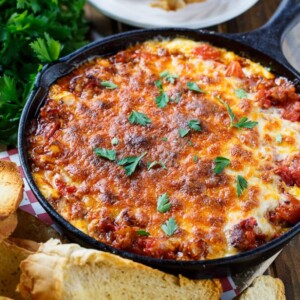 Lasagna Dip and Tuttorosso Tomatoes
Lasagna Dip has a creamy layer of cheese on the bottom, a thick tomato-Italian sausage sauce, and lots of melted mozzarella cheese on top.
Ingredients
1/2

pound

ground Italian sausage

1/2

a medium yellow onion,

chopped

2

garlic cloves,

minced

1

teaspoon

Italian seasoning

1/2

teaspoon

salt

1/4

teaspoon

black pepper

1

(28-ounce)

can Tuttorosso plum tomatoes,

drained

3

tablespoons

Tuttorosso tomato paste

1

cup

cottage cheese or ricotta cheese

1

egg

1/3

cup

grated Parmesan cheese

2

cups

shredded Mozzarella cheese

chopped parsley
Instructions
Cook ground Italian sausage and onion in a medium nonstick pan until pork is no longer pink, breaking it up with a wooden spoon.

Add garlic, salt and pepper and cook 1 minute.

Roughly chop the tomatoes and add them and any juices to the pan along with the tomato paste. Stir to combine.

Simmer until thickened.

In a medium bowl, stir together cottage cheese, egg, and Parmesan cheese.

Spread cottage cheese mixture along bottom of a 9-inch cast iron skillet or a greased baking dish.

Top with 1 cup of shredded Mozzarella cheese.

Pour tomato mixture evenly on top of cheese.

Sprinkle remaining Mozzarella cheese on top.

Place in 375 degree oven for 20 minutes.

Optional- Broil for 2 to 3 minutes to brown cheese.

Sprinkle with parsley.
Want to Save This Recipe?
Disclosure: This is a sponsored post. All opinions are 100% mine and I appreciate the opportunity to share products that I use and love.