Roasted Sweet Potato Quiche- A delicious twist on a traditional quiche with roasted sweet potatoes, onions, and lots of gruyere cheese.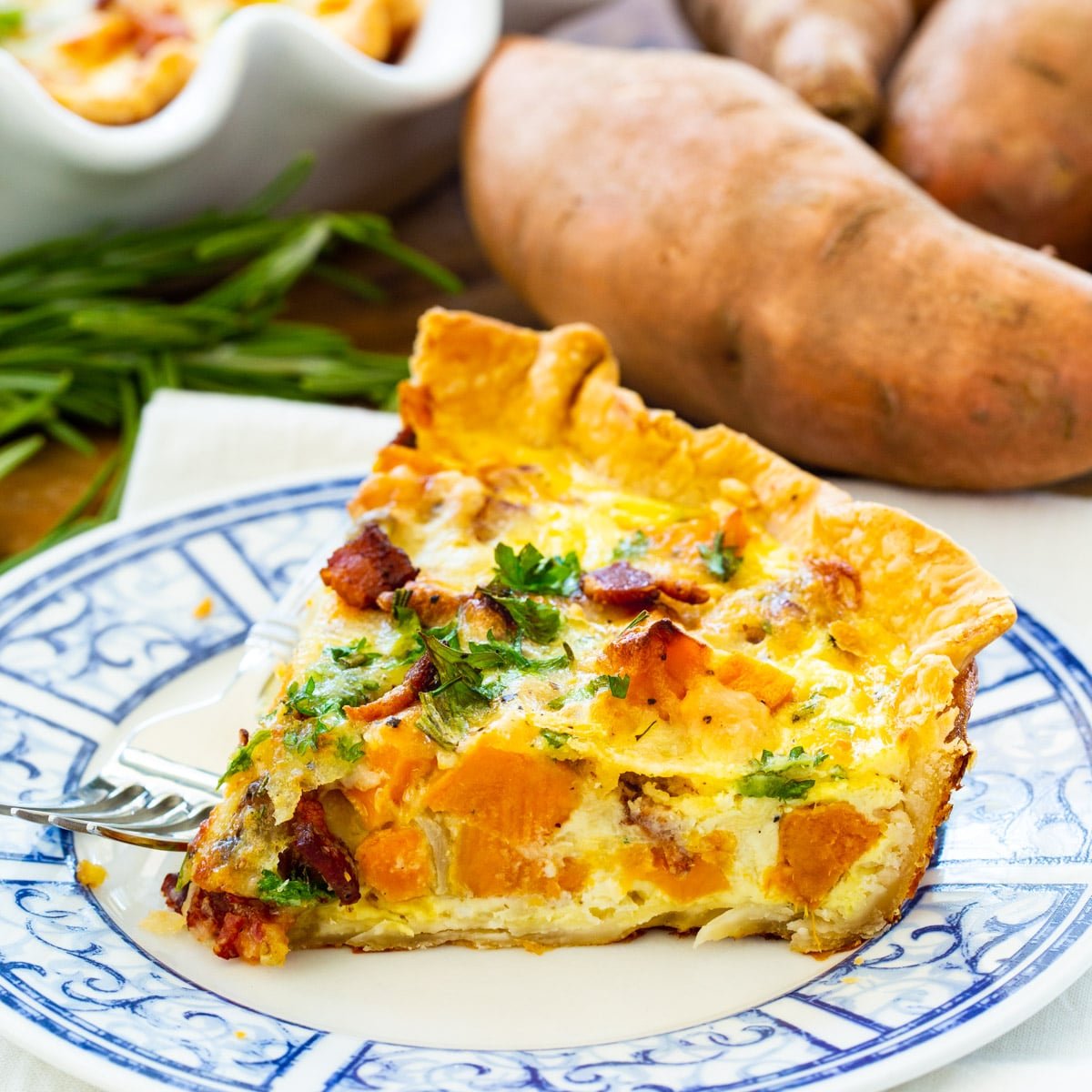 I'm quite aware that not everyone has my sweet potato obsession. 'Not sweet potatoes again" is a phrase often muttered by members of my family.
What's not to like about a healthy food that's naturally sweet? I just don't get it. Especially considering how much pumpkin love there is. I find that sweet potatoes can be used in any recipe pumpkins can be used in, plus a whole lot more. They are more accessible than pumpkin during the non-fall months and they are easier to prepare. OK maybe not easier than canned pumpkin. But still.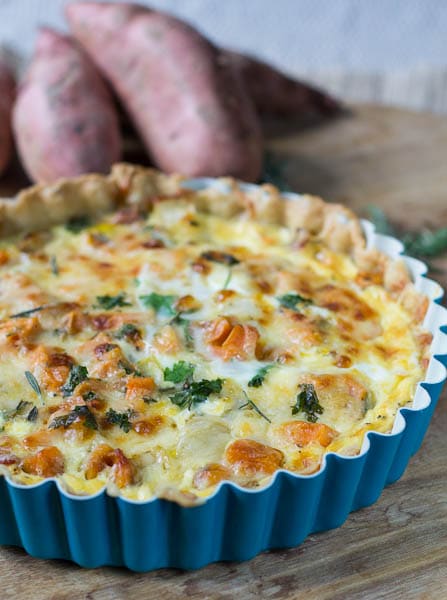 Sweet potatoes are so versatile. They can be eaten plain, or in a variety of sweet and savory recipes. My personal trainer, who is perhaps the healthiest eater I've ever met, eats a sweet potato just about everyday. Totally plain. Just pops it in the microwave until it's cooked, picks it up, in his hand, and starts chomping away at it. Not utensils needed, no salt or butter. Just the sweet potato. Wish I enjoyed eating food that plain.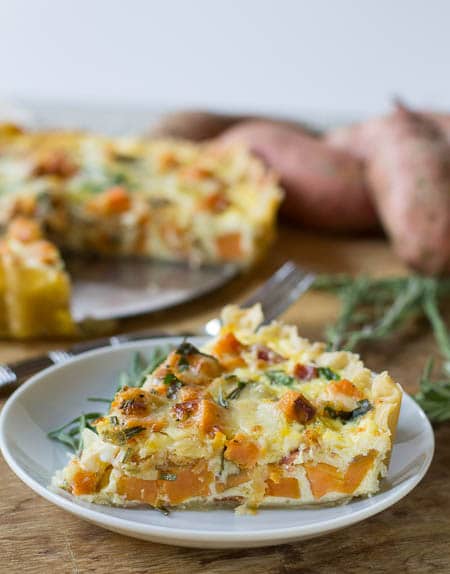 My favorite sweet potato recipes are always savory. When I saw a recipe for Sweet Potato and Onion Tart in the October 2012 Southern Living Magazine, I was very intrigued. A tart (or quiche is a better term for this particular recipe) was one way I had never cooked sweet potato.
And let me just tell you, I think Roasted Sweet Potato Quiche might just be my favorite quiche ever. The sweet potatoes, along with some onions are roasted first to heighten their flavors. Some bacon is added which gives a salty contrast to the sweetness of the sweet potato and onion. Plenty of Gruyère cheese is used. Is there any better cheese for quiche? I don't think so. Fresh parsley and rosemary round out the flavors. Oh how I love rosemary with sweet potatoes.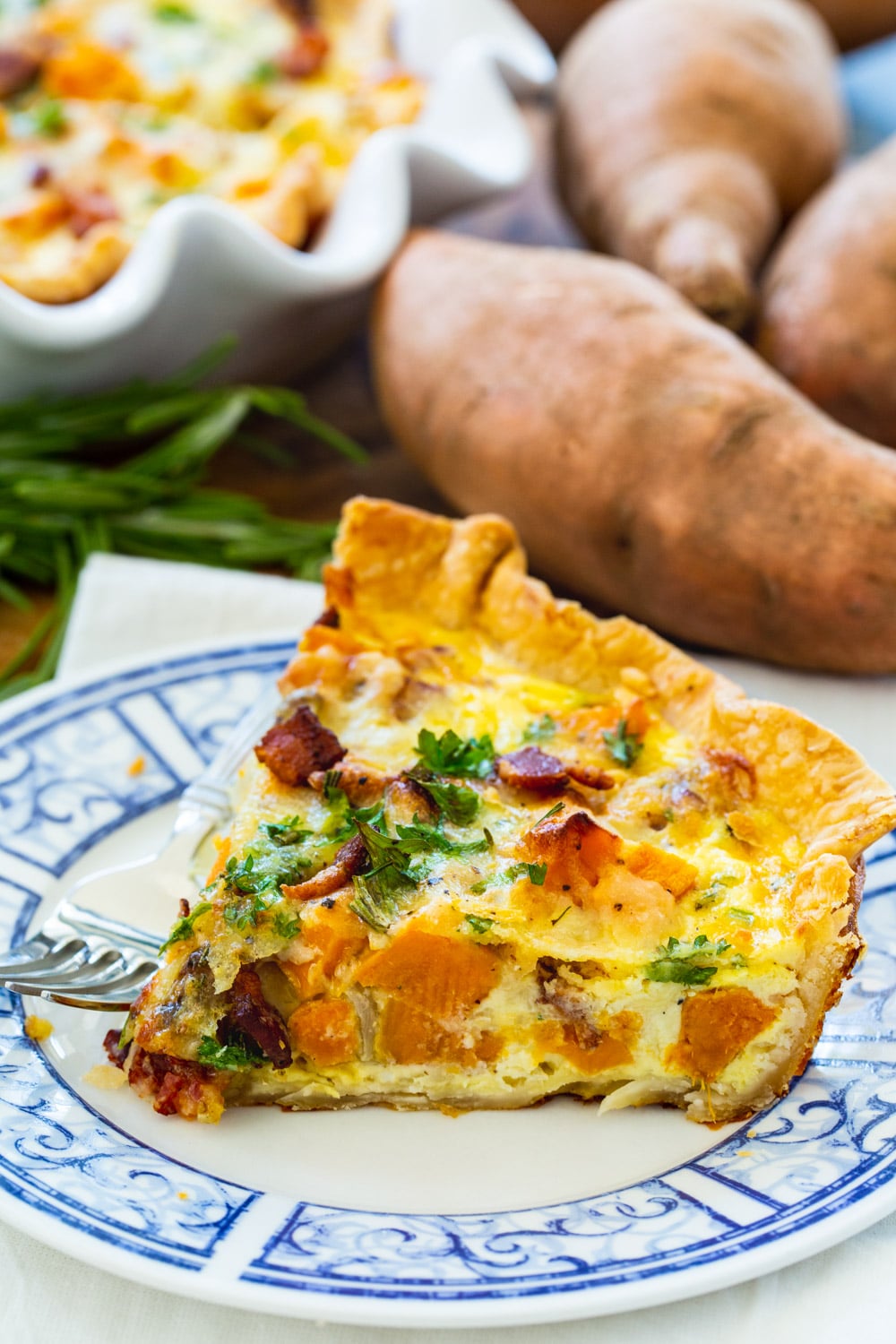 The mixture of sweet potatoes, eggs, and cheese tasted so fabulous I'm thinking that sweet potatoes would be delicious in omelet form too!
For more sweet potato cooking inspiration check out my Sweet Potato Pinterest Board. Over 320 sweet potato recipes pinned. Told you I'm sweet potato crazy! Maybe I'll pin 40 more and make a different sweet potato recipe everyday next year. That may cure my sweet potato obsession!
Note: Gruyère cheese is a little on the expensive side- but it is so worth it. I really don't think there is a less expensive cheese that comes close to matching its flavor. I used a refrigerated pie crust, but you could definitely make a homemade piecrust.
Oh! And I almost forgot! This new, blue tart pan (see the second picture) that I got with a removable bottom worked really great. The quiche just popped out in one giant piece. It was only about $10 at Target and it came in a bunch of different colors. Definitely a good buy.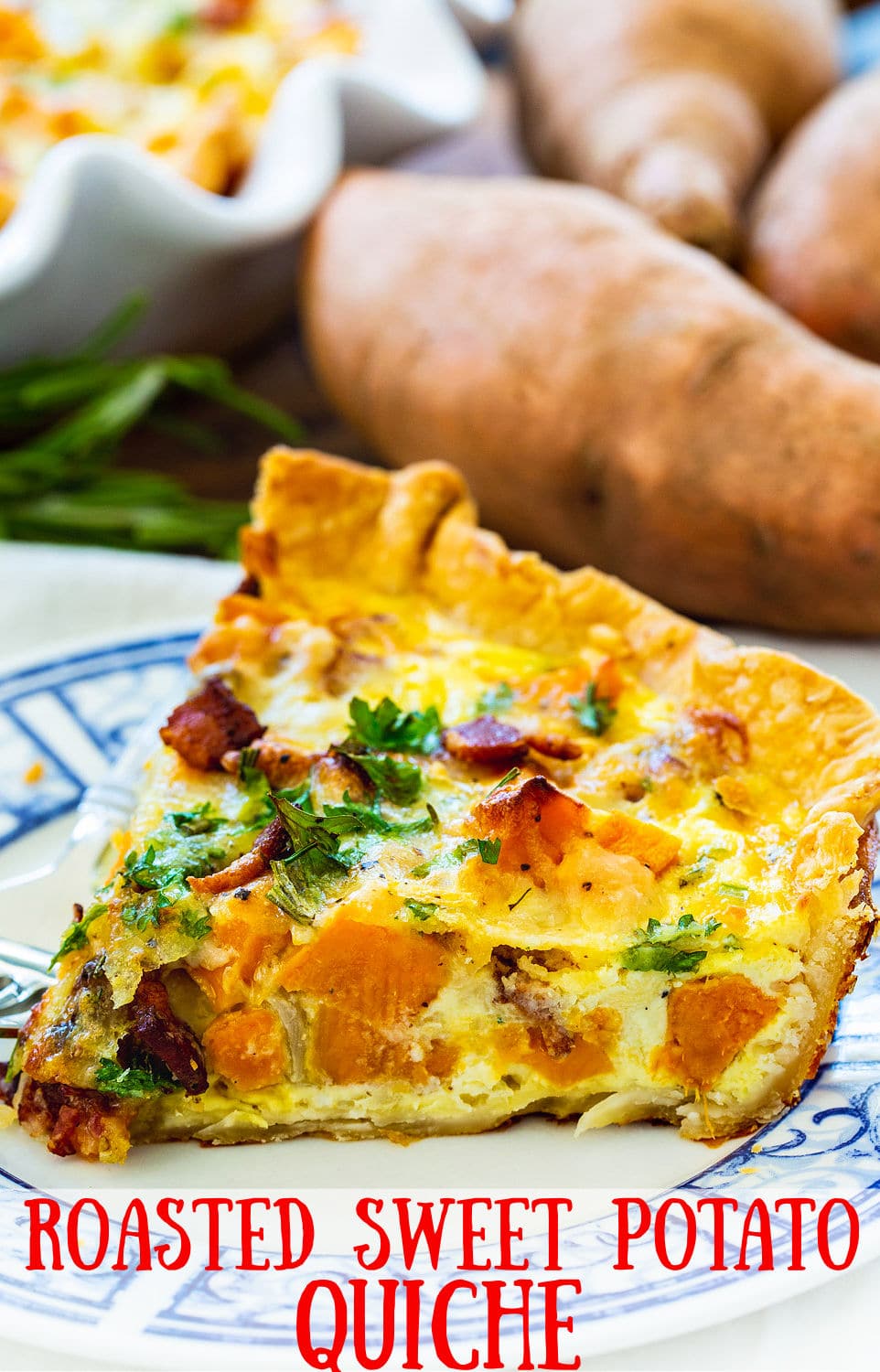 Try These Other Amazing Quiche Recipes: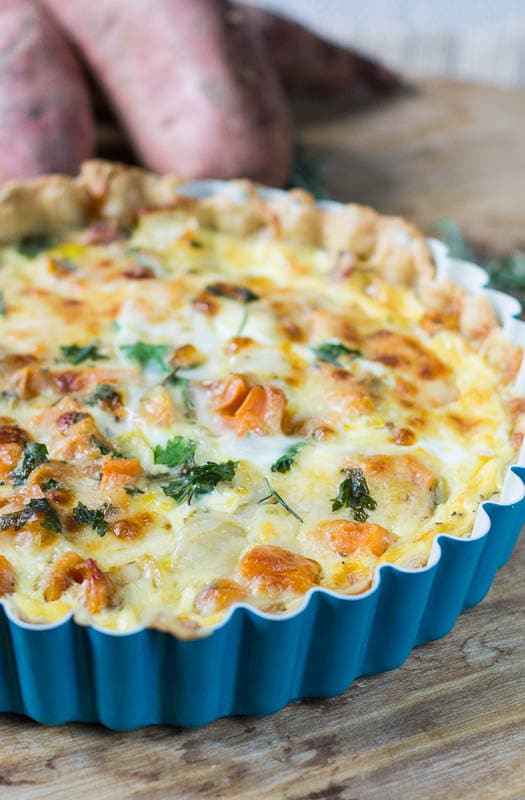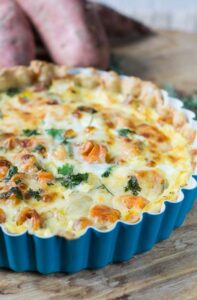 Roasted Sweet Potato Quiche
A delicious twist on a traditional quiche with roasted sweet potatoes, onions, and lots of gruyere cheese.
Ingredients
3

cups

sweet potatoes,

1/2-inch cubed, (about 2 medium peeled)

1

cup

chopped sweet onion

2

tablespoons

olive oil

1/2

teaspoon

seasoned pepper

1/4

teaspoon

kosher salt

6

slices

bacon cooked and crumbled

1

refrigerated pie crust

2

cups

shredded Gruyere cheese

1 1/2

cups

half-and-half

4

large eggs

2

tablespoons

chopped fresh parsley

1

teaspoon

chopped fresh rosemary

1/2

teaspoon

kosher salt

1/4

teaspoon

pepper
Instructions
Preheat oven to 425 degrees.

In a medium bowl, toss together sweet potatoes, onion, olive oil, seasoned pepper and 1/4 teaspoon salt. Spread in a single layer on a lightly greased jelly roll pan. Bake 15 minutes, or until sweet potatoes are just tender. Stir halfway through.They will get softer when the quiche is baking.

Let sweet potatoes cool to room temperature.

Remove pie crust from refrigerator and let sit on the counter for 5 minutes. Unroll the piecrust and fit into a pie plate or deep dish tart pan with removeable bottom. Trim excess pie crust from edges or fold excess and tuck it under. If tart pan has fluted edges, press the pie crust into the edges.

Line piecrust with a double layer of heavy duty aluminum foil. You can place pie weights or dried beans on top, but I found that a double thickness of heavy duty foil was enough by itself to keep the pie crust from puffing up while baking.

Place on a baking sheet and bake for 10 minutes. Remove foil and bake 5 more minutes. Let crust cool 5-10 minutes.

Reduce oven temperature to 350 degrees.

Add crumbled bacon to sweet potatoes and onions and place half of this mixture on top of piecrust. Top with half of cheese. Repeat layers.

Whisk together half-and-half, eggs, parsley, rosemary, salt and pepper and pour into piecrust. Bake in lower part of oven for 35 to 40 minutes or until set. Cool for 15 minutes before slicing.
Want to Save This Recipe?
Originally published October 4, 2013.
Recipe Source: adapted from Southern Living