A delicious southern take on Eggplant Parmigiana using fresh summer okra instead of eggplant. Okra never tasted so good.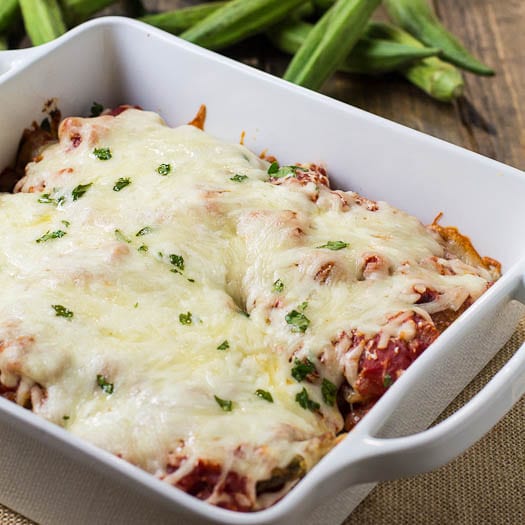 I found a real treasure of a cookbook at a local used book store, written by Dori Sanders of York, SC, who incidentally lives just minutes from our old house. Although I've never met her, I've been familiar with Dori Sanders for a number of years, but had no idea she had such a fabulous cookbook. It's easily become one of my favorite southern cookbooks.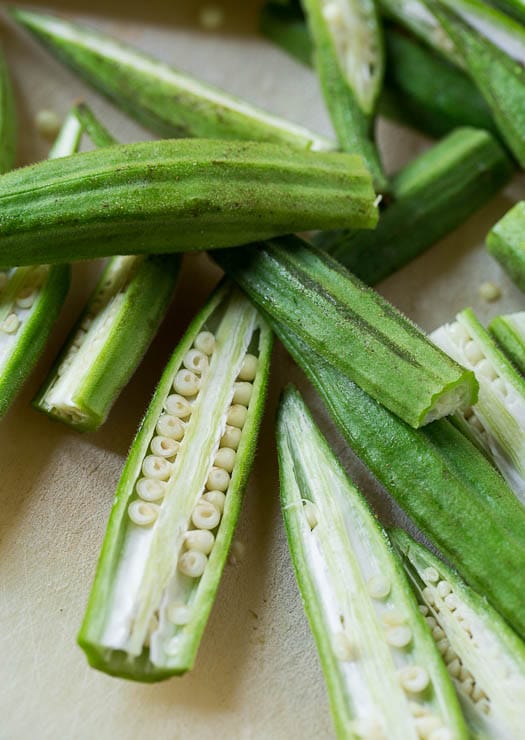 Dori is a very talented and accomplished woman and has 2 novels published, Clover and Her Own Place. The name of her cookbook is Dori Sanders' Country Cooking: Recipes and Stories from the Family Farm Stand
, published in 1995. It is full of down home country cooking recipes using fresh southern produce.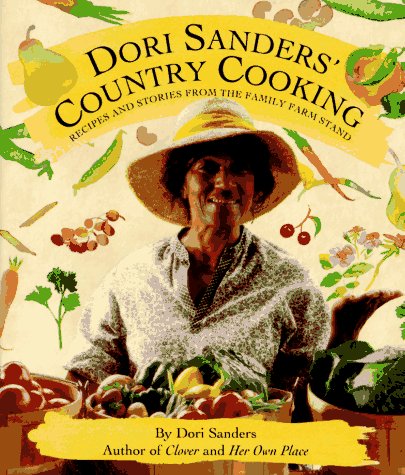 But these aren't just your regular old country cooking recipes you'll see in cookbook after cookbook. Dori Sanders has an imaginative and creative mind and there are some truly unique recipes in her cookbook.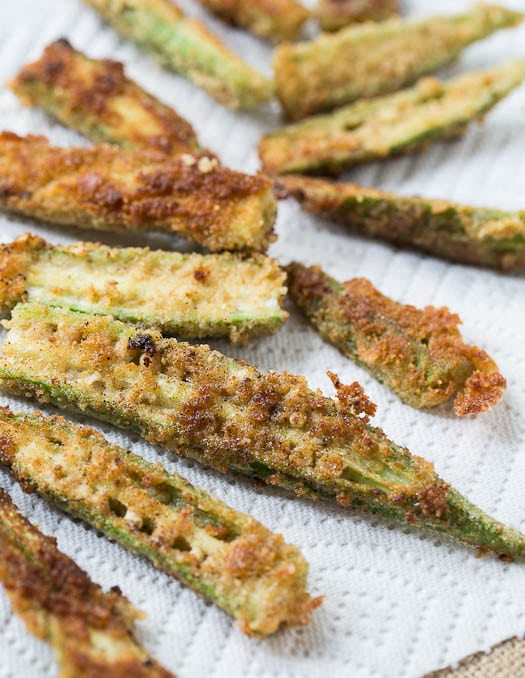 Case in point- her recipe for Okra Parmigiana, a recipe that in all my years of collecting cookbooks, I've never seen before. And what a wonderful recipe it is- a southern version of Eggplant Parmigiana using fresh summer okra instead of eggplant.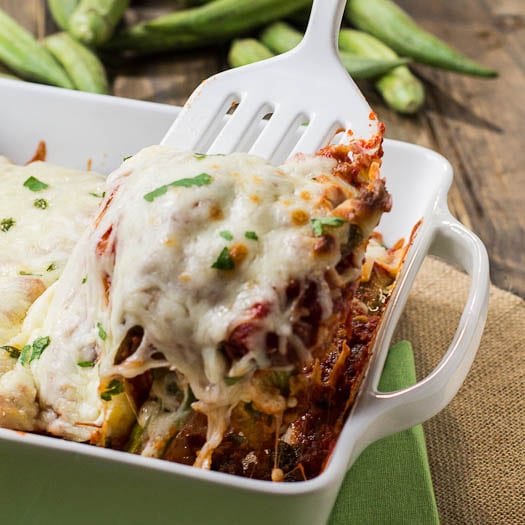 I've changed the recipe up some, but the essense is still the same- okra pods cut in half horizontally and fried in a cornmeal batter. They are layered with a thick tomato sauce and topped with cheese. The whole thing is baked until the cheese is warm and bubbly. This dish is Italian heaven for the okra lover.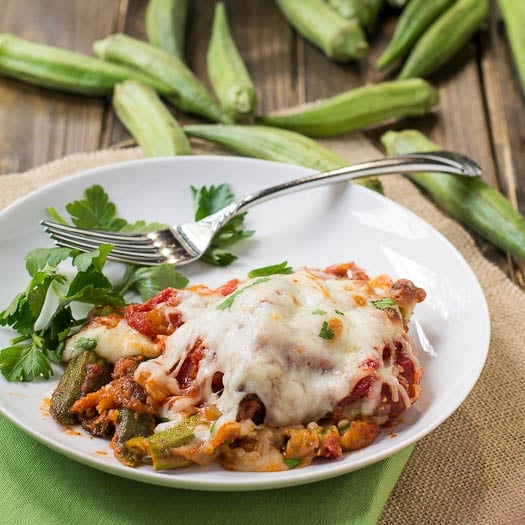 And if you haven't tried okra, or have but didn't like it, you must try this recipe. What's not to like about something covered in tomato sauce and cheese?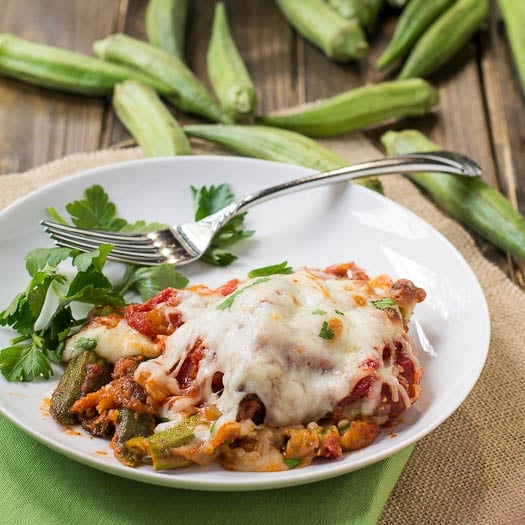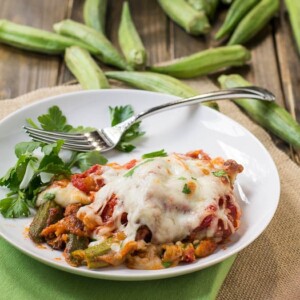 Okra Parmigiana
A southern take on eggplant parmigiana using fresh summer okra instead of eggplant.
Ingredients
2

tablespoons

olive oil

1

cup

diced onion

1/2

cup

diced celery

2

cloves

garlic,

minced

1/2

teaspoon

dried oregano

1

(14-ounce)

can fire-roasted diced tomatoes

1

(6-ounce)

can tomato paste

1

teaspoon

sugar

1/4

cup

chopped fresh parsley

salt and pepper to taste

1 1/2

pounds

fresh okra pods,

each about 3-4 inches long

2

eggs,

lightly beaten

1

cup

seasoned bread crumbs

1/4

cup

all-purpose flour

Vegetable oil

1/3

cup

freshly grated Parmesan cheese

1 1/2

cups

shredded Mozzarella cheese
Instructions
Preheat oven to 350 degrees and lightly spray a 9-inch square baking dish with cooking spray.

In a large skillet, heat olive oil over medium-high heat. Add onion and celery and sauté for 3 to 4 minutes. Add garlic and sauté another 2 to 3 minutes. Add oregano.

Stir in diced tomatoes, tomato paste, and sugar. Season to taste with salt and pepper. Reduce heat to low and simmer for 20 minutes, stirring occasionally. Add parsley. Sauce will be thick. You can add a little water if you wish to thin it some.

Cut off cap end of okra pods and cut pods in half lengthwise. Combine bread crumbs and flour in a pie plate.

Dip okra pods in egg and then roll in bread crumb mixture to coat.

Add enough Vegetable oil to a large skillet to coat the bottom with about 1/4-inch oil. Heat over medium-high heat. Add half the okra and brown on both sides, about 3 minutes per side. (Okra will burn easily. Turn heat down some if it is browning too quickly.) Drain on paper towels and immediately season the okra with some salt. Add more oil to skillet and cook remaining okra.

Coat bottom of prepared baking dish with a thin layer of tomato sauce. Layer 1/2 the okra in the dish and top with half of the tomato sauce. Repeat layers. Top with Parmesan and Mozzarella cheeses.

Place in preheated oven and bake for 40 to 45 minutes, until bubbly and browned.
Notes
Use okra that is no bigger than 3 to 4 inches long. Larger okra will be too fibrous.
Want to Save This Recipe?
Sharing with the Country Cook's Weekend Potluck
Disclosure: This post contains an affiliate link.