This Easy Strawberry Shortcake is made from sweetened biscuit dough, freshly whipped cream and ripe strawberries. It can easily be made in 30 minutes.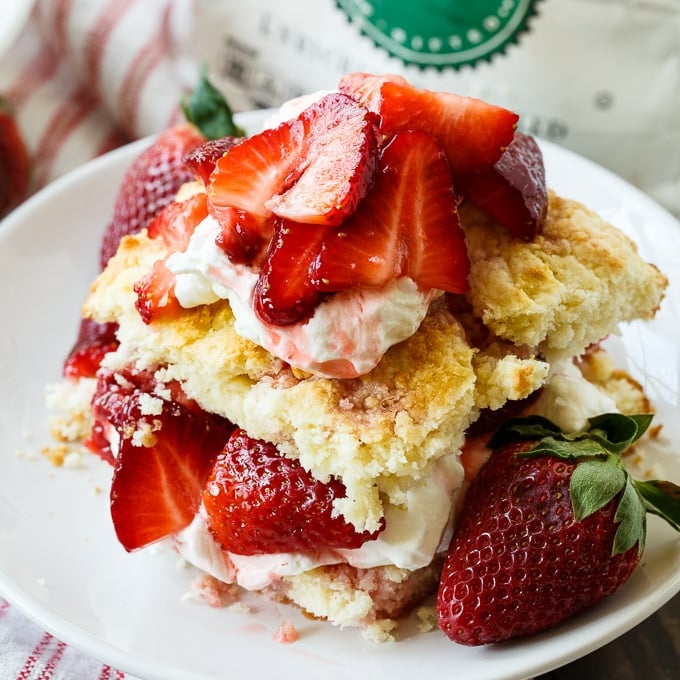 Spring just isn't spring without fresh strawberry shortcake. It's my favorite way to eat fresh, in-season strawberries which are so plentiful in the south during the month of May.
Strawberry Shortcake is such a simple dessert made from simple, basic ingredients and I've made the process even simpler by baking the biscuit dough in an 8×8-inch pan instead of rolling it out and cutting it with a biscuit cutter. No messy counters when you do it this way. Just mix the dough in a large bowl and transfer it to a greased baking dish. Gently press it and push it with your fingers so that it forms an even layer in the pan.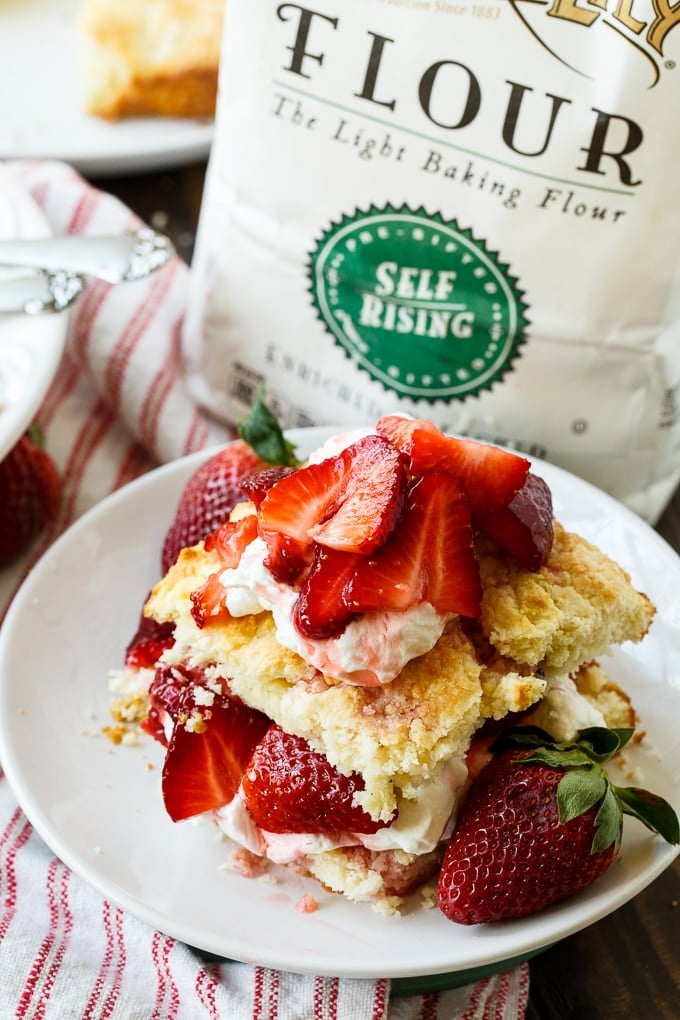 Bake for about 18 minutes.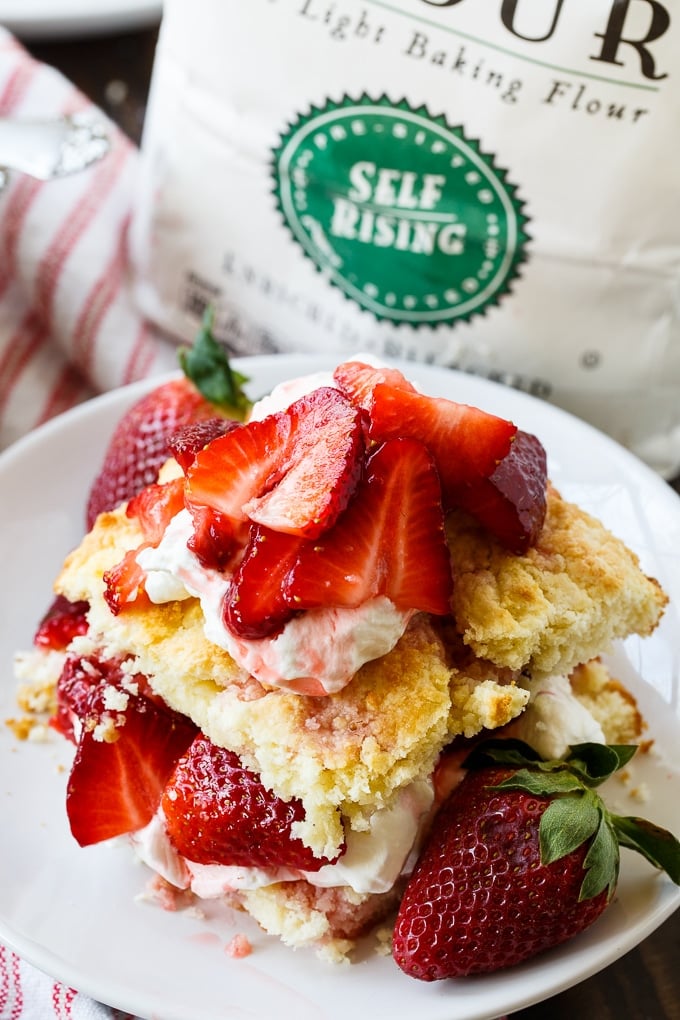 Next, cut it into 4 squares. Cut each square open and fill it with strawberries and whipped cream. So good!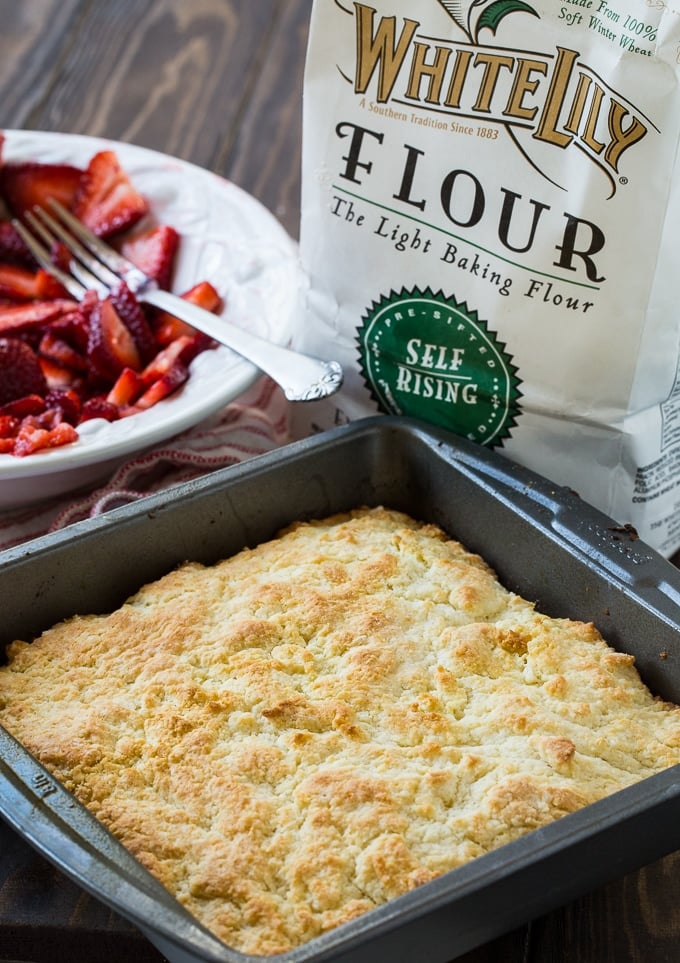 The key to really good strawberry shortcake is a tender, moist biscuit. For my biscuit making, I use White Lily Self-Rising Flour. It's made from soft winter wheat and has a lower protein content than other flours so it produces the most light and tender biscuit crumb.
To keep the biscuit dough tender for these Easy Strawberry Shortcakes, work it as little as possible.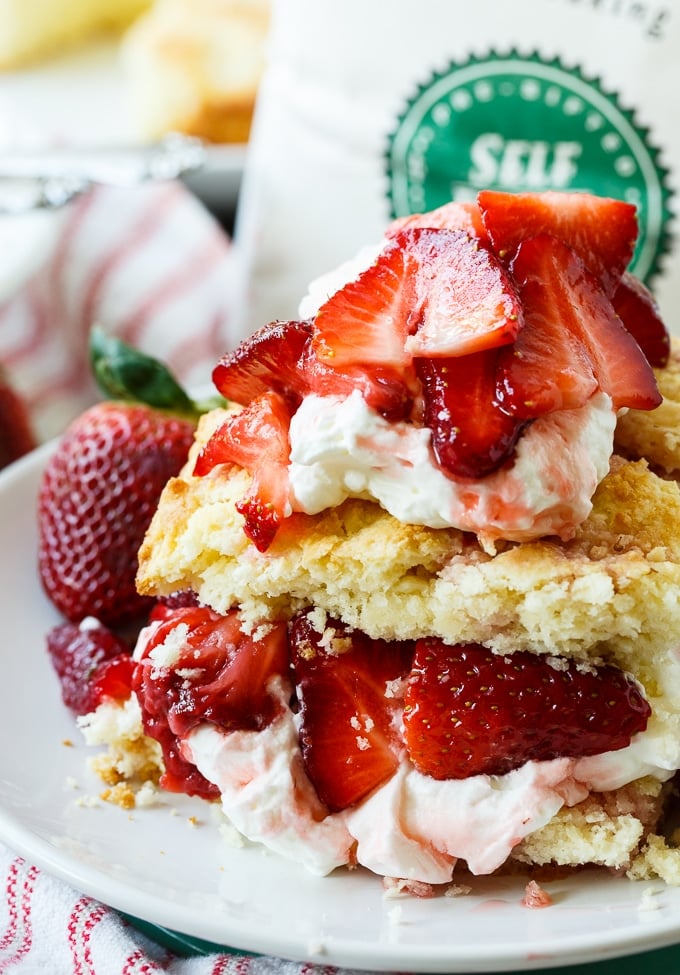 So perfect for this quintessential spring dessert!
More Strawberry Desserts: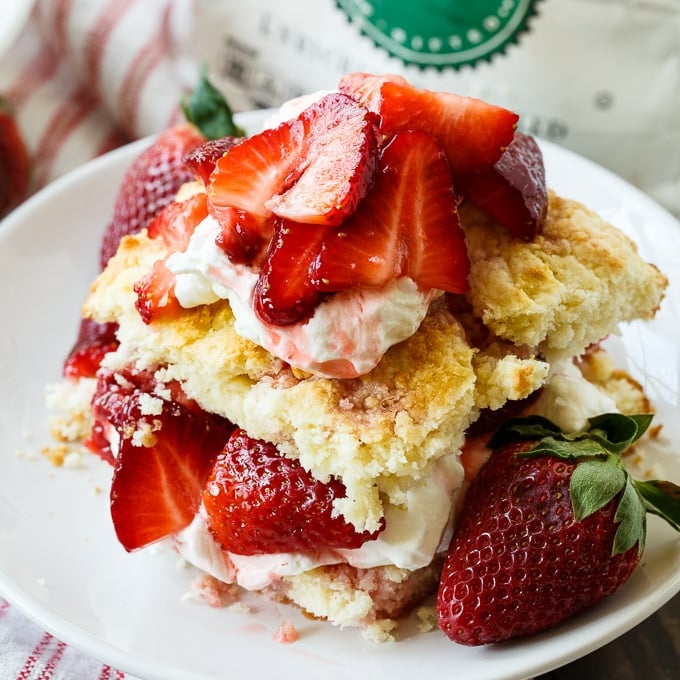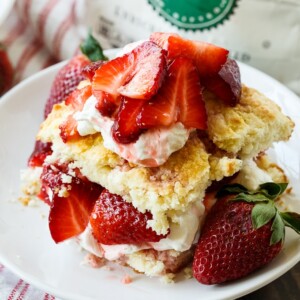 Strawberry Shortcake
This Easy Strawberry Shortcake is made from sweetened biscuit dough, freshly whipped cream and ripe strawberries. It can easily be made in 30 minutes.
Ingredients
2

cups

White Lily® Enriched Bleached Self-Rising Flour

1/2

cup

granulated sugar,

divided

1/2

cup

butter,

cut into cubes and chilled well

1/3

cup

half-and-half,

plus a little extra for brushing the tops

1

large

egg

3

cups

sliced strawberries

1

cup

heavy cream

2

tablespoons

powdered sugar
Instructions
Lightly coat an 8x8-inch pan with cooking spray and preheat the oven to 450 degrees.

Place flour and 1/4 cup sugar in a large bowl. Stir to combine.

Scatter butter pieces on top and use a pastry blender to cut the butter into the flour mixture until there are no pieces larger than a pea.

Whisk the half-and-half and egg together and add to flour mixture.

Stir with a fork just until dry ingredients are moistened and it forms a dough.

Transfer dough to prepared pan and use your fingers to spread it into an even layer. Brush the top of dough with a little half-and-half.

Place in oven and bake for 18 to 20 minutes or until golden brown on top.

While it is baking, combine strawberries and remaining 1/4 cup sugar in a medium bowl. If desired, you can mash some of the strawberries with a fork.

Using an electric mixer, beat cream. Once it starts to thicken, add powdered sugar and continue to beat until soft peaks form. (Note: It helps if you chill the bowl you will be whipping the cream in beforehand.)

Cut biscuit into 4 squares. Slice each biscuit in half and sandwich strawberries and whipped cream between the halves. Place extra strawberries and cream on top.
Want to Save This Recipe?
Disclosure: This is a sponsored post. I appreciate the opportunity to share products I love and use in my own kitchen.