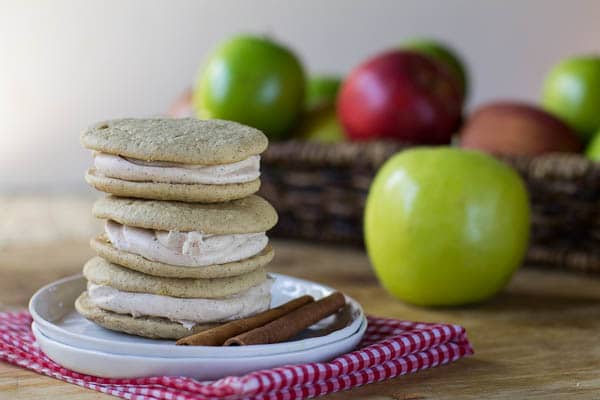 Who doesn't love a whoopee pie? Two incredibly soft cookies sandwiched together with a creamy, sweet filling. They're irresistible for kids and adults alike.
The typical whoopie pie is chocolate cookies with a white center. But I've made some fall-inspired whoopee pies- Apple Spice.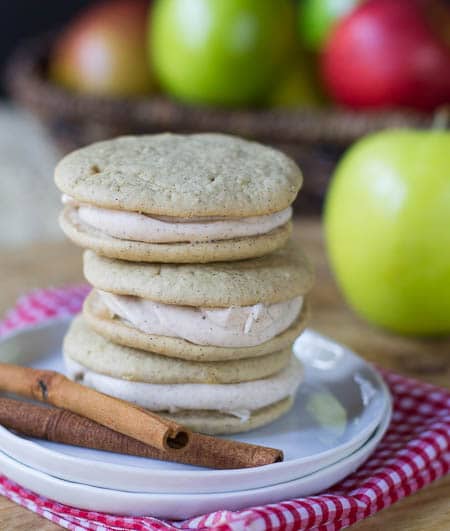 The cookies are flavored with applesauce and apple pie spice and the filling has a hint of apple flavoring too with some apple cider that has been reduced to a syrup. In traditional whoopie pie fashion, the cookies have a touch of sweetness, but not too much. Most of the sweetness comes from the filling which is ultra-thick and rich.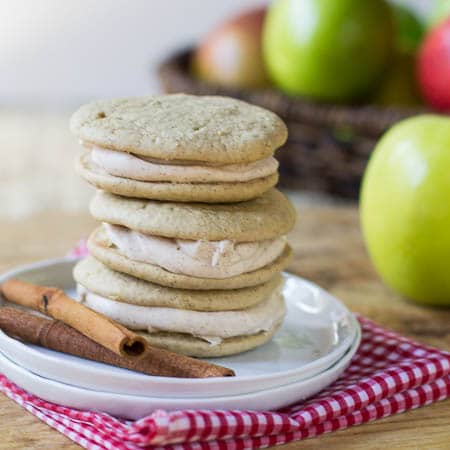 Normally I like whoopie pies served at room temperature, but these Apple Spice Whoopie Pies actually taste really good eaten straight from the refrigerator. And since the filling has cream cheese, I would keep them in the refrigerator if they won't be eaten right away.
For more Whoopie Pie goodness, try these Whiskey Whoopie Pies for an adult-only treat or check out my Whoopie Pie Pinterest Board for dozens of ideas.
Have you ever made Whoopie Pies before?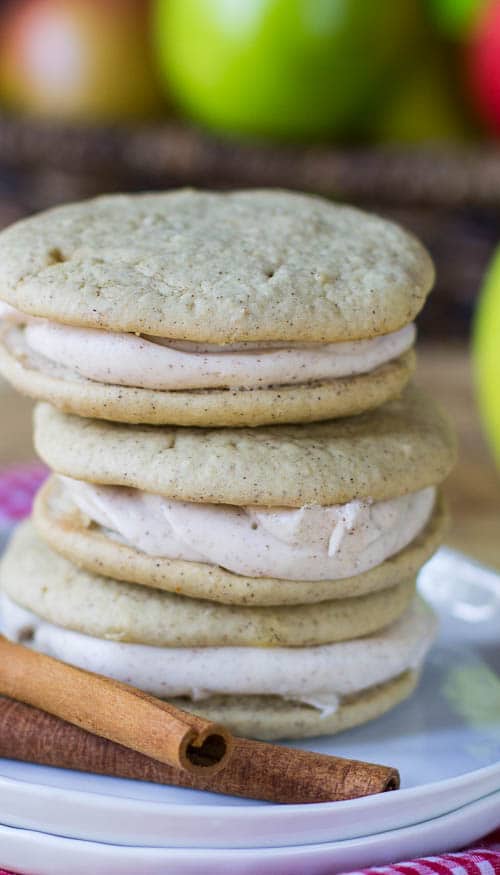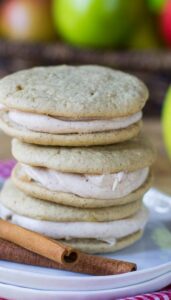 Apple Spice Whoopie Pies
Apple Spice Whoopie Pies with two super soft and cakey cookies held together with a super sweet cinnamon spiced filling.
Ingredients
2 1/2

cups

unbleached all-purpose flour

1/2

cup

sugar

1 1/2

teaspoons

baking powder

1/2

teaspoon

salt

1

teaspoon

baking soda

4

tablespoons

butter,

softened

4

tablespoons

shortening

2

large eggs,

room temperature

1/2

cup

buttermilk

1

teaspoon

vanilla

1

cup

unsweetened applesauce

2

teaspoons

apple pie spice
Filling
1/4

cup

apple cider,

not apple juice

1/4

cup

butter,

softened

4

ounces

cream cheese,

room temperature

3

cups

confectioners' sugar

1/2

teaspoon

vanilla extract

1

teaspoon

ground cinnamon

1/8

teaspoon

allspice

1-2

teaspoons

half and half
Instructions
Preheat oven to 375 degrees. Line 2 baking sheets with parchment paper.

In a medium bowl, whisk together eggs, buttermilk, vanilla, applesauce, and apple pie spice until blended well.

In a mixing bowl for your electric mixer place flour, sugar, baking powder, salt, baking soda, butter, and shortening.

Add half of the egg mixture to the flour mixture and beat on medium speed for 2 minutes.

Add remaining liquid and beat for 2 additional minutes.

To place batter on baking sheets, use a 1/4 measuring cup. For large whoopie pies fill the cup and for smaller whoopee pies, only fill half way. Space the cookies leaving 2 inches in between. The batter should be like pancake batter and you can easily use your finger or back of a spoon to coax the batter into a near perfect circle.

Bake 8-12 minutes, until edges just begin to brown. Cool and then peel cakes from parchment paper.

For filling, place apple cider in a small saucepan and heat over medium-high heat until reduced to 1 tablespoon. Let cool.

Beat butter and cream cheese using an electric mixer. Gradually add confectioners' sugar. Mix in vanilla, cinnamon, allspice, and reduced apple cider.

Thin filling to desired consistency with half and half.

Turn whoopee cakes so bottom faces up. Spread filling on half of them. This is sometimes easier to do using a pastry bag. Top with the cookies that don't have filling to make sandwiches.
Want to Save This Recipe?
Recipe Source: adapted from King Arthur Flour