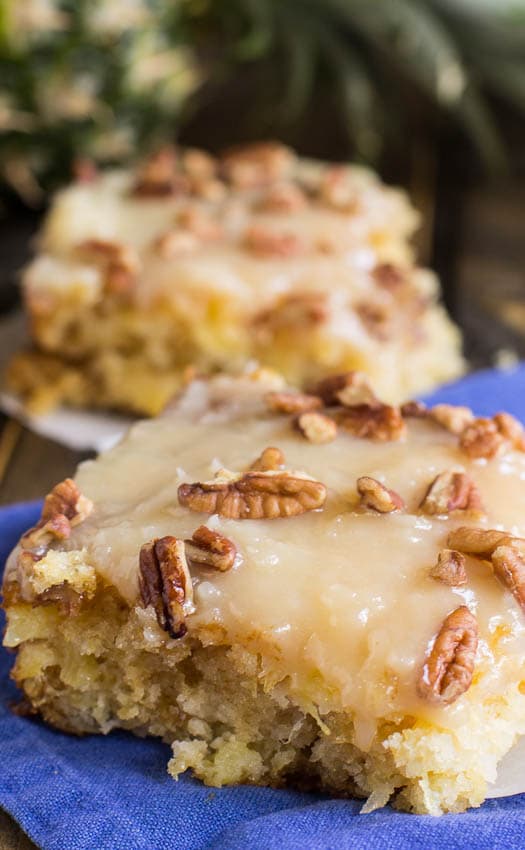 Pineapple Sheet Cake flavored and moistened with crushed pineapple and topped with a sweet icing laced with shredded coconut, and sprinkled with pecans is a wonderful dessert to make to feed a crowd.
With the pineapple, coconut, and pecans it's perfect for summer.
Crushed pineapple and vegetable oil help the cake stay exceptionally moist so it can be baked well in advance. It's super easy to make. No mixer needed. The icing does take 10 minutes of stir time, but that's the most involved part.
Oftentimes Pineapple Sheet Cake is topped with a cream cheese frosting, but this icing is made from butter, evaporated milk, and sugar. Basically the same ingredients you would use to make caramel icing. The coconut is added into the icing to give it some extra sweetness and a little texture contrast. You can mix the pecans into the icing as well, but I like to sprinkle them on top.
Typically pineapple sheet cake would be baked in a sheet pan, but I baked mine in a 13X9-inch pan to give it a little more height. It's so hard to take good pictures of flat cake! If you're serving it at a potluck or picnic, a sheet pan is nice to use. It looks like more cake 🙂 and is easier to slice into squares.
But anyway you cook it, Pineapple Sheet Cake is sure to be enjoyed by all. Except pineapple haters. I have a few of those in my family.
Can't get enough Southern Food? Follow Spicy Southern Kitchen on Pinterest and Instagram.
Sign up HERE for the Spicy Southern Kitchen Newsletter.
Recipe adapted from
Miss Mary Bobo's Boarding House Cookbook: A Celebration of Traditional Southern Dishes that Made Miss Mary Bobo's an American Legend
Sharing with the Weekend Potluck at The Country Cook
Disclosure: The above link is an affiliate link.
More Pineapple Recipes
Pineapple Upside Down Cocktail