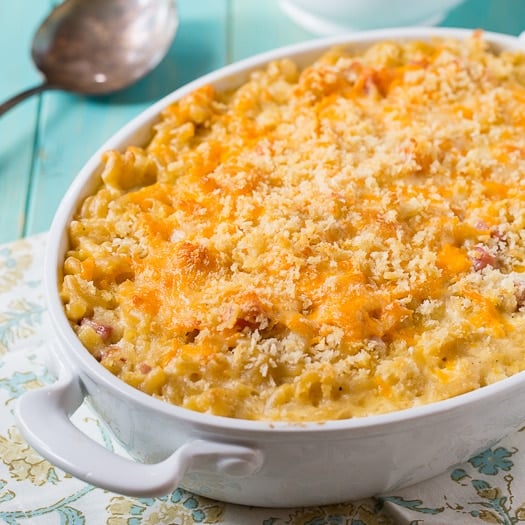 Mac and Cheese with Ham is a creamy, cheesy, comforting meal. The addition of diced ham turns mac and cheese into a hearty main dish meal. This is a pretty basic mac and cheese recipe that begins with a bechamel sauce made with butter, flour, and milk.
I added both sharp yellow cheddar cheese and white cheddar for a total of 3 cups of cheese. The cheese along with 1 pound of cooked pasta, (I used the traditional elbow but any shape will do), and diced ham are added to the bechemel. I also like to add a small amount of nutmeg for flavor.
The whole mixture is poured into a casserole dish, topped with buttered Panko crumbs and baked until hot. If you like, you can add a little cayenne pepper or diced jalapenos to spice it up.
Mac and Cheese with Ham is creamy and filling. Perfect comfort food for any time of year. Add a simple salad and you have a super easy, kid-friendly meal.