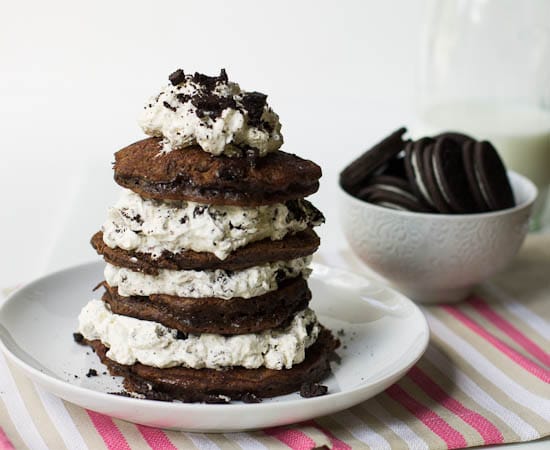 These Double Stuffed Oreo Pancakes are just like the cookie, only more decadent. A pile of chocolate pancakes "stuffed" with thick oreo whipped cream. They probably should be saved for dessert.
Today my baby girl turned 14. I wanted to make her a special breakfast since her birthday either seems to always fall on the first day of school or the second day of school as it did this year. Last year I made her some Cake Batter Pancakes that were delicious, but this year I wanted to top those and do something even more delicious.
And what's more delicious than Oreos? Not much in my opinion.
Except these pancakes. They're a rich, heavenly, sinfully delicious version of oreos. The double stuff version with tons of cream filling. Because everyone knows that's the best part of an oreo.
I put some crushed up oreos in a rich, chocolate bake batter and then made a fresh whipped cream filling with more crushed oreos. With a thick layer of cream slathered between the pancakes, there's no need for syrup. I put the leftovers in the fridge and the kids ate them cold for an after school snack. They were even delicious straight out of the refrigerator.
It's a good thing I took the time for a special little breakfast celebration with my daughter because right after school she headed out to swim practice after which she walked with some friends to a nearby restaurant to have dinner with her friends.  Such is life with teenagers. All they want is to be with their friends.
Mother's Day Picture
But tomorrow night she's all mine. And where does she want to go? A restaurant that serves breakfast all day. More pancakes!
Yield: 9 to 10 pancakes
Chocolate Pancake recipe adapted from Cooking Classy
Linking up at MadeFromPinterest.net