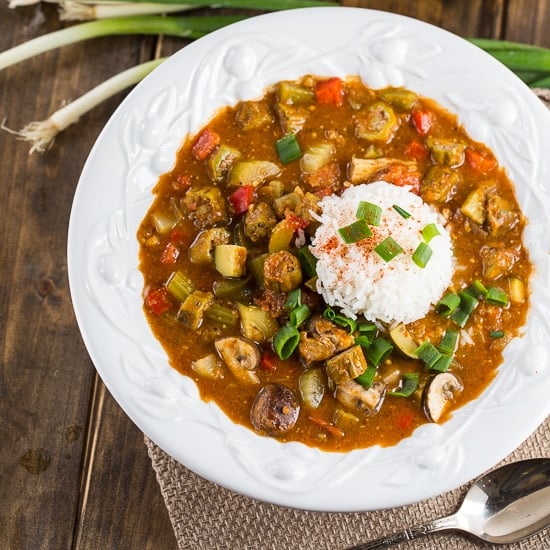 Bring a bit of southern flavor to your vegetarian kitchen with this Vegetarian Gumbo.
Due to a clever mix of ingredients, this Vegetarian Gumbo has all the flavor and smokiness of a meaty gumbo. It's so chock full of veggies, you won't miss the meat or seafood at all. During the month of January, I gravitate towards lighter and healthier meals as most do. My daughter is vegetarian so I'm always looking to make her vegetarian versions of the foods we most love to eat. Vegetarian Sloppy Joes and Vegetarian BBQ Nachos were both big hits.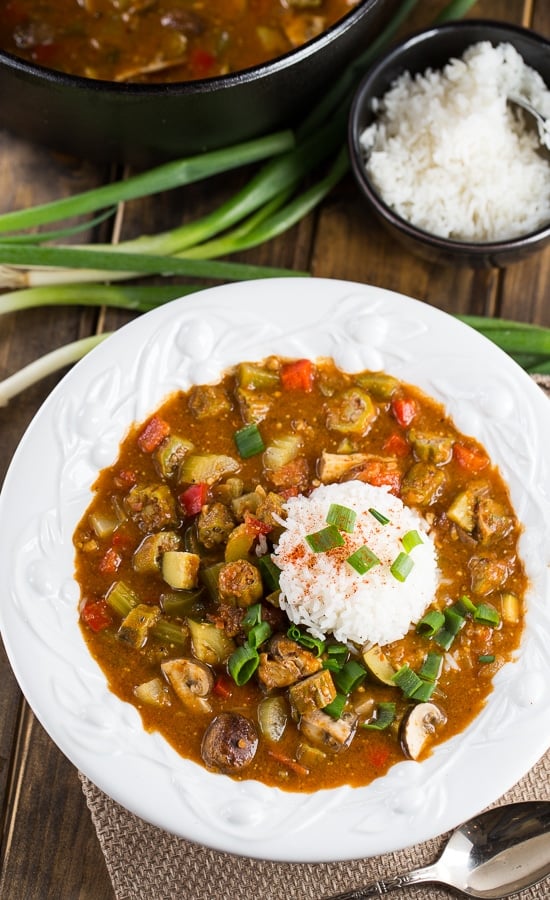 This is a recipe that I've slightly adapted from the The Southern Vegetarian Cookbook: 100 Down-Home Recipes for the Modern Table
which happens to be my very favorite vegetarian cookbook.
Soy sauce and liquid smoke, plus an array of spices including smoked paprika and nutmeg, help create the smokey flavor that meat typically gives gumbo. The base of the flavor is of course a roux which should be cooked until it reaches a dark caramel color.
To really add more flavor, a tomato and onion are processed with herbs and spices, lots of garlic and some Creole mustard and Worcestershire sauce and then added to the gumbo.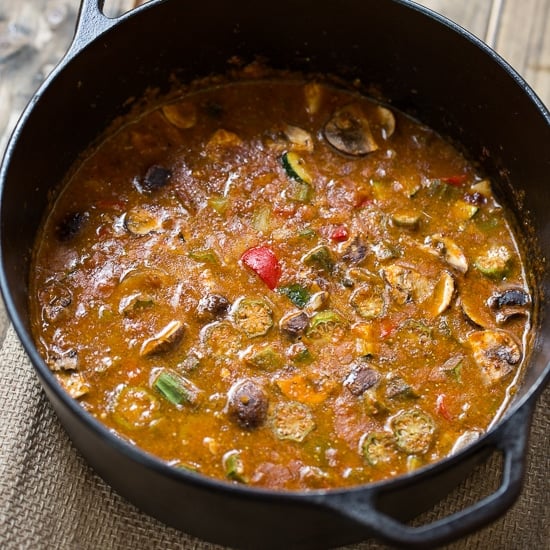 The ingredient list is a little long and not at all typical for a gumbo, but they really work together and create a delicious vegetarian gumbo.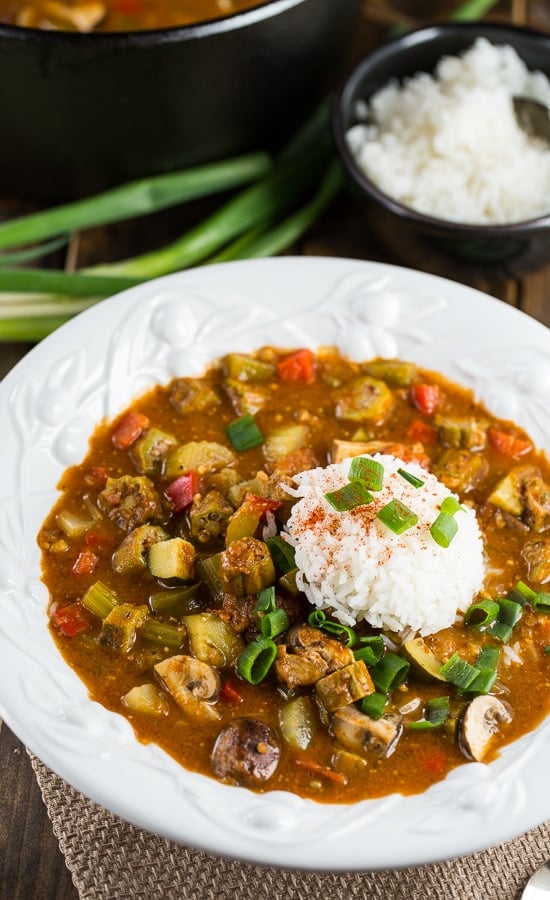 To make a roux, you need patience, a strong forearm, and a heavy-bottomed pan. You want to keep the heat fairly low because a roux burns easily and once it is even slightly burned, there's no turning back. You will have to start over and you will have filled your house with a god awful smell.
For best flavor, keep cooking the roux until it is a deep caramel color or the color of an old penny.
I actually forgot to add the red beans when I made this batch of Vegetarian Gumbo and didn't even miss them since the gumbo is so full of delicious vegetables.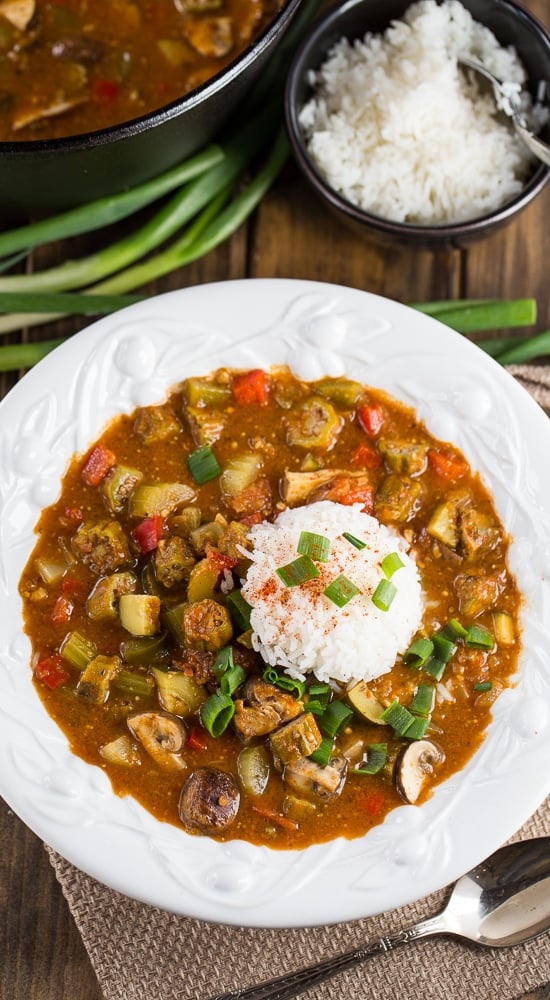 Never miss a recipe. Follow Spicy Southern Kitchen on Pinterest and Instagram.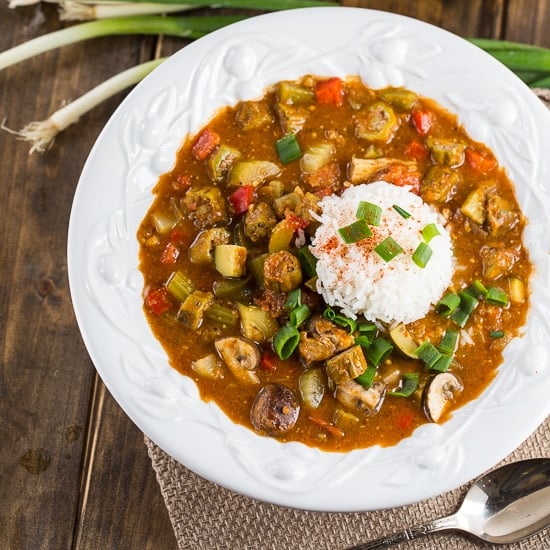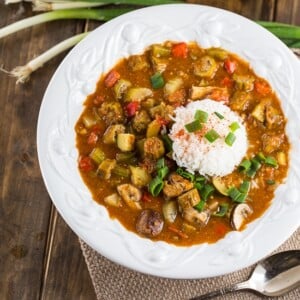 Vegetarian Gumbo
This Vegetarian Gumbo is so smoky and flavorful, you'll never miss the meat and vegetables.
Ingredients
3

tablespoons

vegetable oil

3

tablespoons

all-purpose flour

1

medium tomato,

chopped

1 1/2

cups

chopped onion

6

cloves

garlic,

minced

1

tablespoon

vegetarian Worcestershire sauce

2

tablespoons

Creole mustard

1 1/2

teaspoons

liquid smoke

1

tablespoon

apple cider vinegar

1/2

teaspoon

hot sauce

1

teaspoon

soy sauce

1

teaspoon

dried thyme

1

teaspoon

red pepper flakes

1

tablespoon

smoked paprika

1/4

teaspoon

nutmeg

1

teaspoon

dried oregano

1

quart

vegetable stock or broth

4

cups

sliced okra

1

(16-ounce)

can red beans,

drained and rinsed

8

cremini mushrooms

quartered

1 1/2

cups

diced zucchini

1 medium

1 1/2

cups

diced green pepper

1 large

1 1/2

cups

diced red bell pepper

1 large

1

cup

thinly sliced celery

4

cups

cooked jasmine rice

1/2

cups

sliced green onion
Instructions
Place vegetable oil and flour in a Dutch Oven with a heavy bottom. I like to use a

cast iron Dutch oven

. Turn the heat on medium and whisk continuously until mixture becomes fragrant. This should take about 5 minutes.

Turn heat to low or medium-low depending on the size and heat your burner gives off. Continue to whisk continuously (it's alright to stop for a few seconds here and there, but not for any length of time) until roux becomes a dark caramel color, like the color of an old penny. This could take 20 to 25 minutes.

Remove Dutch oven from heat.

In a food processor, process tomato, onion, garlic, Worcestershire sauce, mustard, liquid smoke, vinegar, hot sauce, soy sauce, thyme, red pepper flakes, paprika, nutmeg, and oregano until mixture is smooth.

Place Dutch oven with roux over medium-high heat and add tomato/onion puree. Stir to mix together. Continue to cook until most of liquid has evaporated.

Add vegetable stock and stir. Bring to a simmer.

Add beans, mushrooms, zucchini, green and red pepper, and celery and simmer for 15 to 20 minutes.

Serve with rice and green onions.
Want to Save This Recipe?
Recipe adapted from: The Southern Vegetarian Cookbook: 100 Down-Home Recipes for the Modern Table
More Vegetarian Recipes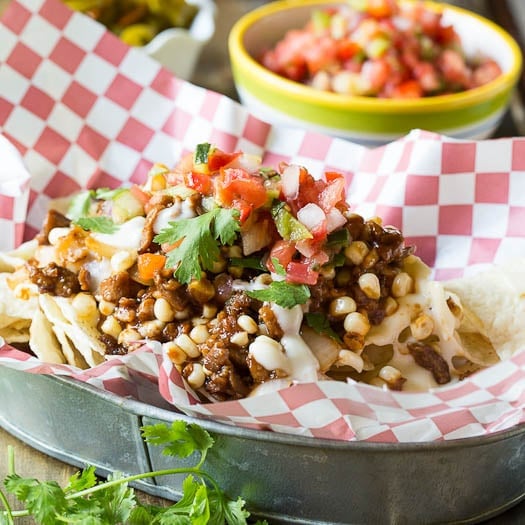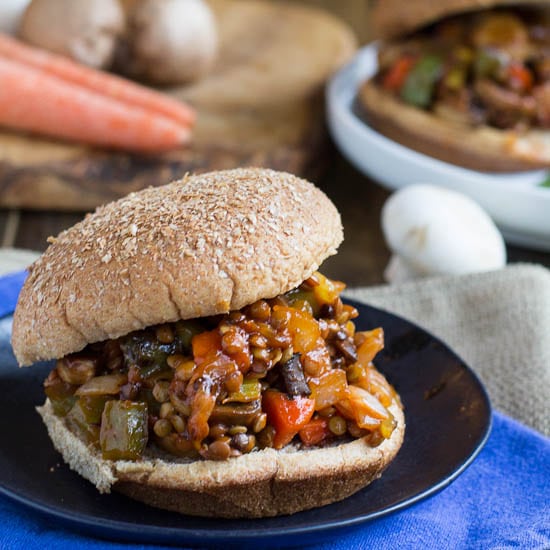 Disclosure: This post contains affiliate links.