Spinach Cheese Balls have a creamy cheese filling with Italian seasoning. They fry up ultra crispy and taste great dipped in pizza sauce.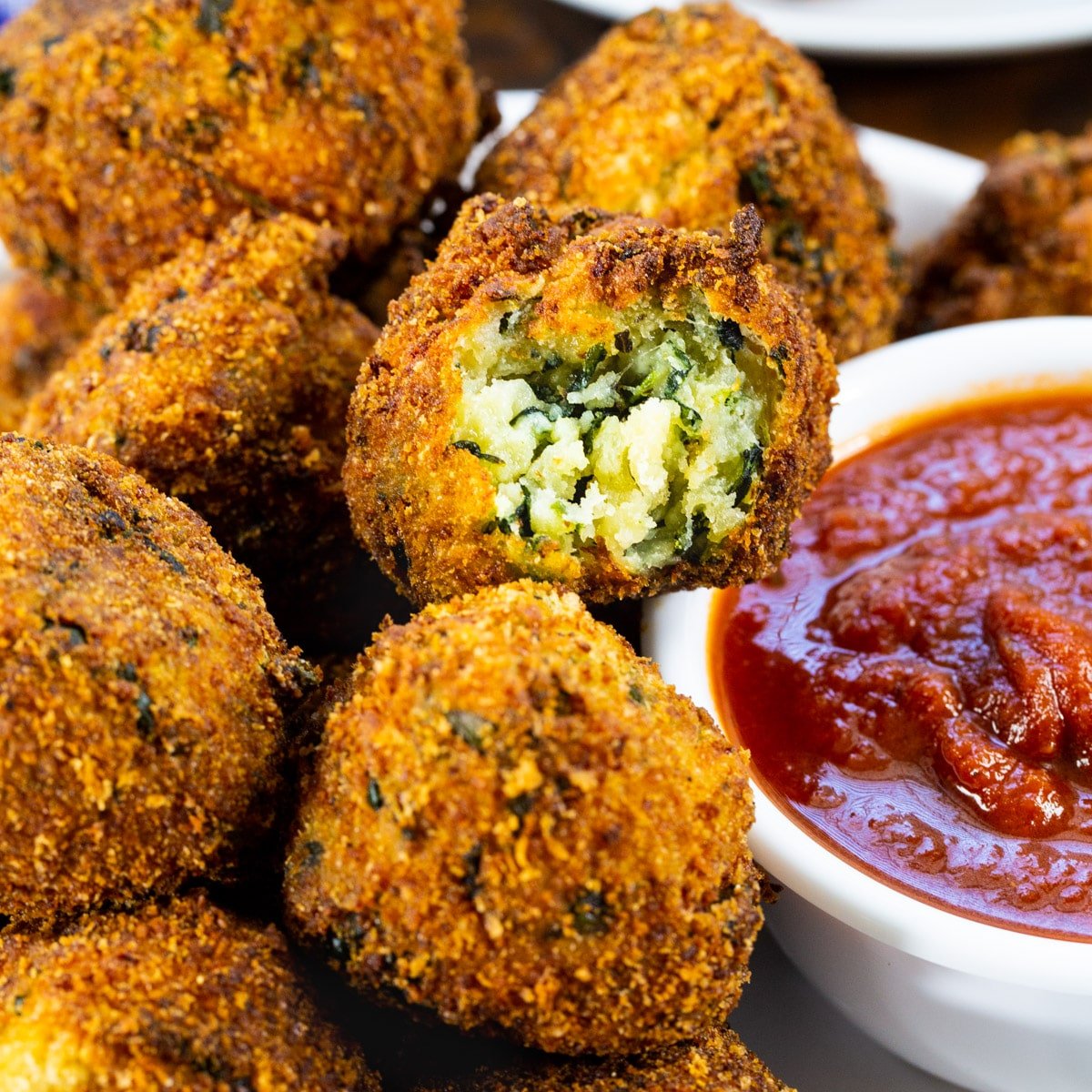 Delicious Appetizer Recipe
These Spinach Cheese Balls have a larger list of ingredients than the classic spinach balls made with stuffing mix, but they are so tasty. With a cheese-flavored center encased in a crunchy coating, they are hard to resist.
Creamy Cheese Filling
Three types of cheese (mozzarella, parmesan, and ricotta) form the base for these spinach balls. There's also some sour cream.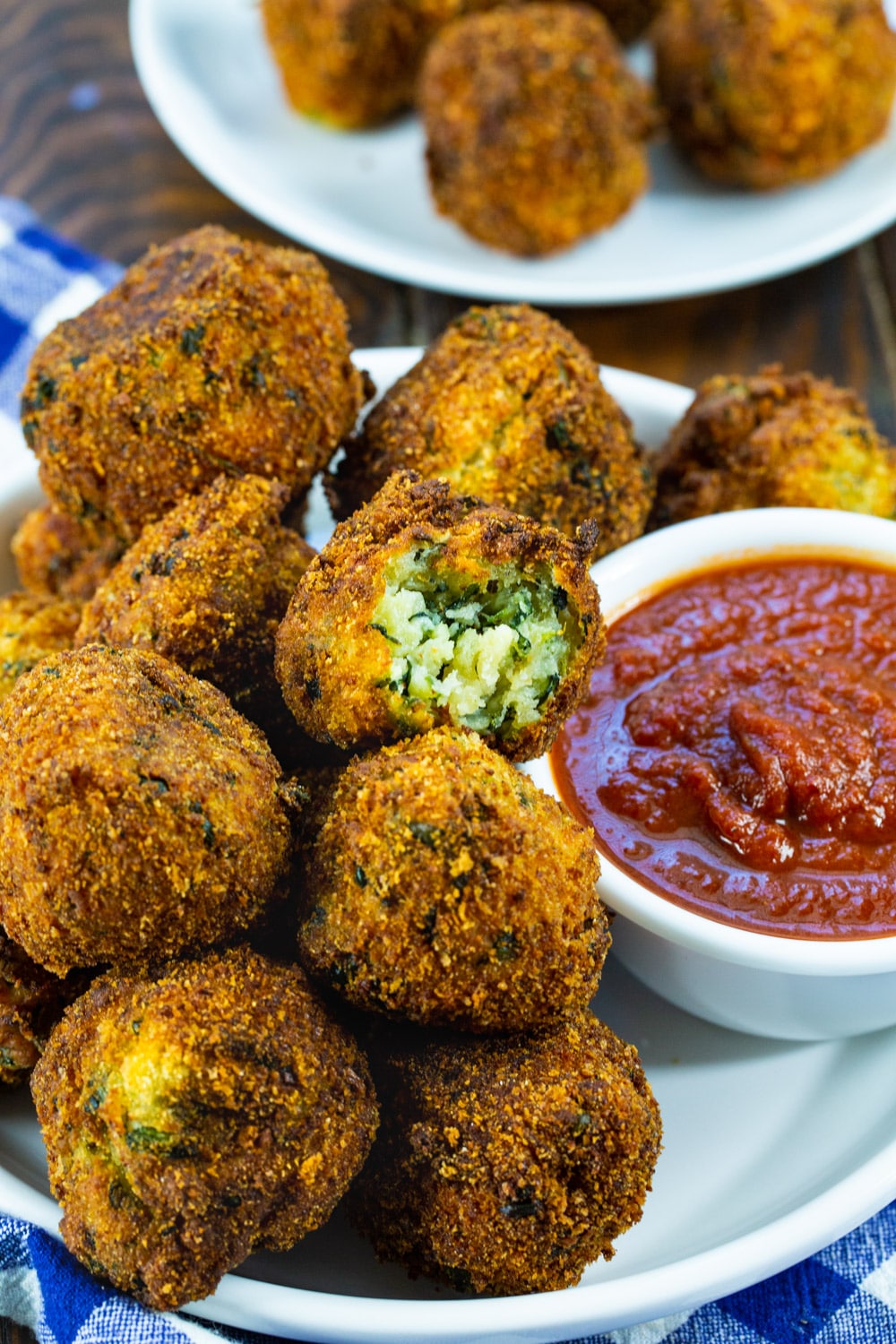 Lots of Seasoning
Onion powder, garlic powder, Italian seasoning, and crushed red pepper flakes are added for seasoning. Spinach is bland on its own and needs a big flavor punch.
Start With Spinach
You'll need one box of frozen chopped spinach. Thaw in the refrigerator overnight and then be sure to squeeze the water out of it or the filling will be too watery to hold shape.
Crispy Coating
The spinach cheese mixture gets rolled in bread crumbs and then fried in vegetable oil until crispy. Panko crumbs can be used instead of bread crumbs.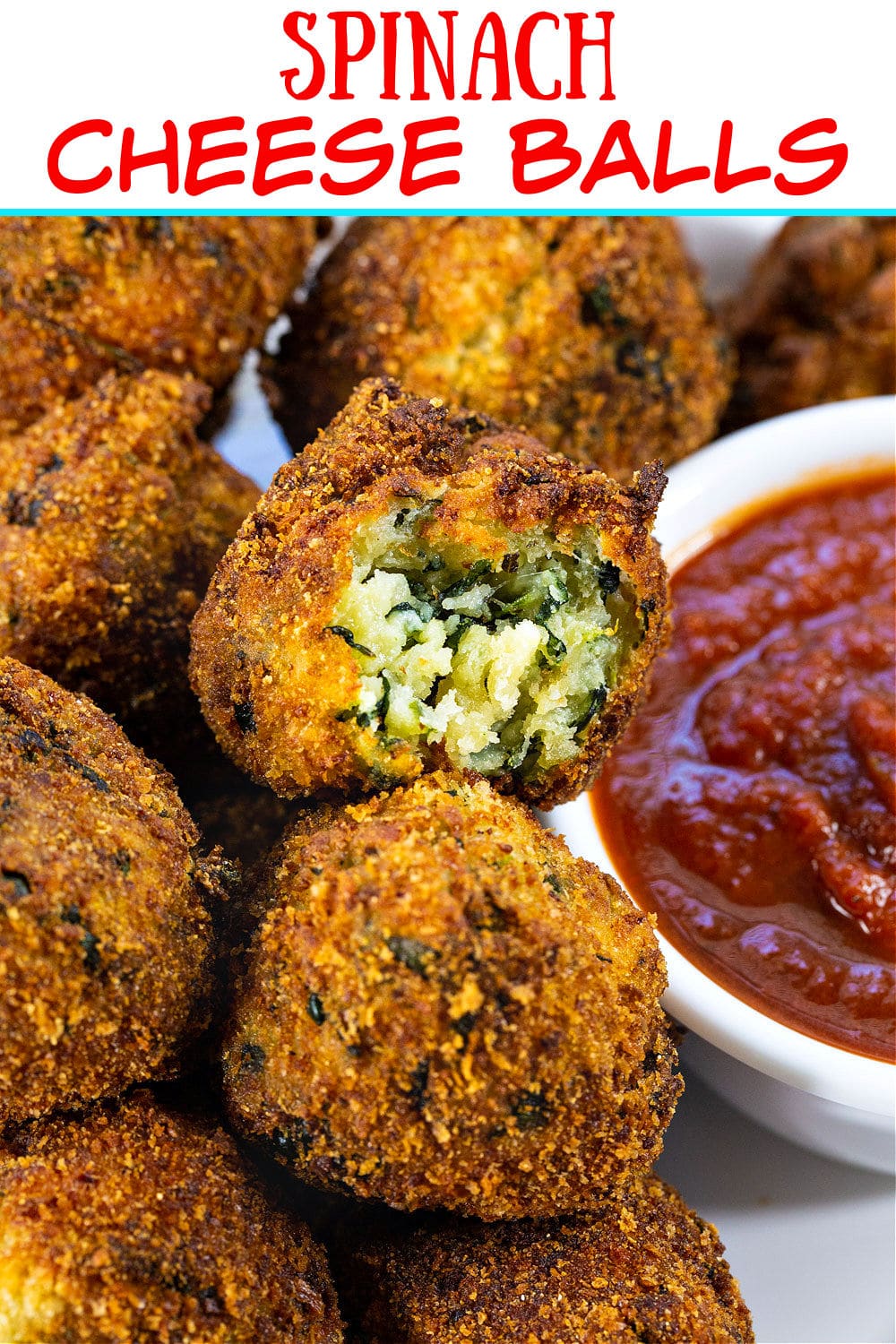 How To Serve
These Spinach Cheese Balls make a great appetizer. Because of the Italian flavors, they taste great dipped in pizza sauce. I use a jarred pizza sauce.
Make Ahead and Storage
The filling can be mixed, shaped into balls and rolled in bread crumbs ahead of time and refrigerated until you are ready to fry them. They are best eaten right away but leftovers can be stored in an airtight container in the refrigerator for 3 to 4 days and reheated in a toaster oven or air fryer.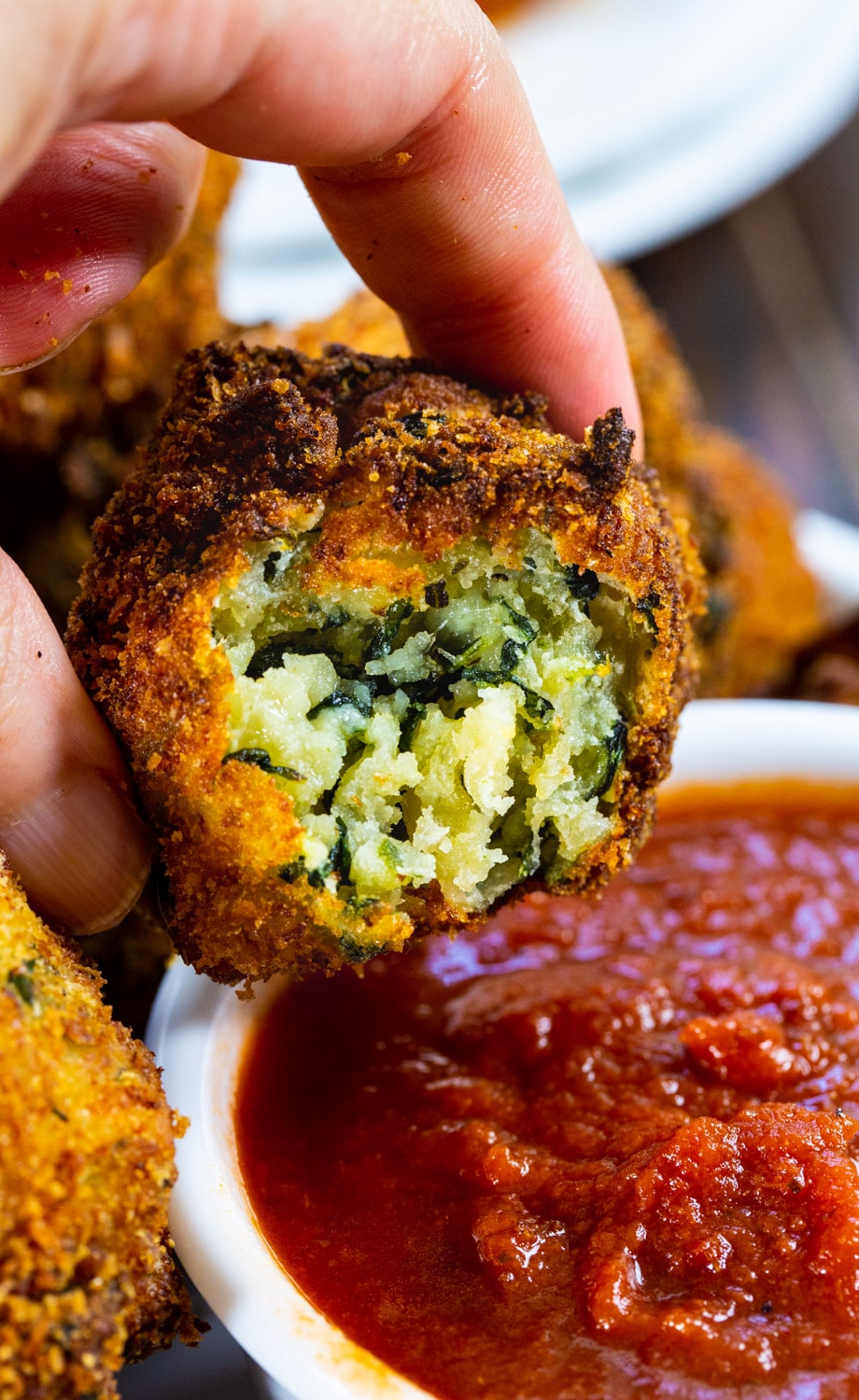 More Appetizers with Spinach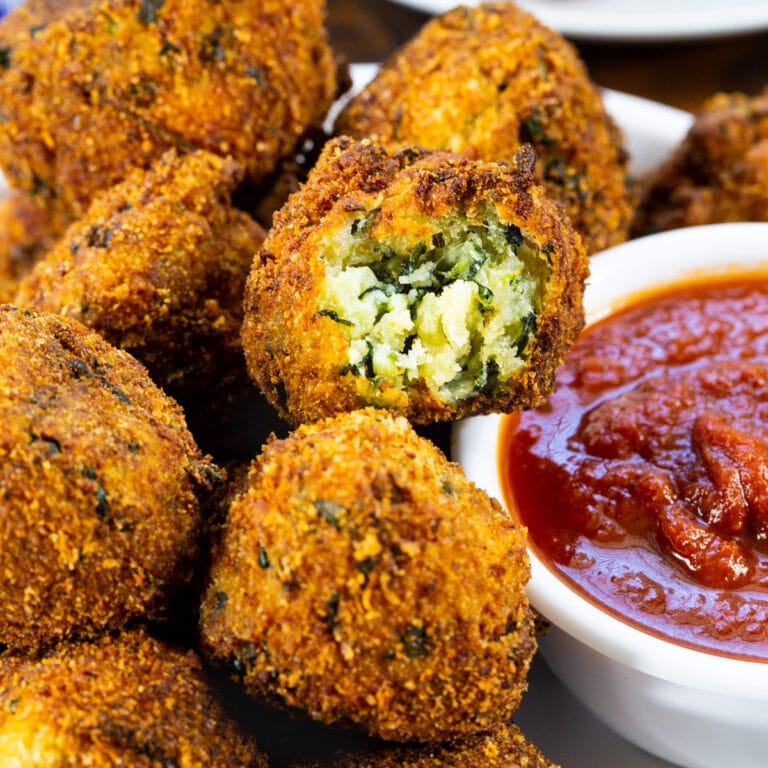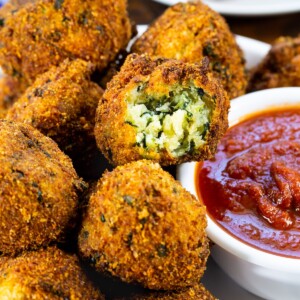 Spinach Cheese Balls
Ingredients
1

(9-ounce) box

frozen chopped spinach,

thawed

1

large

egg

1

(15-ounce) container

ricotta cheese

1/2

cup

sour cream

1

cup

shredded mozzarella cheese,

(4-ounces)

1

cup

shredded Parmesan cheese,

(4-ounces)

1

teaspoon

salt

1

teaspoon

onion powder

1

teaspoon

garlic powder

1

teaspoon

Italian seasoning

1/2

teaspoon

crushed red pepper flakes

2

tablespoons

extra-virgin olive oil

2

cups

all-purpose flour

Vegetable oil

1

cup

dry bread crumbs

1/2

teaspoon

salt

pizza sauce for serving
Instructions
Squeeze the water out of the spinach and place in a large bowl.

Add egg, ricotta cheese, and sour cream and stir until evenly mixed. Make sure there are no clumps of spinach.

Add mozzarella cheese, parmesan cheese, salt, onion powder, garlic powder, Italian seasoning, red pepper flakes, and olive oil. Mix well.

Mix in 1 cup of flour. Mix in the remaining flour.

Shape into 1 1/2-inch balls. You should get 30 to 36 total.

Pour about 1 1/2 to 2 inches of oil into a Dutch oven. Heat oil to 350 degrees.

Combine bread crumbs and salt in a pie plate. Roll balls in bread crumb mixture.

Fry 6 to 8 balls at a time for 3 to 4 minutes. Remove with a slotted spoon and set on a paper towel-lined plate.

Note: To keep them warm, place on a rimmed baking sheet in a 200 degree oven.

Repeat until all balls are cooked.

Serve warm with pizza sauce.
Want to Save This Recipe?
Recipe adapted from Pillsbury