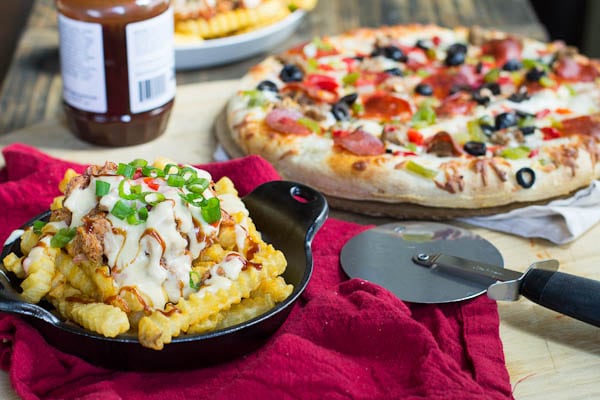 The big game is almost here and I don't know about you, but I plan on enjoying time spent with my family and friends. This is one time when I want to keep food preparation easy and simple. In order to do so, I'll be serving these two great game day foods- DiGiorno Rising Crust Pizza and Southern Cheese Fries. Both are game day favorites and neither requires much effort from the cook.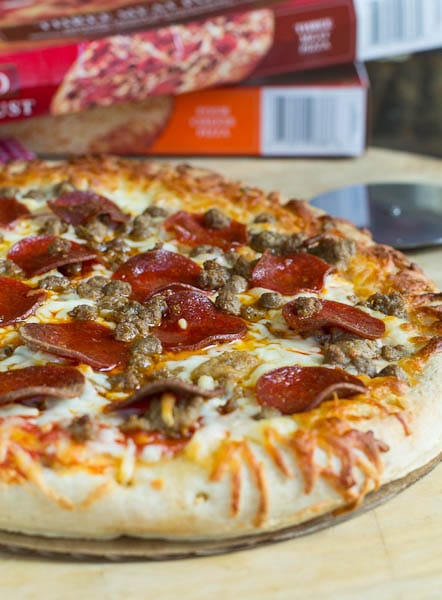 We've just recently been able to start enjoying frozen pizza again. When we moved to our current house (I can't believe it's been over 4 years), what I was most looking forward to was having a new refrigerator. But it turned out that our kitchen was built to accommodate one type of refrigerator made by one manufacturer. It's tall and narrow with the condenser thingie on top instead of the back. And my freezer is incredibly narrow. There's no way to put a frozen pizza in it without taking at least one shelf out and putting the box in on a diagonal, which means I have to clear practically everything else off the shelves. Not fun.
But several months ago, we got a second refrigerator for our garage and now I don't know how I've lived the last 4 years without it. The new freezer has become known as the pizza/ice cream freezer with a stack of frozen pizzas (DiGiorno of course) and 1 or 2 pints of ice cream in it at all times. Ok, maybe 5 or 6 pints of ice cream.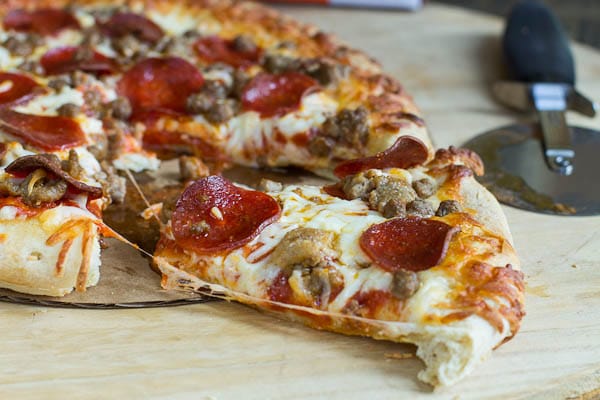 And now that we are back to cooking DiGiorno pizza in our oven, I have discovered that they taste better than ever. They have a flavorful new sauce with more herbs and spices and I am in love with the rising crust varieties. The crust is absolutely delicious and is my favorite part. They taste just like a top quality, freshly baked pizza from a restaurant.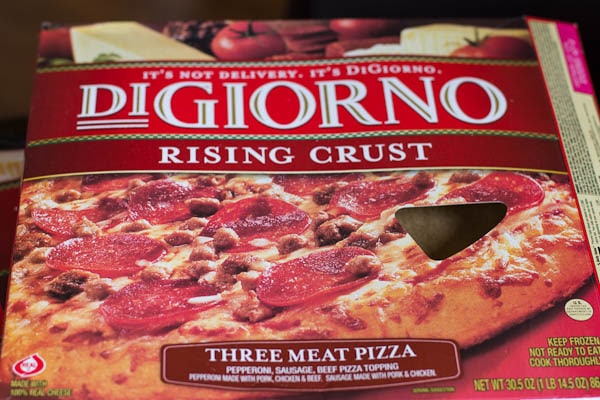 With DiGiorno, there are plenty of varieties to suit all of your guests tastes and they are much more economical than delivery, so you won't bust your budget. Plus you get to decide when they are served. No waiting an hour plus for the delivery guy to show up.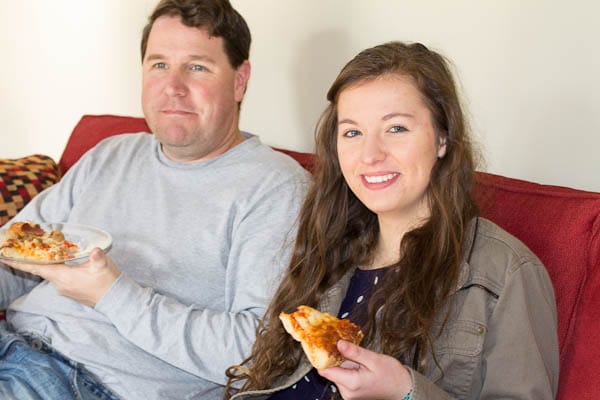 We always have to have a cheese pizza for our vegetarian daughter, supreme for me (I like all the toppings), and my son and husband are 3 meat lovers.
The dog, she's not picky.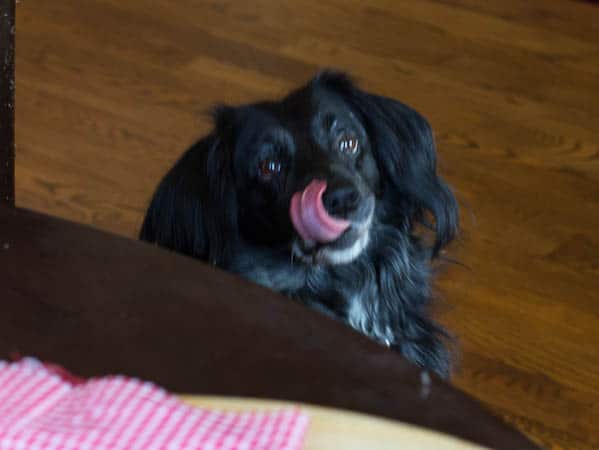 She's just hoping someone will give her some DiGiorno pizza if she looks really sad and pathetic.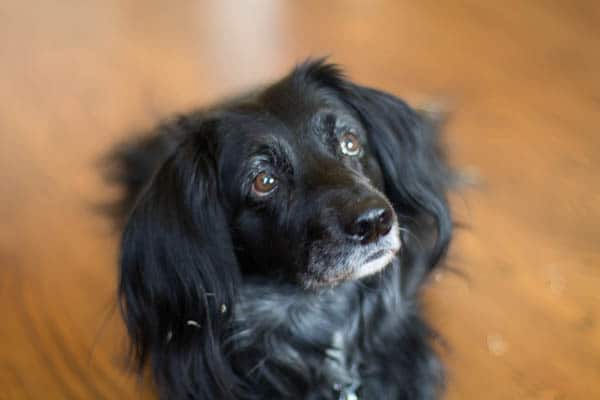 Since DiGiorno pizza just takes a minute to pop in the oven and pop out, you'll have plenty of time to whip up Southern Cheese Fries with BBQ Pork and Pimiento Cheese Sauce. This is another super easy game day favorite that can be made in a snap because it is made with frozen fries, premade BBQ and sauce, and an easy to make cheese sauce that you can make ahead and keep warm in a small crockpot.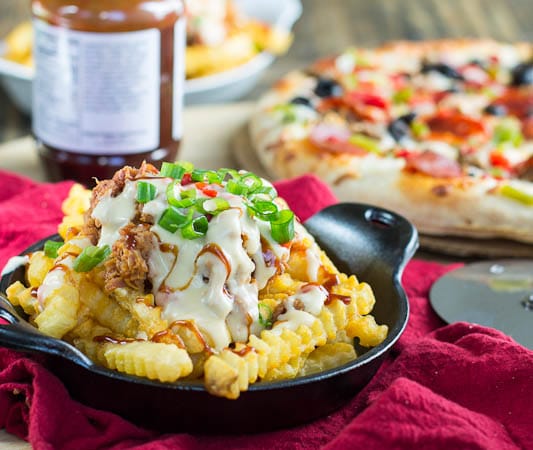 This game day, spend your time focused on the big game, while still providing your guests with plenty of delicious food. Be sure to go to coupon.com to get a "Buy 2, Get 1" DiGiorno coupon.  Download coupon here . Coupon available until 2/2/14.
Follow DiGiorno on Facebook and on Twitter for entertaining game day conversation and to find out why everything is #BetterWithDigiorno.
And be sure to enter the giveaway below for a chance to win 10 DiGiorno Coupons! That's a lot of pizza!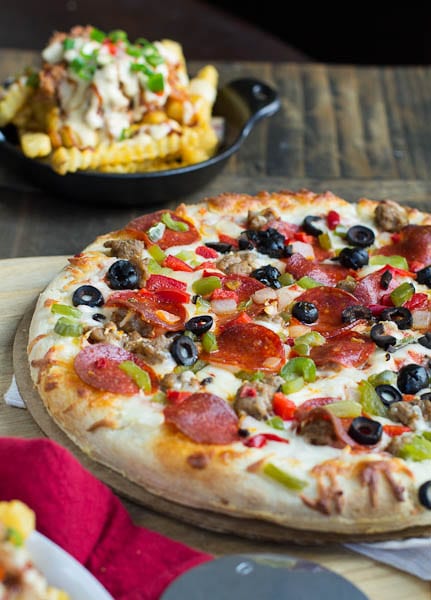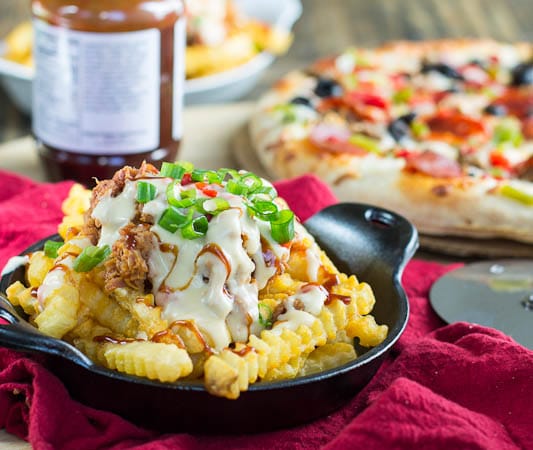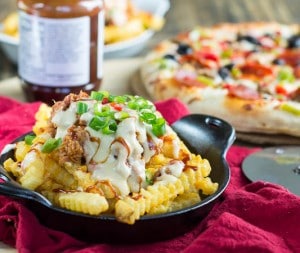 Southern Cheese Fries With BBQ Pork
Crinkle cut fries topped with BBQ Pork and a pimiento cheese sauce.
Print Recipe
Ingredients
1

bag frozen crinkle cut fries

1

pound

pulled pork from your favorite restaurant or homemade

1

bottle BBQ sauce

3

green onions,

sliced
Pimiento Cheese Sauce
4

tablespoons

butter

1/4

cup

flour

2

cups

milk

1

teaspoon

Worcestershire sauce

1/4

teaspoon

salt

pinch of cayenne pepper

1

(4-ounce)

jar diced pimientos,

drained very well

3/4

cup

shredded Sharp Cheddar cheese

3/4

cup

Pepper Jack cheese
Instructions
Cook French fries according to baking method on the bag.

For sauce, melt butter in a medium saucepan. Add flour and whisk for 1 minute. Gradually add milk, whisking continuously. Continue to cook, whisking frequently until mixture simmers and thickens. Turn heat off. Add remaining ingredients and stir until cheese melts.

Place BBQ in microwave to warm.

To assemble, place cooked French fries on a platter. Top with BBQ and drizzle with BBQ sauce and cheese sauce. Top with green onions and serve.
Notes
Pimiento Cheese Sauce can be made ahead of time and kept warm in a small crockpot. It also goes well with chips and tastes great as a sauce over broccoli.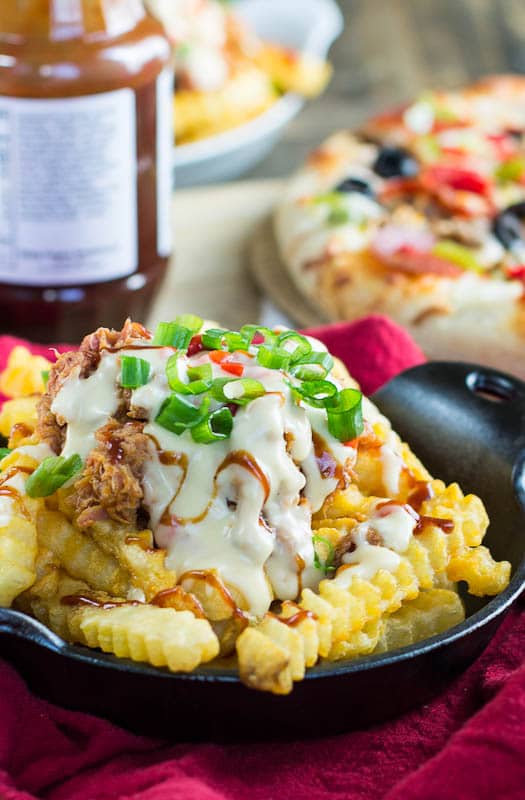 I participated in this sponsored campaign on behalf of One2One Network. All opinions stated are my own.