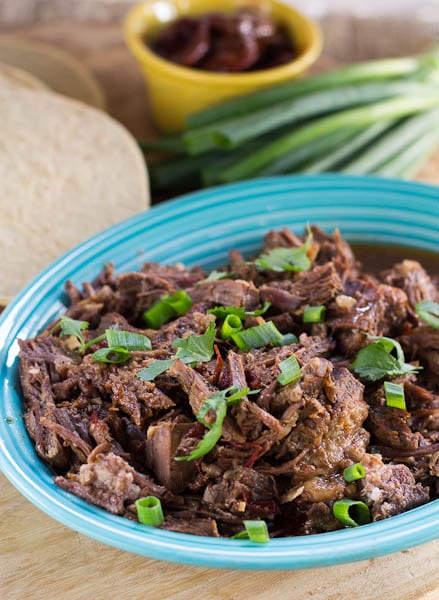 Chipotle Beef makes a wonderful base for weeknight tacos or burritos. It takes 2 1/2 to 3 hours to cook, but except for mixing the ingredients together, it is totally hands off.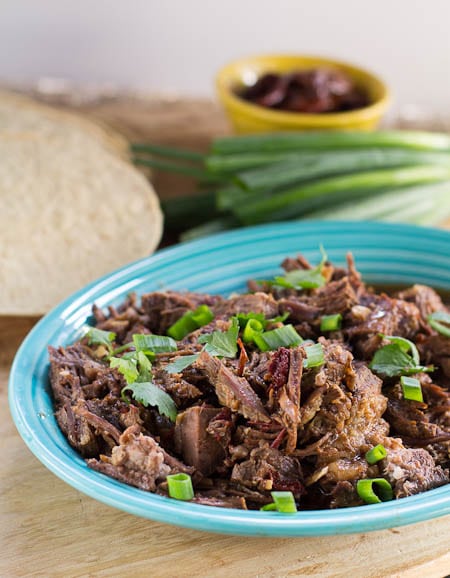 Pop it in the oven on a Sunday afternoon, settle down to watch a football game, and it will be done when the game is over. You can either eat it that night for dinner or refrigerate it and reheat at the end of a long weekday for a quick and easy meal.
If served as tacos with tortillas and a bunch of fixings (cheese, lettuce, salsa, avocado, onion, sour cream ,etc) you can easily get 8 servings out of it. So for a family of four, you can get a bonus meal. Score!
Add 2 chipotle peppers in adobo sauce for a moderate amount of heat, and 3 if you like it spicy. Occasionally chuck roast can be a little stubborn. If you pull it out of the oven at the end of the cooking time and it is still a little tough- keep cooking. It will eventually get fork tender. Have patience and you will be rewarded.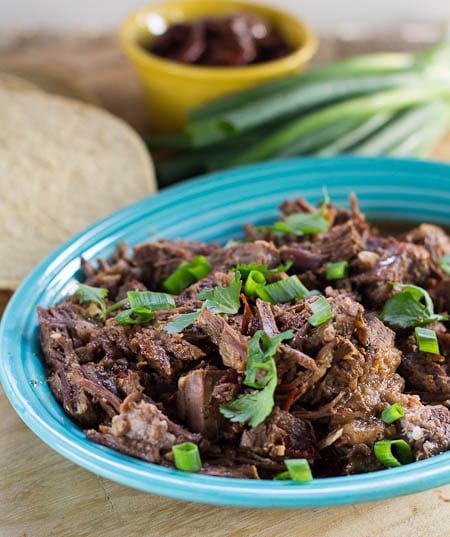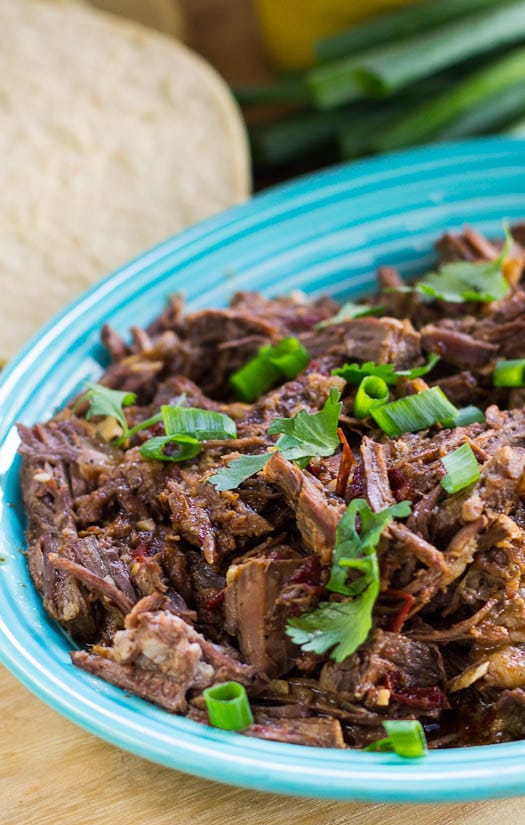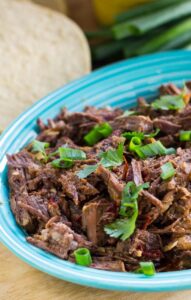 Chipotle Beef for Tacos
Beef chuck roast is slow cooked in a Dutch oven until tender. Flavored with chipotle chiles in adobo, it makes a wonderful taco filling.
Ingredients
2-3

chipotle chiles in adobo,

finely chopped

1/2

cup

ketchup

1/2

tablespoon

tomato paste

6

garlic cloves,

chopped

2

teaspoons

oregano

1/2

teaspoon

chili powder

2

teaspoons

salt

1/4

teaspoon

freshly ground black pepper

1

(3-pound)

boneless beef chuck roast,

trimmed of excess fat
Instructions
Preheat oven to 350 degrees.

In a Dutch oven, stir together ketchup, tomato paste, garlic, oregano, chili powder, salt, and pepper, plus 1 cup of water.

Cut beef into 4 equal sized pieces and place in Dutch oven. Turn meat to coat it in the liquid. Place on stove and bring to a boil over medium-high heat. Once mixture comes to a boil, cover with lid and place in the oven. Bake until beef is tender and can be shredded with 2 forks, about 2 1/2 hours.
Notes
Some chuck roasts can take longer than others to get tender. If it is not tender after 2 1/2 hours, cook another 30 minutes.
Want to Save This Recipe?
Recipe Source: adapted from Martha Stewart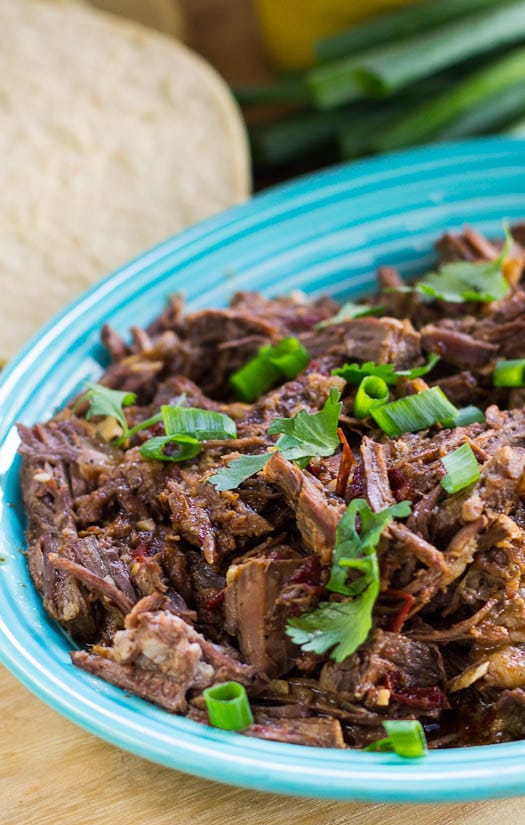 More recipes that turn a hunk of meat into a tender, juicy delight: