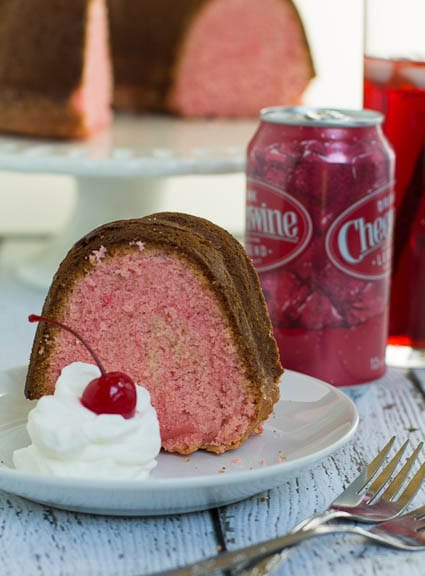 We're talking Cheerwine Cake today, but first I want to share a new tool that is now part of Spicy Southern Kitchen. I have partnered up with ZipList so you can easily view all of your saved recipes in one convenient location – your own personalized recipe box! Now you can save recipes from Spicy Southern Kitchen as well as recipes from your other favorite food blogs too!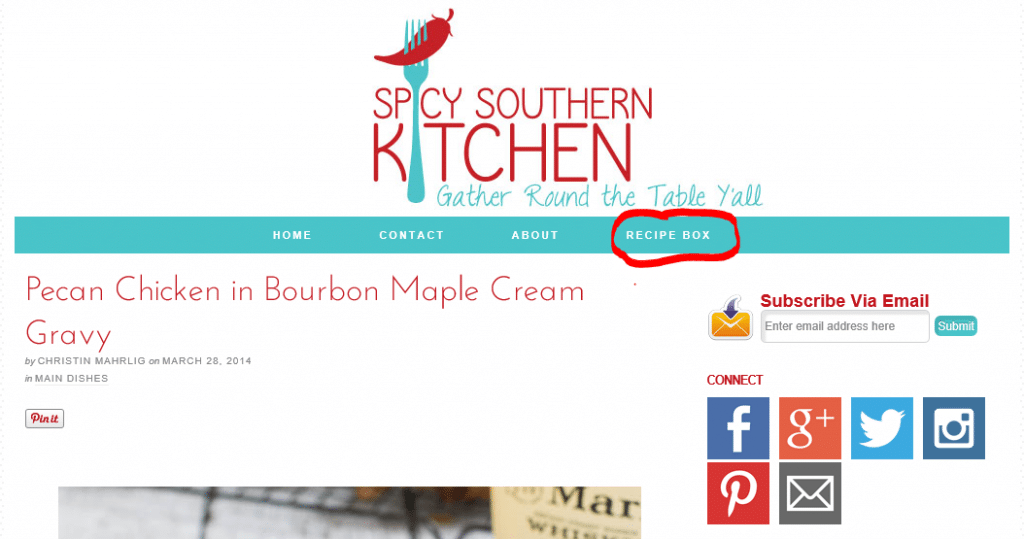 Now to save a recipe from Spicy Southern Kitchen, simply click on the blue "Save" button.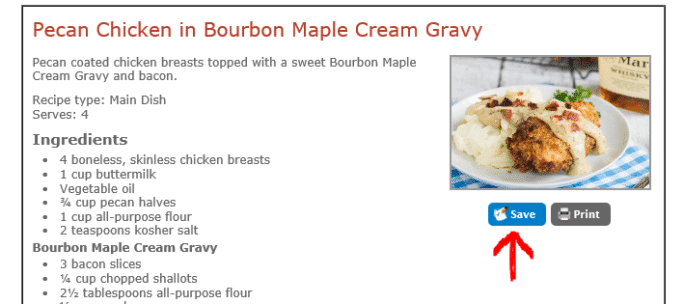 Pecan Chicken in Bourbon Maple Cream Gravy  is now saved to your Recipe Box!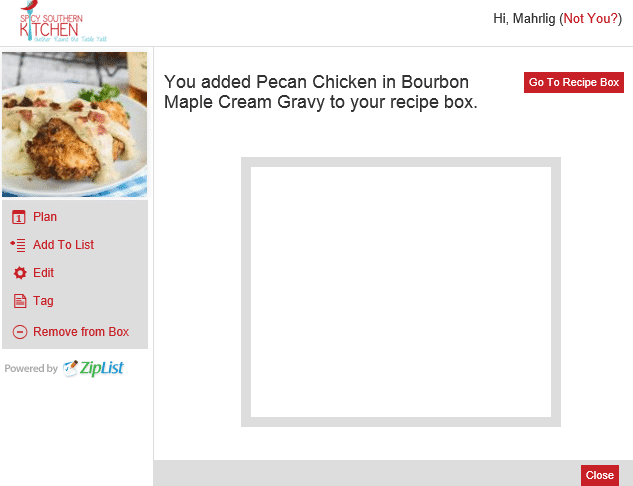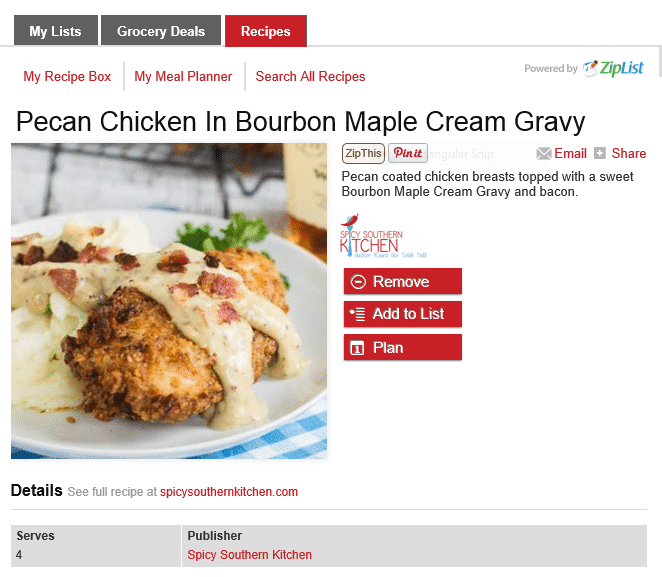 You can also add it to your Shopping List, leaving you with a categorized grocery list, even displaying grocery deals in your area. You can also exclude items that you already have on hand. Once your list is done, you can print it or access it through your phone by text or email. Or even better you can download their FREE APP which has many other features built in!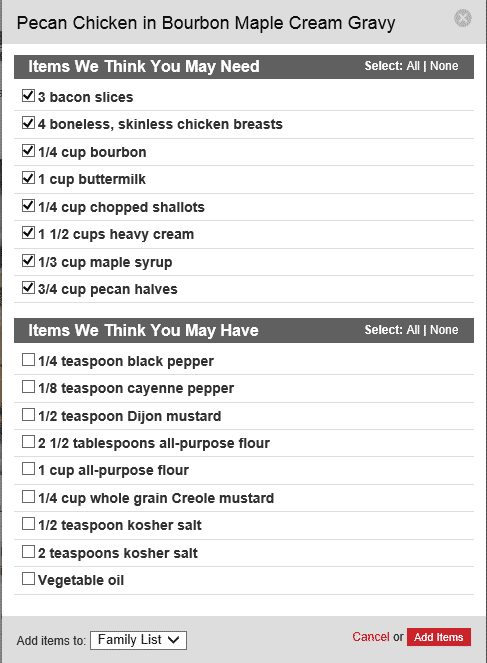 Hopefully with the aid of ZipList you can save your recipes and help organize your grocery list. In the past I would simply bookmark all my favorite recipes from various food blogs which was not organized or very efficient. But now I can easily use ZipList for all of my favorites, and grocery shopping is much easier as my lists are generated for me and not on the back of an envelope.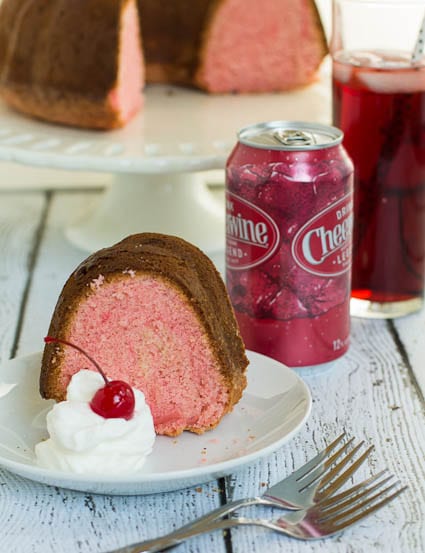 And I know you're going to want to save this Cheerwine Bundt Cake to Ziplist. If you live outside of the southeast, you may not be familiar with Cheerwine, a syrupy sweet cola with a cherry flavor that has been a southern favorite for nearly 100 years. It's produced in Salisbury, NC and isn't distributed nationally, but it can be found throughout the southeast and a few other states.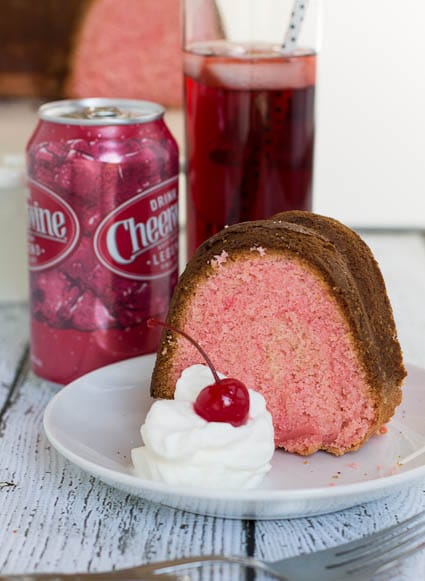 To me Cheerwine is a seasonal drink. I don't drink it year round, but on the first really hot day of summer, there's nothing like an ice-cold Cheerwine. Anyone who knows anything about Southerners knows our love for carbonated beverages is almost as great as our love for sweet tea. Afterall, both Pepsi and Coca-Cola were invented in the South.
We also like to cook with our colas. Coca Cola Cake is a huge southern favorite and Dr. Pepper makes a great addition to barbecue sauce. You'll see 7-Up biscuits, Sundrop Cake, and Chicken with Rootbeer Glaze. There is a commercially made Cheerwine Cake that I occasionally see at gas stations. It's good, but not as good as homemade.
This Cheerwine Bundt Cake has a beautiful pink-red hue and a slight hint of cherry flavor as well as a hint of almond flavor from a little almond extract. It is a traditional pound cake recipe with a fun twist. Serve with some whipped cream and a maraschino cherry for a sweet southern dessert.
Like any pound cake, it is great for all day snacking 🙂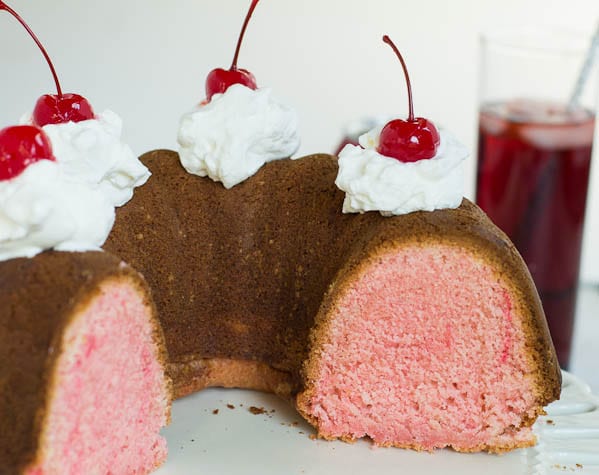 Cheerwine Bundt Cake
A buttery pound cake flavored with the prized cherry-flavored southern soft drink Cheerwine.
Ingredients
1 cup butter (2 sticks) softened
½ cup shortening
3 cups sugar
5 large eggs
¼ teaspoon salt
½ teaspoon vanilla extract
¼ teaspoon almond extract
3 cups all-purpose flour
1 cup Cheerwine
18 to 20 drops food coloring
Instructions
Preheat oven to 350 degrees.
In a large mixing bowl cream together butter, shortening, and sugar using an electric mixer fitted with a paddle attachment. Cream until mixture is light and fluffy, stopping the mixer to scrape the sides down several times.
Add eggs one at a time and beat well.
Alternate flour and Cheerwine and mix until incorporated.
On low-speed add extracts, salt, and food coloring.
Grease a bundt pan very well and add batter to pan.
Bake approximately 1 hour 10 minutes or until toothpick inserted into the cake comes out clean.
Let cool thoroughly before trying to remove from pan.
 Note: If you don't have access to Cheerwine, you could probably substitute Cherry Coke. Check out cheerwinefinder.com to see if Cheerwine can be purchased in your neck of the woods.