Get ready for some serious comfort food. Braised Meatballs in Red Wine Gravy with Spinach Gruyere Mashed Potatoes is one hearty meal (and a mouthful!). This is an old recipe I clipped out of a Bon Appetit magazine at least 12 years ago. (Note: I've adapted the recipe quite a bit. See original recipe here.) A recipe has to be really good for me to hang onto it that long- and this one is.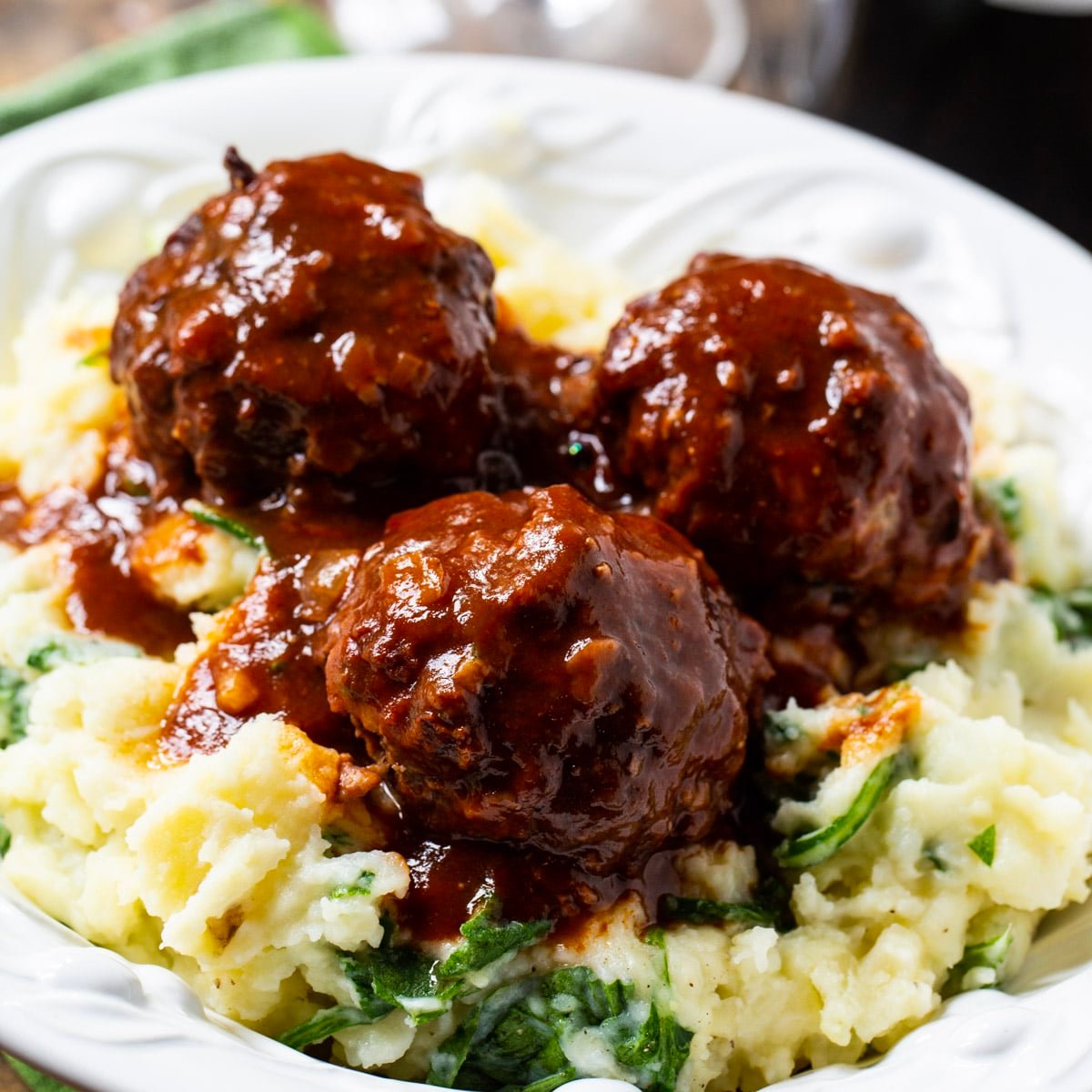 Extra-large and tender beef meatballs are cooked in a full-bodied wine sauce. The wine-sauce is fairly thick and acts as a wonderful gravy for the mashed potatoes.
Use a Quality Red Wine
You'll want to use a quality red wine that you really like the taste of because the wine flavor is pretty prominent. There's a full cup and a half added to the sauce. You might be thinking. Uh-oh. That doesn't leave much wine to drink while I cook. But it's totally worth putting that much wine in this sauce. Cabernet Sauvignon, Merlot, or Syrah work well.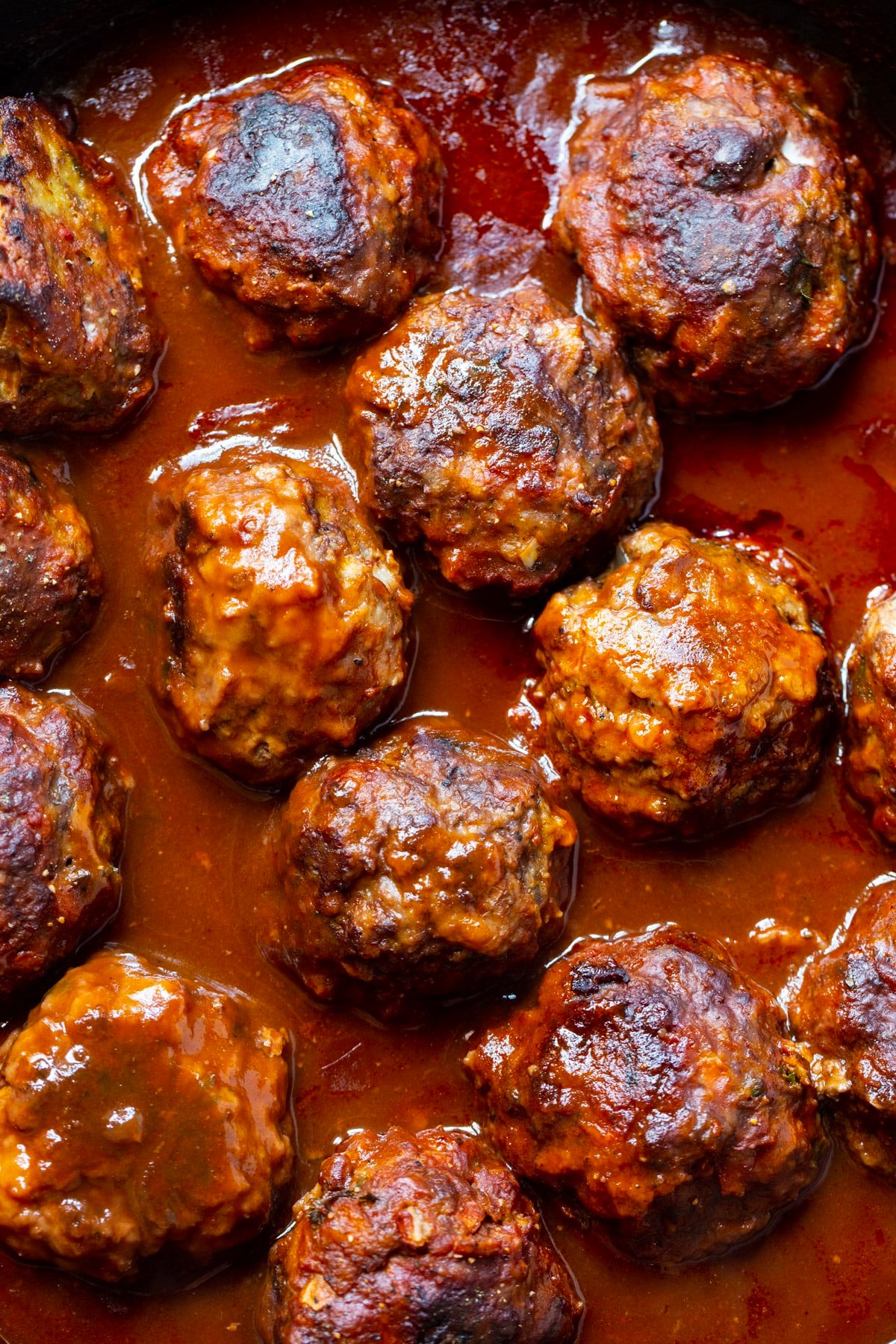 Baked and Then Braised
The meatballs are first baked in the oven, then dusted in flour, sauteed in butter and oil, and then braised in the red wine sauce. All these steps really build some awesome flavor!
Mashed Potatoes with Spinach
I really like the idea of putting fresh spinach in mashed potatoes. It really becomes a one dish meal that way and you don't feel like you have to serve a salad with it.
Just as the wine flavor is fairly intense in the sauce, there's a pretty strong Gruyere flavor in the mashed potatoes and I've actually reduced the amount from the original recipe. If you aren't really in love with the flavor of gruyere, or don't want to spend an arm and a leg for it, reduce the amount even more or use a different cheese.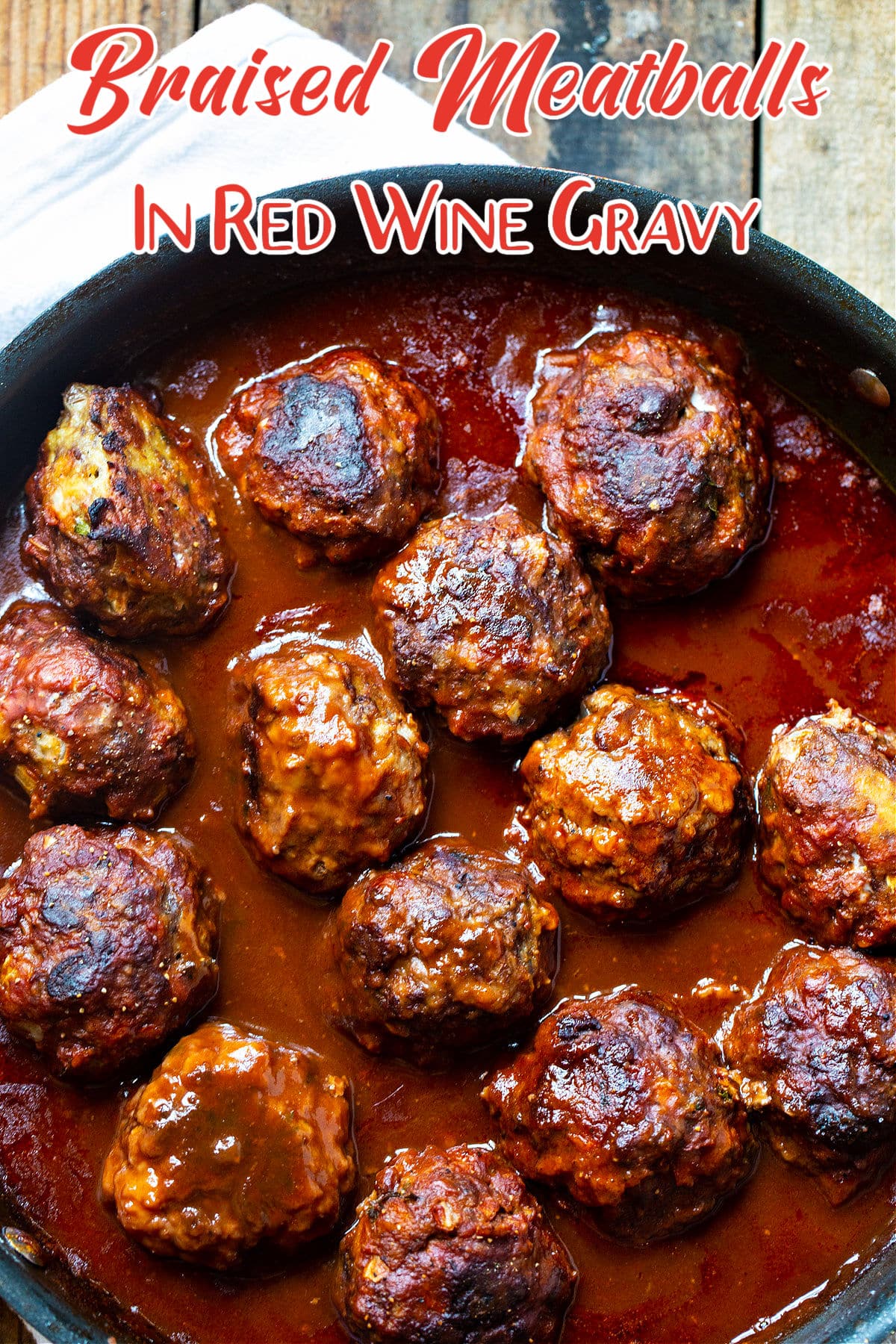 These Braised Meatballs in Red Wine Gravy are so rich and comforting. If you're looking for a lighter recipe, try these Turkey Meatballs.
Sustitutions
Cheddar cheese can be used in place of Gruyere cheese.
Two minced garlic cloves can be added to the meatball mixture.
Spice it up by adding half a teaspoon of crushed red pepper flakes to the sauce.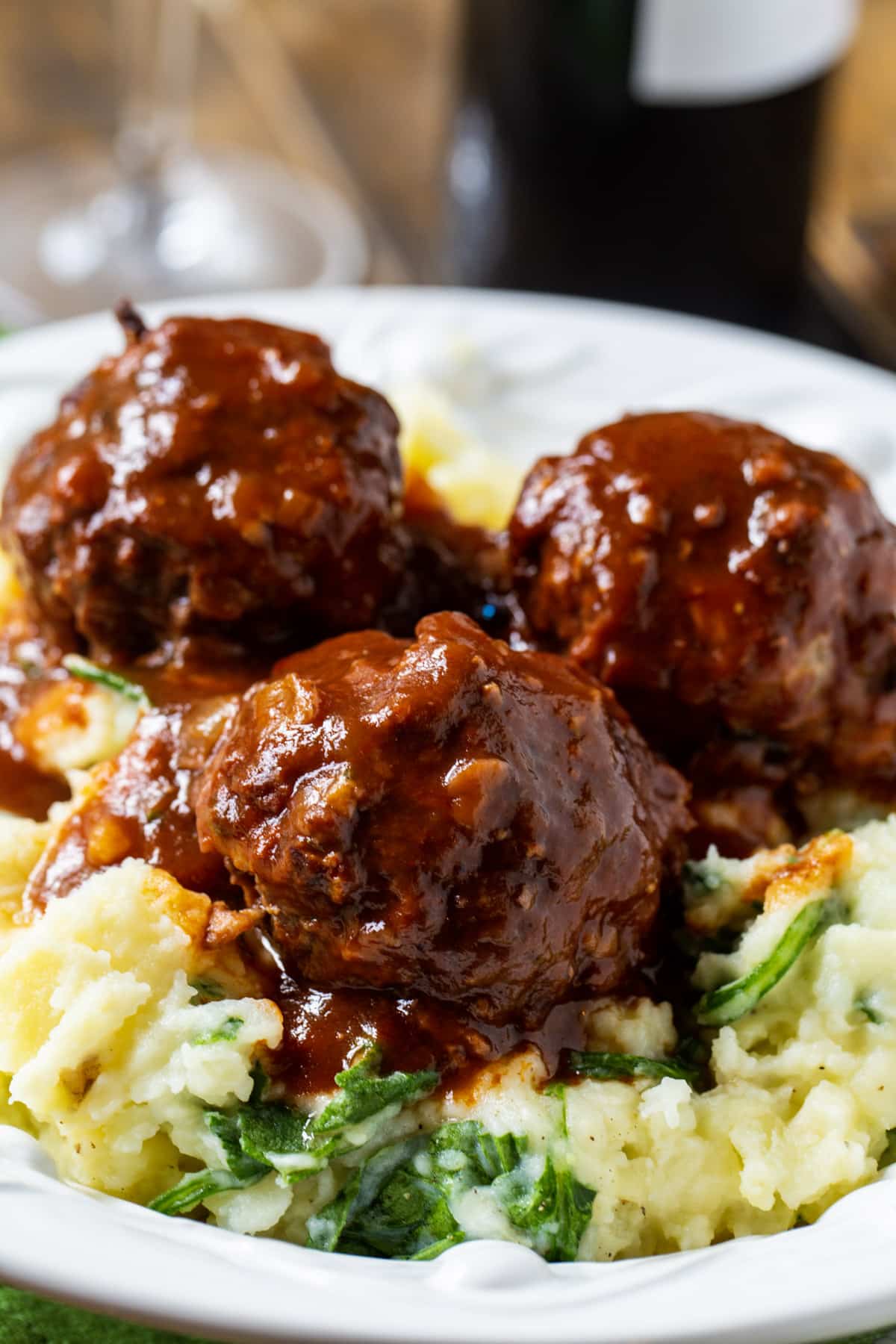 Never miss a recipe. Follow Spicy Southern Kitchen on Pinterest and Instagram.
More Meatball Recipes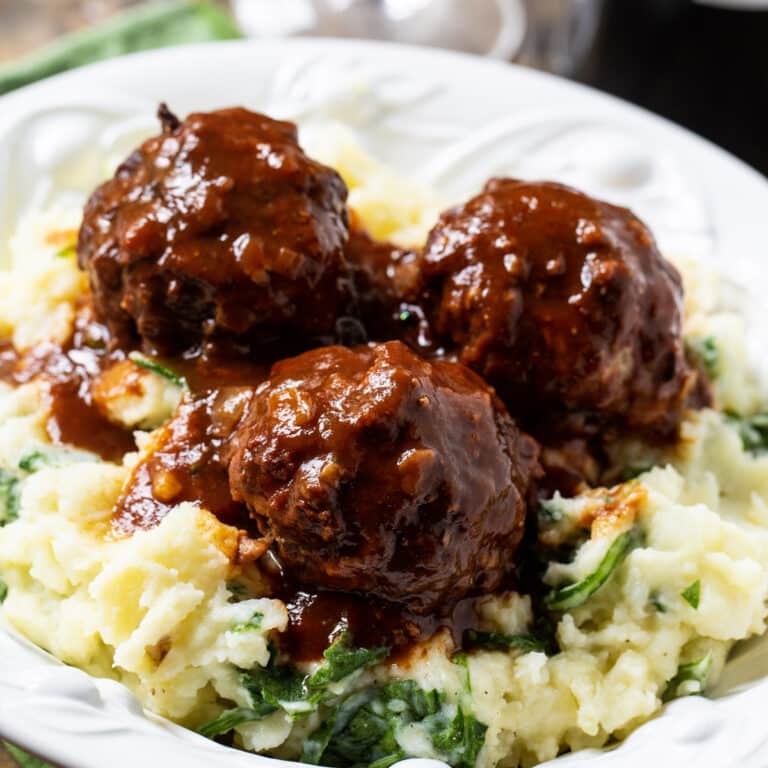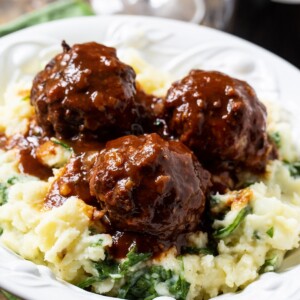 Braised Meatballs in Red Wine Gravy
Extra-large and tender beef meatballs are cooked in a full-bodied wine sauce. The wine-sauce is fairly thick and acts as a wonderful gravy for the mashed potatoes.
Ingredients
1

6-ounce

piece day-old French Bread,

cut into 8 pieces (about 1/3 a loaf of bread)

1

cup

whole milk

1 3/4

pounds

ground beef

(7 to 15% fat)

2

large eggs,

lightly beaten

1

medium onion,

finely chopped

1/2

cup

chopped parsley

2

teaspoons

salt

1

teaspoon

black pepper

1/2

teaspoon

dried thyme

all purpose flour

2

tablespoons

butter

1 1/2

teaspoons

olive oil

1 1/2

cups

red wine

1/4

cup

tomato paste

2 1/2

cups

canned beef broth
Mashed Potatoes
1

bag of baby spinach

4

pounds

Yukon Gold potatoes,

peeled and cut into 2-inch pieces

1

stick butter

1 1/4

cups

warm whole milk

or more

2

cups

grated Gruyère cheese
Instructions
Preheat oven to 350. Combine bread and milk in a medium bowl, pressing on bread to submerge. Let sit 10 minutes.

Squeeze out most of milk from bread and discard milk. Place bread in a large bowl. Add ground beef, eggs, finely chopped onion, parsley, salt, pepper, and thyme. Using your hands, mix together until well combined.

Form 1 3/4 inch meatballs and place in 2 13-by-9-inch glass baking dishes. Bake for 30 minutes. Let cool slightly.

Dust meatballs with flour and shake off excess. Melt butter and oil in a large skillet over medium-high heat. In 2 batches, saute meatballs until browned on all sides, about 3 minutes.

Return all meatballs to skillet. Whisk together tomato paste and wine. Add to skillet and bring to a boil. Continue boiling 5 minutes, until liquid thickens slightly. Stir often.

Add broth, reduce heat to medium and simmer until it thickens, about 15 minutes. Season with salt and pepper.

Cook potatoes in a large pot of salted water for 30 minutes, until very tender. Drain well. Place in bowl with butter and mash well.

Add milk to potatoes and mash and stir to incorporate. Add cheese.

Add spinach and stir it in. The heat from the mashed potatoes will wilt and steam the spinach. If your potatoes have cooled off to much to do this, you can microwave them to heat them back up.

Season liberally with salt and pepper.
Want to Save This Recipe?
Recipe adapted from Bon Appetit
Originally posted September 14, 2015.