This easy to make Slow Cooker Chocolate Peanut Butter Cake makes a wonderful picnic or potluck dessert. Since it cooks in the crock pot there's no need to heat up the kitchen.
Desserts have become one of my favorite things to make in the slow cooker and they are especially convenient for the hot months of the year.. We've already had some scorching hot days in South Carolina. It doesn't do any good to turn the oven on when the air conditioner is already fighting against 90 degree heat outside.
Chocolate and peanut butter is always a winning combination. Especially when there are lots of peanut butter cups involved.
The cake batter is made from a box of chocolate cake mix with peanut butter mixed in. The cake only takes about 1 hour and 45 minutes on HIGH in the crock pot.
Once the cake is done, it is covered with a peanut butter glaze and mini peanut butter cups, the kind that are individually wrapped. I cut them in half and use a large quantity of them, about 26.
Feel free to use as many peanut butter cups as you want. I don't think there is such a thing as too many peanut butter cups.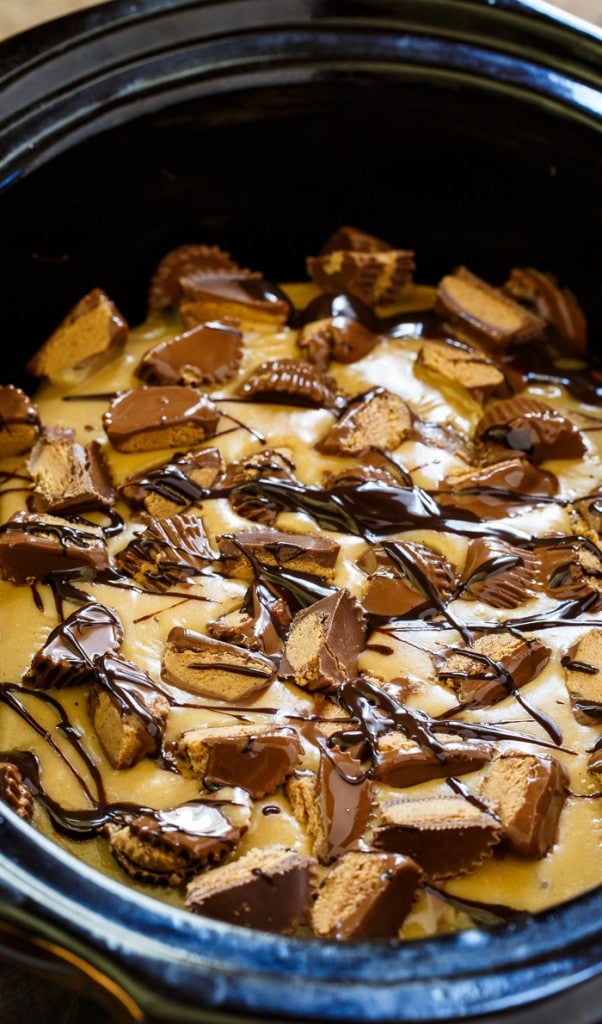 Never miss a recipe. Follow Spicy Southern Kitchen on Pinterest and Facebook.
Adapted from Betty Crocker.
More Slow Cooker Desserts
Disclosure: This post contains affiliate links.