Cheesecake and Pecan Pie together in one dessert. How could anything be better?
This outrageously good Pecan Pie Cheesecake has a crust made from vanilla wafer crumbs, a nutty and sweet pecan pie layer topped off with a cool and creamy cheesecake layer. I've become obsessed with the Crock Pot Dulce de leche I made recently so I drizzled that on top.
This was the first cheesecake I've made in eons. I'm surprised I even still had my springform pan.
Note: The recipe (from Taste of the South) did not call for a water bath and I didn't use one. I thought about it, but I didn't have any aluminum foil to wrap around the bottom of my springform pan.
When I took the cheesecake out of the oven, it looked absolutely perfect. Completely smooth on top. But when I walked past it about 10 minutes later, it had a giant crack down the middle. Easily fixed with some Dulce de Leche.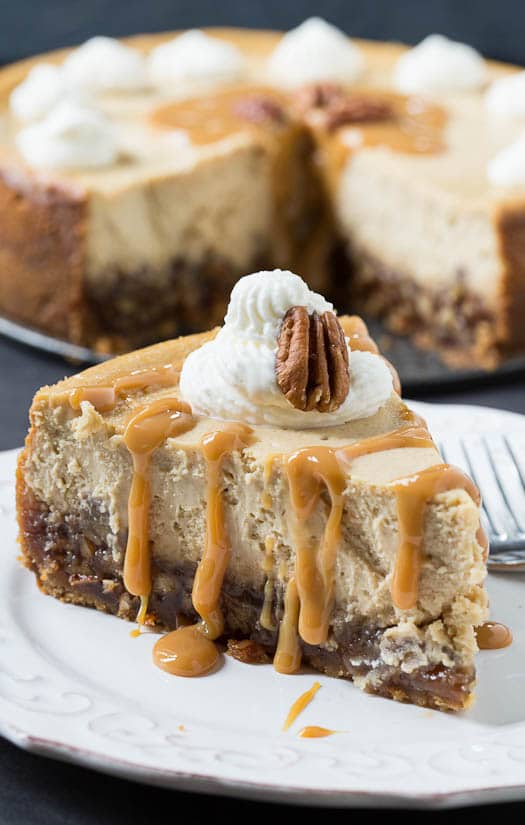 But if you don't want a crack, try using a water bath. Although I'm not sure how much they really help. I've heard of plenty of people who have used a water bath and had their cheesecake crack and others who never use a water bath and never have cracks. I should probably check my oven temperature to see if it is running hot.
Anyone have any cheesecake baking tips?
But crack or no crack this is a truly decadent dessert. I love a pecan pie but it is an insanely sweet dessert. This Pecan Pie Cheesecake is perfect for when you want something sweet, but not something sickeningly sweet. You still get to enjoy the flavor of a pecan pie, but the cheesecake layer cuts down on the sweetness.
I'm going to try to start making 1 cheesecake a month, but this one is going to be hard to top!
Never Miss a recipe! Follow Spicy Southern Kitchen on Pinterest and Instagram.
Sign up HERE for the Spicy Southern Kitchen Newsletter. 
Sharing with the Country Cook's
Weekend Potluck
.
Disclosure: This post contains affiliate links.