A super easy Chicken Pot Pie made with Rotisserie Chicken and refrigerated pie crusts. This recipe is perfect for a weeknight meal.
I don't know what the weather in your neck of the woods is doing, but after a week of near summer-like temperatures, it was down right cold and damp today. It's the kind of weather that makes me crave a warm, hearty meal straight from the oven.
Chicken Pot Pie had been one of my favorite comfort foods since I was a child. This Pot Pie is loaded with shredded chicken, potatoes, carrots, and peas. With a layer of pie crust on the bottom and one on top, you'll definitely get your pie crust fix.
If you serve this pot pie with a large salad, you can easily get two meals out of it for a family of four. I like to put one of these together on a Sunday afternoon and have leftovers on Monday or Tuesday. If you're not ready to bake it right away, you can refrigerate it for a few hours covered in plastic wrap.
Our local market usually has rotisserie chickens on sale on Sundays, making this a very economical meal.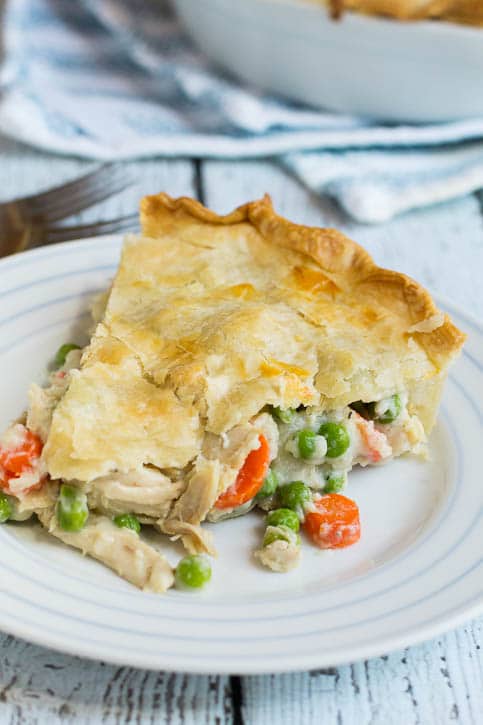 I like a really thick and hearty pot pie so I make my filling so thick it holds its shape when cut. If you like a looser filling, just add a little extra milk of chicken broth.
Chicken Pot Pie is a wonderfully delicious and comforting meal the whole family will enjoy!
Sign up HERE for the Spicy Southern Kitchen Newsletter.
Best Southern Cookbooks
Disclosure: This post contains affiliate links.