Snow is currently falling outside and I'm dreaming of Spring. When it comes to Spring foods, asparagus is always at the top of my list. In this rich and heavenly Asparagus Leek Dip, chopped asparagus is combined with sautéed leeks (another spring favorite!), Parmesan cheese, garlic, mayonnaise, and cream cheese to make a Spring party dip that is bound to be devoured.
Serve it with buttery crackers or toasted baguette. Both are perfect for scooping into this warm dip.
You may not immediately think dip when you think about asparagus. Artichokes are a popular addition to dips and I say, Why not asparagus too? In fact, this dip tastes very much like a hot, bubbling artichoke dip only with a slightly bolder flavor.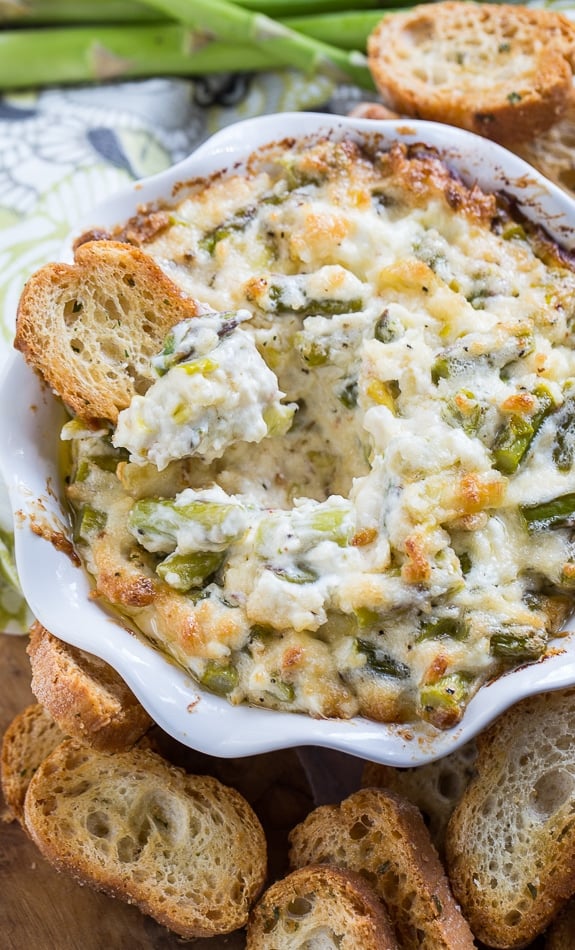 I've used fresh asparagus that I cooked just until tender, but you could also use canned asparagus. I don't eat much canned asparagus now, but I remember loving it as a child. Back then, it seemed like a delicacy. Oh how times have changed.
Either with fresh or canned asparagus, Asparagus Leek Dip is a warm, savory dip to beckon Spring weather.
Never miss a recipe. Follow Spicy Southern Kitchen on Pinterest and Facebook.
Recipe Source: adapted from Celebration Magazine
More Fantastic Dips
Hot Caramelized Onion Dip with Bacon and Gruyere
Artichoke Mascarpone Dip
Hot Black-Eyed Pea Dip