This sour cream-chocolate chip pancake recipe from Lisa Yockelson's ChocolateChocolate
Cookbook produces phenomenally rich, sweet, and decadent pancakes. To be fair, they really should be considered dessert. But since pancakes are a breakfast food, we get a pass eating them for breakfast.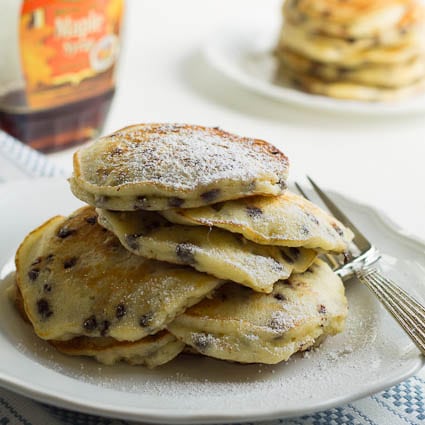 Thankfully it makes a large batch. Everyone will be back for seconds. I like to serve them with some nice and salty sausage patties.
Just in case you decide to go on a pancake making frenzy, here are some more awesome Pancake Recipes: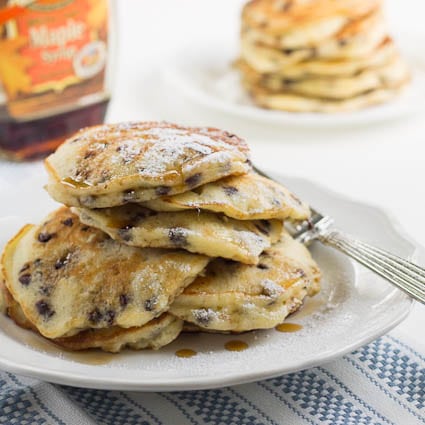 Sour Cream Mini Chip Pancakes
Ingredients
1¾ cups plus 2 tablespoons all-purpose flour
¾ teaspoon baking powder
½ teaspoon baking soda
large pinch of salt
¼ cup granulated sugar
2 large eggs
1 large egg yolk
6 tablespoons unsalted butter, melted and cooled
1½ cups sour cream
⅔ cup light cream, or more as needed
1¼ teaspoons vanilla extract
¾ cup miniature semi-sweet chocolate chips
unsalted butter for griddle
Confectioners' sugar for sprinkling
Maple syrup
Instructions
In a large bowl, whisk together flour, baking powder, baking soda, salt, and sugar.
In a medium bowl, whisk together eggs, egg yolk, melted butter, sour cream, light cream, and vanilla extract.
Pour wet ingredients over dry ingredients and add chocolate chips. Using a wooden spoon or spatula, stir together just until combines. Batter should be fairly thick. Add additional cream 1 tablespoon at a time if batter is too thick.
Heat a griddle or large nonstick skillet over medium-high heat. Wipe surface with butter and pour a scant ¼ of batter onto griddle for each pancake. Cook until bubbles appear on top and flip.
Cook about 1 additional minute, or until set all the way through.
To serve, dust with confectioners' sugar and serve with maple syrup.
Notes
Yield: 14-18 pancakes
Spicy Southern Kitchen is an amazon.com affiliate.