Pork Stroganoff is richly flavored with pancetta, garlic, and sage. A generous amount of sour cream makes this egg noodle and mushroom-based dish wonderfully creamy.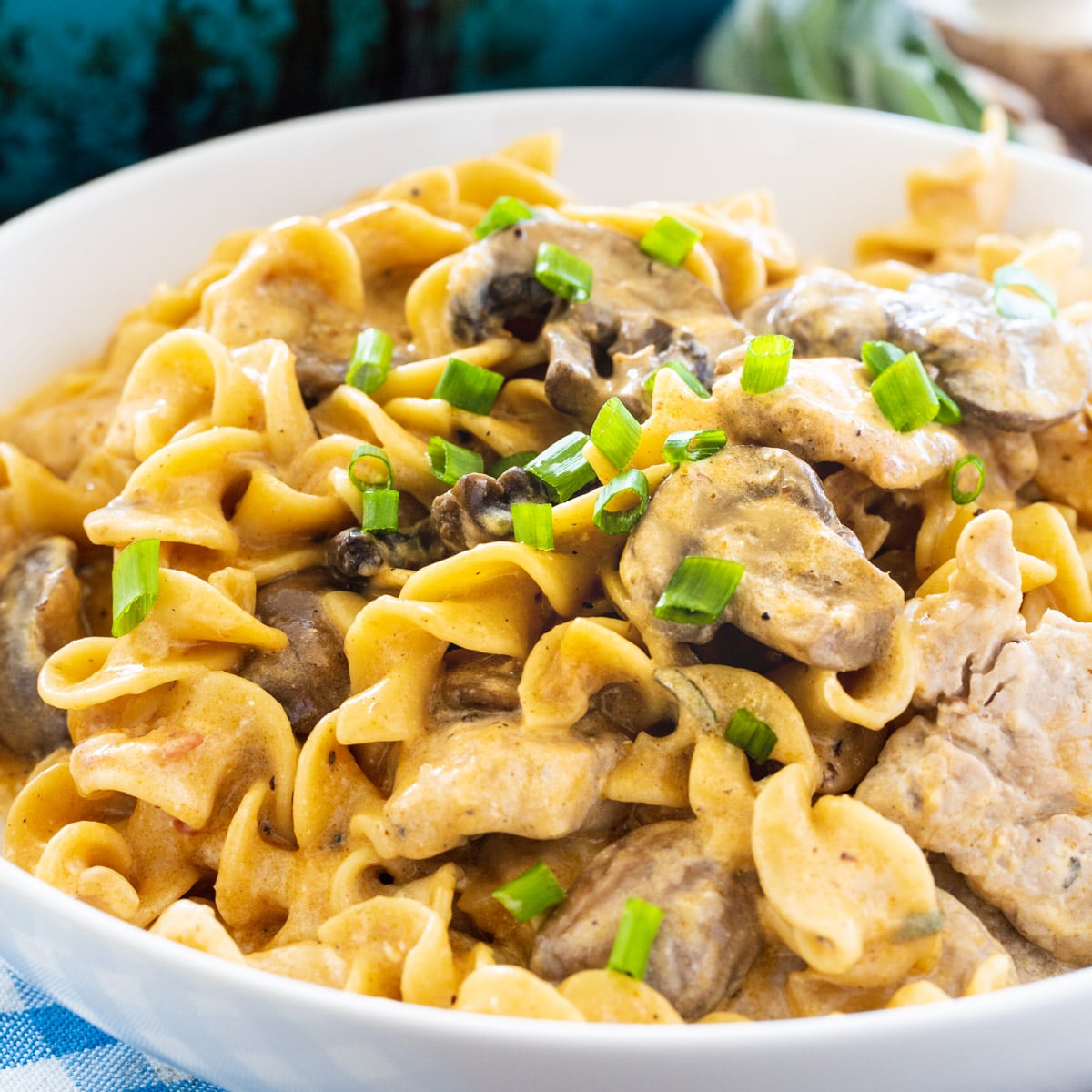 The noodles get cooked right in the sauce instead of separately for maximum flavor. I love to serve this dish with a side of green beans or peas. Pork Stroganoff is comfort food that's perfect for cooler weather.
Beef Stroganoff is the more traditional dish, but this pork version is every bit as delicious.
This from-scratch recipe has a fairly long list of ingredients, but has a vastly superior taste to quick and easy recipes made with condensed soup. The addition of pancetta really helps flavor it. A little tomato paste and paprika plus some wine help round out the flavor of the sauce.
You can serve a family of four large portions with this recipe. Serve with green beans, a side salad and bread and you can stretch it to 6.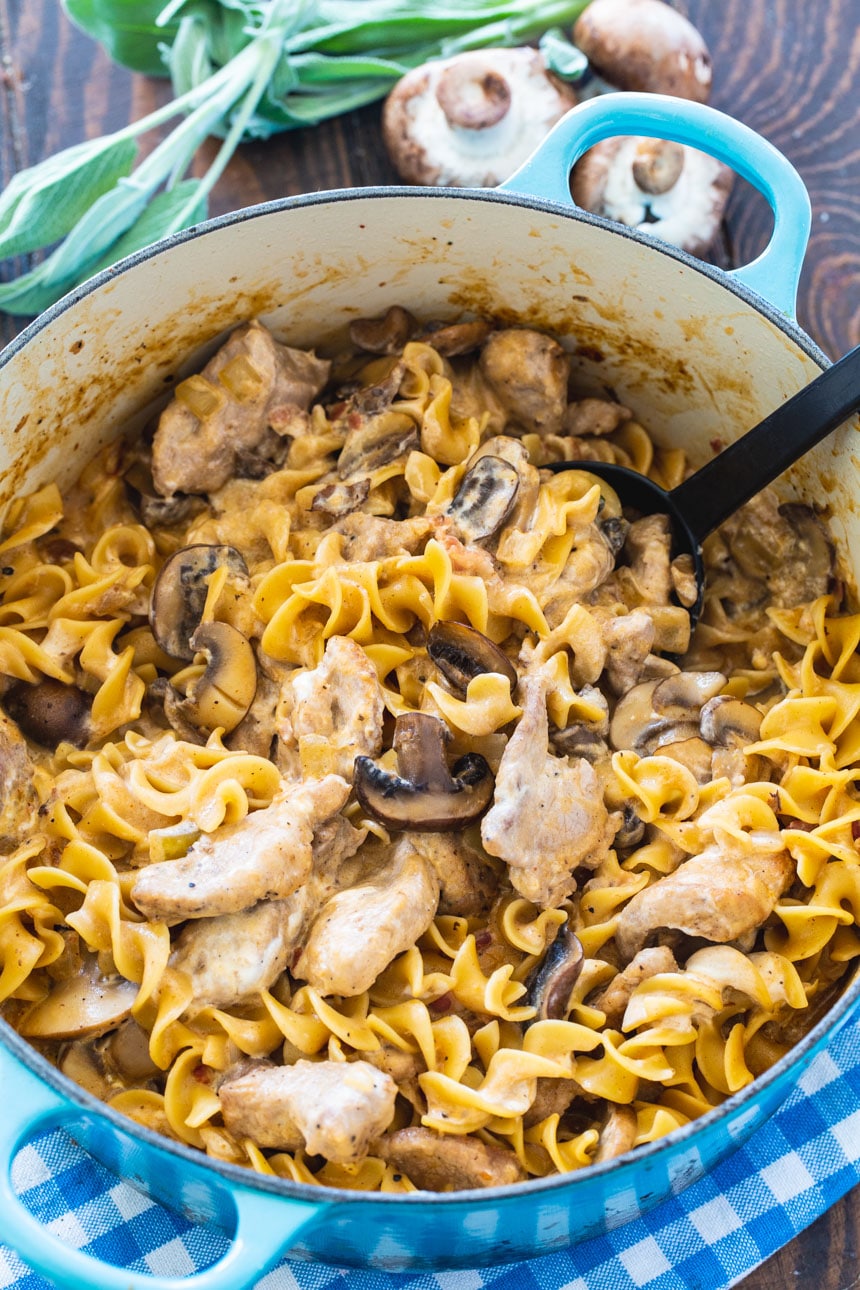 Pork Stroganoff Recipe Tips:
Be sure not to overcook the pork, but take a good long time cooking the mushrooms until they release their liquid and get deeply browned.
For the egg noodles, I use Muellers which can be found in the pasta section of the grocery store.
Leftovers will keep in an airtight container in the refrigerator for 3 to 5 days.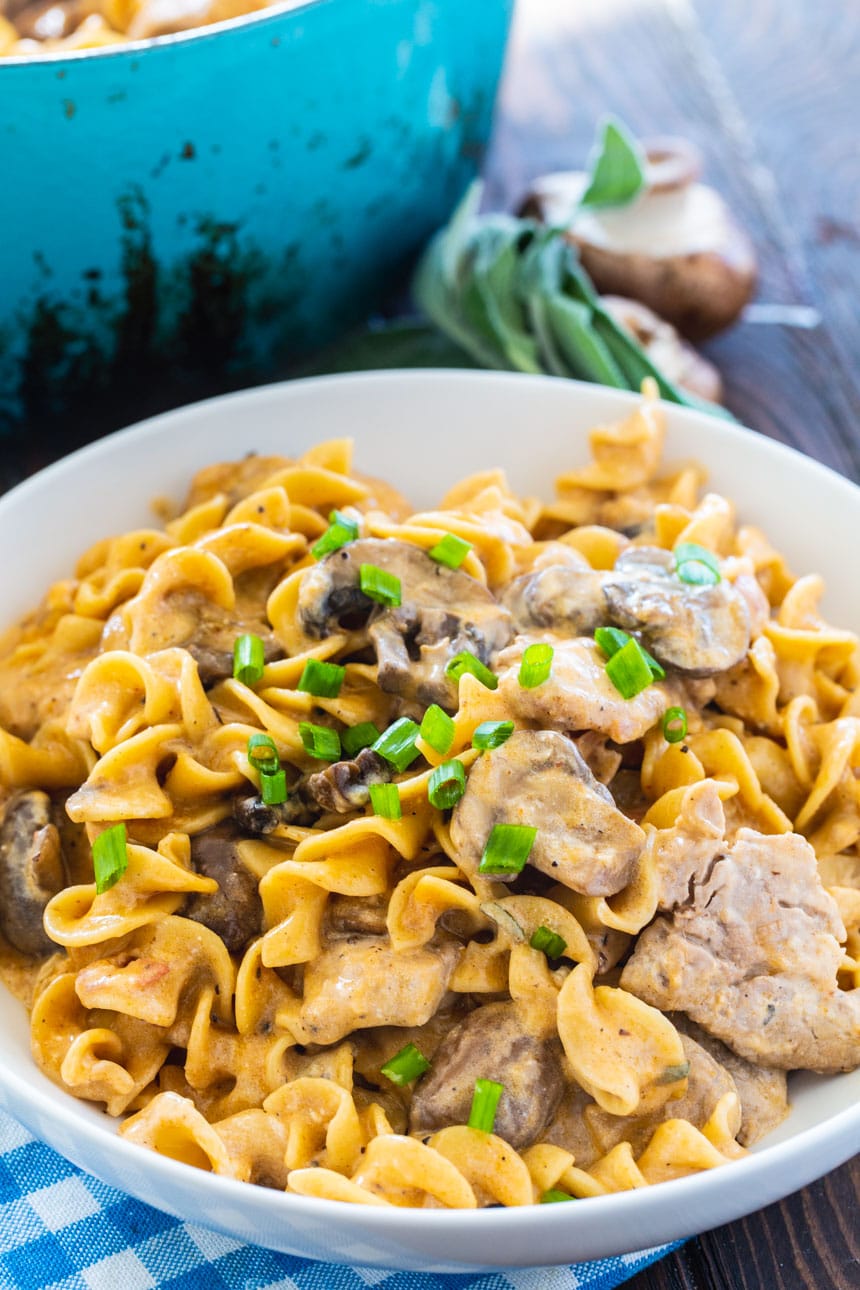 Try These Other Comfort Food Meals: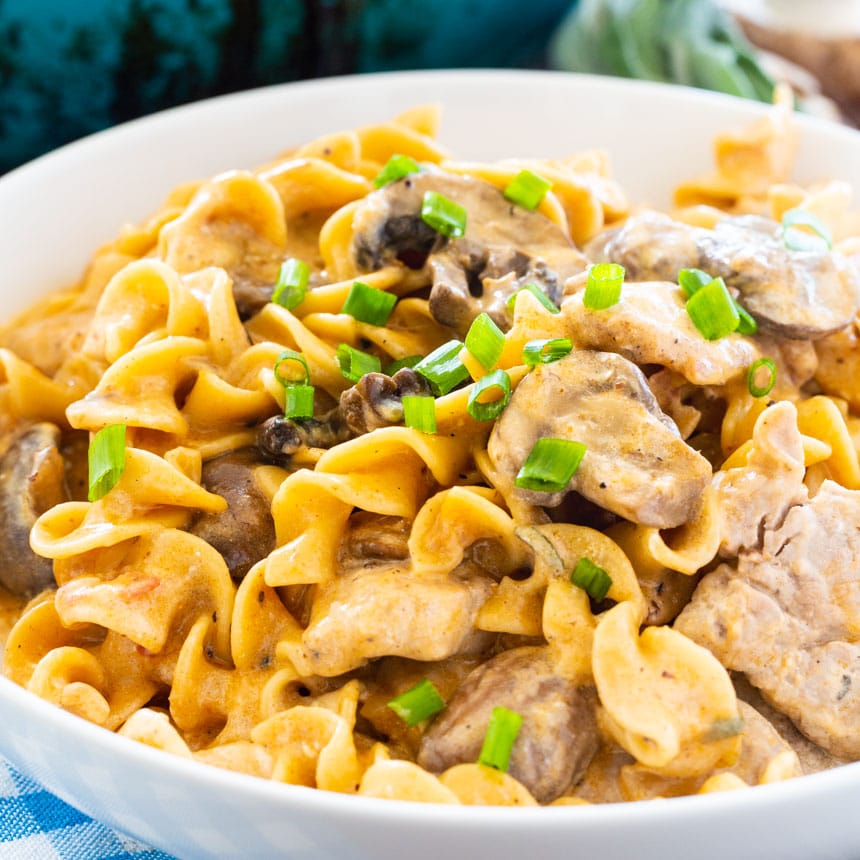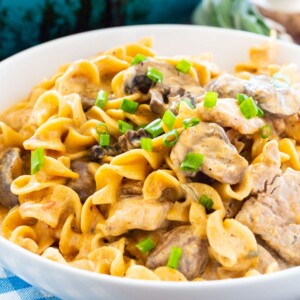 Pork Stroganoff
Pork Stroganoff is richly flavored with pancetta, garlic, and sage. A generous amount of sour cream makes this egg noodle and mushroom-based dish wonderfully creamy.
Ingredients
3

ounces

pancetta,

chopped

1

tablespoon

extra-virgin olive oil

1

(12-ounce)

pork tenderlon,

cut in half lengthwise and sliced into 1/4-inch slices

3

tablespoons

all purpose flour,

divided

1

teaspoon

salt,

divided

1

teaspoon

pepper,

divided

3

tablespoons

butter,

divided

12

ounces

cremini mushrooms,

sliced

1

medium

onion,

finely diced

3

garlic cloves,

minced

1

tablespoon

chopped fresh sage or 1 teaspoon dried

2

teaspoons

tomato paste

1/2

teaspoon

paprika

4

cups

chicken broth

1/4

cup

dry white wine

8

ounces

uncooked egg noodles

3/4

cup

sour cream

2

tablespoons

minced fresh chives
Instructions
Heat the oil over medium heat in a Dutch oven. Add the pancetta and cook until crispy. Remove with a slotted spoon and set aside.

In a medium bowl toss together pork, 2 tablespoons of flour, 1/2 teaspoon salt, and 1/2 teaspoon of pepper.

Add 1 tablespoon of butter to the grease in the Dutch oven. Melt over medium-high heat.

Add pork, spreading it out as much as possible. Leave it alone for 2 minutes and then flip it over. Continue to cook until there is no more pink. Remove the pork from the Dutch oven and place it with the pancetta.

Add the remaining 2 tablespoons of butter to the Dutch oven. When melted, add the mushrooms and onion along with the remaining 1/2 teaspoon salt and pepper.

Cook until browned, about 7 minutes, stirring ocassionally.

Add the garlic, sage, tomato paste, and paprika and cook and stir for 1 minute.

Stir in broth and wine and bring to a simmer. Be sure to scrape up any browned bits on the bottom.

Add noodles and cook uncovered for 7 to 9 minutes, or until al dente. Stir occasionally to make sure they cook evenly. Keep in mind that they will continue to cook some in the hot liquid.

Add pork and pancetta. Remove from heat and stir in sour cream. Check for seasoning and add more salt and pepper if desired.
Want to Save This Recipe?
Recipe adapted from Cook's Country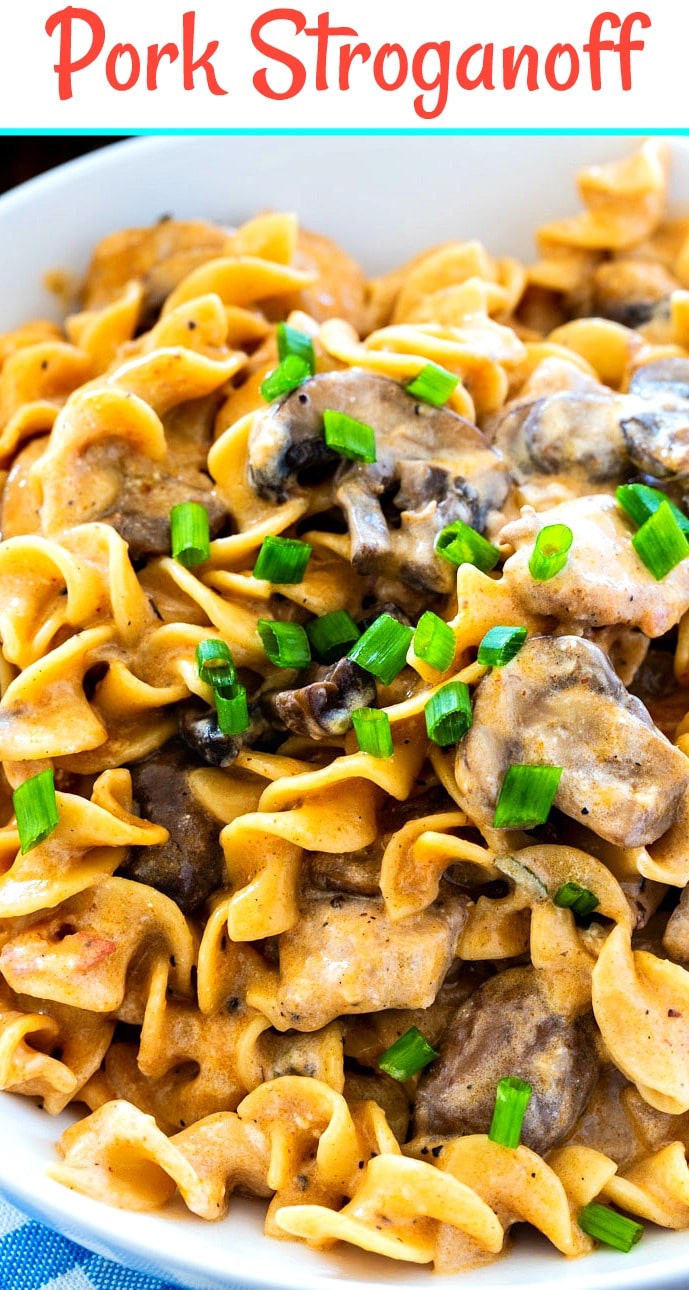 Disclosure: This post contains affiliate links.