Rich and fudgy brownies with an intense chocolate flavor, loaded with butterscotch chips and pecans.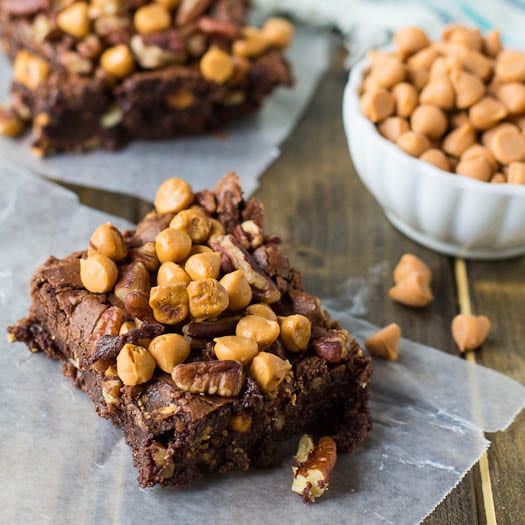 Chocolate cravings. They've been happening.
I don't know if it is the fact that school is out today that has me feeling a little bit celebratory and anxious. Where did the school year go? Or if it's because I've been exercising more and cutting calories in an effort to drop a few pounds for summer. Nothing like a little deprivation to stir up some cravings.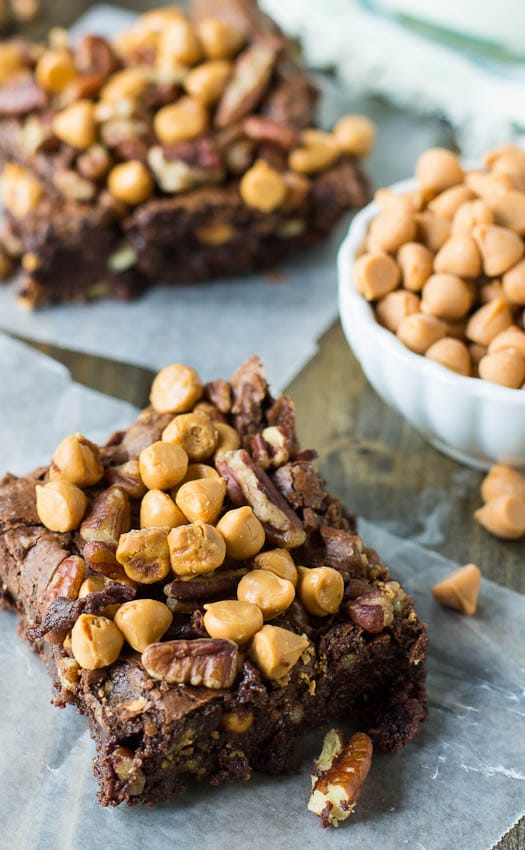 Maybe it's hormones?
When you're a 40-something year old woman, you can blame them for pretty much anything.
But whatever the cause, I could not keep my chocolate cravings at bay any longer. When I have a chocolate craving, nothing satisfies it like a rich, fudgy brownie. They are perhaps my favorite sweet treat.
Usually I like my brownies to be pure, unadulterated chocolate. Frosting is always A-OK. And sometimes I allow for a few nuts, or a little peanut butter or caramel.
But this time I was in the mood for a few nuts and some butterscotch. Welcome Butterscotch-Pecan Brownies. With butterscotch chips in the batter and sprinkled on top, you get plenty of that buttery, sweet flavor in every bite. Chopped pecans provide a wonderful crunch. Together the chocolate, butterscotch, and pecans make for one delicious and celebratory brownie.
At our house they are to celebrate the fact that my son, as of this week, has caught up on all of his school work. This is after missing nearly 4 months of school while being treated for cancer! He is now free to enjoy a school-work free summer! It wouldn't have been possible had it not been for his AP Chemistry teacher who made huge personal sacrifices coming to our house multiple times a week the months he was out of school. She helped him not just with chemistry, but his other subjects too. I know our public education system gets a lot of criticism, but there are some truly amazing and dedicated teachers out there who make a huge impact on our children's lives.
So, off to eat a brownie and celebrate all the wonderful teachers in this world 🙂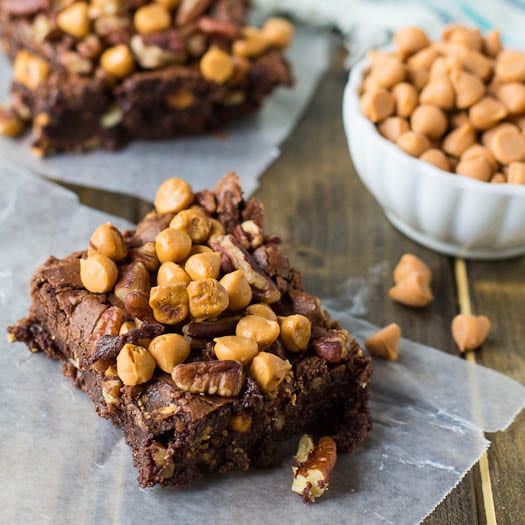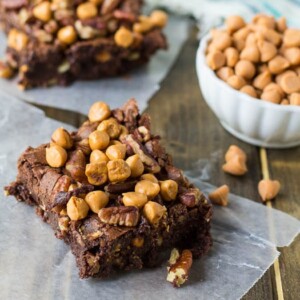 Butterscotch-Pecan Brownies
Rich and fudgy brownies with an intense chocolate flavor, loaded with butterscotch chips and pecans.
Ingredients
1/2

cup

all-purpose flour

1/4

teaspoon

kosher salt

4

tablespoons

unsalted butter

8

ounces

semisweet chocolate,

chopped

2

ounces

unsweetened chocolate,

chopped

2

large eggs,

room temperature

1

cup

sugar

1 1/2

teaspoons

vanilla extract

1

cup

toasted pecans,

chopped

1

cup

butterscotch chips
Instructions
Preheat oven to 325 degrees and grease and flour a 8X8-inch baking pan.

In a medium saucepan, melt the butter and chocolates over low heat, stirring frequently. Once smooth, remove from heat and allow to cool for 5 minutes.

Place the eggs and sugar in a large bowl and whisk until light and creamy, about 2 minutes.

Whisk in vanilla extract.

Gradually (so that eggs do not curdle) whisk in chocolate mixture.

Switch to a wooden spoon or rubber spatula and mix flour and salt into the chocolate mixture.

Stir in half of the pecans and half of the butterscotch chips.

Pour batter into prepared pan and bake for 20 minutes.

Remove from oven and sprinkle remaining pecans and butterscotch chips on top.

Return pan to oven for 15-20 more minutes. Cool to room temperature before cutting.
Notes
To toast pecans, place on a baking sheet in a 350 degree oven for about 10 minutes. They should be lightly browned and fragrant.
Want to Save This Recipe?
Recipe adapted from More From Magnolia
The above link is an affiliate link. This means if you click the link and make a purchase, Spicy southern Kitchen receives a small percentage at no cost to you.