With this simple Spicy Tomato Cream Pasta Sauce, you can have a delicious meal on the table in just a matter of minutes. It involves adding a few ingredients to your favorite spaghetti sauce to turn it into creamy, spicy heaven. Toss it in with some angel hair pasta which I love because it cooks up so fast.
There's something about pasta sauces with cream that I can't resist. I'm sure I'm not the only one. Penne alla Vodka? Yes please! Tonight we are going to Mama Ricotta's in Charlotte as an early birthday celebration for me. I always get the Penne alla Vodka with Sausage. Every time. It's so comforting, with plenty of spice. If I'm being a good girl, I bring half of it home for lunch the next day.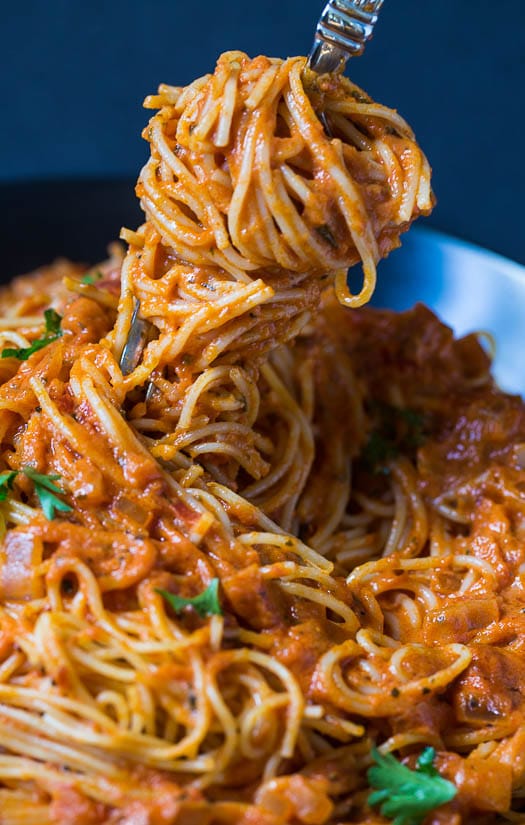 When I want a creamy pasta at home, this Spicy Tomato Cream Pasta can't be beat. It couldn't be easier. Cook some diced onion and garlic in a little oil until sauce, add some cream, basil, and a jar of your favorite pasta sauce. Since I like some spice I add some red pepper flakes but you could leave them out. Add 1/4 teaspoon for a little spice and 1/2 teaspoon for a lot of heat. Let simmer until all the flavors come together. Toss it with some cooked pasta and you're ready to eat.
Serve Spicy Tomato Cream Pasta with a green salad and some crusty bread for a quick weeknight meal on a super busy day.
 Never miss a recipe. Follow Spicy Southern Kitchen on Pinterest and Instagram.
Sign up HERE for the Spicy Southern Kitchen Newsletter.
Disclosure: This post contains affiliate links.