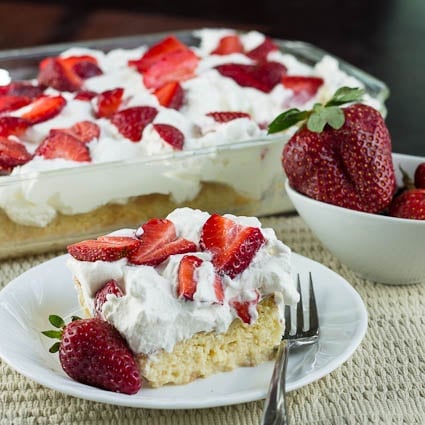 Get out your lactaid pills, cuz you're going to need them with this dairy-laden cake. My first attempt at Tres Leches Cake was wildly successful. Thanks to a wonderful Tres Leches Cake with Strawberries recipe from one of my favorite cooking magazines, Fine Cooking
, I nailed it.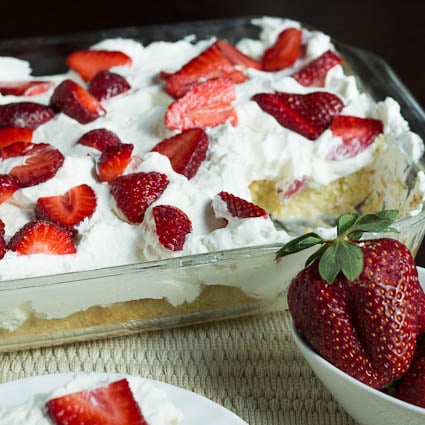 Topped with bright red, fresh strawberries, this Tres Leches Cake is dressed for spring as well as the upcoming Cinco de Mayo.

MY LATEST VIDEOS
Tres Leches Cake is a little more involved than some cake recipes, but it should be made in advance, giving the soaking liquid time to marry with the cake. This makes it a wonderful choice for a party, pot luck, or cook out. Just pull it out of the fridge and it's ready to go.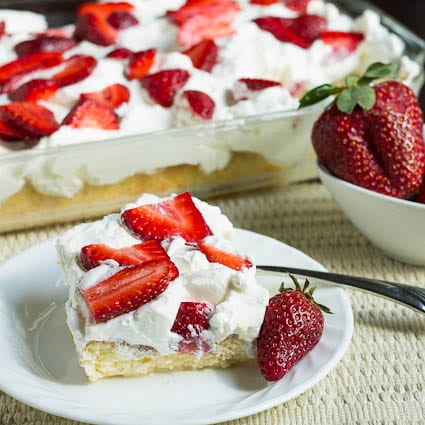 Whipped egg whites create a very light-textured cake with tons of air bubbles that are really able to soak up a huge quantity of delicious liquid. The cake part is exceptionally sweet, as a tres leches cake should be, and it is balanced by a fresh whipped cream topping with just a hint of sweetness.
Everyone will love this fresh and bright Tres Leches Cake with Strawberries.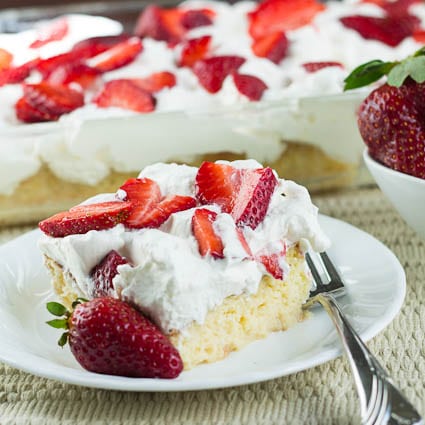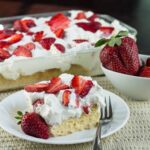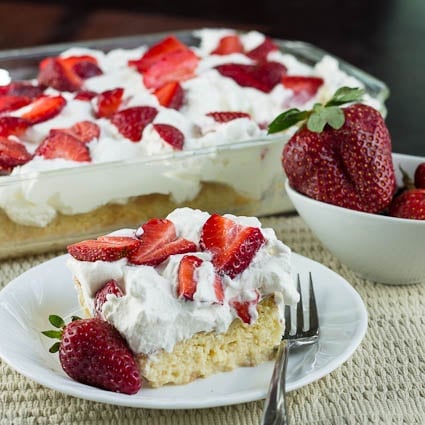 Tres Leches Cake with Strawberries
Ingredients
butter for greasing pan

1

cup

unbleached all-purpose flour

1 1/2

teaspoons

baking powder

1/4

teaspoon

kosher salt

5

large eggs,

at room temperature

1

cup

granulated sugar,

divided

1/3

cup

whole milk

3/4

teaspoon

vanilla extract

1

(14-ounce)

can sweetened condensed milk

1

(12-ounce)

can evaporated milk

1/2

cup

heavy cream

pinch kosher salt

2 1/2

cups

heavy cream

2 1/2

tablespoons

confectioners' sugar

1/2

teaspoon

vanilla extract

3

cups

sliced strawberries

1

teaspoon

sugar
Instructions
Place oven rack in center of oven and preheat to 350 degrees.

Butter bottom and sides of a 9×13-inch Pyrex dish , line bottom with parchment paper, and lightly butter parchment paper.

In a medium bowl, whisk together flour, baking powder, and salt.

Separate the eggs. Place the egg whites in a medium bowl and the yolks in a large bowl.

Using an electric mixer, beat the egg yolks and 3/4 cup sugar at medium speed until pale and creamy, about 2 minutes. Add milk and 3/4 teaspoon vanilla and beat until combined.

Clean and dry the beaters and beat the egg whites on high until they form soft peaks, 2 to 3 minutes. Add remaining 1/4 cup sugar in a slow stream and continue to beat on high until they reach firm peaks.

Whisk 1/3 of dry ingredients into yolk mixture until well combined. Gently fold in 1/3 of egg whites using a rubber spatula. Alternating, fold in remaining dry ingredients and egg whites in two more batches.

Pour batter into prepared pan and bake for 20 to 25 minutes, or until toothpick inserted in center comes out clean. Let pan cool on a rack or 10 minutes and then invert cake onto rack and remove parchment paper. Let cool completely and then return cake to baking dish.

In a medium saucepan, combine condensed milk, evaporated milk, heavy cream, and pinch of salt. Stir to mix and cook over medium-low heat, while stirring, until it begins to bubble around edges, about 3 to 5 minutes. Remove from heat.

Using a toothpick, poke holes in cake at 1/2-inch intervals. Slowly pour milk mixture over cake, starting at edges. Cover with plastic wrap and refrigerate for 2 to 24 hours.

In a large bowl, beat heavy cream on medium speed. Add sugar and vanilla when it begins to thicken. Continue to beat until cream forms firm peaks, about 3 to 4 minutes. Be careful not to overbeat.

Spread cream over top of cake. Combine strawberries and 1 teaspoon sugar and spread evenly on top of cake.
Recipe Source: adapted slightly from Fine Cooking