Oven-Barbecued Chicken in a thick sauce that's sweet and tangy makes an out of this world family dinner. It's made with boneless chicken breasts so it's really easy to eat.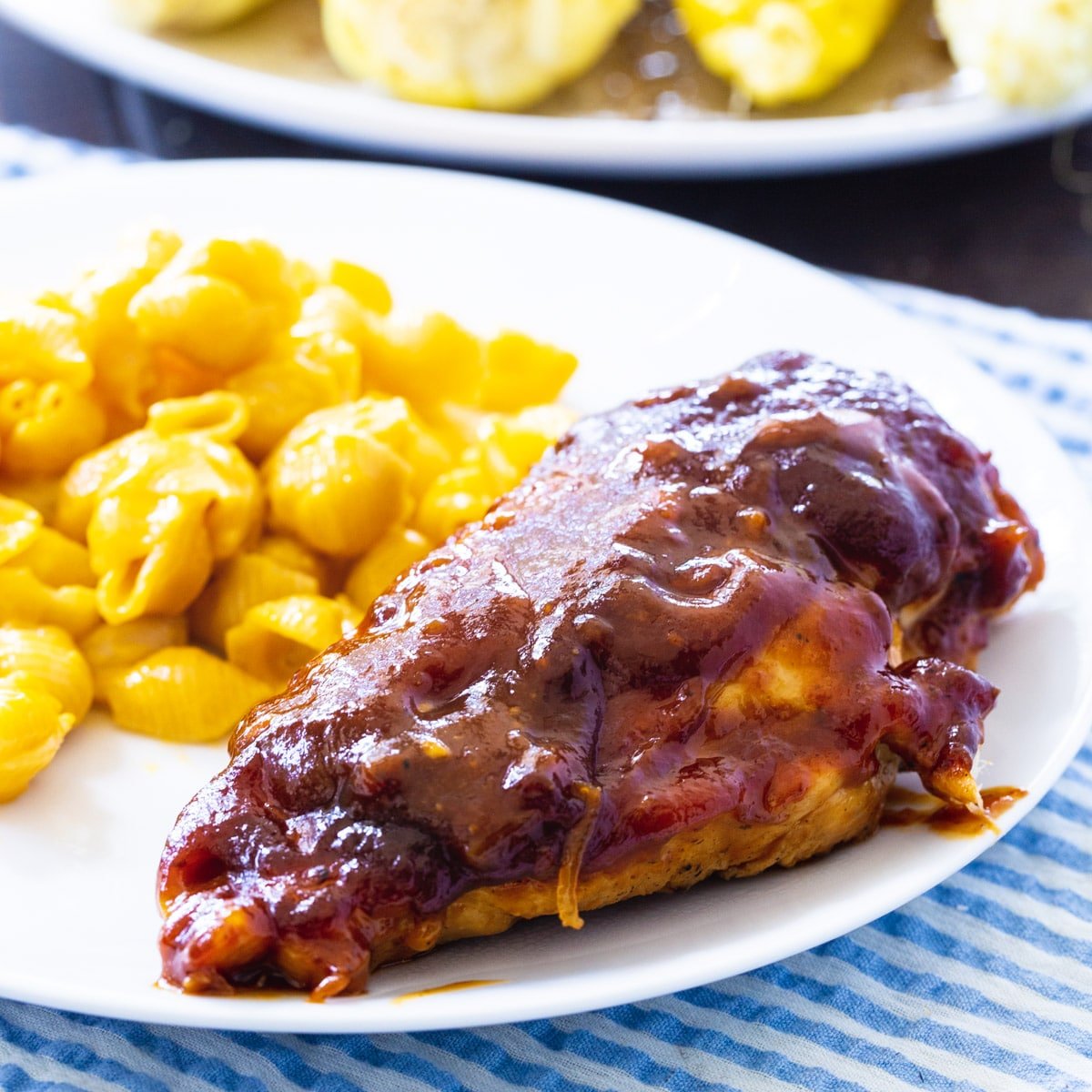 This is one of my all-time favorite recipes and I find myself making it again and again. It's a recipe from America's Test Kitchen and if you've tried their recipes before, you know they are always winners.
I'm a big fan of cooking BBQ Chicken in the oven. It's almost always no-fail and no-hassle. Often when I try to do it on the grill, I've ended up with a burned and charred mess of raw on the inside chicken. Frequently oven-barbecued chicken recipes result in a watery, runny bbq sauce that won't stay on the chicken. But not this one. It cooks up super thick and really coats the chicken.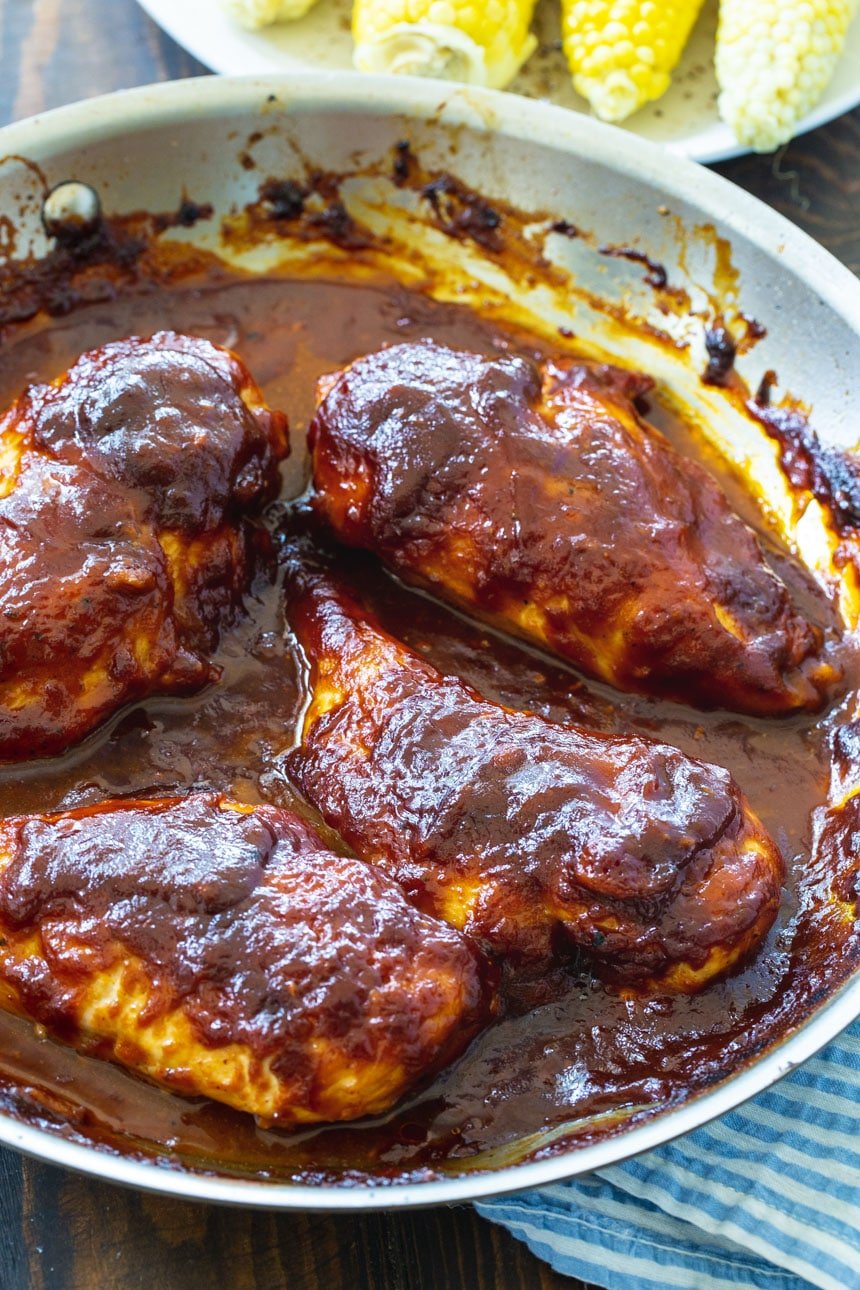 HOW TO MAKE SWEET AND TANGY OVEN-BARBECUED CHICKEN:
This Oven-Barbecued Chicken is both sweet and spicy which is just the way I like my food. You start the recipe by browning the chicken in a skillet just to give it some color. You set the chicken aside while you cook the sauce in the same skillet. Did I mention this recipe only dirties 1 pan?
Place the chicken back in the sauce, turn to coat it well and pop it in the oven until the chicken is cooked through. Lastly, turn the broiler on just long enough to thicken the sauce and char it in spots so it will taste like it came right off the grill when you didn't even have to go outside.
What's really impressive about this recipe (besides its phenomenal taste) is that it is made with boneless, skinless chicken breasts. As you probably know, cooking up flavorful and juicy barbecued chicken without the skin or bones is no easy task. The chicken, even though it is boneless, stays wonderfully moist and tender.
This recipe is sure to become one of your favorite weeknight chicken recipes.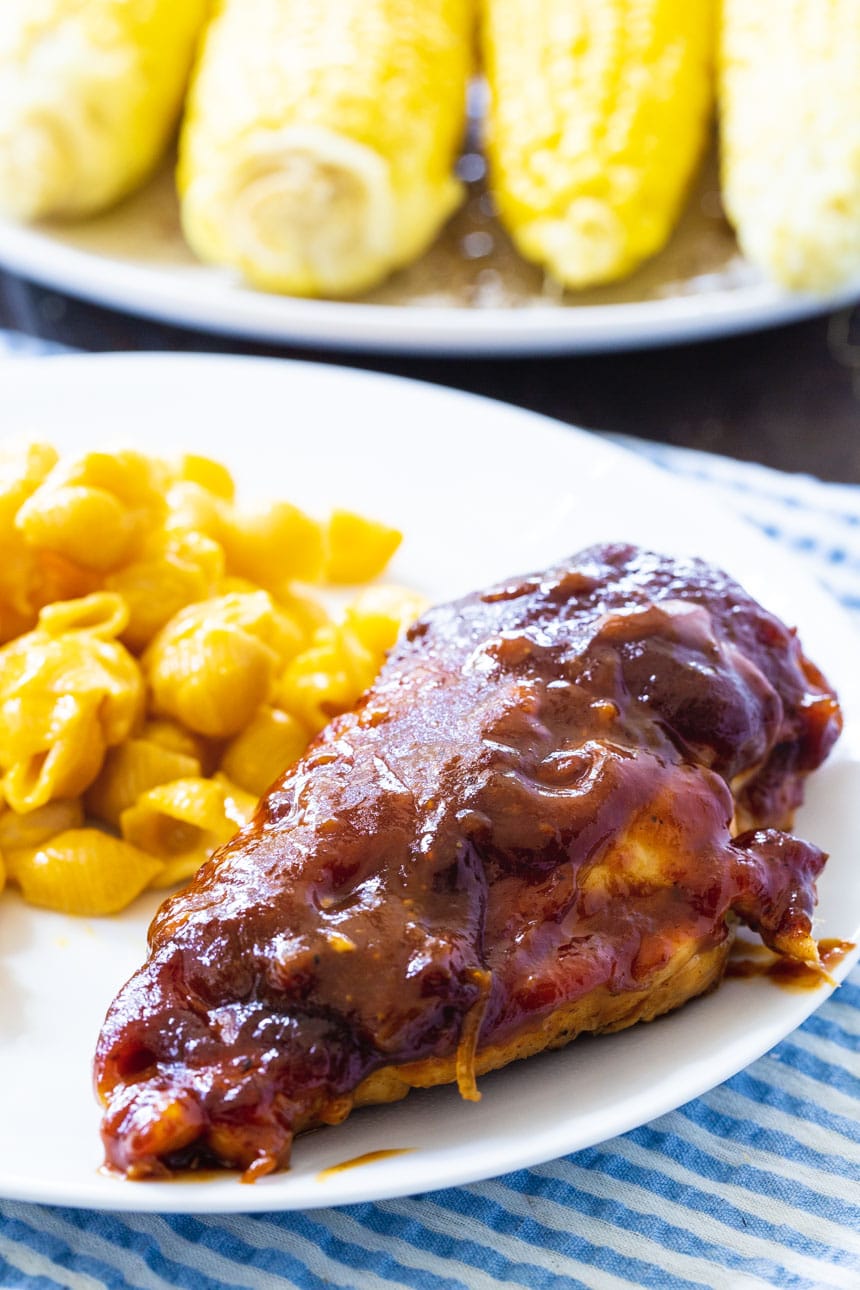 Great Sides For Serving with This Recipe: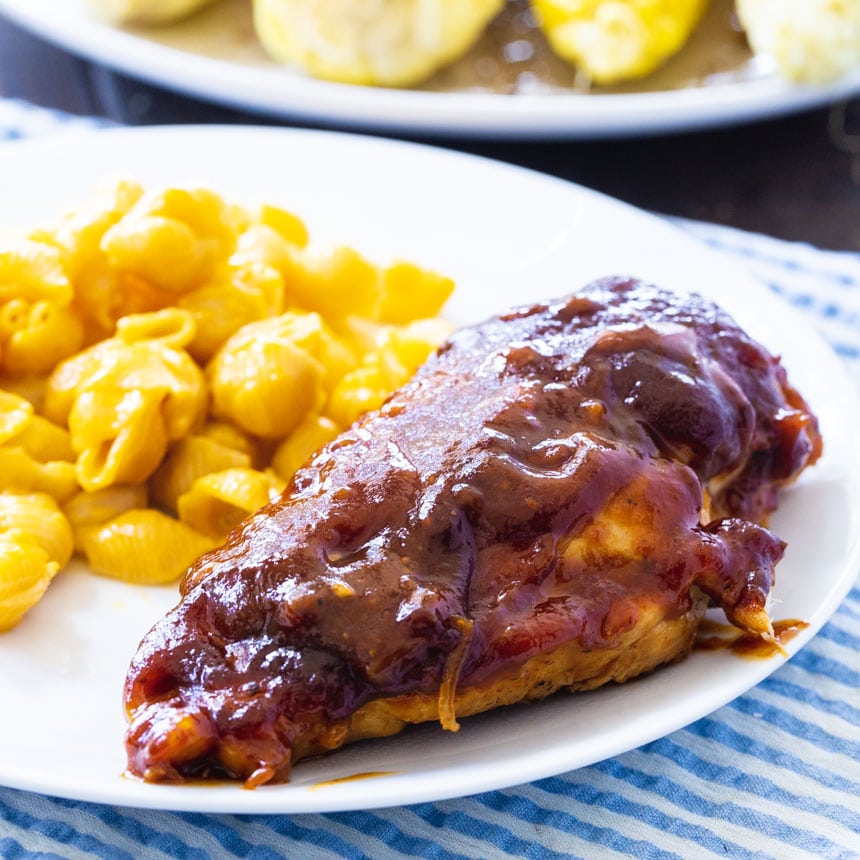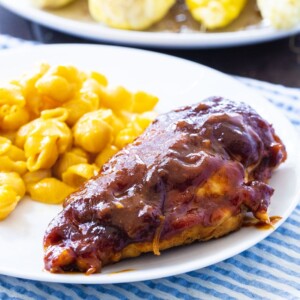 Sweet and Tangy Oven-Barbecued Chicken
No burned, but undercooked barbecue chicken on the grill! This oven-barbecued chicken comes out perfect every time and is coated in a thick, sweet and spicy sauce.
Ingredients
1

cup

ketchup

2

tablespoons

finely grated onion

2

tablespoons

Worcestershire sauce

2

tablespoons

Dijon mustard

3

tablespoons

molasses

2

tablespoons

maple syrup

3

tablespoons

cider vinegar

1

teaspoon

chili powder

1/4

teaspoon

cayenne

4

boneless,

skinless chicken breasts, patted dry

Salt and Black pepper

1

tablespoons

vegetable oil
Instructions
Place oven rack in upper-middle position, about 5 inches from heating element and heat to 325 degrees.

Whisk ketchup, onion, Worcestershire, mustard, molasses, maple syrup, vinegar, chili powder, and cayenne in small bowl. Set aside.

Heat oil in an oven-proof skillet over high heat and season chicken with salt and pepper. Once pan begins to smoke, add chicken and cook 1 to 2 minutes per side, until lightly browned on each side. Transfer to a plate.

Add sauce mixture to skillet and simmer over medium heat for about 5 minutes, stirring frequently.

Take pan off heat and add chicken back to pan. Turn to coat well with sauce. Place in oven and cook 10 to 14 minutes. Set oven to broil and keep cooking until thickest part of chicken registers 160 degrees, 5 to 10 minutes. Watch chicken carefully during this portion. The sauce will burn if it is too close to the heating element.
Notes
You double the amount of cayenne pepper if you want it spicier.
Want to Save This Recipe?
Originally published April 7, 2104