Soft and fluffy Strawberry Sweet Rolls stuffed with fresh sliced strawberries and finished off with an almond cream cheese drizzle are a wonderful way to show off those beautiful in season strawberries.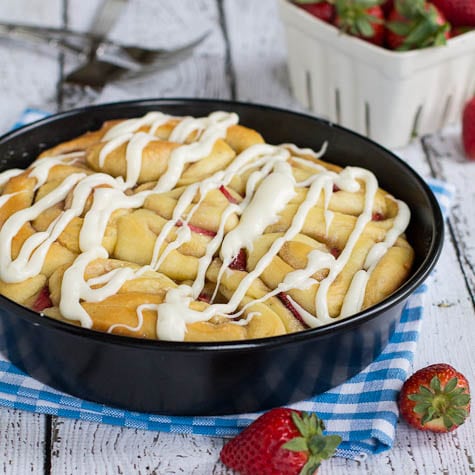 I keep wanting to call them cinnamon rolls, but they don't have any cinnamon in them.
I've wanted to make homemade cinnamon rolls for a long time. I was raised on Pillsbury Cinnamon Rolls, sticky buns as we called them, and the only real cinnamon rolls I have had have been from bakeries. And to tell you the truth, a lot of times I find them to be really lackluster. I'd rather have the Pillsbury ones.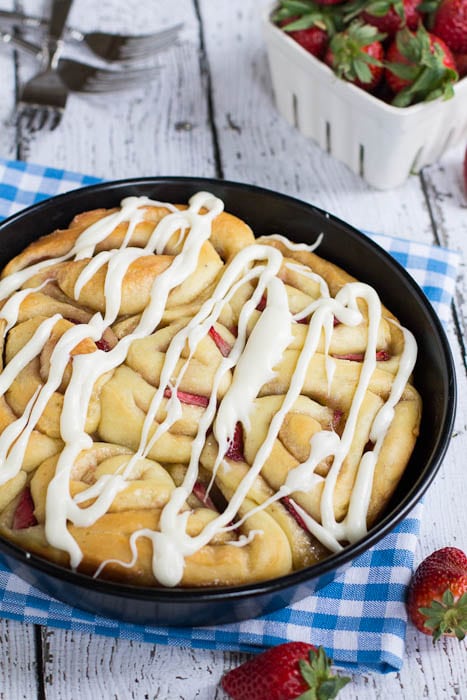 Well, these homemade Strawberry Sweet Rolls take a little time and effort, but then end result is  extremely delicious. The dough bakes up tender and soft with just a hint of sweetness. The strawberries provide lots of flavor and the cream cheese drizzle really sweetens them up.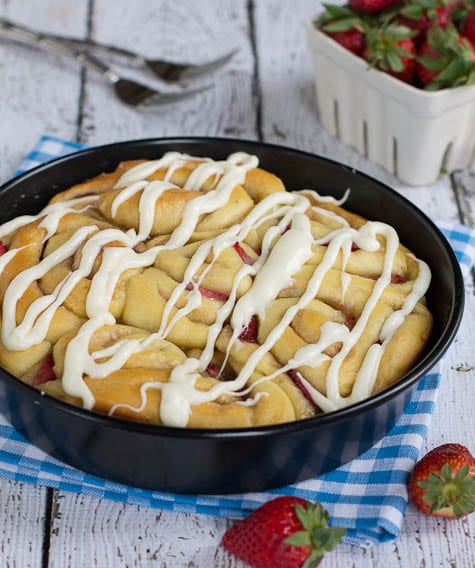 I don't work with yeast very often and I always have to cross my fingers and hope it does its magic. In this case the dough came together amazingly well. Even when I was kneading it, I could tell it would be a winner. It just felt good in my hands, so soft and springy.
I'm super careful about getting the temperature of the water right when using yeast. I know a lot of people can just touch the water and know that it is at the right temperature, but I need to use a thermometer.
Killing the yeast with water that is too hot is no fun.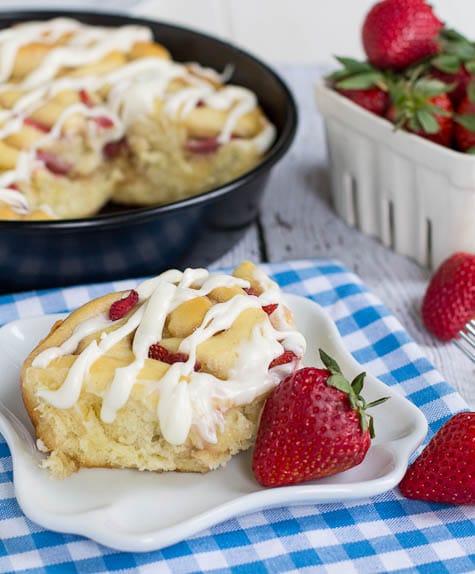 If your house is on the cool side this time of year, you can put the dough in the oven with a pan of warm water (leave the oven off) to rise. Or just put it in the oven with the oven light on. I like to throw a load of wet clothes in my dryer and put the dough on top of the dryer. But don't stress out about finding a warm place. The dough will still rise at room temperature, it will just take longer.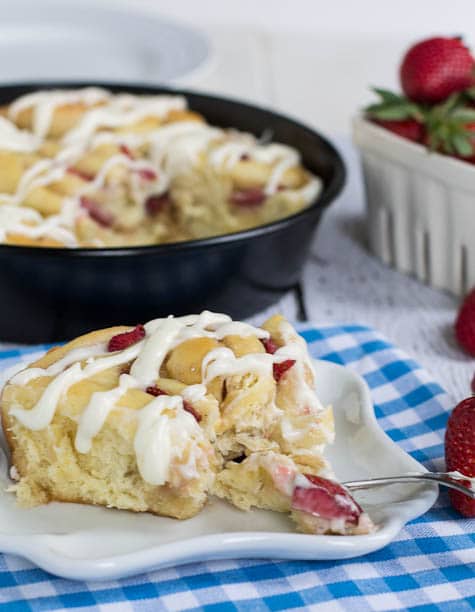 You can start these a day in advance and either let the dough do its first rise in the refrigerator overnight or get the rolls all assembled in the pans and place them in the refrigerator overnight. Let them sit at room temperature for about an hour before baking. And if the strawberries have given off a bunch of liquid, pour some of it off so the rolls don't get soggy when they bake.
Now that I've had success with homemade cinnamon rolls, without the cinnamon, I have a feeling I'll be making them again and again with different flavor combinations.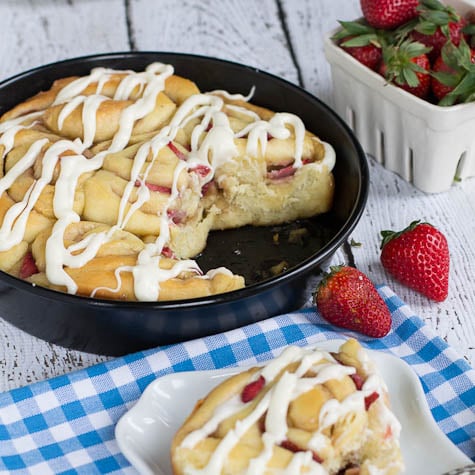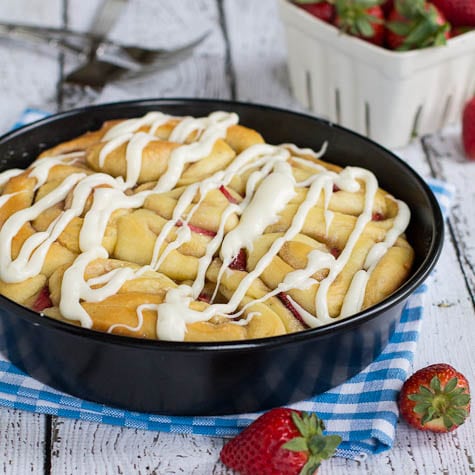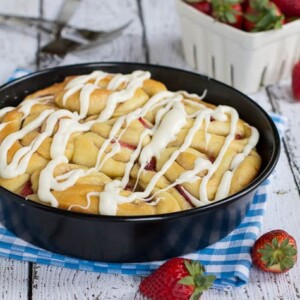 Strawberry Sweet Rolls
Homemade sweet rolls stuffed with fresh strawberries and brown sugar topped with a cream cheese drizzle.
Ingredients
1

(1/4-ounce)

package active dry yeast

1/4

cup

warm water,

105 to 115 degrees

1

teaspoon

granulated sugar

1/2

cup

butter,

softened

1/2

cup

granulated sugar

1

teaspoon

salt

2

large eggs,

lightly beaten

1

cup

milk

1/2

tablespoon

lemon juice

4 1/2

cups

bread flour,

plus extra for kneading

1/4

teaspoon

nutmeg

6

tablespoons

butter,

softened

2

tablespoons

strawberry jam

2/3

cup

packed brown sugar

2

cups

thinly sliced strawberries
Cream Cheese Drizzle
5

ounces

cream cheese,

softened

2 1/4

cups

powdered sugar

1/2

teaspoon

vanilla extract

1/4

teaspoon

almond extract

1 1/2

to 2 tablespoons milk
Instructions
Combine yeast, warm water, and 1 teaspoon sugar in a glass measuring cup. Let stand for 5 minutes.

Using an electric mixer, beat 1/2 cup butter at medium speed until creamy. Gradually add 1/2 cup granulated sugar and salt. Beat until light and fluffy.

Add eggs one at a time, beating to incorporate. Add milk and lemon juice and beat until blended.

With mixer on low, add yeast mixture. Gradually add the 4 1/2 cups bread flour and then add the nutmeg. Beat on low speed 1 to 2 minutes.

Sprinkle about 1/4 cup flour on a flat surface. Place dough on surface and knead until smooth and elastic, about 5 minutes. You can add a little extra flour if necessary to keep dough from sticking to your hands and the surface.

Lightly grease a large bowl with vegetable oil and place dough in bowl. Turn dough so that all sides are coated in oil. Cover with a clean dish cloth and let rise in a warm (85 degree) place, free from drafts, for 1 1/2 to 2 hours or until doubled in size.

Punch dough down and place on a lightly floured surface. Roll into a 16X12-inch rectangle.

In a small bowl, mix together 6 tablespoons butter and strawberry jam. Spread on dough. Sprinkle with brown sugar and scatter sliced strawberries across dough.

Starting at one long end, roll up jelly-roll style. Cut into 14 slices and place in 2 lightly greased round cake pans.

Cover and let rise in a warm place for 1 hour, or until doubled in bulk. You can also refrigerate overnight and let rise in the morning for about 1-2 hours. If you do this, there will most likely be liquid from the strawberries in the bottom of the pan. Pour out about 1/2 of the liquid so that the rolls will not get soggy as they bake.

Preheat oven to 350 degrees and bake for 20 to 22 minutes, until golden brown. Let rolls cool slightly before adding cream cheese drizzle

To make cream cheese drizzle, beat cream cheese on medium speed with an electric mixer. Gradually beat in powdered sugar. Mix in both extracts and milk.

Use a spoon or a ziptop bag with the corner clipped to drizzle on sweet rolls.
Want to Save This Recipe?
Adapted from Southern Living
Disclosure: This post may contain affiliate links.