These from scratch Red Velvet Cupcakes have a bright red color, a tender texture and a luscious cream cheese frosting.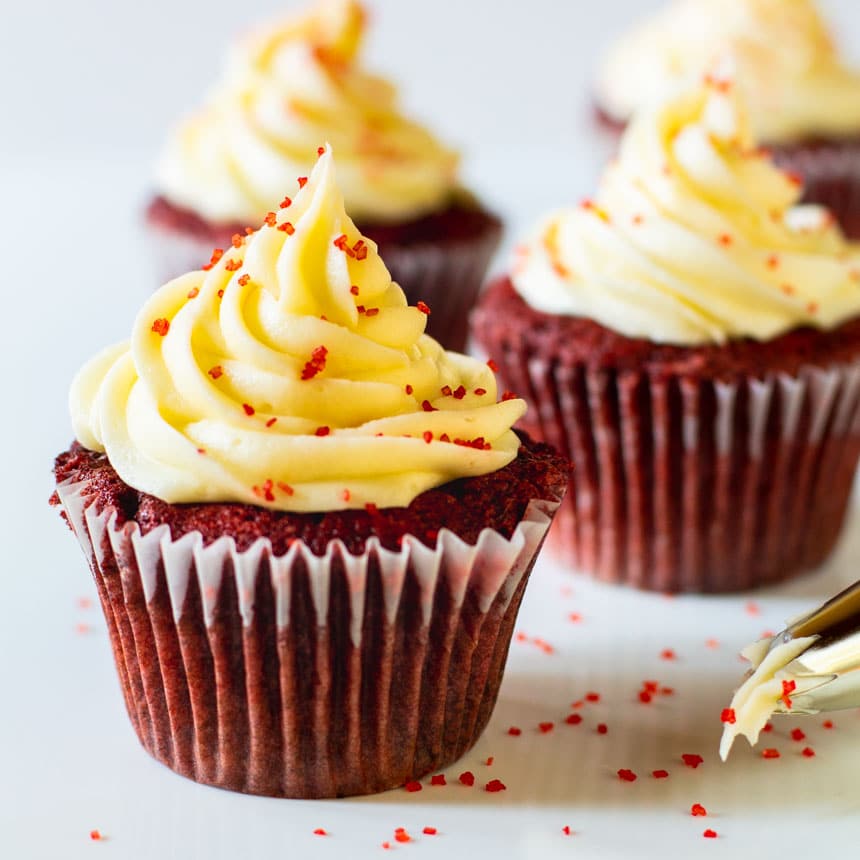 These Red Velvet Cupcakes are made from a recipe in the most recent addition to my Southern Cookbook Collection, Bless Your Heart: Saving the World One Covered Dish at a Time
. If you've ever spent any time in the south, you've no doubt heard the term "Bless Your Heart" numerous times. What you may no know is it takes a little skill decoding the meaning of "Bless Your Heart". It can mean genuine concern and empathy. Or it can be used to say something nice when nothing else nice to say can be thought of. You know when your mother used to say, "If you can't think of anything nice to say, don't say anything at all." Well southerners just say, "Bless Your Heart".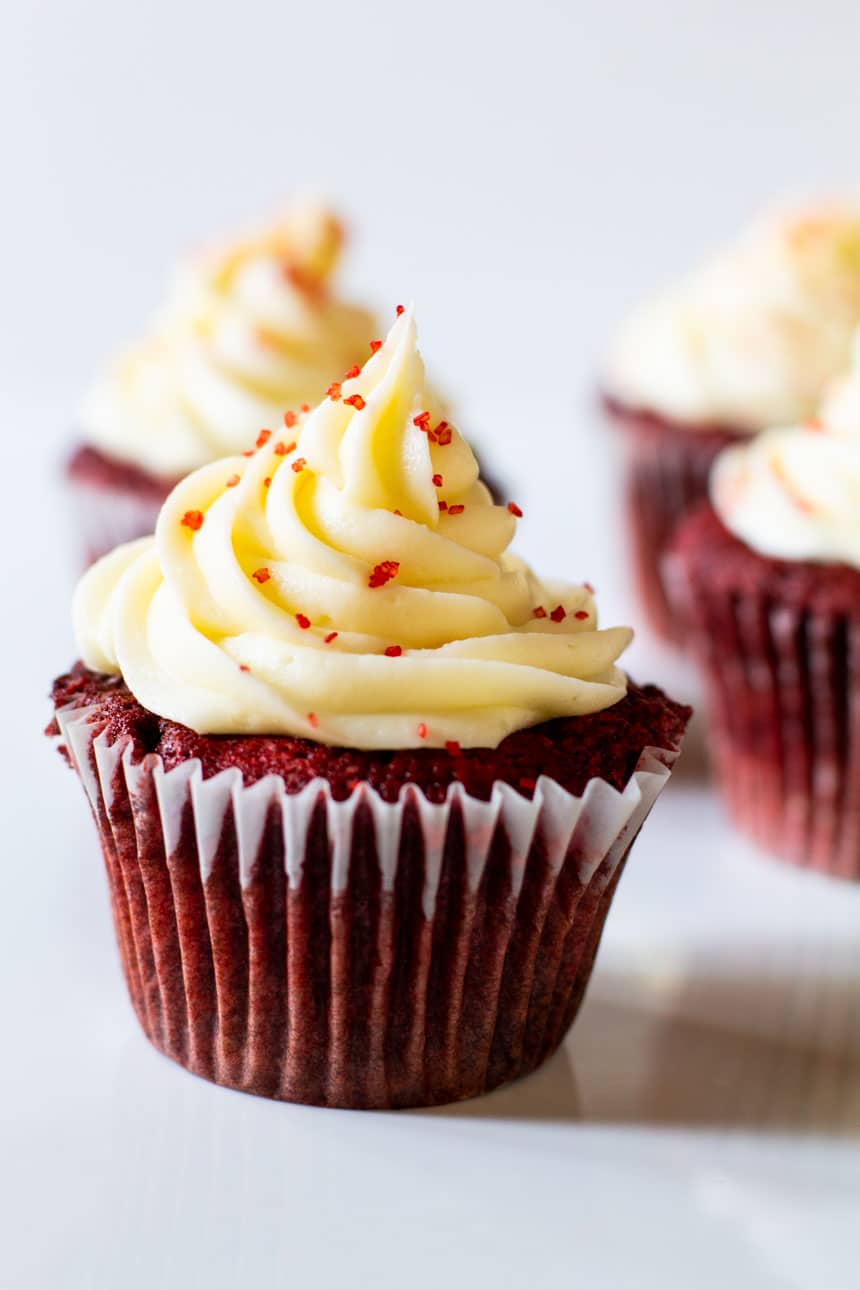 My great-grandmother went her entire life without saying an ill word about anyone, but she said lots of Bless her heart's. It was code for she's a no-good, two-timing you know what without a lick of sense.
Beyond having a great title, this cookbook is also filled with numerous stories and recollections from authors Patsy Caldwell and Amy Lyles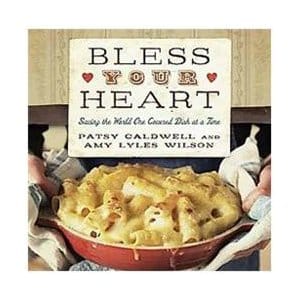 Wilson. Including this one-
"Eddie Ray Barnell, ninety-two, dropped dead in the middle of the night on a Saturday. Heart attack in the backyard. He was in his bare feet, and to this day his wife says she has no idea why he went outside. Some of us have our suspicions, but we don't like to talk out of turn.
Of course the editor down at the Gazette couldn't have known to anticipate it before the last edition of the week on Friday. I was the first one out to the Barnell place with a mixed medley casserole. Serves ten. Twelve if you don't spoon out big portions, and I knew it would be a small crowd at the house because the Barnells, bless their hearts, never had any children."
"Bless Your Heart" is organized a little differently than most cookbooks. The chapters are different life situations that might call for just the right recipe: "Family Reunions", "Church Potluck", "Lending a Hand", and "Tailgating" among others. The recipes are doable for even a novice chef and you won't have any trouble finding all of the ingredients at your local market. They are pretty basic recipes for good ole southern cooking. I love the titles of the recipe along with the descriptions underneath:
"I Hope the Sermon Isn't Too Long" Oven-Roasted Beef Tenderloin- You can put this dish in the oven when you leave for church and it will be ready to take out of the oven when you get home. That is, as long as you don't have a long-winded preacher.
and
Deviled Eggs- Maybe the only time the devil is welcome in church.
The Red Velvet Cupcake recipe is the first recipe I've tried. There are those who rave about red velvet anything and there are those who seem to think red velvet is just ho-hum. I tend to fall into the latter category and think that most red velvet cakes are a little lackluster. But these red velvet cupcakes I truly enjoyed.
They are moist with a little chocolate flavor and a luscious cream cheese icing. The icing has just enough sugar to make you feel the dessert is worth your while, but not enough to send you into a diabetic shock.
The acidic reaction between the vinegar, baking soda, and buttermilk helps keep the cupcakes light and moist. Don't fill the muffin cups more than 2/3rds full because they rise quite a bit.
With its amazing red color, these Red Velvet Cupcakes are the perfect treat for the holidays!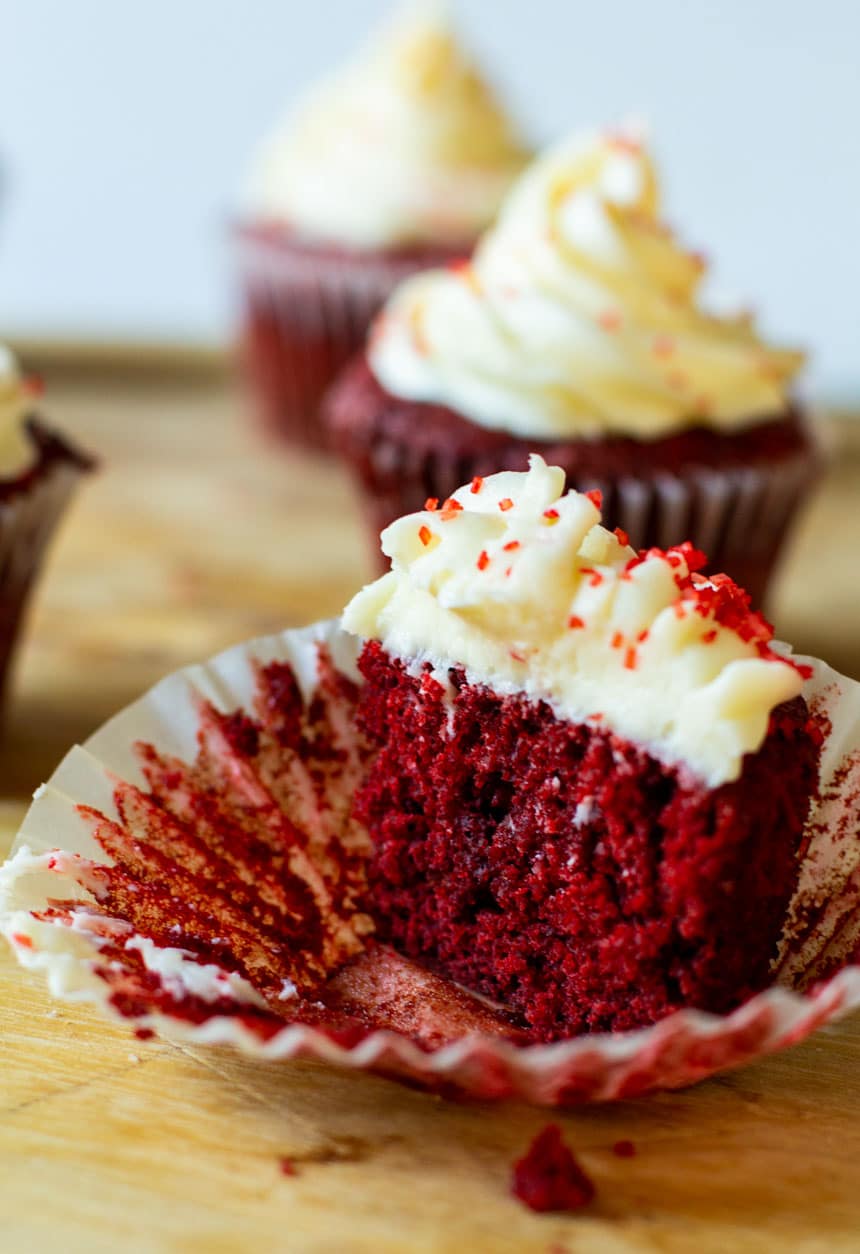 Try These Other Red Velvet Recipes: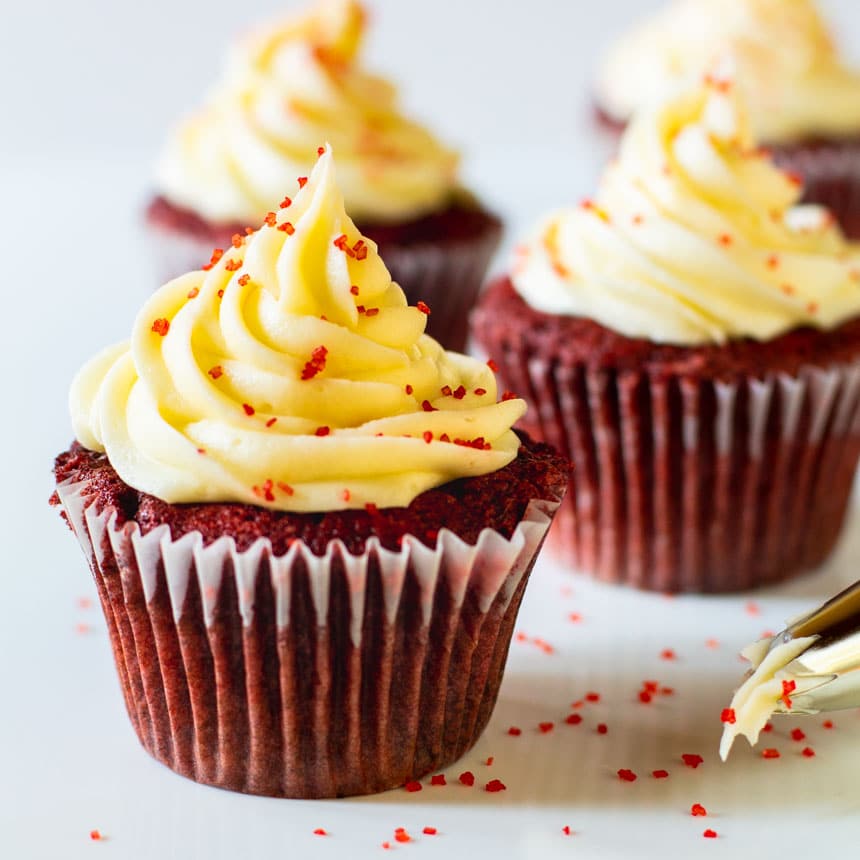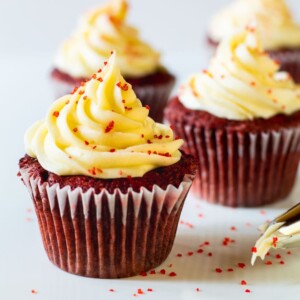 Red Velvet Cupcakes
Out of this world Red Velvet Cupcakes with Cream Cheese Icing.
Ingredients
2 1/4

cups

cake flour

2

tablespoons

unsweetened cocoa

1

teaspoon

salt

1

cup

buttermilk

1

teaspoon

baking soda

2

teaspoons

white vinegar

1/2

cup

vegetable shortening

1 1/2

cups

sugar

2

large eggs

2

tablespoons

red food coloring

1

teaspoon

vanilla extract

red sprinkles,

optional
Icing
1

(8-ounce)

package cream cheese,

softened

1/2

cup

butter,

softened

3 1/2

cups

powdered sugar

1 1/2

teaspoons

vanilla extract
Instructions
Preheat oven to 350 degrees. Place paper liners in two 12-cup muffin pans and spray lightly with cooking spray.

In a medium bowl, mix together flour, cocoa, and salt. Set aside.

Measure buttermilk in a glass measuring bowl and add baking soda and vinegar. Stir to combine. Set aside.

In a large mixing bowl, use an electric mixer to beat the shortening on medium speed until light and fluffy.

Slowly add sugar while continuing to beat at medium speed. Stop once or twice to scrape down sides of the bowl.

Add eggs one at a time, scraping down sides of bowl between additions.

Add food coloring and vanilla.

Reduce speed to low and add the dry ingredients, alternating with the buttermilk mixture, beginning and ending with dry ingredients.

Fill muffin cups 2/3 full. Bake for 20 to 25 minutes. Cool completely.

For Icing, place cream cheese and butter in a large mixing bowl and beat until light and fluffy using a hand mixer or stand mixer. With mixer on low speed, gradually add sugar and vanilla and beat until smooth. Frosting will be fairly thick.

Spread on top of cupcakes with a spatula or use a pastry bag for a more decorative look. Decorate with sprinkles.
Want to Save This Recipe?
Originally published October 25, 2013.
Recipe Source: slightly adapted from Bless Your Heart: Saving the World One Covered Dish at a Time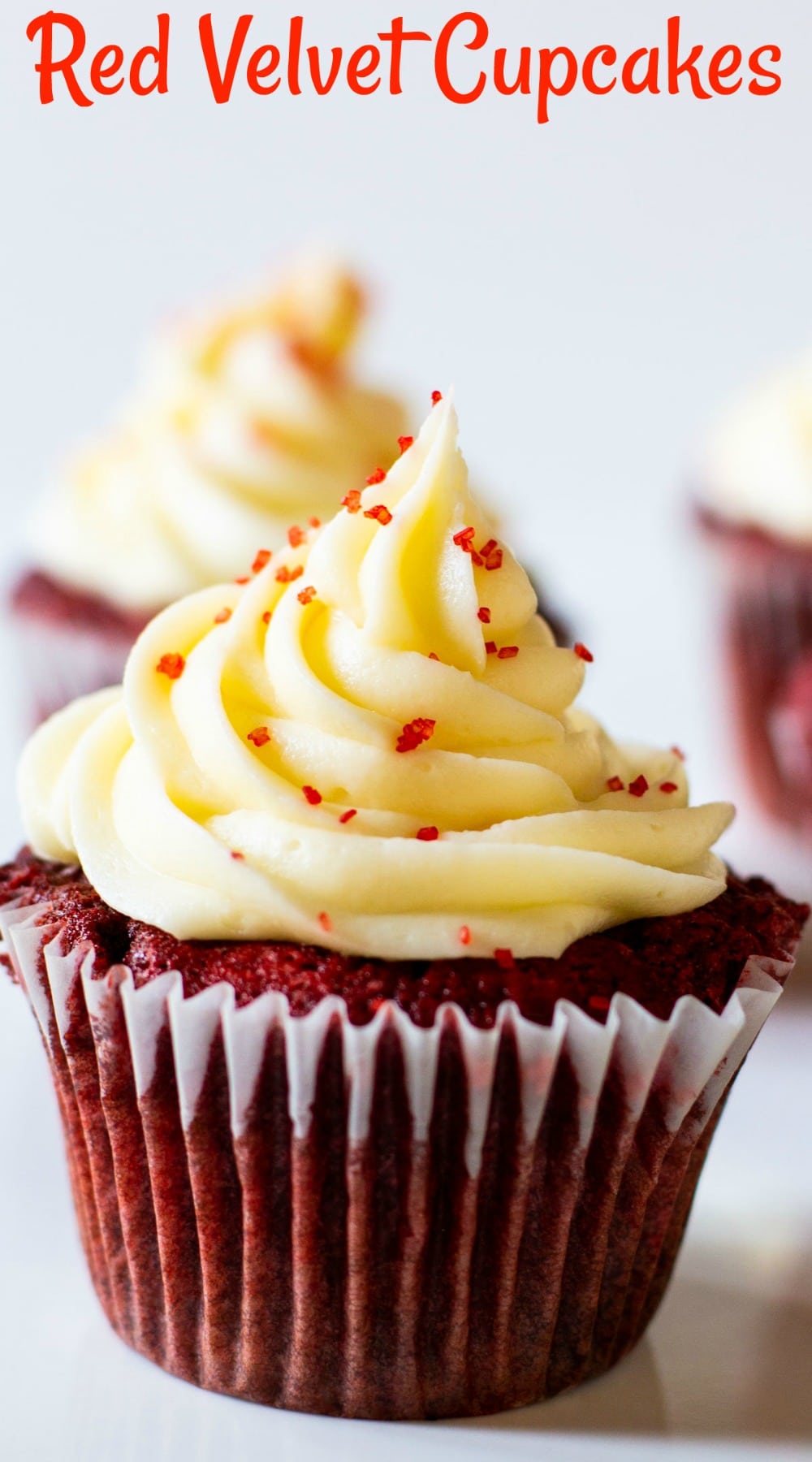 Disclosure: Spicy Southern Kitchen is an amazon.com affiliate.