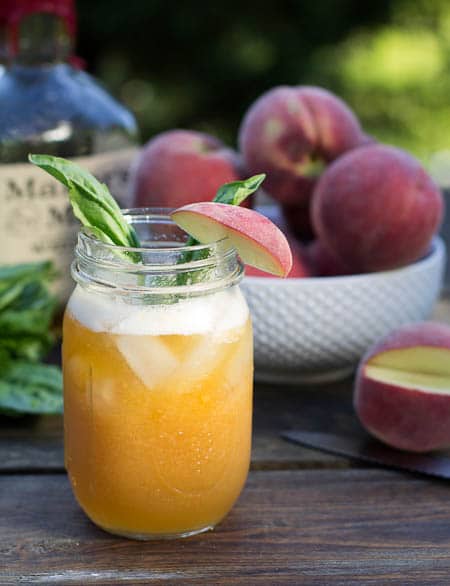 This is a delicious twist on the iconic Mint Julep using peach and basil.
Ok,ok- with the absence of mint, it really shouldn't be called a julep. But you'll let it slide once you give it a taste.
Summer southern gardens should be overflowing this time of year with both mint and basil. (I wouldn't know. I have 2 brown thumbs.)
The peach puree is a very welcome addition and helps sweeten the drink without adding gobs of sugar. I wasn't sure I'd like the basil, but it's magnificent. Not too surprising considering basil is in the same family as mint.
It commingles brilliantly with the bourbon and peaches, lending a sweetness that is more nuanced than that of mint, and a little pepperiness as well.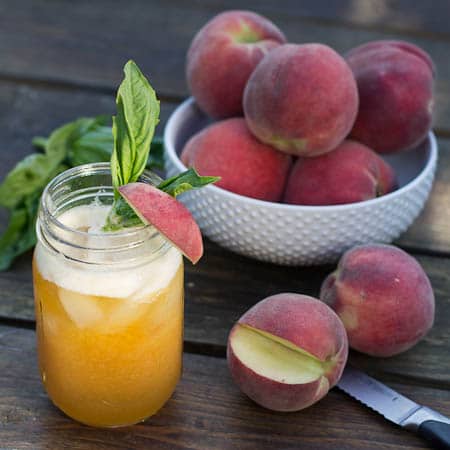 I could sit on the porch and sip these all day.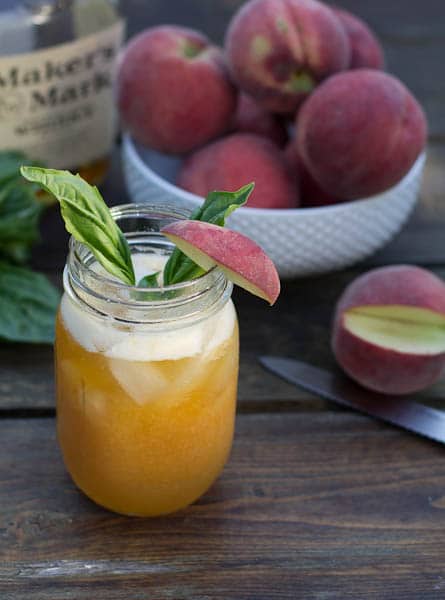 Peach-Basil Juleps
5-6 peaches
6-8 basil leaves
½ cup sugar
½ cup water
¼ cup bourbon
2 tablespoons of basil simple syrup
¾ cup peach puree
basil and peach slices for garnish
Submerge peaches in a pot of boiling water just until skin begins to loosen, about 3 minutes. Remove to a bowl of ice water to stop cooking and then peel skin off. Cut peaches into slices. Measure 3 cups of peaches and place in a blender. Add 1 cup of water and blend until smooth. Strain through a sieve to remove solid pieces. (If you blend really well and don't mind a small amount of pulp, you can skip this step.)
To make simple syrup, bring ½ cup water, ½ cup sugar, and basil leaves to boil in a small saucepan. Stir to dissolve sugar and remove from heat. Let cool.
For each drink, combine 1 cup crushed ice, 2 tablespoons basil simple syrup, ¼ cup bourbon, and ¾ cup peach puree and stir to combine.
Source: adapted from emmadime.com