Indiana Pork Tenderloin Sandwiches topped with a creamy corn relish. The pork is wonderfully crispy, but the corn relish is the real show stealer.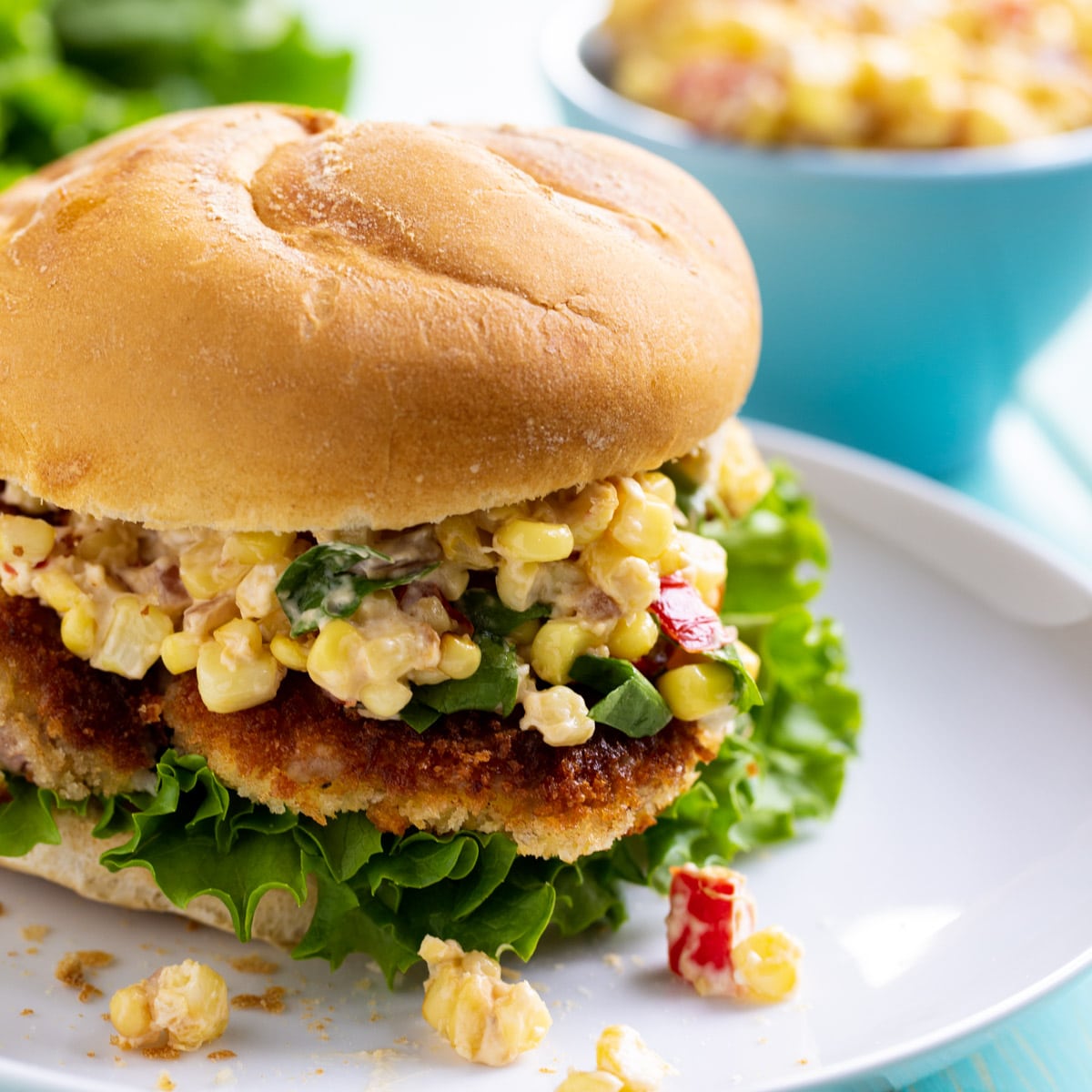 I don't do a whole lot of cooking from Cooking Light magazine, but every now and then they have a recipe that absolutely makes my mouth water. Like this one.
Crispy pork cutlets topped with a creamy corn relish, all on a fresh, soft bun. This is one heck of a sandwich!
Where Did The Pork Tenderloin Sandwich Originate?
The pork tenderloin sandwich if thought to have originated at Nick's Kitchen in Huntington, Indiana near Fort Wayne in the early 1900s. It is typically made from fried pieces of pork loin that have been pounded thin, similar to wiener schnitzel. It is usually served with lettuce, pickles, ketchup mayonnaise, and mustard, but Indiana also has really delicious corn so I think a corn relish is a great non-traditional way to serve it.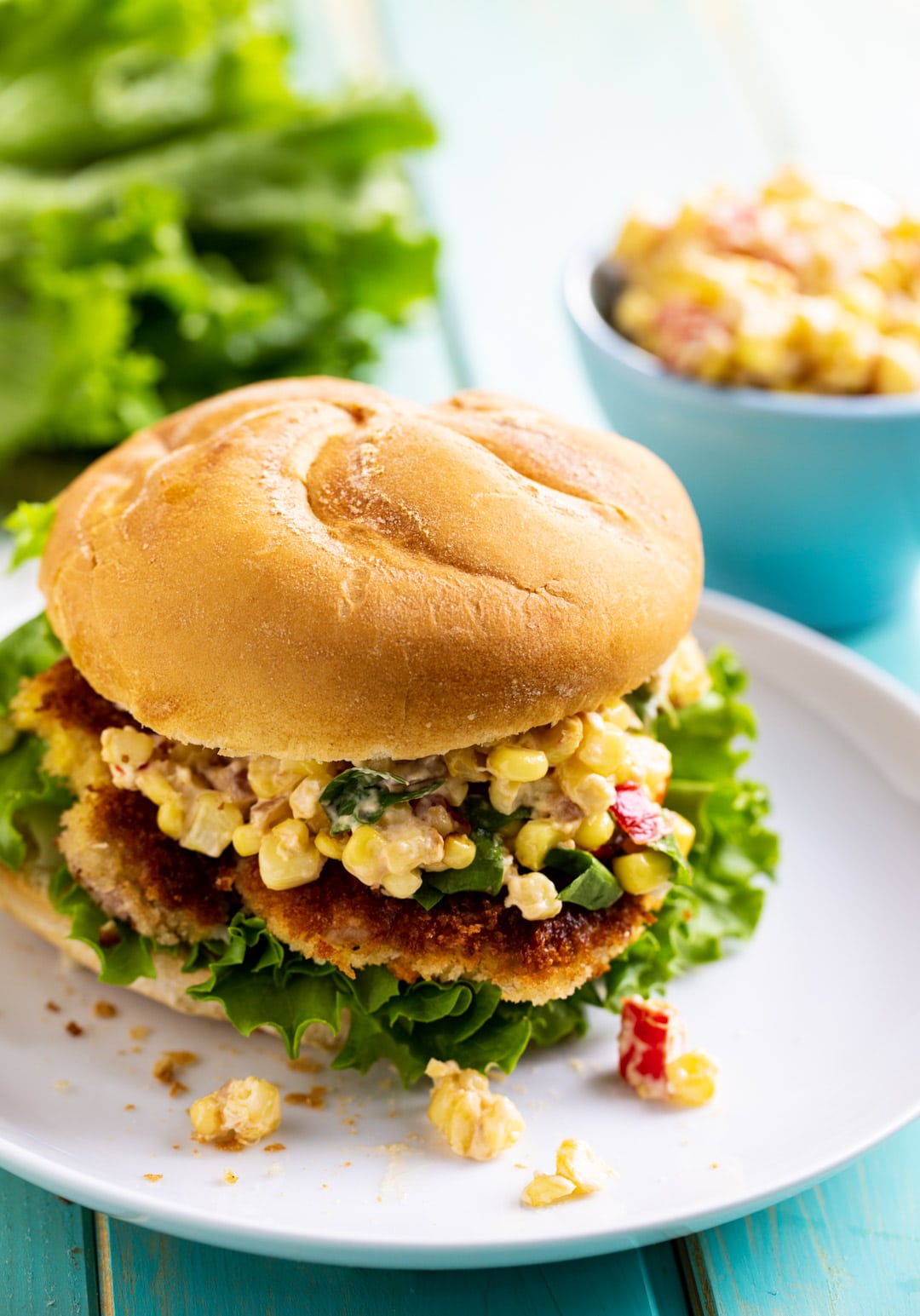 Start with Pork Tenderloin
To make this delicious Indiana Pork Tenderloin Sandwich, you start with a pork tenderloin, slice it into pieces (maybe 1-inch thick or so) and then pound them to flatten them down to 1/4-inch thickness.
Note: Traditionally this sandwich is made with pork loin and you can use it if you prefer.
Super Crispy Coating
They are then coated with Wondra, dipped in egg, and then coated with Panko crumbs.
Wondra is an "instant flour" that is sometimes used to thicken gravies because you really don't have to worry about it causing the gravy to get lumps since it is so finely ground.
Wondra can also be used to help develop an extra crispy coating on fried foods. You can find it in the flour section in a container shaped like an oatmeal container, only thinner. You can also order Wondra Flour online
.
Indiana Pork Tenderloin Sandwiches Recipe Tip
If you don't have Wondra and don't want to purchase it, I think it would be fine to use all-purpose flour.
Careful not to overcook the pork and the meat will be nice and tender, not at all chewy. If your pork pieces are smaller than your buns, just put 2 to 3 pieces per bun.
Now if you just went and put these crispy pieces of pork on a bun slathered with mayo, you would have yourself a delicious fried pork sandwich.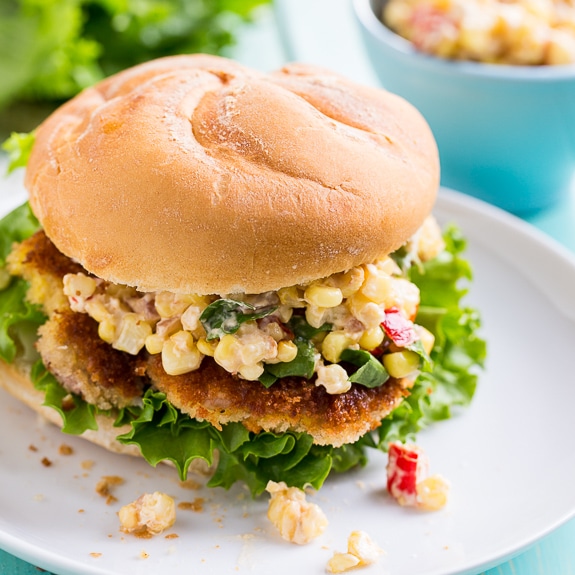 But this Indiana Pork Tenderloin Sandwich recipe goes one step further. The corn relish. Oh my goodness. Fresh corn mixed with cream cheese, red bell pepper, red onion, cayenne pepper, plus a little vinegar to heighten the flavor. It's so, so good.
Enjoy!
For More Cooking Inspiration Follow Spicy Southern Kitchen on Pinterest.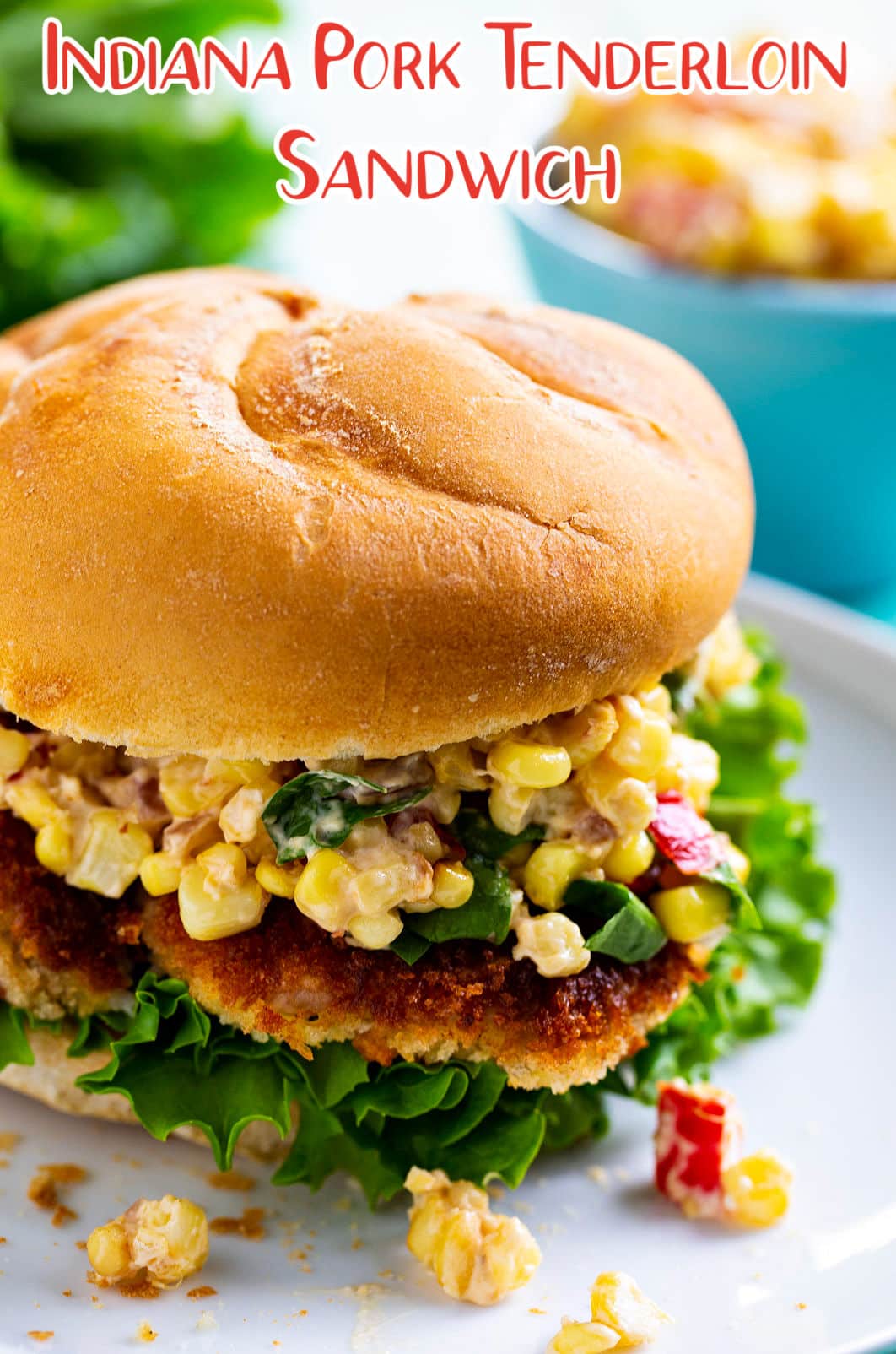 More Amazing Recipes Using Pork Tenderloin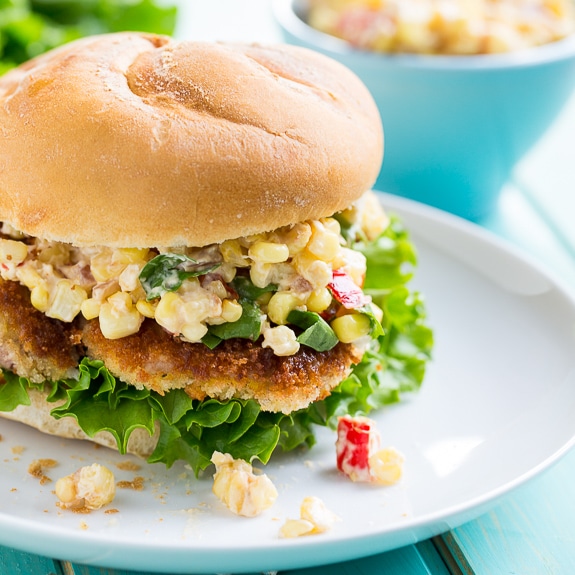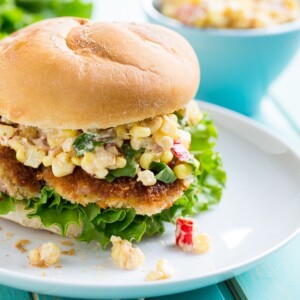 Indiana Pork Tenderloin Sandwiches
Crispy pork cutlets topped with a creamy corn relish, all on a fresh, soft bun. This is one heck of a sandwich!
Ingredients
1

tablespoon

butter

1

cup

fresh corn kernels,

about 2 ears

1/4

cup

finely chopped red bell pepper

1/4

cup

finely chopped red onion

1/4

teaspoon

cayenne pepper

1

tablespoon

milk

1

tablespoon

cider vinegar

2

ounces

cream cheese,

softened

1

tablespoon

chopped fresh parsley

1

pork tenderloin

1/2

teaspoon

salt

1/2

teaspoon

pepper

2

large eggs

2

teaspoons

water

3

tablespoons

Wondra

1 1/4

cups

panko crumbs

4

tablespoons

canola oil

4

green leaf lettuce leaves

4

buns
Instructions
Melt butter in a small pan and add corn, diced red pepper, and red onion. Saute until crisp-tender, about 3 minutes. Add cayenne pepper, milk, vinegar, and cream cheese. Cook 1 minute, stirring constantly, to melt the cream cheese. Remove from heat and stir in parsley. Let cool to room temperature.

Pound pork between 2 pieces of plastic wrap to about 1/4-inch thickness. Sprinkle with salt and pepper.

In a shallow dish, whisk together eggs and water. Place the Wondra on a plate and the Panko crumbs on another plate.

Coat both sides of pork in Wondra, dip in egg mixture, and then coat with Panko crumbs.

Place 2 tablespoons of oil in a nonstick pan and heat over medium-high heat. Add half of pork to pan and cook about 4 minutes per side, or until bowned and cooked through. Remove to a paper towel-lined plate. Add remaining oil to pan and cook remaining pork.

To serve, place a lettuce leaf on bottom of each bun, top with 2 or 3 slices of pork and corn relish.
Want to Save This Recipe?
Recipe adapted from Cooking Light
Originally posted April 22, 2015.