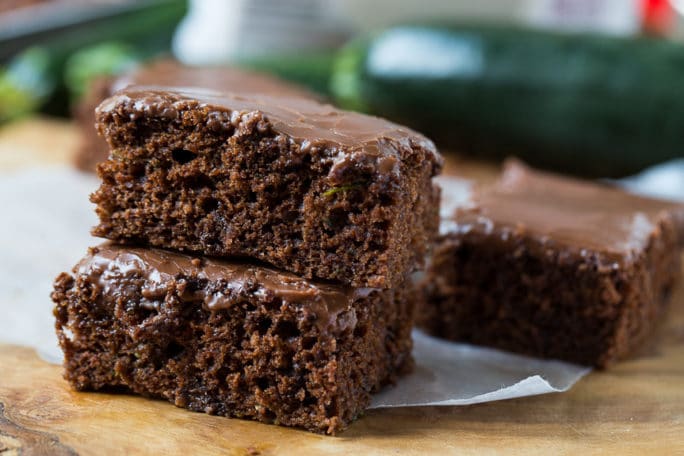 Chocolate Zucchini Sheet Cake just screams summer and is perfect for feeding a crowd. You can easily slice this cake into 25 pieces. It makes a wonderful dessert for a church potluck or picnic. I think the best thing about Chocolate Zucchini Cake is you don't taste the zucchini. I personally love zucchini, but not everyone does. Especially kids. But with this cake they never have to know there's zucchini in it. They may see a green speck or two in the cake, but by that point, they will be hooked by the delicious taste and moistness of this cake.
I've baked lots of zucchini treats over the years including muffins and Chocolate Chip Zucchini Pancakes, but this Chocolate Zucchini Sheet Cake is extra special because I got to use a brand new flour for it.
White Lily has a new line of premium flours all of which are domestically grown with traceable Shepherd's Grain® Wheat and are Non-GMO Project® verified. There are 3 different flours: a Wheat Flour, Wheat and Red Grape Seed Blend, and Wheat and White Grape Seed Blend.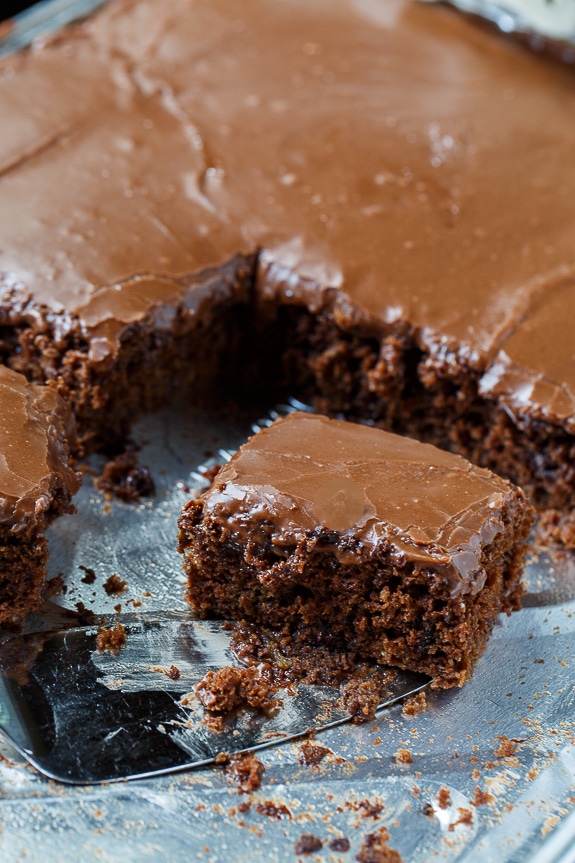 Southern cooks have known and loved the White Lily Brand for generations. Ask any southern cook what the best flour is for making biscuits and they will tell you- White Lily.
But outside of the Southeast, people haven't been able to experience the quality of the White Lily Brand. Until now.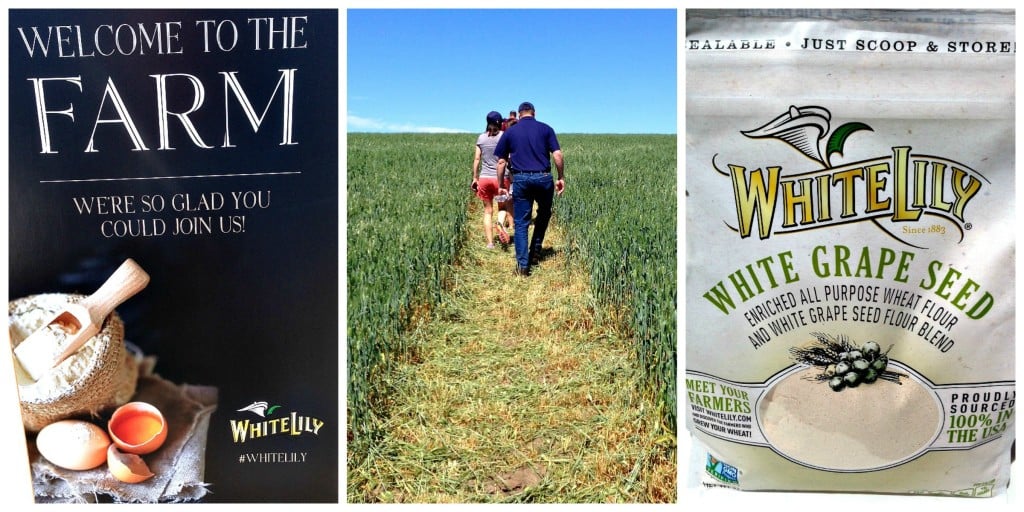 White Lily's new premium flour will be sold nationally. They are available now through the Smucker's Online Store and will soon be available in stores nationwide. Target will be carrying them in at least 475 stores and I'll keep you posted as more stores sign on.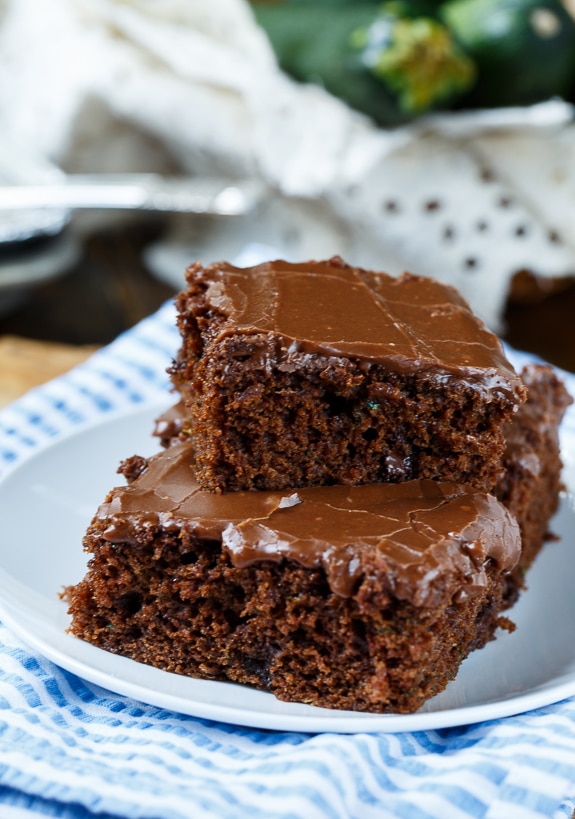 Earlier this month I had the priveledge of attending the product unveiling near Spokane, Washington at the farm of Shepherd's Grain co-founder Fred Fleming. There are so many things that impress me about this new premium flour from White Lily.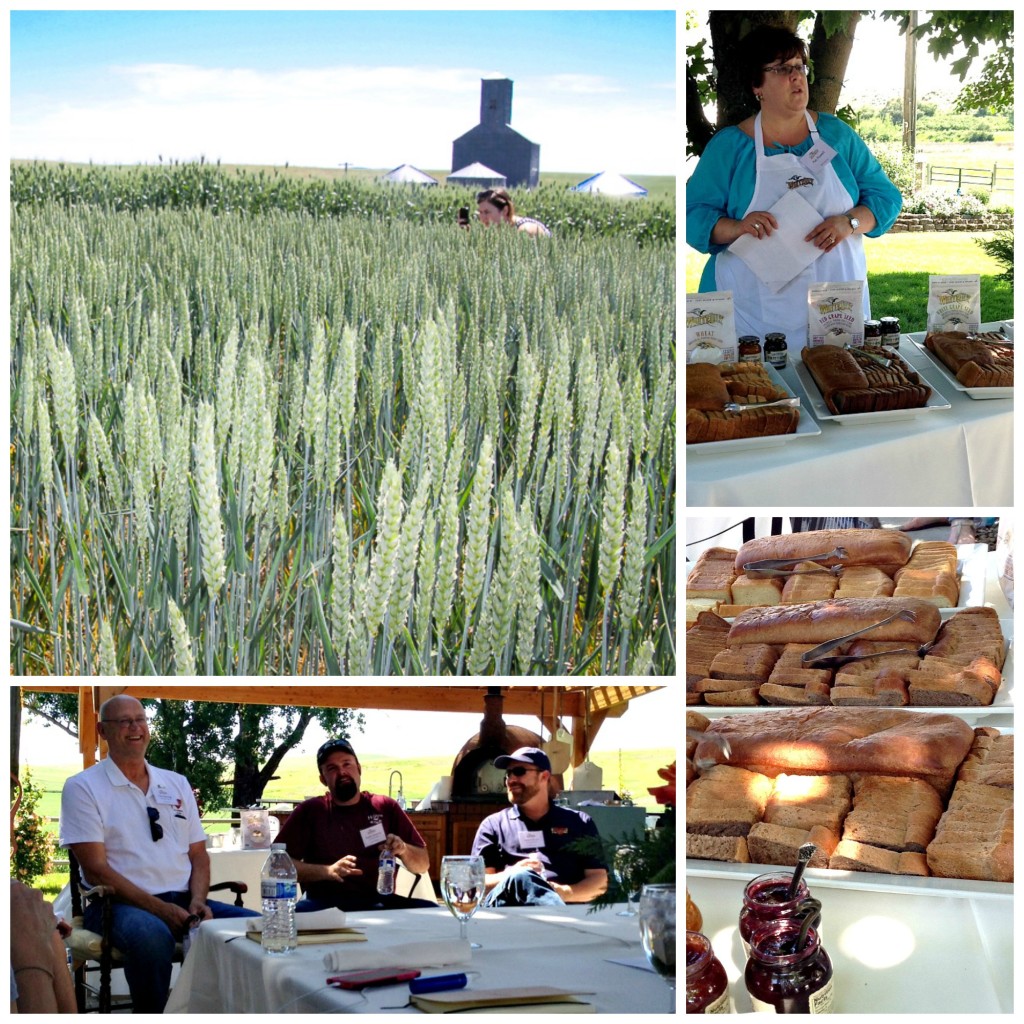 Pictured above top-right is Pat Powell, the recipe technologist for the J.M. Smucker Company. She baked up many delicious recipes including three versions of a bread recipe made with the 3 new flour blends. You can see the Red Grape Seed Blend really gives the bread a different hue and there were slight variations in taste between the three.
Pictured bottom-left is Fred Fleming co-founder of Shepherd's Grain, farmer David Dobbins, and Shepherd's Grain General Manager Mike Moran.
We learned all about the process of growing wheat and the people behind Shepherd's Grain. These are people who are passionate about sustainable farming and having a positive impact on the planet. They are also very pro-family farmer and are proud of the fact that the average age of a Shepherd's Grain farmer, 45, has been tending downward and is much lower than the national average. Twenty-one different farmers will grow hard red winter wheat for the premium White Lily Flours.
We got to walk through the wheat fields and get a first hand look at the wheat being grown for White Lily. Having never been to the Pacific Northwest, I was blown away by the beauty of the wheat fields.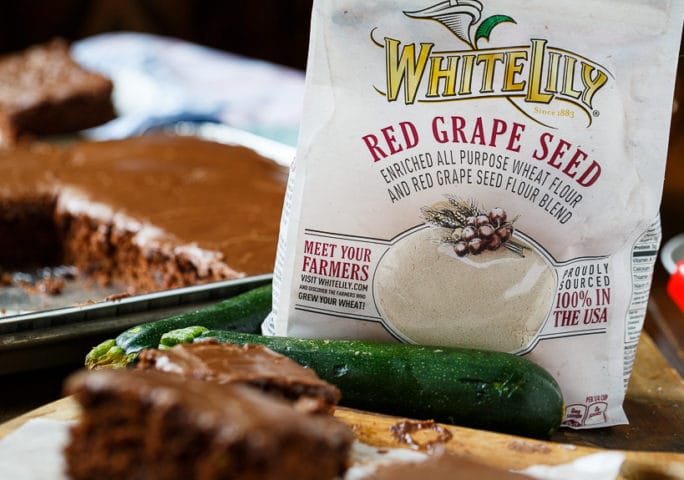 These new premium flours come in 2-pound bags that have a convenient resealable top that is velcro-like in nature. On the back of each bag is a number specific to that bag. You can type the last 4 digits of the number into the White Lily website and it will allow you to trace the wheat in that particular bag and meet the farmers involved in growing the wheat. How cool is that?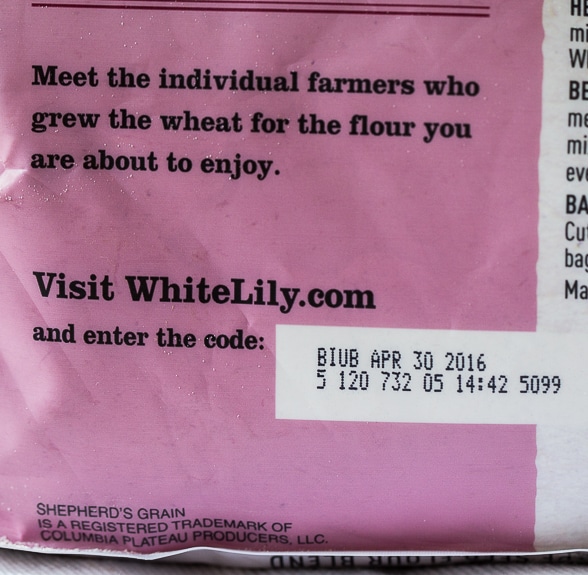 I really love that White Lily is putting a face behind the food that we eat and giving credit to the farmers who help us put meals on the table.
For my Chocolate Zucchini Sheet Cake I chose to use the Red Grape Seed Blend, but either of the other two could be used instead. The Red Grape Seed Blend is a blend of all-purpose wheat flour and red grape seeds from WholeVine Vineyards in Northern California. It gives a unique texture and flavor to foods and also a different hue. This difference in taste, texture, and hue can be better experienced in a simple bread recipe, but I was craving chocolate cake.
All 3 flour blends can be used in any recipe you would use whole wheat flour.
Next up, I'm going to try the flatbread recipe on the back of the bag of the White Grape Seed Blend. It sounds amazing!
I will be sharing that recipe soon as well as more information on product availability. I can't wait to see what you think of this White Lily Premium Flour!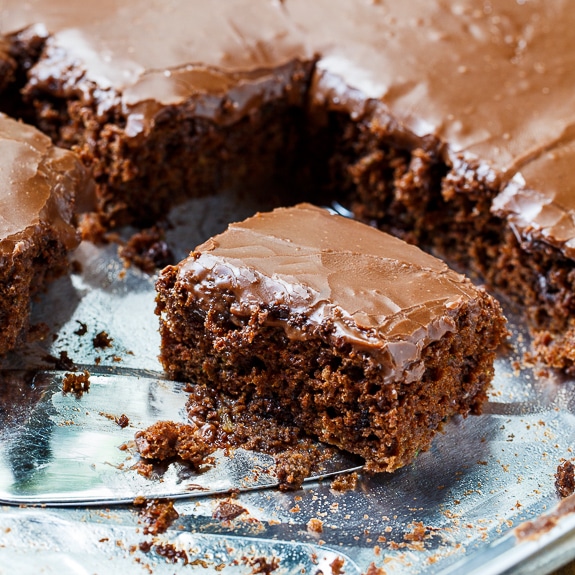 Never miss a recipe! Follow Spicy Southern Kitchen on Pinterest and Instagram.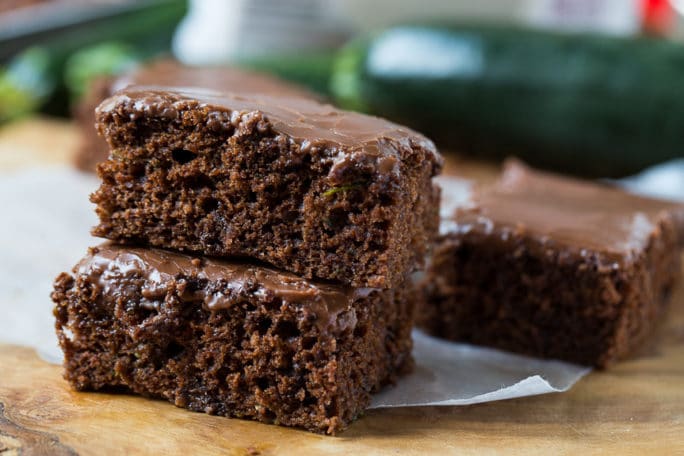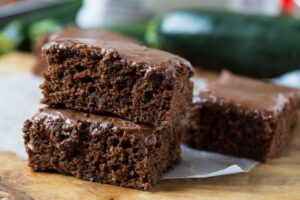 Chocolate Zucchini Sheet Cake
Ingredients
4

ounces

unsweetened chocolate

, chopped

2 1/2

cups

sugar

4

large eggs

1

cup

vegetable oil

1/2

cup

applesauce

1

teaspoon

vanilla extract

1 1/2

cups

White Lily Red Grape Seed Blend

1 1/2

cups

all-purpose flour

1 1/2

teaspoons

baking powder

1

teaspoon

baking soda

1/2

teaspoon

salt

3

cups

grated zucchini

1

cup

semi-sweet chocolate chips
Chocolate Icing
3/4

cup

butter

, softened

1/3

cup

unsweetened cocoa powder

6

tablespoons

evaporated milk

(or regular milk)

1

(1 pound) box confectioners' sugar
Instructions
Preheat oven to 375 degrees. Grease and flour or spray well with baking spray a half sheet pan (13 by 18 inches).

Melt chocolate over low heat in a small heavy-bottomed saucepan or double boiler. Let cool slightly.

In a large bowl whisk together well the sugar and eggs.

Once chocolate has cooled some, gradually whisk it into the egg/sugar mixture.

Whisk in vegetable oil, applesauce, and vanilla extract.

Combine both flours, baking powder, baking soda, and salt. Add to bowl and stir until incorporated.

Stir in zucchini and chocolate chips.

Pour batter evenly into prepared pan, using a spatula to spread it evenly into the corners.

Bake for 25 minutes or until firm to the touch in the middle.

To make icing, use an electric mixer to beat butter until fluffy. Add cocoa powder and evaporated milk and beat on low speed until blended. Gradually add powdered sugar. Spread icing on cake. (It is easiest to do this if the cake is still a little warm.)
Want to Save This Recipe?
Disclosure: This is a sponsored post. White Lily has long been one of my favorite brands to use in the kitchen and I am excited to share my love of all things White Lily with you.