Happy Valentine's Day! For Valentine's Day I'm sharing Chocolate Heart of Darkness Cakes, individual sized chocolate cakes with a rich and molten truffle center. Topped with whipped cream, they are an absolute delight to share with that special someone.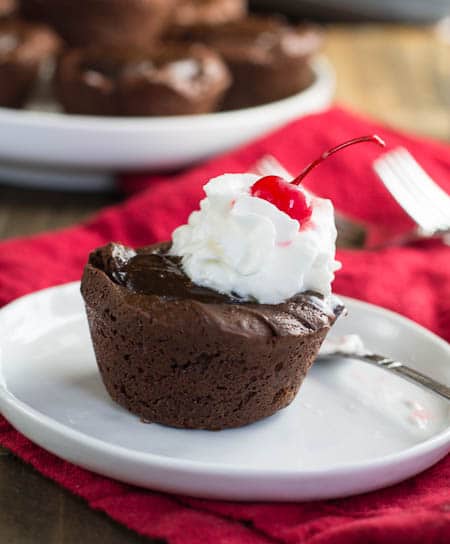 But there's also another reason I'm sharing a celebratory cake recipe today. I checked back through my posts and I published my first post on February 14, 2013. It's Spicy Southern Kitchen's 1 Year Anniversary!
For my very first post I shared Almond Cake with Amaretto Filling.  Probably my favorite cake recipe ever. Are there any other almond cake lovers out there? Next to almond cake, my second love is chocolate cake and these mini-sized Heart of Darkness Cakes really fit the bill. Plus there's something so Valentine's Day-ie about individual sized desserts. Then everyone feels like that mini cake was made just for them. And that's what Valentine's Day is about- making our loved ones feel special.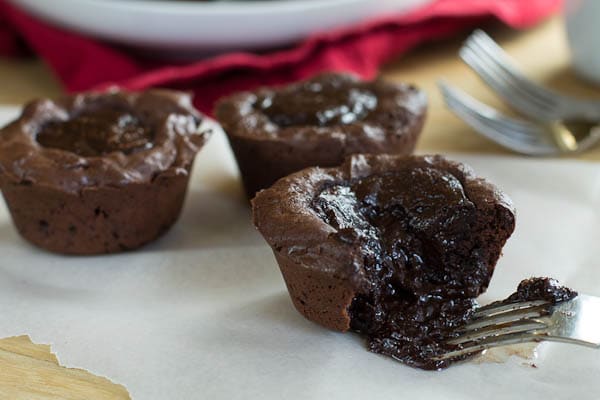 And today I want to make the readers of Spicy Southern Kitchen feel special- because you are so special to me. Thank you to all who have taken the time to read Spicy Southern Kitchen and give me feed back on the recipes. I have gotten to know so many wonderful food bloggers from around the country and the world. I have learned so much about food and cooking from y'all and how wonderful to be able to share a common passion with so many people.
To celebrate I'm having a giveaway for a $50 Sur La Table Gift Card (I can spend hours in that store. There's so much to look at.) and I'm also giving away a copy of my favorite cookbook- Tupelo Honey Cafe: Spirited Recipes from Asheville's New South Kitchen
. This cookbook is full of delicious modern twists on southern foods. The Tomato Pie is to die for!
PS- They have a new cookbook coming out in April that I'm super excited about!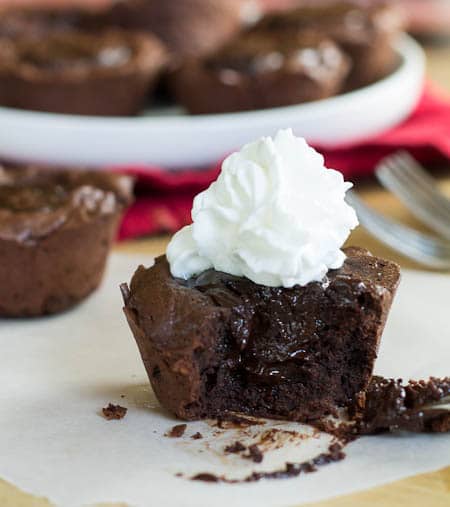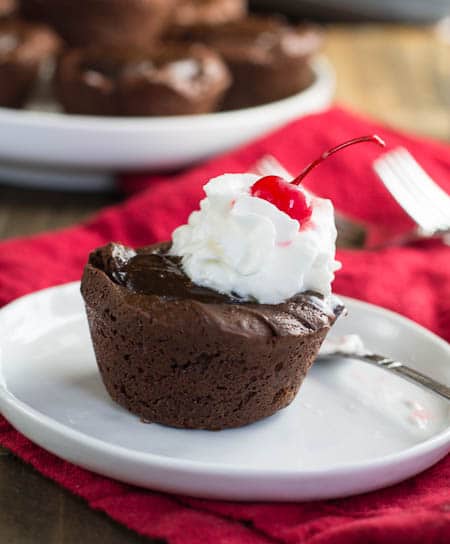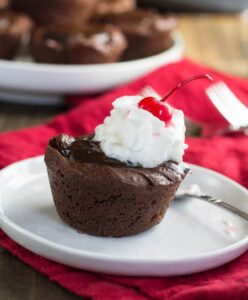 Chocolate Heart of Darkness Cakes
Individual size chocolate cakes with warm, molten chocolate centers.
Ingredients
Chocolate Truffle Centers
8

ounces

semisweet baking chocolate,

coarsely chopped

3/4

cup

heavy cream
Chocolate Cocoa Cakes
10

tablespoons

unsalted butter

cut into tablespoon size pieces; plus 2 teaspoons butter melted

2/3

cup

all-purpose flour

1/2

cup

unsweetened cocoa powder

8

ounces

semisweet baking chocolate,

coarsely chopped

3

large eggs

2

large egg yolks

1/2

cup

granulated sugar

1

teaspoon

vanilla extract

Whipped Cream
Instructions
Make the Chocolate Truffle Center. Place 8 ounces chopped semisweet chocolate in a small bowl. Bring 3/4 cup heavy cream to a boil in a small saucepan. Pour over chopped chocolate. Let sit 5 minutes and then whisk until smooth.

Pour mixture onto a baking sheet lined with wax paper and use a rubber spatula to spread into a smooth layer, almost to the edges of pan. Place in refrigerator for 30 minutes or freezer for 15 minutes.

Line a plate with wax paper. Remove chocolate/cream mixture from refrigerator and portion into 12 heaping tablespoon size portions. Wearing disposable gloves, roll each into a ball and place on plate. Place in freezer while preparing cake batter.

Make Cake Batter. Preheat oven to 325 degrees. Coat 12 individual nonstick muffin cups with melted butter.

Sift together flour and cocoa powder onto a large sheet of wax paper.

Melt 8 ounces chopped semisweet chocolate and the butter in a double boiler and stir until smooth. (I just use a heavy bottomed saucepan set over fairly low heat. You could also use the microwave.)

Place 3 eggs, 2 egg yolks, and 1/2 cup sugar in a bowl of an electric mixer fitted with a paddle attachment. Beat on medium-high speed for 2 minutes.

With mixer on low, gradually add melted chocolate/butter mixture. Gradually add flour mixture.

Once incorporated, stop mixer and scrape down sides. Add vanilla and mix on medium to combine. Use a rubber spatula to make sure batter is evenly mixed.

Pour 3 heaping tablespoons of batter into each muffin cup. Place in center of oven for 5 minutes.

Remove truffles from freezer. Remove muffin tray from oven and place a truffle in the center of each cake, pressing halfway down into batter. Return to oven and bake for 16 to 18 minutes.

Let cool at room temperature for 20 minutes. Give cakes a slight twist to loosen and they should easily come out of the cups. Serve while still warm or rewarm in the microwave.

Serve with whipped cream.
Want to Save This Recipe?
Recipe Source: Death by Chocolate Cakes: An Astonishing Array of Chocolate Enchantments
Disclosure: Spicy Southern Kitchen is an amazon.com affiliate.