Cajun Roast Turkey is covered in Cajun spices and melted butter and roasted until golden and juicy. It's the perfect centerpiece for a southern holiday.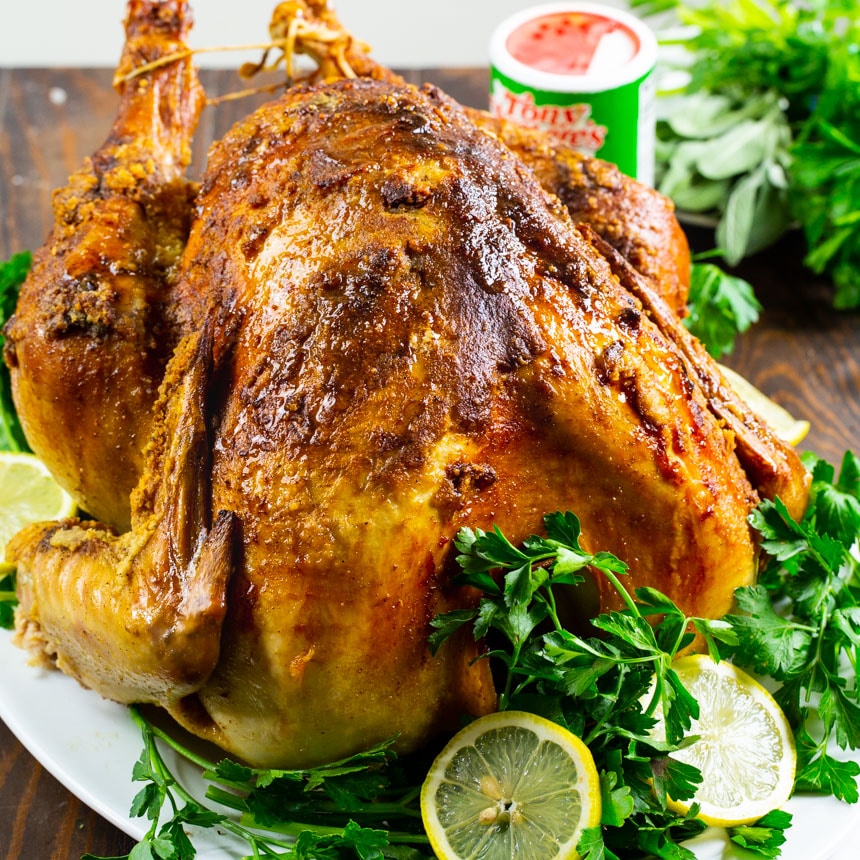 This turkey is the juiciest and most tender I have ever roasted.
Why is it so juicy?
The turkey is brined first.
Lots and lots of butter.
It's basted every 30 minutes.
Why brine a turkey?
The brine will help flavor the turkey and it also denatures the meat's proteins which allows the cells to retain more moisture. The brine used in this recipe is a mixture of kosher salt and brown sugar. This step really helps keep the turkey from drying out.
What Type Of Cajun Seasoning To Use?
You can use any Cajun seasoning or even Creole seasoning. They are very, very similar. I typically use Tony Chachere's Creole Seasoning.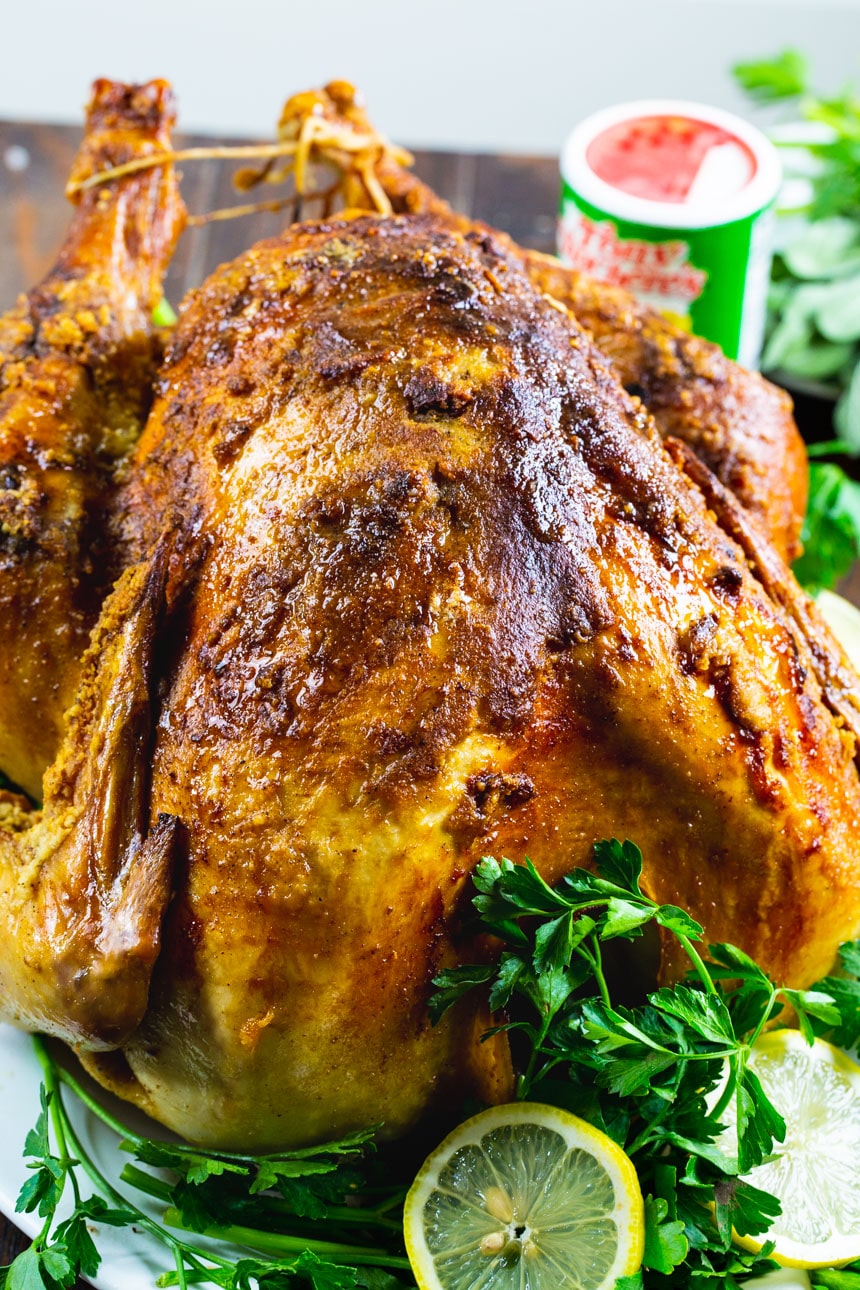 Cajun Roast Turkey Recipe Tips:
If you don't have room to brine the turkey in your refrigerator, you can place it in a cooler. The turkey can be placed in a large plastic bag with the brine or directly in the cooler. Be sure to add ice to keep it chilled.
If possible, let the turkey sit at room temperature for 30 minutes before placing it in the oven.
To prevent the turkey from drying out, use a thermometer so you know exactly when it is done. You don't want to overcook it. The turkey is done when the center of the thigh reaches 165 degrees.
If the skin starts to get too brown, tent the turkey with foil.
Don't forget to let the turkey sit for 20 minutes before carving it.
What To Serve With Cajun Roast Turkey?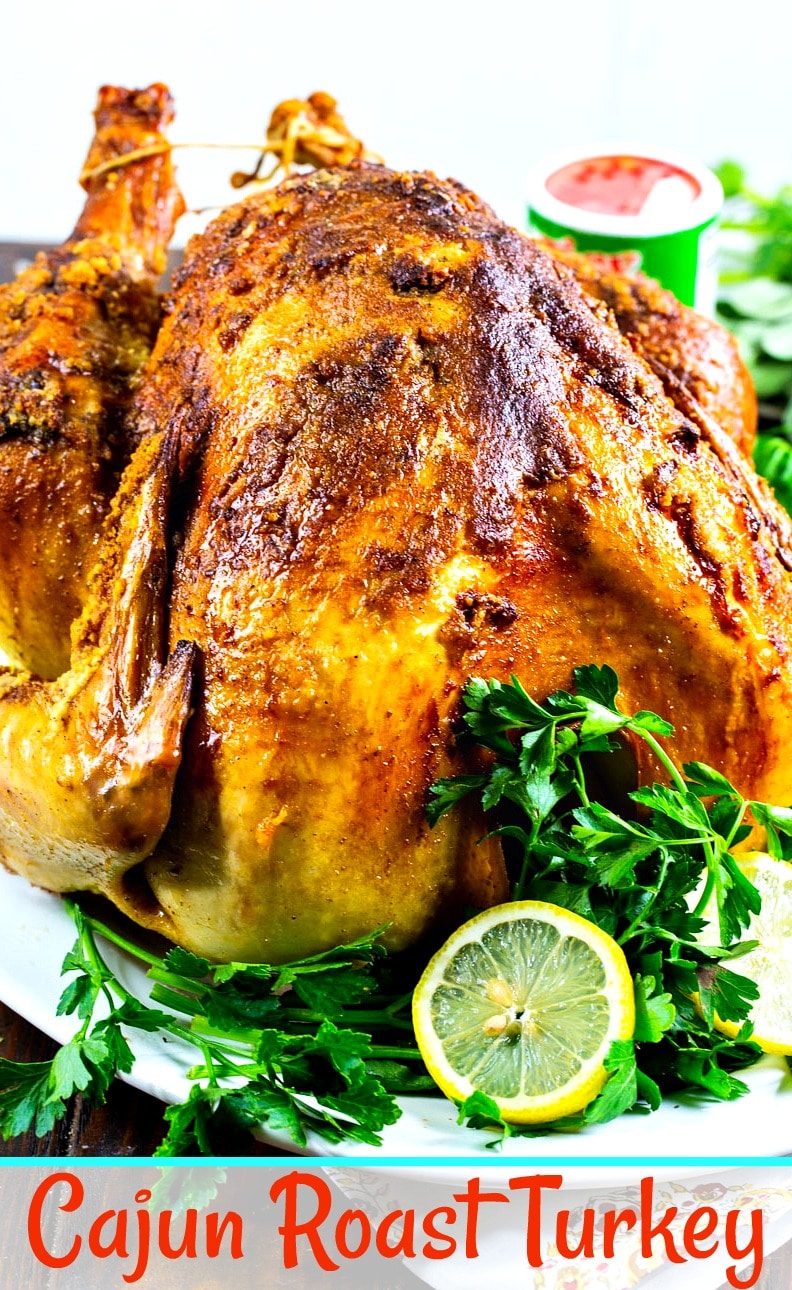 If You Have Leftover Turkey Try Some Of These Recipes:
Are you a visual learner? Subscribe to our YouTube Channel to see lots of short cooking videos.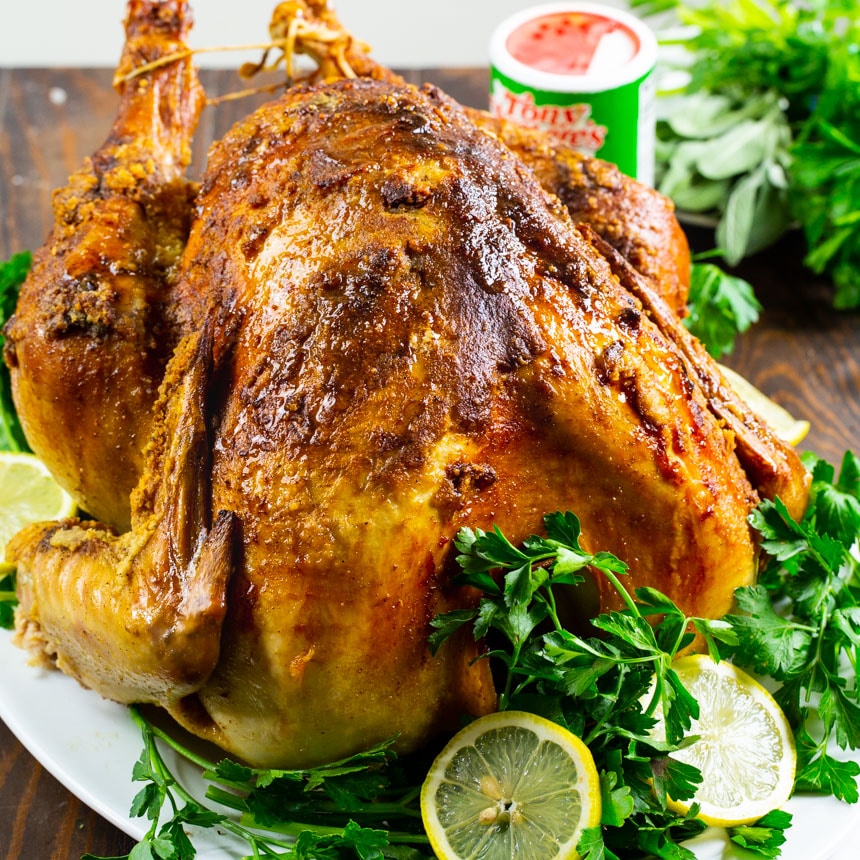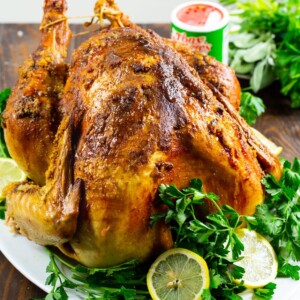 Cajun Roast Turkey
Cajun Roast Trukey is covered in Cajun spices and melted butter and roasted until golden and juicy. It's the perfect centerpiece for a southern holiday.
Ingredients
Brine
2

cups

water

1

cup

kosher salt

1

cup

packed light brown sugar

ice cubes
Turkey
1

(12 to 14-pound)

turkey

2

tablespoons

Cajun or Creole seaosning

1

medium

onion,

peeled and quartered

1

lemon,

halved

3

garlic cloves,

peeled and smashed

1

cup

salted or unsalted butter

1/2

cup

all-purpose flour
Instructions
Combine the water, salt, and brown sugar in a medium saucepan. Cook over medium heat, stirring frequently, until salt and sugar are dissolved.

Add ice to cool the mixture.

Place turkey in a large stockpot. Add the brine and enough water to cover the turkey.

Place in refrigerator. Let brine for 12 to 24 hours.

Preheat oven to 325 degrees.

Remove turkey from brine and rinse under cold water.

Pat turkey dry with paper towels and place on a roasting rack in a large roasting pan.

Sprinkle the Cajun seasoning all over and inside the turkey. Place the onion, garlic, and lemon in the turkey cavity.

Melt butter in a small saucepan and whisk in flour. Pour mixture over the turkey.

Roast for 3 to 4 hours, basting every 30 minutes. Check the temperature of the thigh meat. It should register 165 degrees.

Let rest at least 20 minutes before carving.
Notes
Let turkey rest for 20 minutes before carving.
Want to Save This Recipe?
Recipe Source: slightly adapted from The Pastry Queen Christmas
Disclosure: This post contains affiliate links.