Buckeye Balls with a creamy peanut butter middle and a rich chocolate coating are our favorite treat to make for the holidays. I'm not sure these chocolate/peanut butter buckeyes bring you good luck like buckeye nuts supposedly do, but they sure will bring a smile to your face.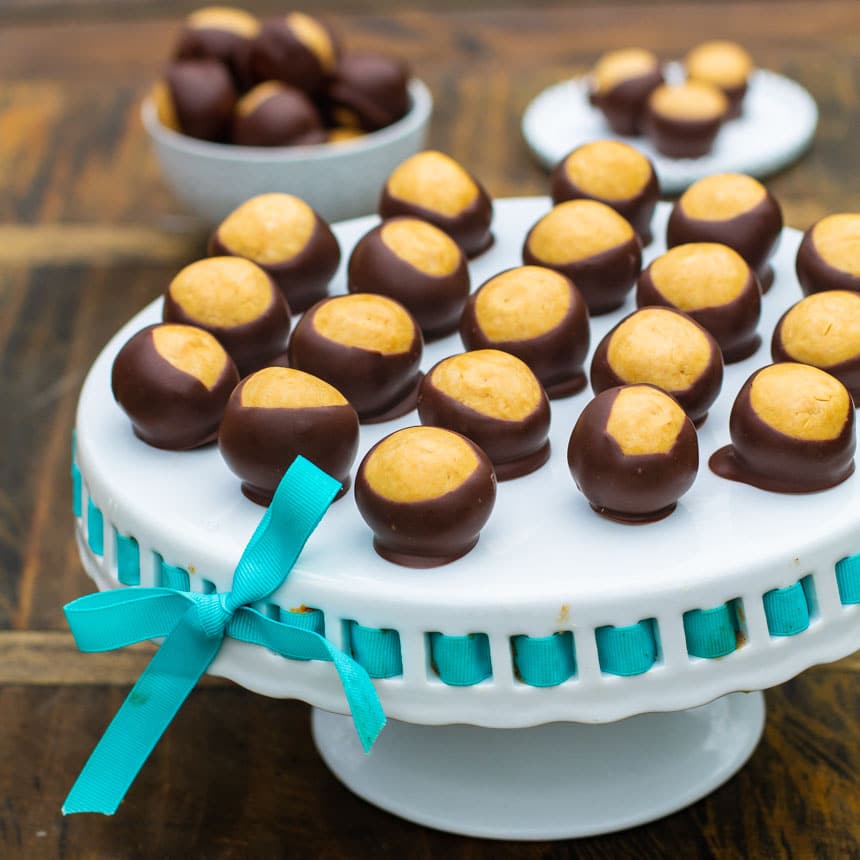 My grandparents had a buckeye tree on their farm and I still have a few buckeyes from that tree hiding in corners of my junk drawers. They must be at least 20 years old.
Peanut butter and chocolate buckeyes sure don't last that long around the house. This recipe makes a big batch, but they'll be gone in a hurry because throughout the day you'll say- Hmmmm….maybe just one more buckeye. You'll say that 10 times. At least. And so will everyone else in your house.
Buckeye ball making is a messy, kid-friendly activity that my daughter has enjoyed doing since she was just a little thing. You will get a workout getting the ingredients to come together for the peanut butter balls and it's best to have a helper or two. The mixture may seem crumbly at first, but it's just because all the ingredients aren't worked together enough yet. Go ahead and take your rings off and give your hands a super good washing because you will need to use them. And you will feel like a kid again making mudpies in the sandbox.
My husband and daughter are the expert buckeye ball makers in our family. My daughter was the one who made this batch. They insist on forming the peanut butter mixture into 3 large balls once it is all mixed together and letting it "rest" in the refrigerator for about 30 minutes before forming into little balls. I'm the impatient one and I skip this step when I make them. 🙂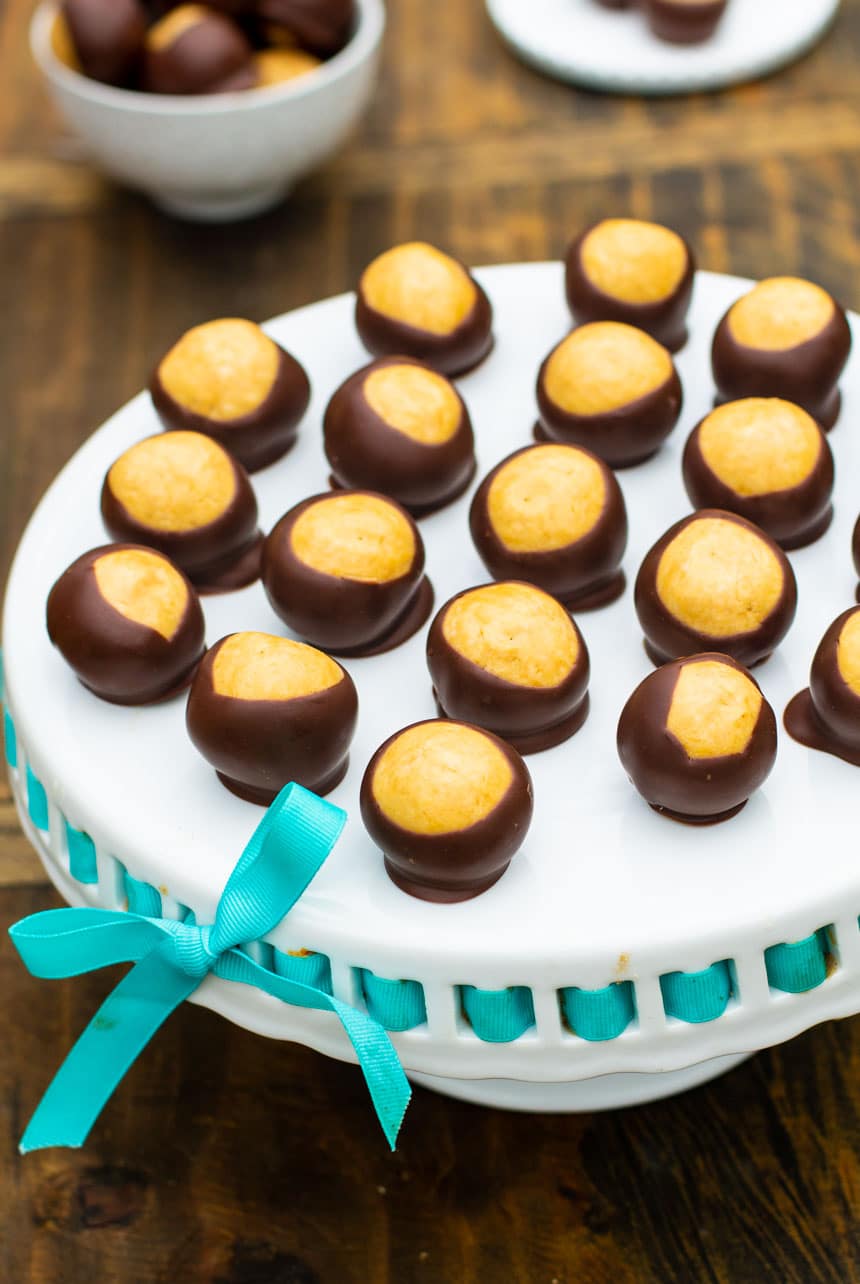 Buckeye Balls Recipe Tips:
Use a small spring-loaded ice cream scoop or a measuring spoon to portion out the peanut butter mixture and ensure your Buckeye Balls are all the same size.
You want the peanut butter balls to be really well chilled before you dip them in the chocolate.
Chocolate melting wafers can be used instead of chocolate chips and then you don't have to use the shortening. The shortening helps keep the chocolate a little bit soft when it sets up so that it is easy to bite into.
Will keep in an airtight container in the refrigerator for 5 to 7 days or they can be frozen for up to 2 months. Thaw in the refrigerator.
You will want to make at least 2 batches of these because they will be a favorite on your Christmas cookie trays.
What is your favorite holiday treat?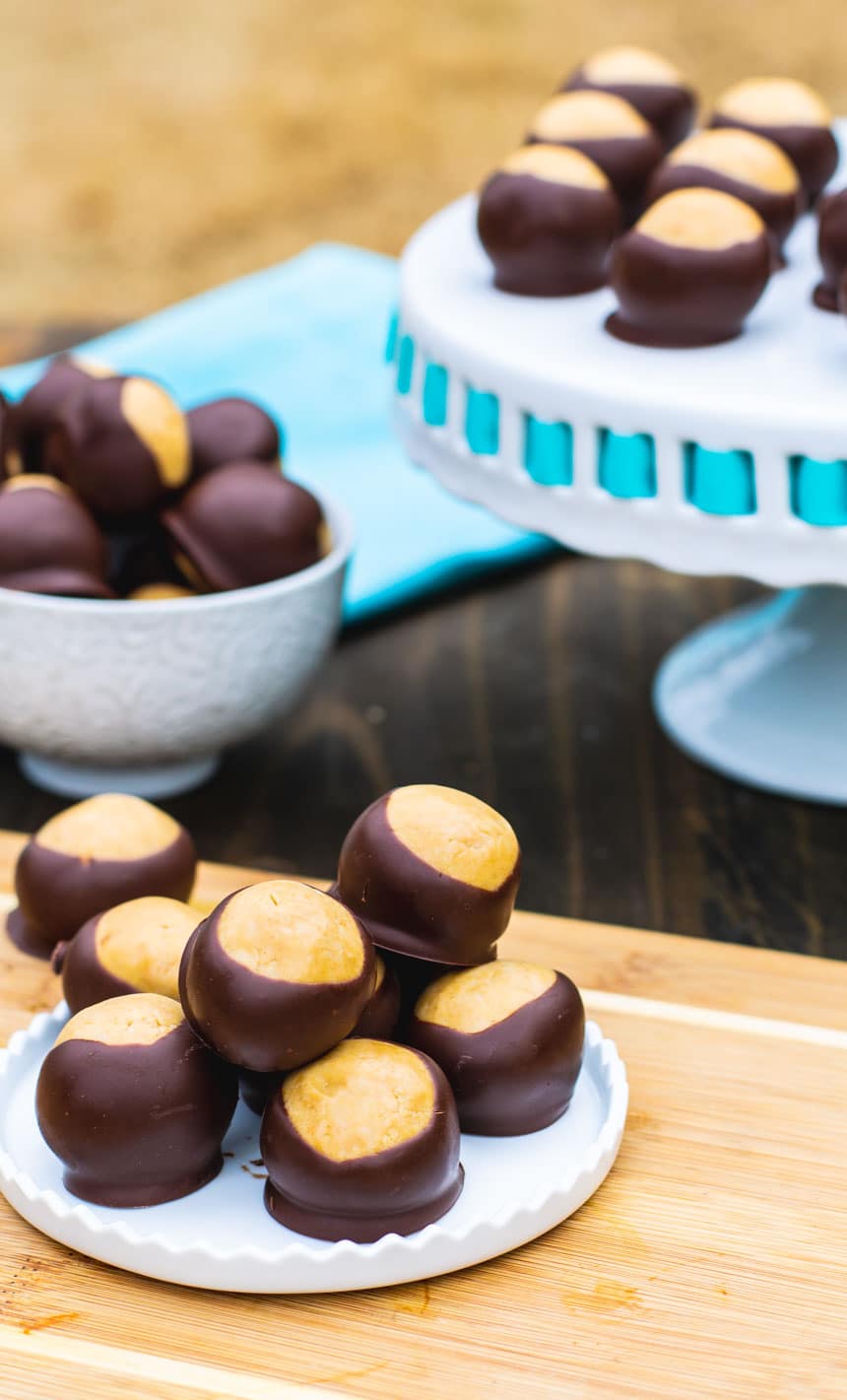 Try These Other Buckeye Recipes: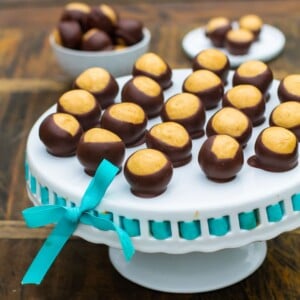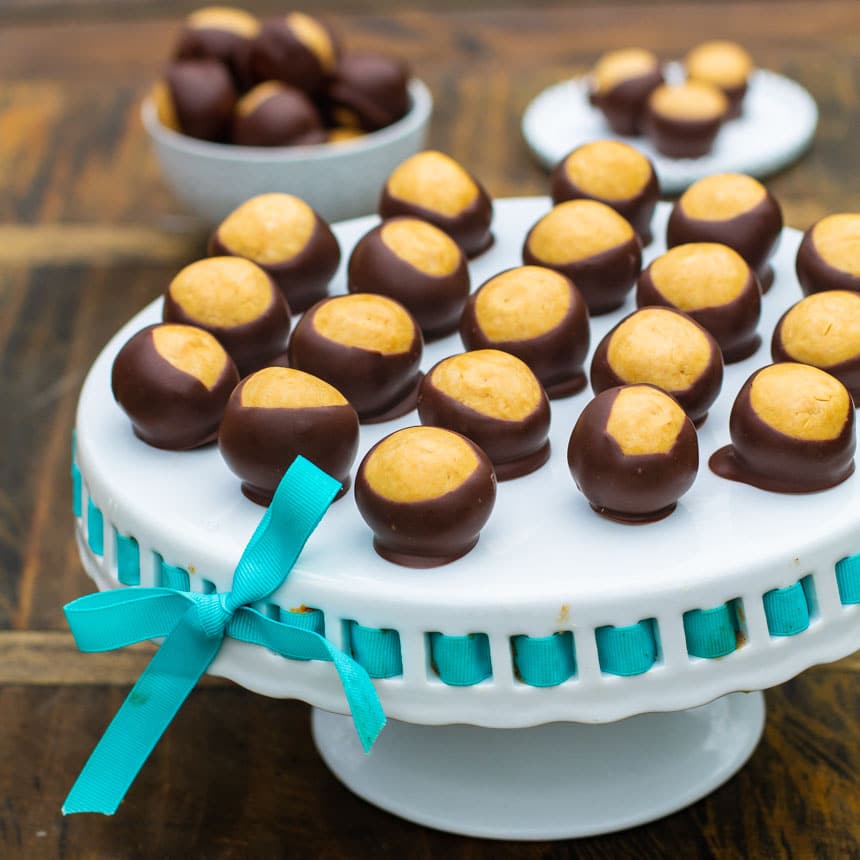 Buckeye Balls
A smooth and creamy peanut butter ball dipped in chocolate is a holiday (or anytime) favorite.
Ingredients
1 1/2

cups

creamy peanut butter

1/2

cup

butter,

softened

1

teaspoon

vanilla extract

1

(1-pound)

box confectioners' sugar

9

ounces

semi-sweet chocolate chips,

about 1 1/2 cups

2-3

tablespoons

shortening
Instructions
In a large bowl, mix together peanut butter, butter, vanilla, and confectioners' sugar using your hands. It will be dry and crumbly at first, but keep working it until everything is very evenly mixed.

Form into 3 large balls, cover with plastic wrap and refrigerate for 30 minutes.

Shape into balls using a scant tablespoon of mixture for each ball and rolling it in your hands to smooth. Place on a baking sheet lined with wax paper.

Refrigerate for at least an hour.

In a small, heavy-bottomed saucepan melt chocolate chips and shortening over low heat, stirring constantly. When smooth, remove from heat.

Use a toothpick to dip each ball into chocolate mixture and place back on baking sheet.

Refrigerate until chocolate is set. Use the back of a spoon to smooth over toothpick holes.
Notes
Makes approximately 3 dozen balls.
Store in refrigerator.
Chocolate melting wafers can be used instead of the chocolate chips and shortening.
Want to Save This Recipe?
Originally published December 5, 2013.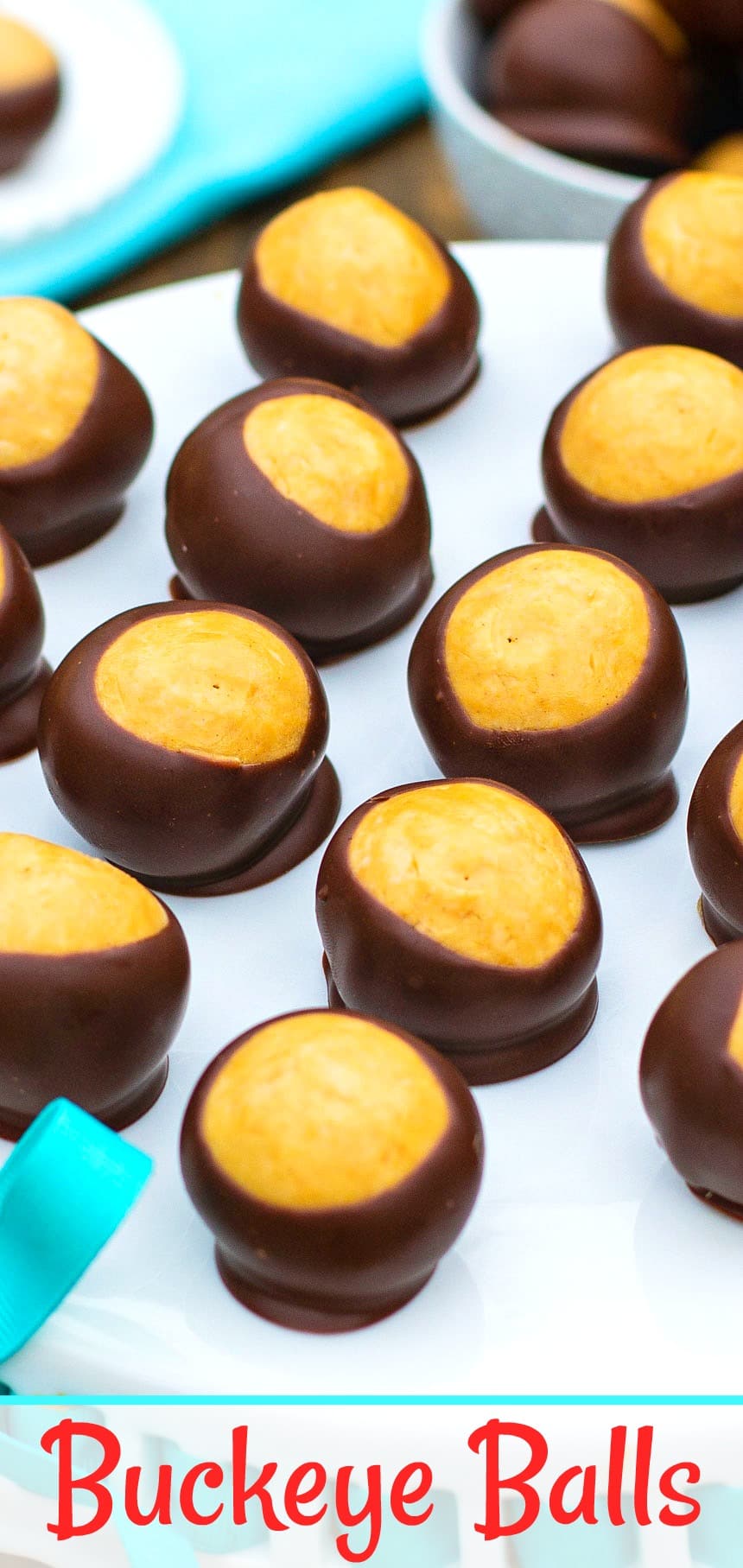 Disclosure: This post contains affiliate links.