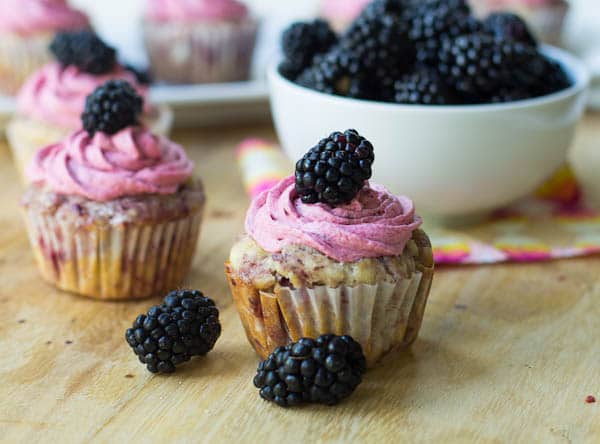 Gorgeous, plump local blackberries can be purchased at several local farms near us this time of year. While blackberries aren't my favorite berry, I find them hard to resist when they are in season. Blackberries are an example of a fruit that when bought farm fresh is vastly superior to what's available at the grocery store. They're enormous and juicy and not as tart.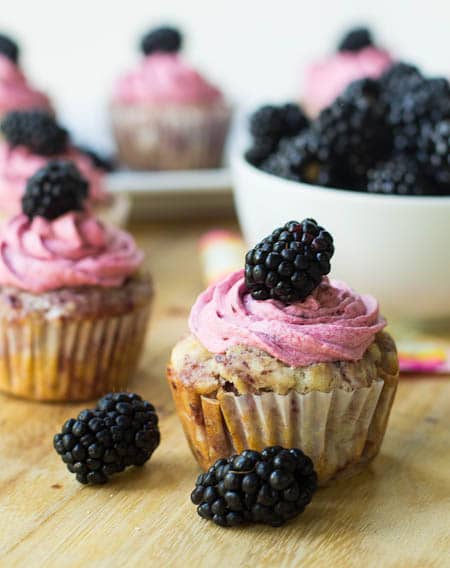 I find it funny how much I enjoy baking with fruits. As a child I wouldn't eat any dessert with fruit in it except banana pudding. Fruits are also one of my favorite things to photograph. They hardly ever take a bad picture.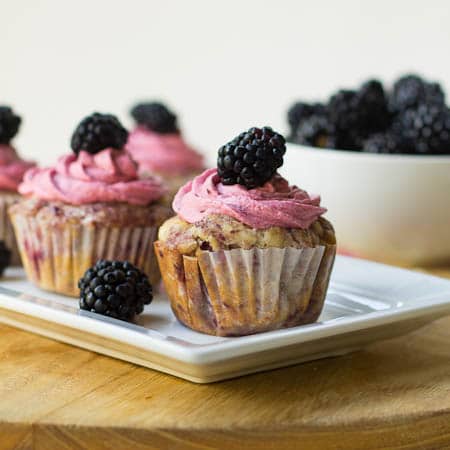 This Blackberry Cupcake recipe has fresh blackberry puree added to the batter and the buttercream frosting. A buttermilk-based batter is a little tangy and not too sweet and is the perfect complement to the blackberries.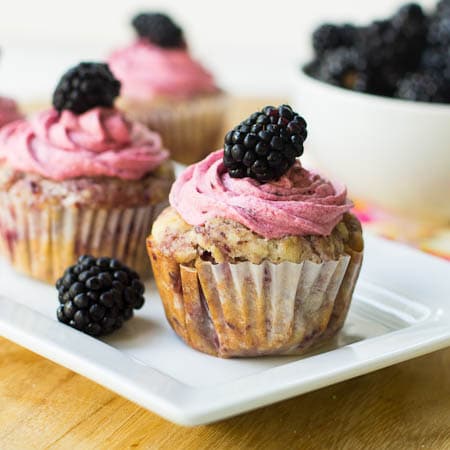 Blackberry Cupcakes with Blackberry Buttercream
¾ cup unsalted butter, softened
½ cup sugar
2 large eggs
½ teaspoon vanilla extract
2 cups all-purpose flour
½ teaspoon kosher salt
1 cup whole buttermilk
1 tablespoon baking powder
¼ cup Blackberry Sauce ( recipe follows)
Blackberry Buttercream (recipe follows)
blackberries for garnish
Preheat oven to 350 degrees and line 18 muffin cups with paper liners.
In a large bowl, beat butter and sugar using an electric mixer until creamy, about 3 minutes. Add eggs one at a time, scraping down sides of bowl after each addition. Add vanilla and beat to combine.
In a medium bowl, whisk together flour and salt. In a glass measuring cup, measure 1 cup of buttermilk, add baking powder and whisk together. Add flour mixture to butter mixture in thirds, alternating with buttermilk mixture, beginning and ending with flour. Beat just until smooth.
Gently fold in ¼ cup of Blackberry Sauce to make a swirl. Divide mixture evenly between muffin cups.
Bake until wooden pick inserted in center of cupcake comes out clean, about 25 minutes. Let cupcakes cool in pans for 10 minutes, then remove to wire racks to finish cooling.
Spread Blackberry Buttercream on cupcakes (use a pastry bag if desired). Top with a blackberry. Store in refrigerator.
Blackberry Sauce
1 ¼ cups fresh blackberries
2 heaping tablespoons sugar
1 tablespoon fresh orange juice
¼ teaspoon vanilla extract
Add all ingredients to a blender and blend until very smooth. (Can be made ahead and refrigerated.)
Blackberry Buttercream
1 cup unsalted butter, softened
1/3 cup Blackberry sauce
4 cups confectioners' sugar
In a large bowl, beat butter at medium speed until smooth and creamy
Add blackberry sauce and 1 cup of sugar, and beat until mixed well. Add remaining sugar 1 cup at a time and beat until thick and fluffy.
Yield: 18 cupcakes
Source: adapted from Taste of the South
More Cupcake recipes
Bacon, Maple, and Bourbon Cupcakes