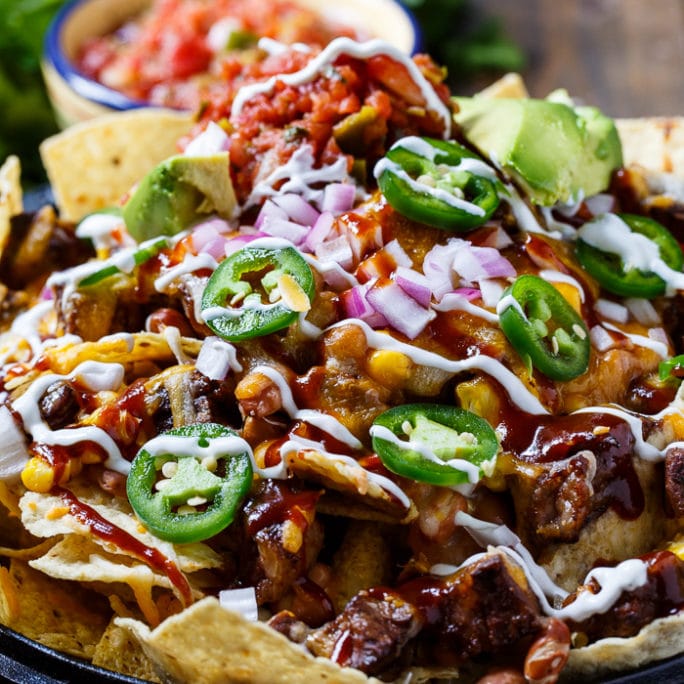 These BBQ Steak Nachos are piled high with delicious flavors. Smokey pieces of grilled rib-eye steak tossed with Stubb's BBQ Sauce, grilled corn, pinto beans, gooey melted cheese, and lots, lots more!
Serve them at a holiday cookout and they will disappear in no time. They are the perfect combo of sweet, spicy, salty, and smokey. When I make them, I just can't get enough.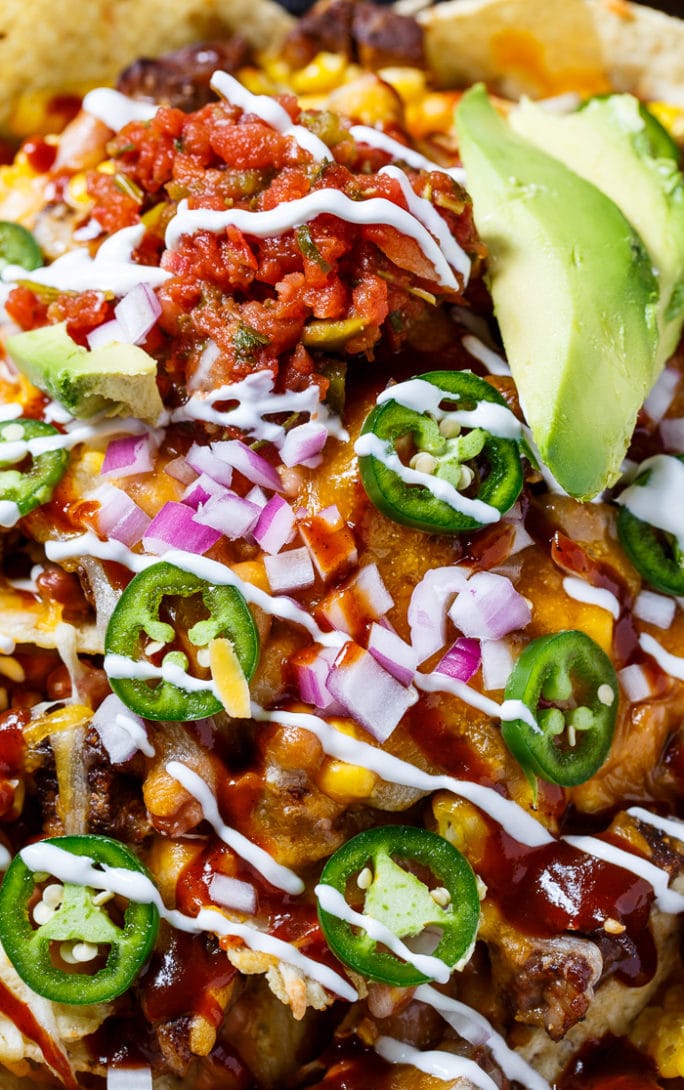 The 4th of July is only a few weeks away and besides the traditional cookout food, I love to serve something like these BBQ Steak Nachos. They are a little bit unexpected, but always a welcome surprise. 🙂
It is the sweet, smokey, and spicy combo that really makes me prefer BBQ Nachos over traditional nachos.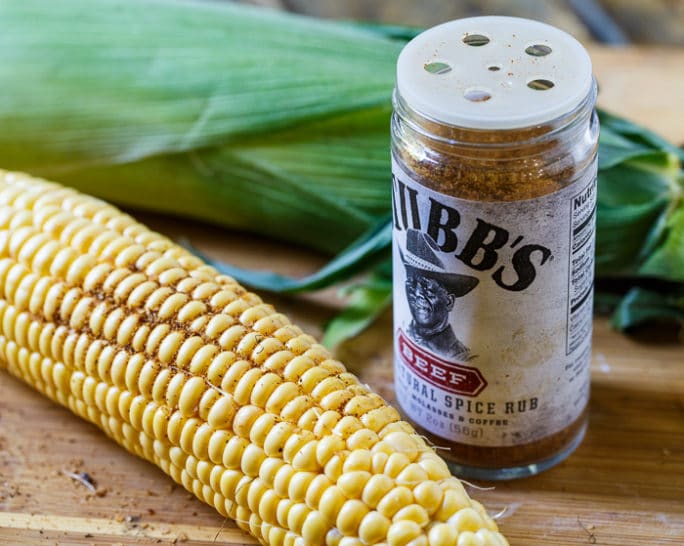 The flavor of these nachos starts with Stubb's Beef Spice Rub which I use to flavor the steaks before grilling them. It also tastes great on grilled corn so I sprinkle a little on the corn before grilling it.
Stubb's Beef Spice Rub includes a blend of molasses, paprika, coffee, and ancho and chipotle peppers. It has such a fantastic smokey flavor.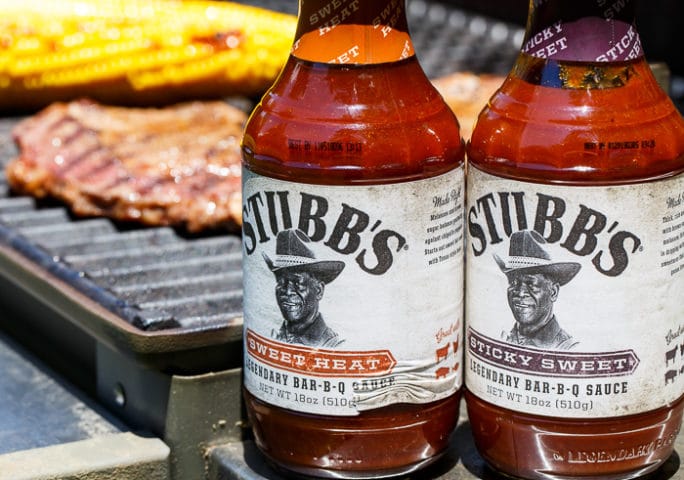 After the steak is grilled I let it rest a few and then cut it into bite-sized pieces and toss it with a little Stubb's BBQ Sauce. Both the Sticky Sweet and Sweet Heat taste fantastic with grilled steak nachos.
To assemble the nachos, place a pile of tortilla chips on an oven-safe pan. I like to use a cast iron pan since it retains heat so well, but you can use a baking sheet or even a pie plate.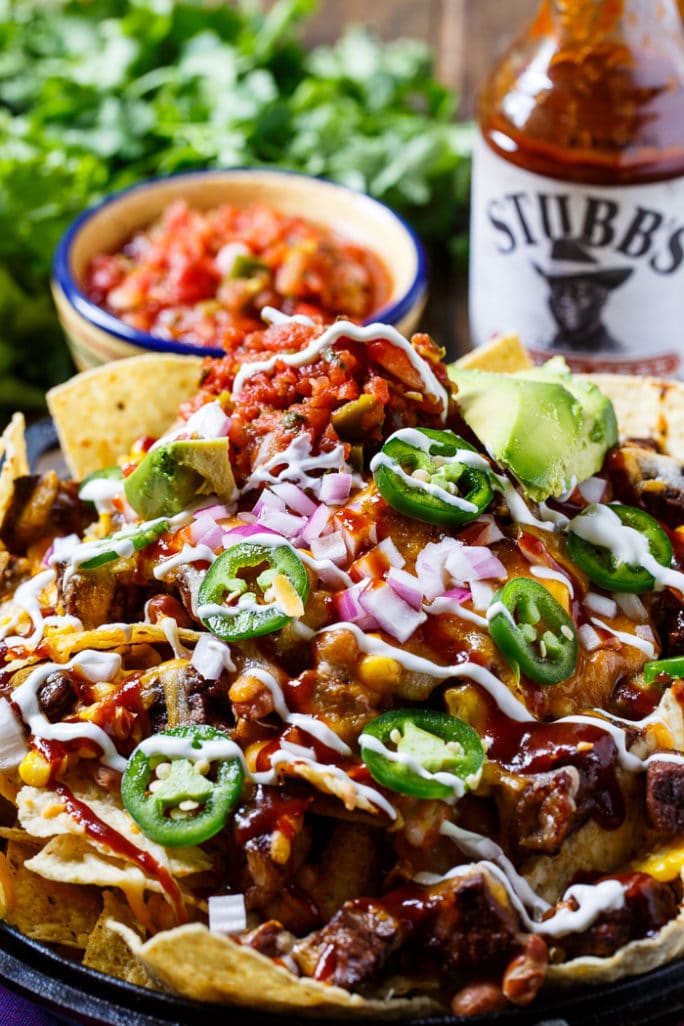 Top the chips with the grilled steak pieces tossed with Stubb's BBQ Sauce, corn, pinto beans, and plenty of cheese. Place in a 375 degree oven until the cheese melts.
Then to really add some flavor, drizzle some BBQ Sauce and sour cream on top and sprinkle with fresh cilantro, red onion, avocado, and jalapeno slices. I mean, when dealing with something from Texas like Stubb's BBQ Sauce, we have to go big or go home right? So I say pile those toppings high.
Nachos never tasted as good as they do Texas-style.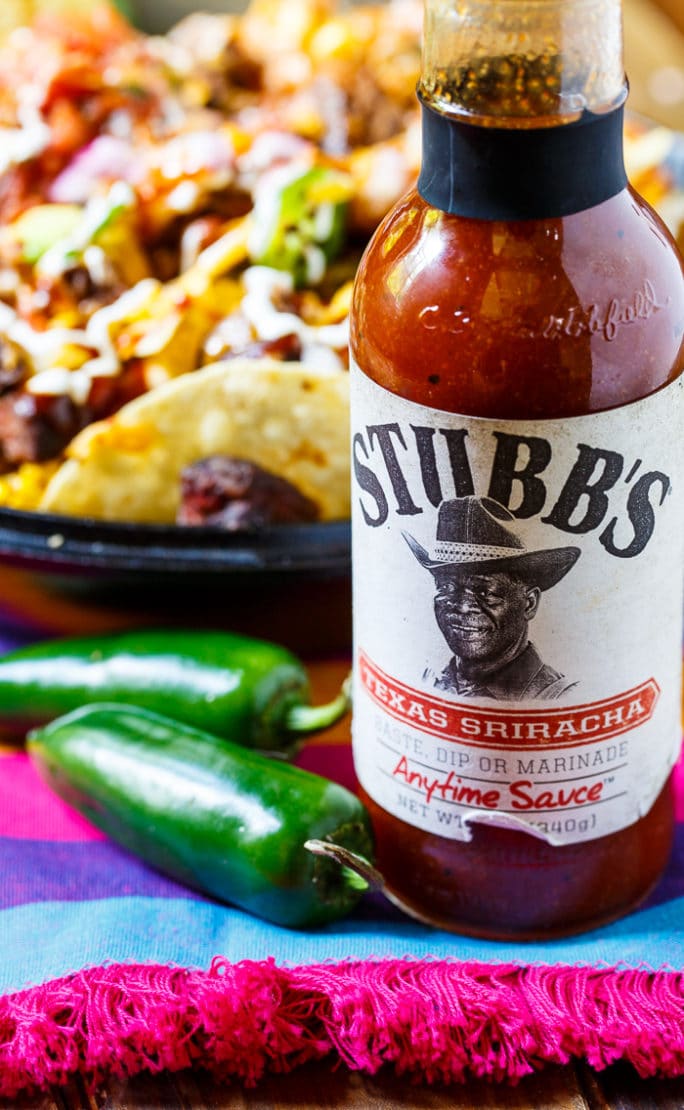 And for even more heat, try adding a little Stubb's Texas Sriracha!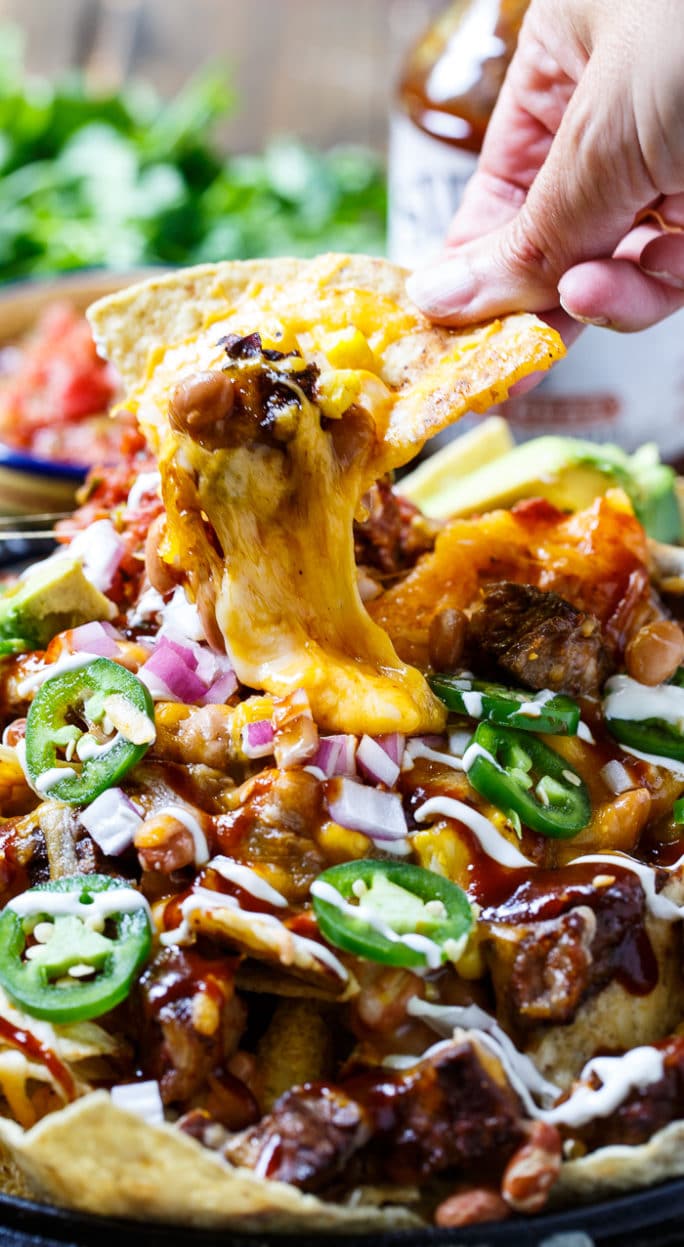 You can learn more about Stubb's products at StubbsBBQ.com. They have a whole line of awesome sauces, marinades and rubs that add plenty of flavor to your food, but not the artificial flavors, sweeteners, colors, or preservatives often found on the condiment aisle. See for yourself why Stubb's is the number 1 premium BBQ sauce in the country.

BBQ Steak Nachos
Ingredients
2 rib-eye steaks (you could also use sirloin, NY Strip, or fillet)
2 ears corn
Stubb's Beef Spice Rub
Olive oil
Stubb's BBQ Sauce
1 bag tortilla chips
1 cup canned pinto beans, drained and rinsed
1 package shredded Mexican blend cheese (2 cups)
Toppings: salsa, avocado, sliced jalapeno, cilantro, chopped red onion, sour cream, more BBQ sauce
Instructions
Heat a gas grill to medium-high.
Coat both sides of steak with spice rub and drizzle with olive oil.
Remove husk and silks from corn and sprinkle with spice rub and drizzle with olive oil.
Place steak and corn on grill. Grill steak about 4 to 5 minutes per side or until desired degree of doneness. Grill corn for about 10 minutes total, turning frequently.
Let steak rest for 10 minutes and then cut into bite-sized pieces. Toss with about 2 tablespoons of BBQ Sauce.
Cut corn kernels from cob.
Preheat oven to 375 degrees.
Place a pile of tortilla chips on an oven-safe pan. I like to use cast iron.
Mound steak on top of chips.
Scatter pinto beans, corn, and cheese over chips.
Place in oven until cheese melts.
Add toppings of your choice and serve.
Disclosure: This is a sponsored post. I appreciate the opportunity to share products I love and use in my own kitchen.