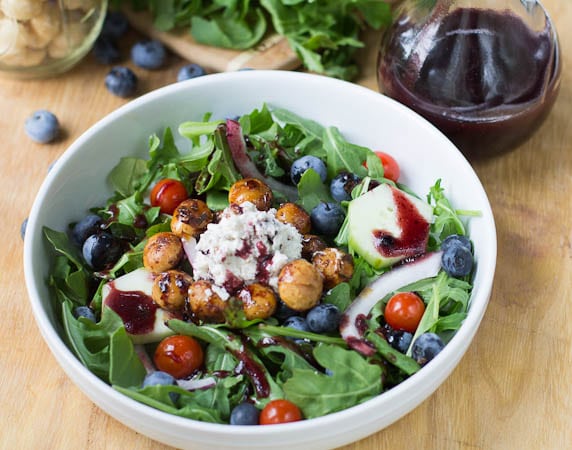 My daughter and I are back home from our week-long road trip down to Alabama and after 7 days of eating fried foods and desserts every chance I got, plus downing daiquiris by the pool, some lighter meals are in order. I'm not even going to step on the scale for at least a week, because I just might cry.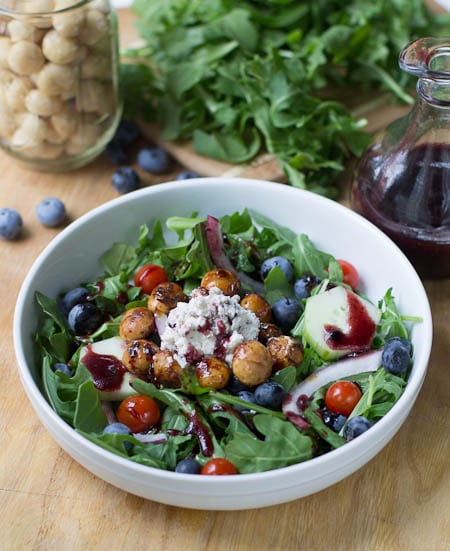 Arugula Salad with Blueberry Balsamic Vinaigrette and Honey-Roasted Macadamia Nuts is a light and summery salad that's anything but light on flavor. The salad dressing takes several days to make, but it's worth the wait. It produces a thick, syrupy dressing that's a nice contrast to tangy goat cheese and peppery arugula.
This could actually be called triple blueberry salad because there are blueberries in the vinaigrette, fresh blueberries in the salad, plus I used a wonderful blueberry goat cheese. Yes, I love blueberries! The blueberry goat cheese is a wonderful local product made by Round Mountain Creamery in Black Mountain, NC. There has really been an explosion of farms in that area producing their own cheeses.  They sell a bunch of flavored goat cheeses, but this one with blueberries, pecans, and lemons is phenomenal in salads, on sandwiches, crackers, or smeared on a toasted bagel. You can order their cheeses online.
With the crunch of some spicy/sweet macadamia nuts, this salad will get you out of your ordinary salad rut. Add some grilled chicken or shrimp and call it a meal.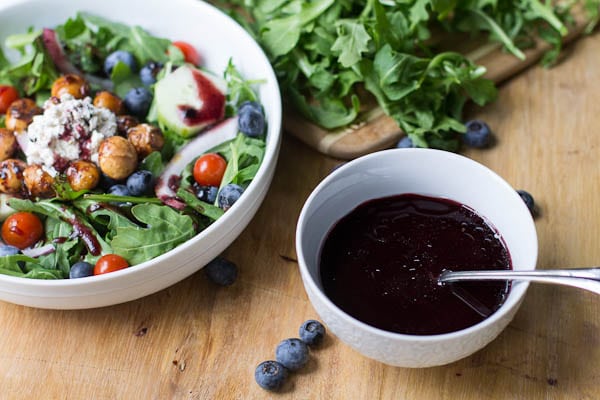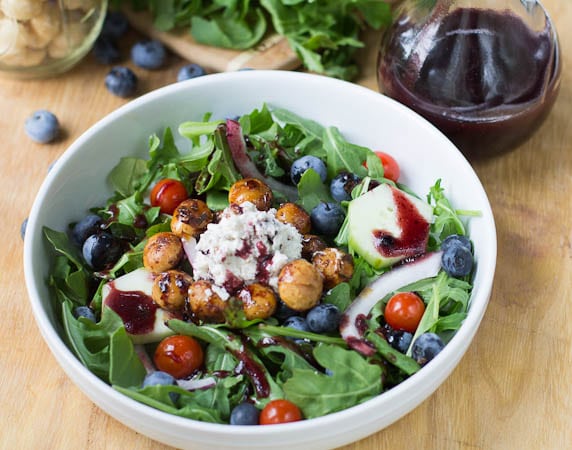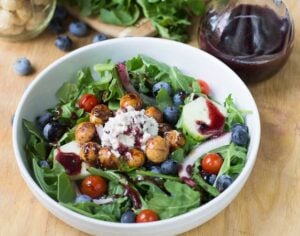 Arugula Salad with Blueberry Vinaigrette and Honey Spiced Macadamia Nuts
Ingredients
8

cups

baby arugula

½

a cucumber,

thinly sliced

½

red onion,

thinly sliced

1

cup

grape tomatoes

1

cup

fresh blueberries

½

cup

goat cheese
Blueberry Vinaigrette
½

cup

fresh blueberries

½

cup

balsamic vinegar

¼

cup

sugar

several strips of lime peel,

green part only

1

cinnamon stick

½

teaspoon

salt

freshly ground black pepper

½

cup

extra-virgin olive oil
Honey Spiced Macadamia Nuts
1

cup

whole macadamia nuts

2

teaspoons

extra-virgin olive oil

1

tablespoon

honey

¼

teaspoon

ancho chili powder

¼

teaspoon

salt
Instructions
Make the Vinaigrette. First make a blueberry flavored vinegar. In a small saucepan, crush the blueberries with a fork or potato masher. Add vinegar, sugar, lime peel, and cinnamon stick and bring to a boil. Reduce heat to low, cover and simmer for 20 minutes. Remove from heat and discard cinnamon stick.

Let mixture cool and place in refrigerator for 24 hours. Strain the mixture into a bowl, using a fine-mesh strainer. Use a wooden spoon to press as much liquid out as possible. Discard solids.

In a small bowl combine 3 tablespoons of the blueberry vinegar, salt, and pepper to taste. Gradually whisk in olive oil.

Make Macadamia Nuts. Preheat oven to 350°.

Mix all ingredients together and spread out on a foil-lined baking sheet. Bake for 6 minutes, stir the nuts, and bake for 6 to 7 more minutes (careful not to burn the nuts.)

Combine arugula, cucumber, red onion, tomatoes, and blueberries in a large salad bowl. Top with goat cheese and macadamia nuts. Drizzle with vinaigrette.
Want to Save This Recipe?
More Blueberry Recipes
Blueberry Macadamia Nut Muffins