Halloween themed foods are so much fun to make (and eat!) and this one is no exception. Witch Guacamole Dip is a creamy, spicy spread that pairs great with tortilla chips, veggie sticks, or crackers.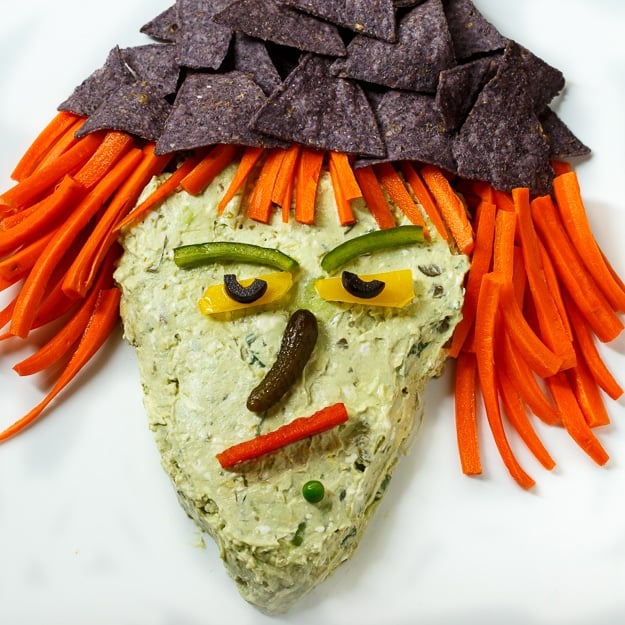 I saw this recipe in a Woman's World Magazine and couldn't even wait until October to make it. I love a witch and this one is especially ghoulish and green.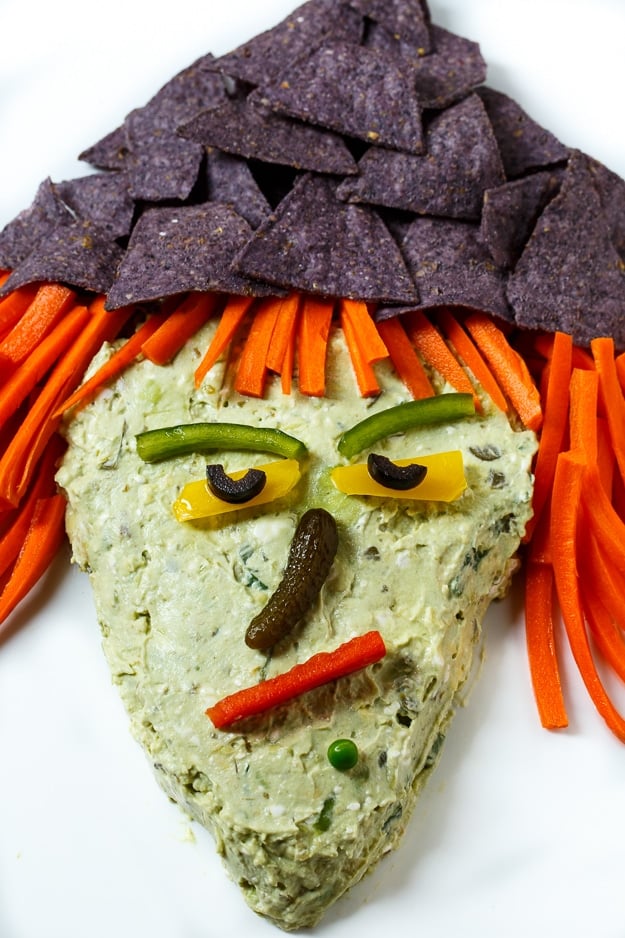 We used to really do up the Halloween decor and a friend of mine built me a lifesized witch- Broome Hilda. We had her for years, but I got rid of here this past year. I was tired of tripping over her in the attic and I was on one of those quests to simplify my life, which never seems to last long and leaves me with occasional pangs of regret.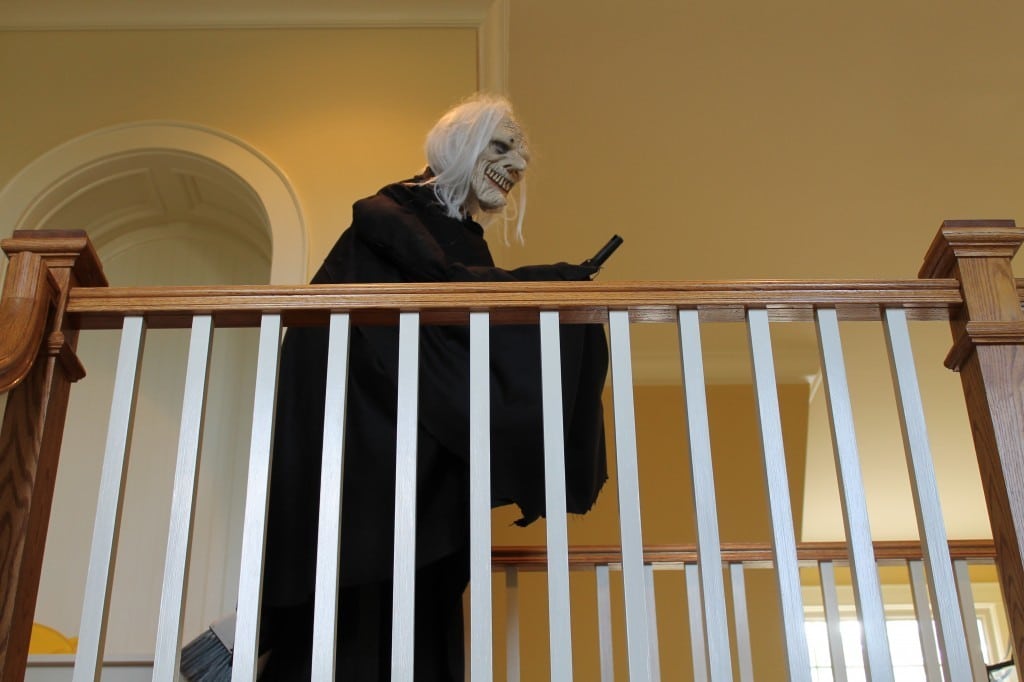 I really miss my Broom Hilda. So guacamole Hilda will have to do instead. She's not quite the same, but she is tasty.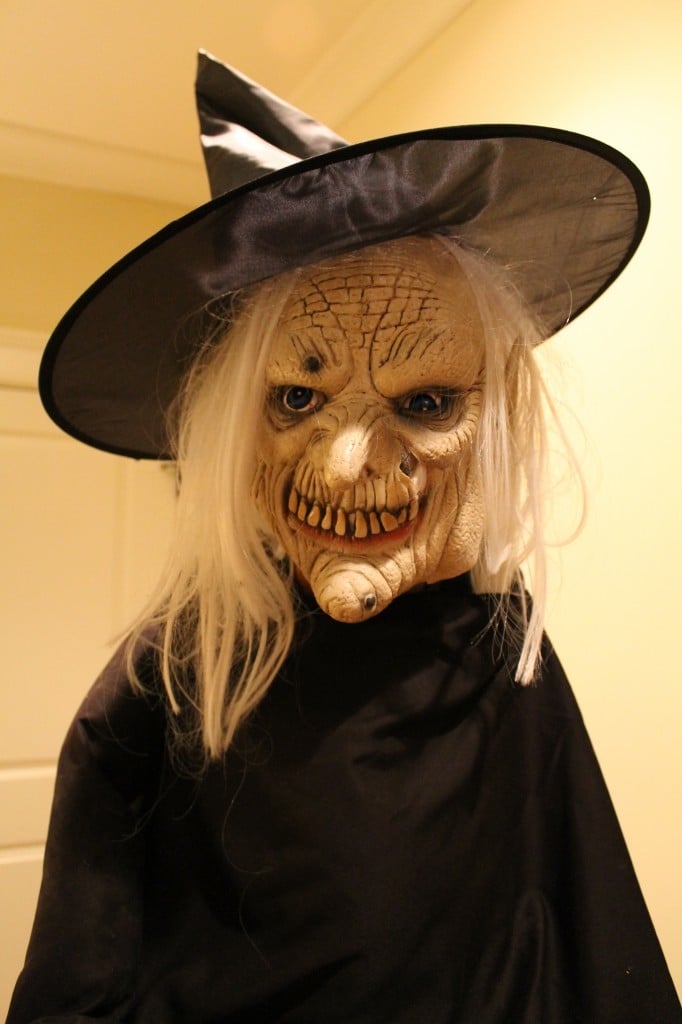 Three ripe avocados are mixed with a container of chive and onion cream cheese. The cream cheese makes it thick and easier to mold into the shape of a witch's face plus it adds flavor and creaminess.
For even more green effect and to spice it up, a little salsa verde is mixed in. You can use mild or hot store-bought salsa verde. I like the hot!
Chopped cilantro and green onion are added and make wonderful green specks across the witch's face.
This witch is so much fun to make and really easy for the artistically challenged like myself. Just shape the dip into an oval shape and add on the facial features.: carrot stick hair, a tortilla chip hat, bell peppers for the eyes and eyebrows, a pickle nose, and a pea wart.
I loved adding the hair. Isn't it fabulous?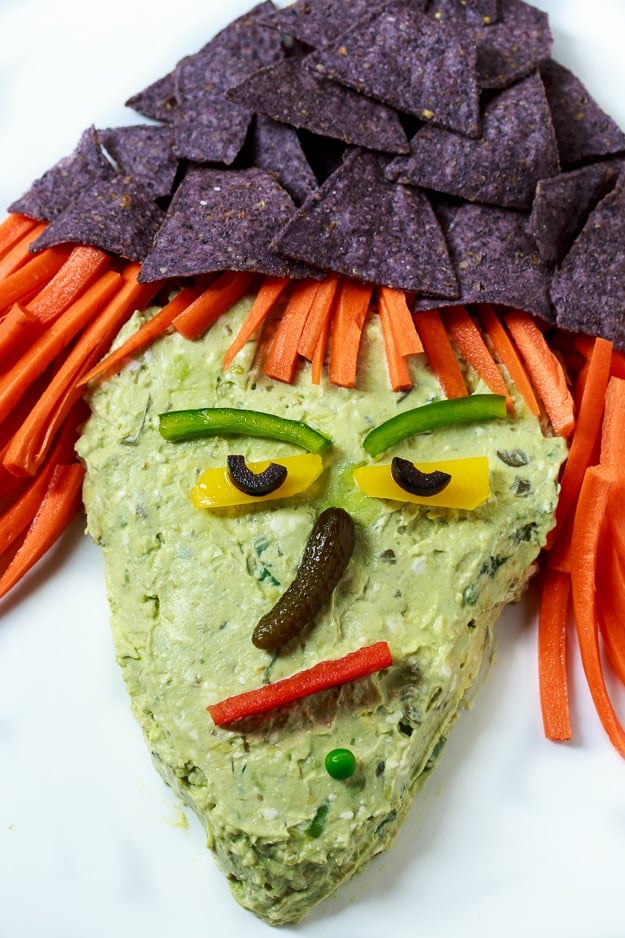 Sign up HERE for the Spicy Southern Kitchen Newsletter.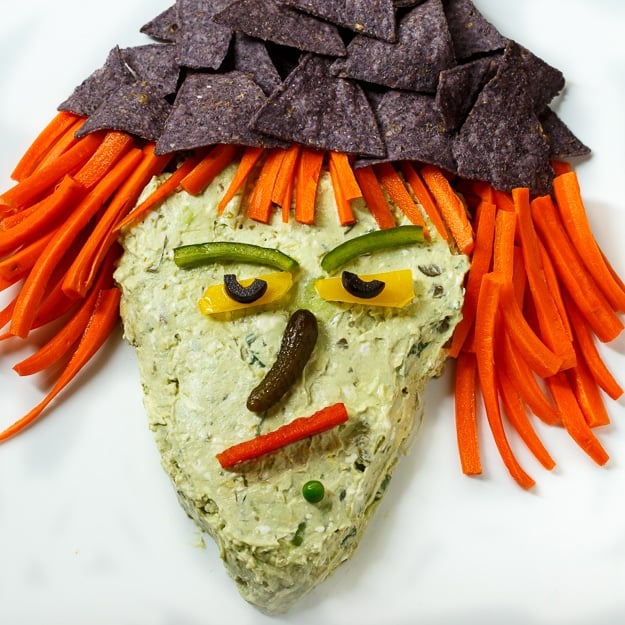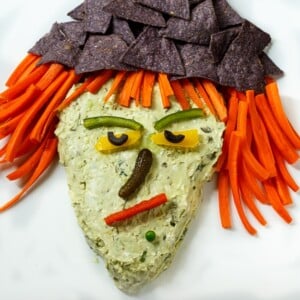 Witch Guacamole Dip
Witch Guacamole Dip is a creamy, spicy spread that pairs great with tortilla chips, veggie sticks, or crackers.
Ingredients
3

ripe avocados,

halved and pitted

3

tablespoons

lime juice

1/2

teaspoon

salt

1

(8-ounce)

container chive and onion cream cheese spread

1/3

cup

salsa verde

2

green onions,

chopped

2

tablespoons

chopped fresh cilantro

3

to 4 carrots,

peeled and cut into sticks

1/2

a bag of blue tortilla chips

1

small sweet pickle

2

slices

green bell pepper

2

slices

yellow bell pepper

1

slice

red bell pepper

1

canned black olive

1

green pea
Instructions
Scoop out avocado flesh and place in a medium bowl. Sprinkle lime juice and salt on top of avocado and mash with a fork.

Stir in cream cheese spread, salsa verde, green onions, and cilantro. Cover with plastic wrap and refrigerate for at least 2 hours to firm.

Place chilled guacamole dip on a serving platter and shape into a witch's face.

For hair, arrange carrot sticks along top and sides.

Arrange corn chips on top of carrots to form a hat.

Place sweet pickle in center to form nose. Use bell pepper slices to make eyes, eyebrows, and mouth.

Cut two small pieces of black olive for eyeballs and place green pea on chin for a wart.
Want to Save This Recipe?
recipe adapted from Woman's World
More Halloween Food