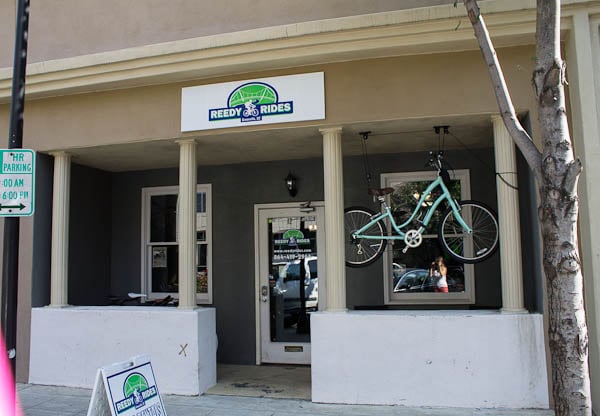 My daughter and I recently returned from a week-long road trip down to Alabama and back and I thought I might blog about some of the things we did and places we visited. Our first stop was in Greenville, SC which is just about a 2 hour drive down I-85 from our home in Fort Mill, SC. Since we would be spending so much time in the car, I thought biking the Swamp Rabbit Trail would be a great way to kick off our road trip.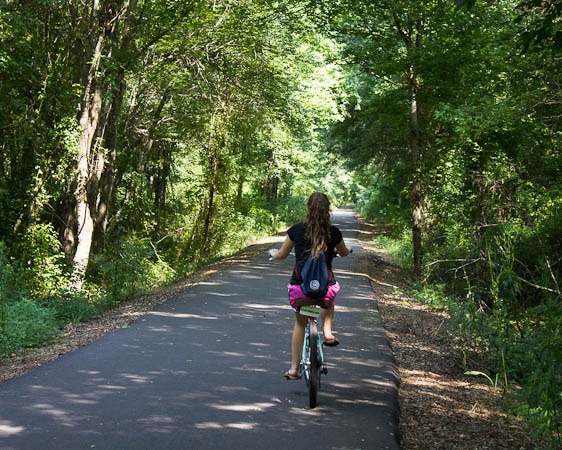 The Swamp Rabbit Trail opened in 2010 and it is 17.5 miles long. It begins at Greenville Technical College, crosses through the city of Greenville and Falls Park, goes by the campus of Furman University, and ends in the town of Travelers Rest. The trail closely follows the former route of the Greenville and Northern Railroad, also known as the Swamp Rabbit Railroad.
We rented bikes from Reedy Rides, located on McBee St, just off of Main St. There is a parking garage directly across the street ($6 all day) that is a great central location to park your car for a day in Greenville. It is just a short walk from here to Falls Park, which should be included in any trip to Greenville.
A half day bike rental costs $15. Bikes are a fashionable sea-green color (the women's bikes that it) and they have a water bottle holder and a bag attached to the handle bar which is perfect for holding your cell phone. Just don't forget to take it back out. Yeah, I did that and had to return to the bike shop to retrieve it. Luckily I was only a block and a half away when I realized what I had done. But I was a little panic-stricken thinking I might have to go through our whole road trip with no cell phone.
Note: If you do not wish to wear a helmet, you can sign a waiver. We didn't wear helmets, but it is probably a good idea to wear them as you have to cross maybe a half dozen streets and 1 of them is a busy road. Not to mention that whenever my daughter was in front, she kept turning her head to look back at me and almost veered off the trail into the woods.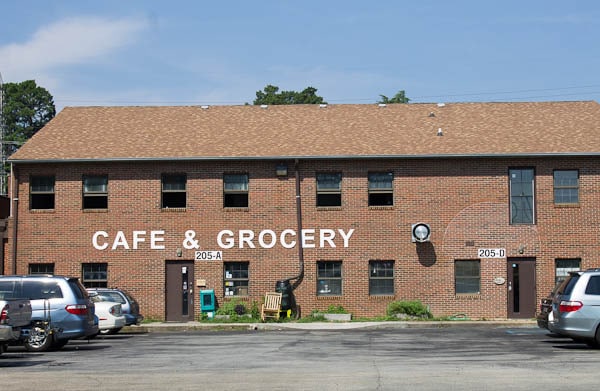 From the bike shop, it's only about 3 blocks to the swamp rabbit trail. We walked our bikes to the trail (want to guess how long it's been since I've been on a bike?) When you get to the trail, you will go to the right to go North to Travelers Rest. The trail is paved and flat and varies between 8-12 feet across. It's approximately a 9 mile bike ride to Travelers Rest.
Not too far down the trail, maybe a mile, you'll pass the Swamp Rabbit Cafe and Grocery. They have picnic tables outside if you want to take a rest break or grab a snack.
Furman Lake
There isn't much shade the first couple of miles, but after that the trail is heavily shaded until you come to Travelers Rest. A good 4 miles or so past the Swamp Rabbit Cafe, you'll pass Furman Lake on your right. There is an access point down to the lake and it's well worth the detour to take in the gorgeous views for a few minutes as the lake is not really visible from the trail.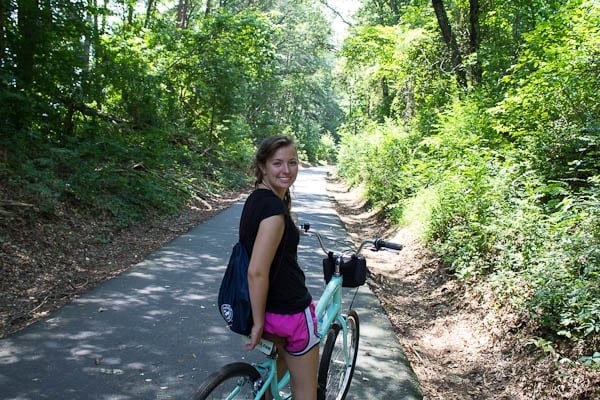 Eventually the trail comes to the charming downtown of Travelers Rest. Keep going through town and eventually you will come to Williams Hardware. You can't miss it. It is literally right on the trail and there are multiple bike racks to park your bike.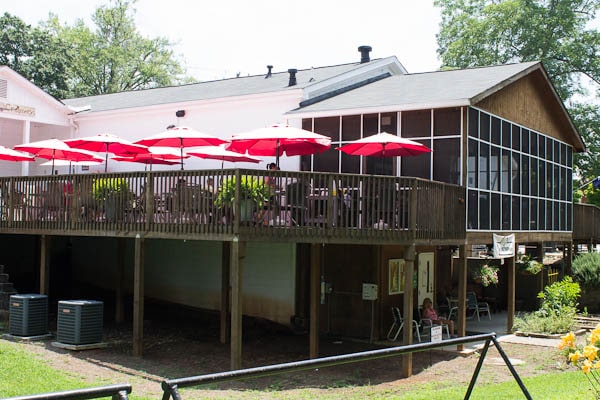 Williams Hardware was once a hardware store, but has been turned into a gift shop/ restaurant by the McCarrell sisters. You can eat either inside (it's a little dark, but a nice respite from the heat if it's warm outside), on the spacious screened porch, or the deck, both overlooking the trail.
Note: On the basement level, there are restrooms open for passersby. Nicer restrooms for restaurant patrons can be accessed from the store.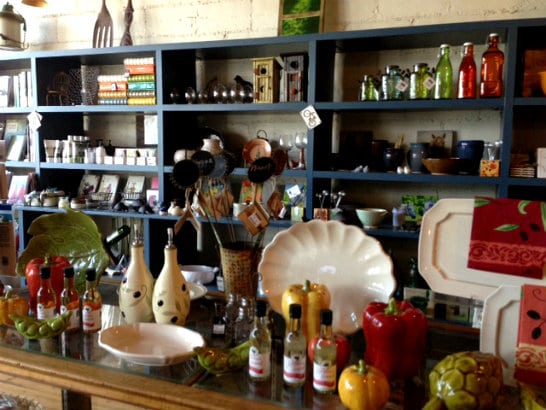 To order, you get in line at the counter, and yes there was a line the entire time we were there. Most likely you will be greeted by one of the McCarrell sisters, and enthusiastically told about the days specials. Menu options include salads, soups, and sandwiches plus a nice selection of homemade desserts.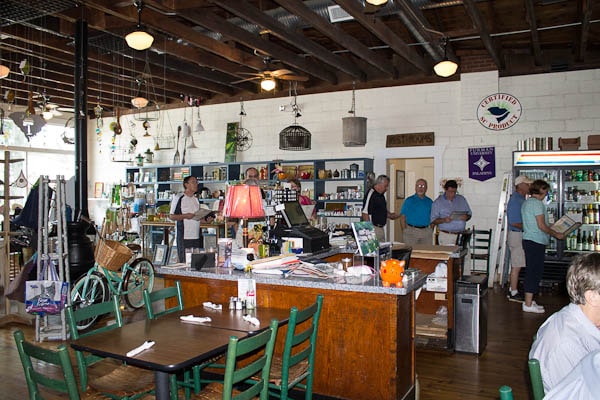 Spend some time looking around the store while you wait for your meal. They have all kinds of unique gifts including stuff for the kitchen and regional foods. I saw a beautiful cutting board, but I couldn't talk my daughter into carrying it in her bag on the bike ride back and I didn't have anywhere to put it.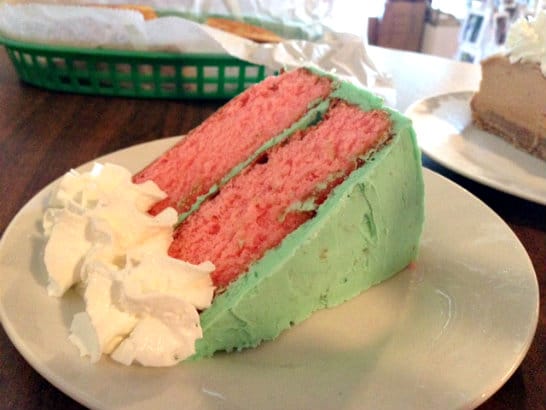 I had a chicken salad sandwich on a croissant with the side of the day which was fresh watermelon. The watermelon really hit the spot after biking 9 miles on a 85+ degree day. The chicken salad was quite good too. For dessert we ordered watermelon cake with a lime frosting and peanut butter pie to provide a sugar rush for the ride back. Maybe the best part of the meal was the exceptionally cold and refreshing Peach Nehi. Can't pass one of those up when I see one, they are hard to find!
After a wonderful lunch, we set out on the trip back and were pleased to find the trip back was a much easier ride. All in all a very enjoyable experience, although probably much more pleasant in the spring or fall.
REEDY RIDES
12 West McBee
Call or email ahead of time to reserve bikes.
SWAMP RABBIT GROCERY AND CAFE
205 Cedar Lane Rd, Greenville SC
Open Monday-Friday 7:30am-7pm; Saturday 8am-5pm; Sunday 9am-5pm
WILLIAMS HARDWARE
Serves lunch 7 days a week 11am-3pm (11am-4pm on Friday and Saturday) and breakfast on Saturdays and Sundays from 8am-11am.