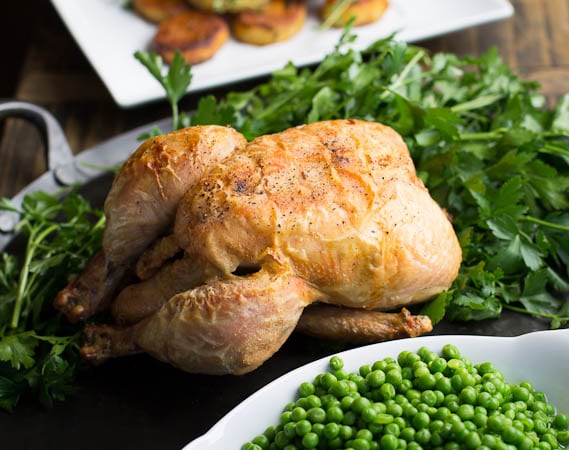 I've made roast chicken a lot of different ways and this recipe is a clear-cut winner. It's a Cook's Illustrated recipe and the method of preparation is a little unappetizing, but the resulting taste is AMAZING. And guess what? Only 4 ingredients are needed for this recipe, including the chicken.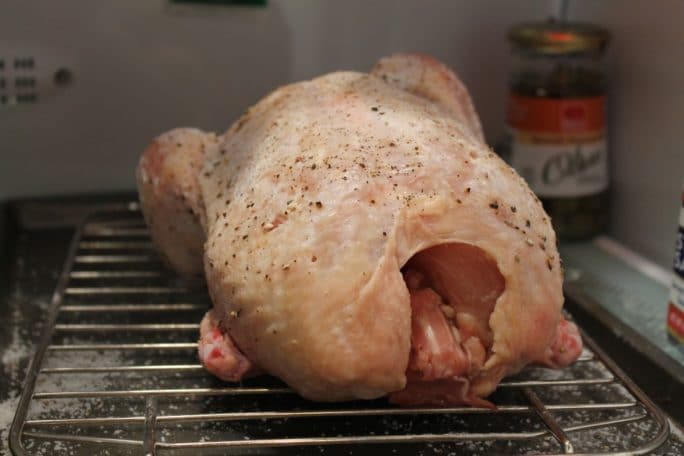 You coat the chicken with a mixture of baking powder, salt and pepper a day ahead of time and place it unwrapped in the refrigerator. It will begin to look a little shriveled and petrified, but don't be scared. Before long, this ugly chicken is going to turn into a beautiful swan.
The skin cooks up wonderfully thin and crispy and the meat stays really tender and juicy. The bird tastes so fabulously seasoned, you won't be able to believe that the only seasonings you used were salt and pepper.
The chicken is cooked at a really high temperature and can produce some smoke, so be on the lookout and crack a window or you may set off your smoke alarms.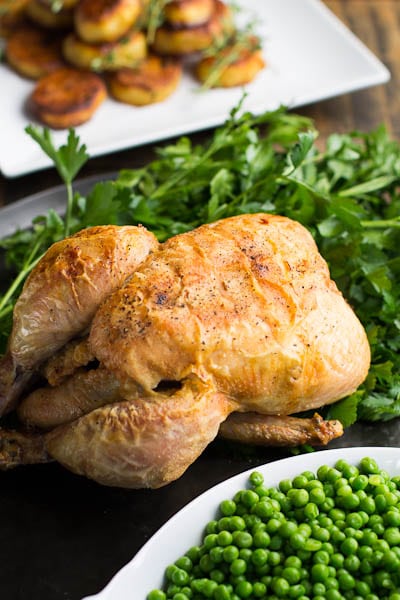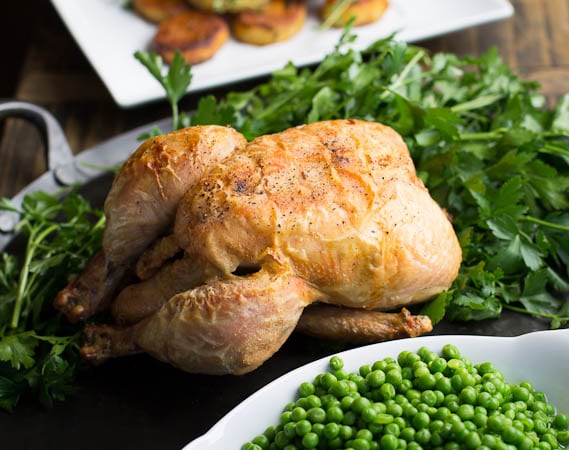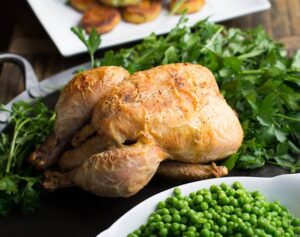 Crispy Roast Chicken
This roast chicken cooks up with a nice, crispy skin and a tender and juicy inside. It just may be the perfect roast chicken.
Ingredients
1

(3 1/2 to 4 1/2 pound)

whole chicken,

giblets removed and discarded

1

tablespoon

kosher salt or 1 1/2 teaspoons table salt

1

teaspoon

baking powder

1/2

teaspoon

ground black pepper
Instructions
Place the chicken breast side down on a work surface and use a sharp knife to make 4 1-inch incisions along the chicken's back. (This creates openings for the fat to escape.) With your fingers, separate skin from thighs and breasts. Use a metal skewer to poke 15 to 20 holes in the fat deposits on top of breasts and thighs. Tuck wing tips under chicken.

In a small bowl combine salt, baking powder, and pepper. Pat chicken dry with paper towels and sprinkle all over with salt mixture. Use your hands to coat the surface. Set chicken breast side up on a baking sheet and place in refrigerator for 12 to 24 hours.

Put oven rack in lowest position and heat oven to 450 degrees. Poke approximately 20 holes in a 16 by 12- inch piece of aluminum foil and place loosely in the bottom of a large roasting pan. (The aluminum foil is supposed to keep the drippings from burning.) Place a V-rack on top of foil and place chicken breast side down on top of V-rack. Roast for 25 minutes.

Remove pan from oven and carefully turn chicken breast side up. Continue to roast for 15 to 25 minutes.

Increase oven temp to 500 degrees and continue to roast 10 to 20 minutes (until temp registers 175 degrees in thickest part of thigh). Transfer chicken to cutting board and let rest for 15 minutes before carving.
Want to Save This Recipe?
Recipe Source: Cook's Illustrated